I have recently become aware of a Los Angeles-based wealth management firm and their managing director of equity research, a guy called Dan Ives, who is doing some very interesting research. Like me, which is no doubt why he has caught my eye, he is bullish of US technology shares and believes there is plenty of life left in the bull market.
Most recently he has noticed the beginnings of an uptick in cloud spending, which is good news for the giant cloud providers and another recent for expecting the second half of 2023 to be a good period for US technology shares.
Table of Contents

Microsoft MSFT, Amazon AMZN and Google GOOGLcould be beneficiaries as investment firm Wedbush Securities said recent checks showed "pockets of upticks" in cloud spending.

"Based on our recent checks over the last few weeks enterprise spending is holding up and showing some pockets of upticks on cloud spending (MSFT, AWS, Google) for [the second-quarter] that emboldens our thesis Street numbers for the tech sector will move higher from these levels into 2024," analyst Dan Ives wrote in an investor note.

Of the trio, Ives believes that Microsoft MSFT may be the best positioned to gain market share in the cloud and potentially expand its total addressable market by 35pc to 40pc in the coming years, as the advancements in artificial intelligence reflect "an immense monetization opportunity."

Looking at technology as a whole, Ives said he continues to believe that technology stocks will be up another 12pc to 15pc in the second-half of this year, led by software and semiconductor stocks as AI has "changed the tech world" and investor sentiment is looking at AI as an "internet moment."

The analyst also noted that AI-related spending could account for 8pc to 10pc of IT budgets in 2024, up from roughly 1pc this year.

Seeking Alpha, 26 June 2023
I have been impressed by the way that the Amazon share price chart is behaving and we have, right now, a classic double whammy buy signal.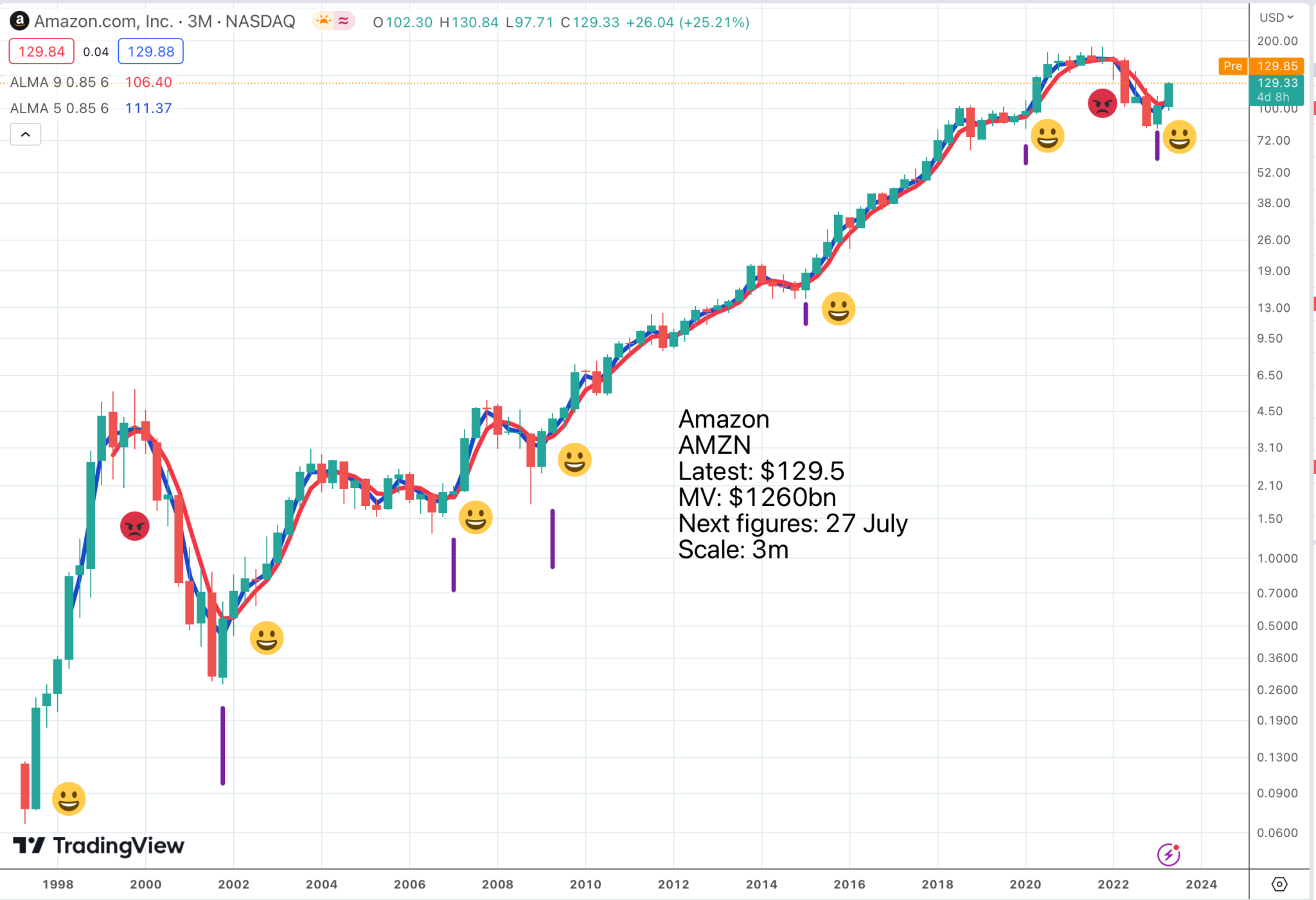 I don't want to give the impression that my chart strategies and indicators are a complete silver bullet for making money (although sometimes I wonder). We still have to use common sense and ride with the punches but they are a huge improvement on just taking emotional decisions or decisions based on the last person you spoke to or whose press articles you read.
There are a million opinions out there; what charts enable us to do is to evaluate those opinions and comments, like those of Wedbush above, against the message from the price action. In this case the price action is supportive of what Dan Ives is saying. We have a perfect double whammy buy signal.
We also know that Amazon is an incredible business or, as Bezos has said in the past, three incredible businesses, Amazon Marketplace, Amazon Web Services (AWS, or cloud services) and Amazon Prime and they all work to reinforce each other.
Giant R&D Budget to Move the Needle on AI
I don't know exactly what Amazon is doing to reflect the impact of generative AI across its businesses but for sure it is doing something. It is mind boggling how much Amazon spends on research and development, over $20bn in the last quarter alone although that is deceptive because it includes content spending by Amazon Prime. However you cut it though it represents a colossal investment in the future of the business.
The simplest argument for buying shares in Amazon is that it is a formidable business playing a leading role in the technology revolution and its shares will reach a new all-time peak sooner or later. If AI leads to an explosion of cloud related spending that peak could could surprisingly soon.
The other two obvious beneficiaries of an uptick in cloud spending also have encouraging charts.
Note that the Microsoft chart has 6m candlesticks rather than 3m because these highlight a handful of powerful buy signals since the initial IPO.
As with Microsoft and its multi-billion investment in OpenAI, the creator of ChatGBT, Alphabet is putting AI at the forefront of its research efforts.
Alphabet using AI to Constantly Improve Search Experience
For years, we've been focused on making Search even more helpful. From Google Lens to multisearch to visual exploration in Search, Immersive View in Maps, Google Translate, to all the language models powering search today, we have used AI to open up access to knowledge in powerful ways.

We'll continue to incorporate Generative AI advances to make Search better in a thoughtful and deliberate way. We'll be guided by data and years of experience about what people want and our high standards for quality. And we will test and iterate as we go, because we know that billions of people trust Google to provide the right information.

As it evolves, we'll unlock entirely new experiences in Search and beyond, just as camera, voice and translation technologies have all opened entirely new categories of queries and exploration.

AI has also been foundational to our Ads business for over a decade. Products like Performance Max use the full power of Google's AI to help advertisers find untapped and incremental conversion opportunities. Philipp will talk more about this in a moment.

Sundar Pichai, CEO, Alphabet, Q1 2023, 25 April 2023
Strategy – betting on New Highs Ahead
It is important not to make investment too difficult. We know that the world is in the throes of a technology revolution which is not just accelerating but in the opinion of some observers is going exponential. It seems obvious to me that the companies that are making that happen are going to prove great investments, as they have in the past two decades.
We need to find companies with strong balance sheets, a history of profitable growth, massive spend on research and development and exciting plans for the future, companies like the three mentioned above. Then all we need to do is buy their shares.
Let the analysts agonise about the nitty gritty of the next set of quarterly figures. We are taking a longer view. All that matters to us is that these mighty businesses continue to grow and prosper as they have in the past.
Share Recommendations
Amazon AMZN. Buy @ $129
Alphabet. GOOGL. Buy @ $121
Microsoft. MSFT. Buy @ $334
I find the chart above of the Nasdaq 100 very reassuring for anyone planning to invest in US shares. What a wonderful story of growth, punctuated by occasional sharp setbacks such as we have just had in 2022. The upwards momentum is incredible with a rise of 125 times in less than 40 years. Not only that but the index is behaving in a way which suggests that it does not want to stay down. I believe we could have massively higher levels ahead driven by the exponential progress of technology in the world.
We are living in an age when some of the most outlandish speculations of science fiction are coming true. My father died in 1987 at the age of 82. If he could come back he would stunned at the way the world has changed and if his father could come back I doubt if he would be able to cope and that is just three generations back if you include me, five if you include my children and grand children.
Homo Habilis lived for some 750,000 years ending around 1.65m years ago. How much changed in that period? I don't know, maybe some big things like maybe they discovered fire, which was a serious game changer. It is thought that Homo Habilis may have used fire but did not know how to light a fire; that probably came with Home Erectus, the next iteration of Homo. These guys did not have big research & development budgets so progress moved at a glacial pace.
Making New Highs
The simplest assumption you can make about any investment that has suffered a severe reaction is that it will go on to reach new all-time highs. If you look at the chart above it would be extraordinary if the Nasdaq 100 does not go on to reach a new all-time peak and keep climbing thereafter.
This is a simple assumption but it has important implications for some of my favourite ETFs, which become obvious buys.
More Share Recommendations
Invesco QQQ. QQQ. Buy @ $362.5
Wisdomtree Nasdaq 100 3x Daily Leveraged. QQQ3. Buy @ $115.60
Just as a point of interest this is the 15th time I have recommended shares in QQQ3 in the last seven months. They are such a great investment but seemingly have gone under the radar for the vast majority of investors.