Two rubbish theory of value candidates – Accesso and Superdry may be at an early stage of a dramatic turnaround
May 24, 2021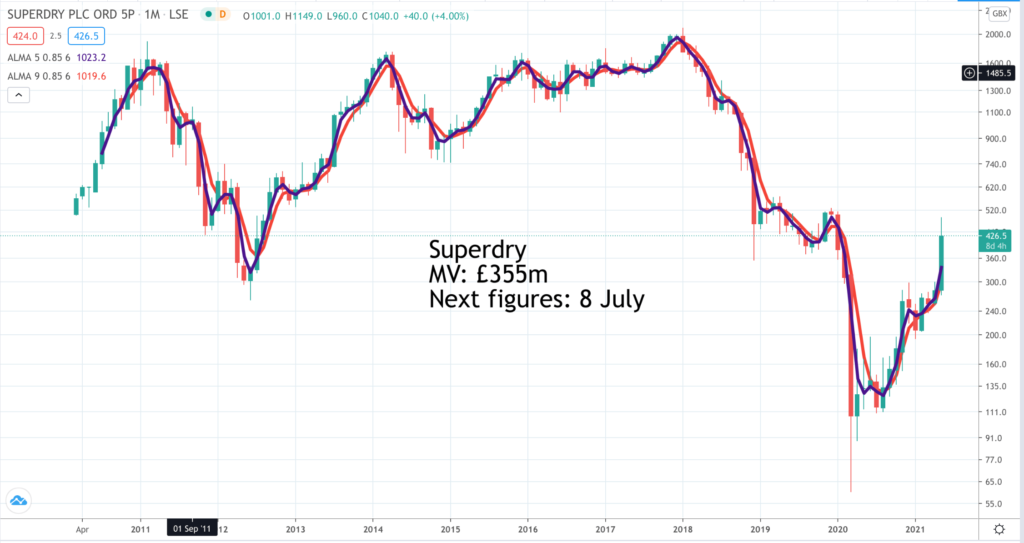 Superdry. SDRY. Buy @ 417.5p. Times recommended: 1 First recommended: 2078p
Superdry has not been a great success so far as a recommendation to put it mildly. The shares have totally plummeted and have been red lined in the table for a long time as a stock that should have been sold. Somehow though it has always felt like a business, which could come good in the end and with some dramatic new developments after a torrid lockdown this time may have come.
The biggest development is the return of the founder, Julian Dunkerton, as CEO. Steve Jobs made an incredible comeback at Apple. Maybe Dunkerton, who is a major talent, can do something similar with his creation. I have always liked the name and the vibe of Superdry. Maybe it can finally fulfil its destiny as a global British brand, even if it did have its origins in the idea of bringing streetwise Japanese clothes to the UK.
The problem that Dunkerton has particularly set himself to address is that in recent times too much of the group's product range has been sold at sale prices. This does seem to be the nub off the problem. The whole point of a brand is to encourage buyers to pay a premium for quality, design and other intangibles to which they attach value. If Superdry puts its name on products but then sells them at commodity prices what's the point of the brand.
Equally though I can see how you cannot build brand value overnight and it can easily be destroyed. Products like Hermes bags and Ferrari cars are kept in such tight supply and are perceived as of such great quality and design that they are often worth more second hand! OK, that's not going to happen with Superdry but there are gradations. If Dunkerton can sell more at full price that would quickly start to restore value to the brand but that in turn requires attention to many details. The designs have to be good, the pricing has to be right, the marketing needs to strike the right note. I am sure there need to be other things like whatever it is that gives soul and continuity to a brand, some defining characteristic that makes the product 'Superdry'.
But this is where, like Jobs at Apple, Dunkerton should score at Superdry because it was his vision that made it all happen in the first place and I am sure he has absorbed many lessons from the ups and downs of the more recent past. Plus he had to win back control after a fierce boardroom struggle, which he won by the narrowest of margins and then had to deal with Covid-19. He has made his return for a reason and that is to make the business he founded successful once again.
Dunkerton resigned from Superdry in 2015 and returned in 2019 as interim CEO. In the 2019 annual report he said –"Our aim is to restore Superdry to a high margin business, with strong brand recognition and a loyal customer base, to put a halt to constant discounting and to reinvigorate the E-commerce business, providing vision for this channel of opportunity."
In the 2020 annual report chairman, Peter Williams, said – "Julian Dunkerton's return to the helm of Superdry has been enhanced by a new collaborative design partnership – with Phil Dickinson, our creative director, who joined Superdry in 2019. This partnership has been at the heart of our new consumer-targeted designs and brands, which will be appearing in our stores this autumn."
Covid-19 has meant a baptism of fire for the new team.
"This has been the toughest of years in which to significantly reset the brand, but progress has been made in terms of strategic overhaul, cost reduction and, above all, brand and design reignition."
"Although the pandemic continues to dominate all aspects of our business, I see this as a unique opportunity to accelerate change, reposition our brand and for the business to emerge stronger."
There is a lot going on at Superdry as they position themselves for a return to strong growth.
"We are also seeing the positive effects of our "social-first" brand marketing approach, with campaigns led by Hero Fiennes Tiffin and Zara Larsson resulting in record levels of engagement across our platforms. And I am hugely excited about our recently announced partnership with Neymar Jr, who will be fronting our organic cotton underwear campaign. I am pleased about how we are embedding sustainability in every part of the business, with responsibly sourced ranges really at the heart of our AW20 collection. Sustainability is becoming critically important to our customers and I'm committed to Superdry becoming the most sustainable listed fashion brand in the world. We have also continued to strengthen our leadership team and Silvana Bonello will start as COO in March 2021. She brings with her fantastic experience at global brands."
For non-football fans Neymar is a sporting phenomenon. In 2017, Paris Saint Germain bought Neymar from Barcelona for €222m making him the most expensive footballer ever. He has been described as the world's most marketable athlete and has a staggering 143m followers on social media. Superdry noted in their May trading update.
"Neymar Jr. organic cotton campaign has launched globally and resulted in record engagement rates through rigorous targeting, with 2m engagements in the first 3 weeks across our owned channel."
Neymar is a superfit, 29-year old Brazilian footballer so he looks good in the branded organic cotton underwear that Superdry is using him to sell and he also helps get the message out worldwide that Superdry is concerned about sustainability.
The group is also working on strengthening the management team. "We have also further strengthened our leadership team with new CFO, Shaun Wills, and COO, Silvana Bonello, in place and already having a positive impact. Last week we were joined by Peter Sjӧlander, who started in his role as chairman."
In the short run share price performance may be determined by the speed of the roll out from lockdown but longer term this dramatic resetting of the business bodies well. I can see how if you are trying to build a strong brand a multichannel approach is important. Online fashion brands like Boohoo and ASOS can offer massive choice at great prices but it is hard for them to build strong brands in the way the multichannel operators can.
Superdry as an investment proposition is all about brand value. They seem to be doing all the right things and already have a global footprint. As demand picks up post Covid-19 there is potential for exciting progress as they attach the brand to a growing range of products and team up with other 'brands' like Neymar. Against that back ground a market value around £350m is peanuts.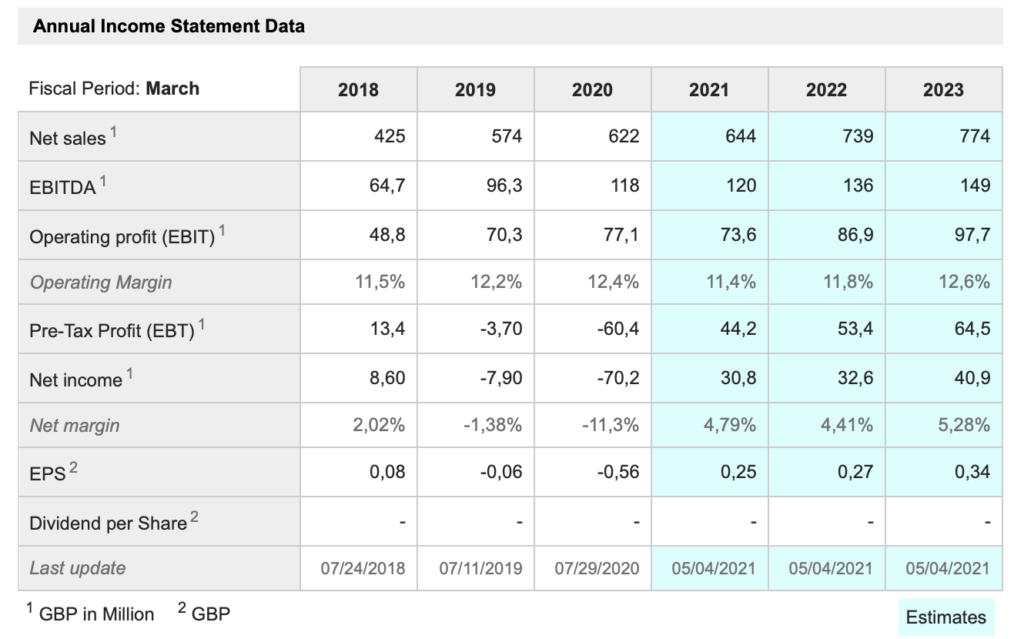 ---
Accesso Technology Group. ACSO. Buy @ 670p. Times recommended: 6 First recommended: 2160p. Last recommended: 720p. Highest recommended: 2700p. Lowest recommended: 445p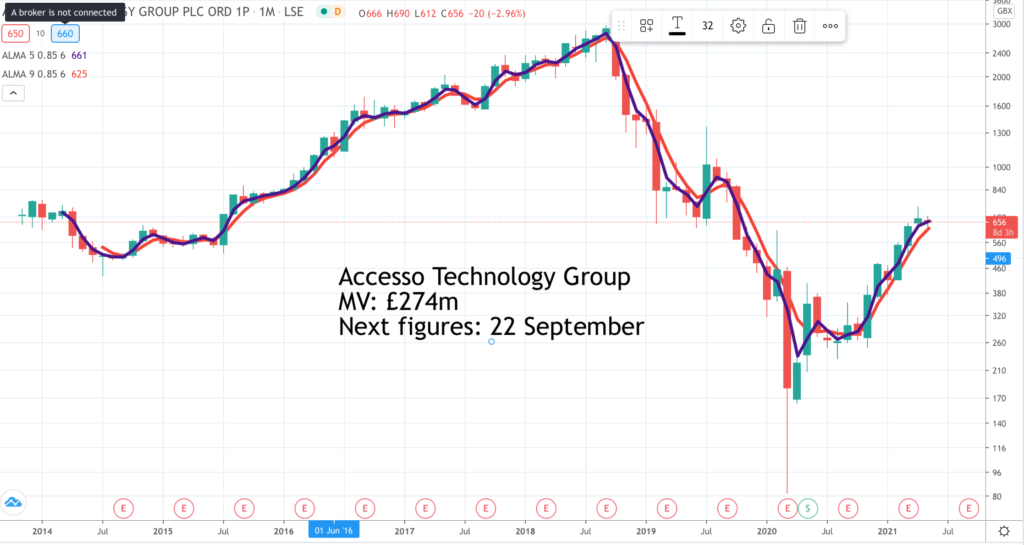 Accesso is a recommendation that started well and then went badly wrong. The shares fell all the way from a peak of around £30 to a low of 80p. The price plunged from 460p to 80p in one month in March 2020 because Accesso supplies its ticketing, queue management and e-commerce solutions primarily to entertainment resorts and events and much of revenue is transaction related. Investors expected revenue to collapse as a result of Covid-19 and they were right as 2020 sales more than halved and profits turned heavily negative.
It must have looked scary for a while. April revenue was down 80pc and the group had $12.8m of net debt. No wonder the group had an equity issue in May 2020 (including a 13:1 offer to existing shareholders), which raised £39.1m at 290p a share in exchange for new shares representing around a third of the enlarged equity. Without the share placing the company would have been in breach of its loan covenants some time in the autumn of 2020 and, as we know, progress out of lockdowns has been decidedly patchy. As it is the group lives to fight another day but at the expense of significant shareholder dilution.
Investors are looking to better times ahead. There is a new management team in place and it seems likely that the customers are going to make greater use of technology in future, not least to manage social distancing, which may become a persistent feature if Covid keeps popping up with new variants.
"The strength of the company's customer base and the fact that many increasingly utilise multiple accesso solutions on an integrated basis emphasises the long-term opportunity. While the Covid-19 pandemic crisis has certainly created a near-term challenge for the company as well as the broader leisure industry, the company anticipates this disruption may accelerate the adoption of some of its technologies and those could remain in place following return to more normalised operations."
At the same time as seeing an increased opportunity the group has acted to reduce the cost base.
"These combined actions have reduced the company's monthly operating cost run rate by approximately $2.6m compared to 2019, resulting in a monthly run rate of approximately $3.8m during this period of reduced operations."
Costs will climb again as recovery in the outdoor entertainment business increases activity but the group is now well placed with sharply lower costs overall and a strengthened balance sheet to cope with prolonged low demand. This will give comfort to its customers that Accesso and its solutions will be around as and when they do reopen for business.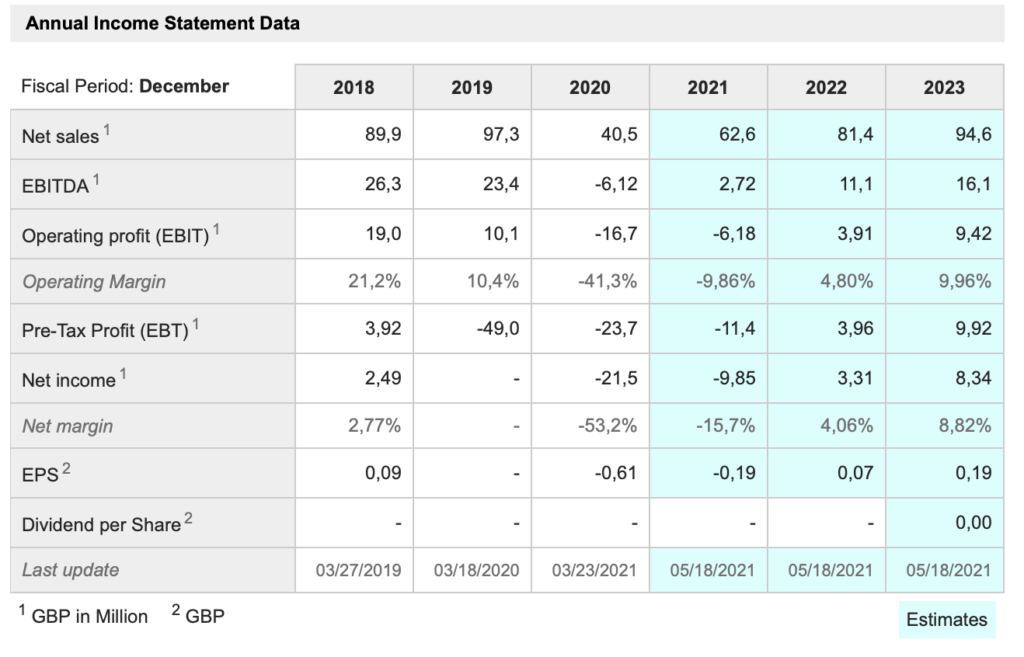 ---

Accesso and Superdry are what I am coming to think of as 'resurrection' stocks. After a period of great success, they have had a near death experience and are now being born again. If we look back through stock market history at other 'resurrection' stocks they have been some of the stock markets most amazing investments.
A classic example is Ashtead, which had a period of great success, nearly crashed and burned at the beginning of the millennium, was reborn under new management and has been an incredible success almost ever since, albeit with another bumpy patch during the 2008-09 financial crisis. 'Resurrection' stocks like Ashtead are usually a bit of every thing – born again, rubbish theory of value and often an important 'something new' to take the business to undreamed of heights. In the case of Ashtead the 'something new' was a massive shift in North America from owning equipment to renting it. This turned Ashtead's earlier debt-funded purchase of a Florida-based business called Sunbelt Rentals, which had earlier threatened to bankrupt the company, into a phenomenal winner.
The something new for Superdry (see above) could be the focus on sustainability as illustrated by the links with Neymar and the sourcing of organic cotton from India, which should reinforce the brand's already great appeal to millennials and Gen Z. In the case of Accesso I have not yet found an important 'something new' but that does not mean there isn't one or that one won't emerge in the future. A possibility, hinted at above, is that the same Covid-19 that nearly killed the business in 2020 may make it indispensable to its holiday park and event management customers in the future.
In its latest presentation the group said – "Approximately 62pc of accesso's transaction volume is concentrated in experiences where pent-up demand, visitor proximity and minimal planning requirements should drive faster recovery." This mainly relates to theme parks and live events, where at some point there is surely going to be a surge in demand as experience-starved customers rush to make up for what they have been missing.
The long term roadmap looks exciting. The company is focused on helping its customer base with e-commerce, point of sale, queue management and in other areas. These are large opportunities for a group, which is effectively outsourcing non-core activities for its clients and helping spread best-of-breed solutions across its growing customer base. The fact that I cannot give you chapter and verse on exciting developments to push the share price higher is not a negative. It is the 'something news' that cone along after your initial purchase that can often have the most exciting effect. The key argument for buying, as with Superdry, is that both these businesses are at exciting turning points. The vicious circles that have caused so many problems for these businesses are turning into virtuous circles to drive future growth and we look to be at an early stage in this process. Surprises, which in the recent past have tended to be negative, are now more likely to be positive.
---