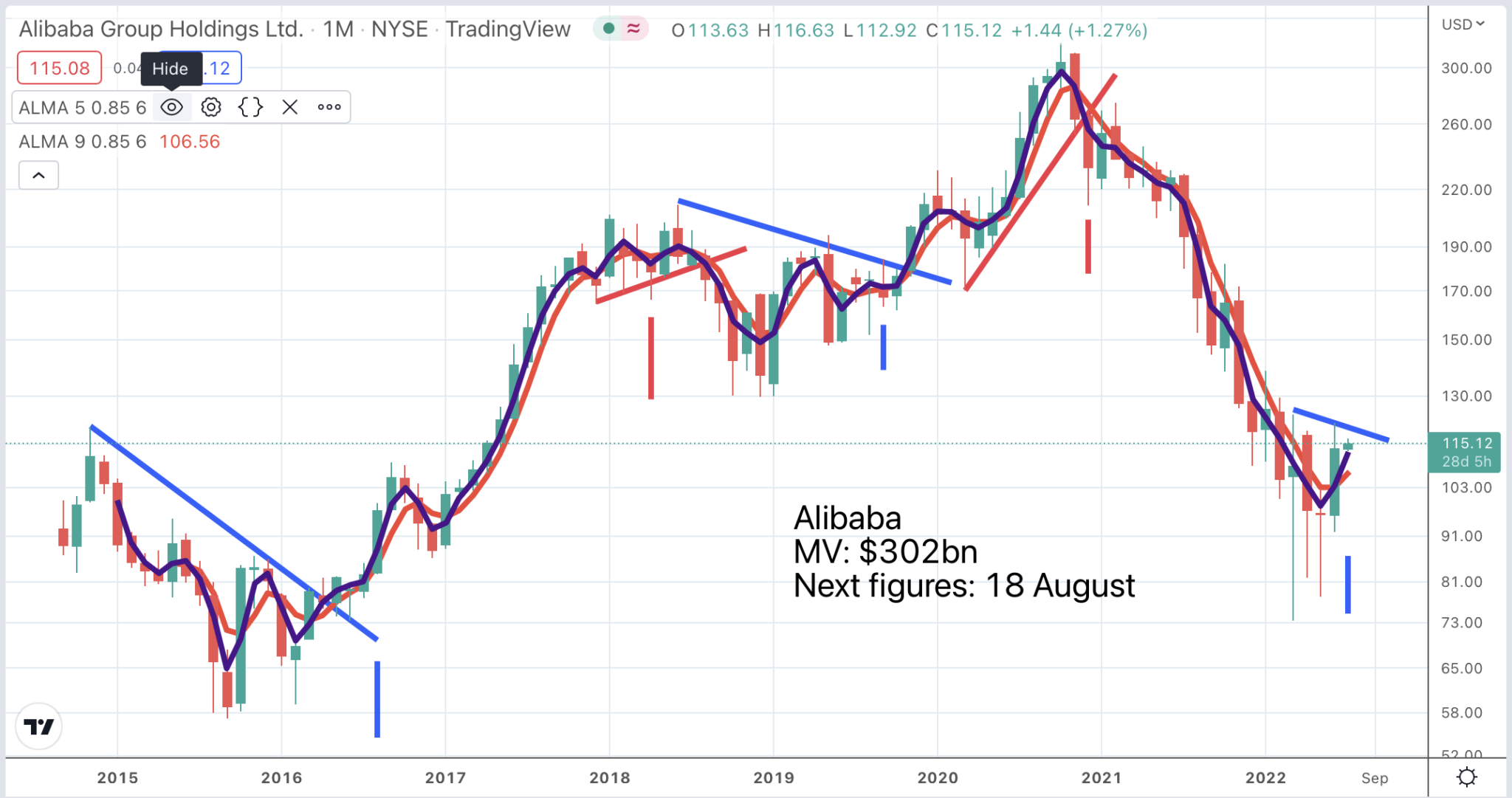 I thought we had a 3B buy signal for Alibaba with a golden cross on the moving averages and Coppock turning higher from minus 100 but we are missing something which is a trend line break. This is usually the first to signal but not this time. Nevertheless I am going to alert on Alibaba which is another Chinese share quoted on Nasdaq. Previous blue to reds have worked well so hopefully this will be another example.
The latest quarterly statement was cautious reflecting a renewed outbreak of Covid across China but Alibaba has a massive footprint in e-commerce in China, a growing presence outside China and a fast growing cloud infrastructure business. It is easy to see that it could have an exciting future.
For Alibaba, high-quality growth has been a principle for years. Especially during the pandemic, we see the benefits of a solid foundation that we have built over time carrying out this principle: number one, the high-quality consumer that we serve; number two, the high-quality infrastructure we are building for digital commerce; and number three, the high-quality technology innovations that drive the vast potential of our cloud computing business.

Q1 2022, 26 May 2022
Cloud represents a huge opportunity.
Digitization of other industries is just starting, and we see plenty of opportunities. Cloud computing and data intelligence services are fundamental to every business in every sector undergoing digital transformation. According to the industry estimates, China's cloud market size will reach RMB 1 trillion by 2025. Alibaba Cloud will continue to elevate its core technology and products to maintain its leadership in its highly potential market.

Q1 2022, 26 May 2022
Their conclusion seems a reasonable reflection of prospects.
The history of economic development has always been filled with twists and turns. In the long run, we strongly believe in the resilience and the potential of the China economy. We will strengthen our fundamentals during this unique period focused on innovation and customer value creation and continue investing and planning for Alibaba's long-term growth.

q1 2022, 26 May 2022
I have never been that crazy about Alibaba as a share but given its presence at the heart of the Chinese digital economy, the obvious potential of that economy and the chart telling us that the shares are timely to buy that makes them worthy of an alert.
Alibaba BABA Buy @ $115
Strategy
It is so nice to be able to recommend shares to buy after such a fierce shakeout. Alibaba looks classic 3G and the charts are saying buy; that's good enough for me. Alibaba is also a big and far-flung business so you never know what exciting initiatives might be coming along to create shareholder value. Last but not least the Coppock indicator is turning higher, from negative, after falling since November 2020.
As we move into July I shall be going through my table to see what else might be happening.