Two exciting UK newcomers – Darktrace and Wise join the portfolio
September 24, 2021
Darktrace. DARK. Buy @ 910p. New entry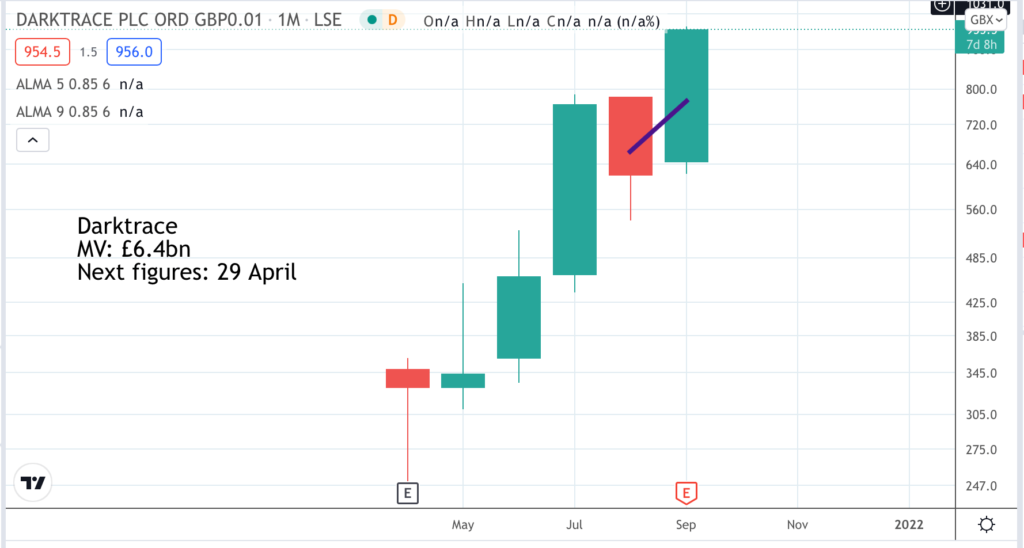 Dartrace is a recently floated Cambridge-based cyber security company which is using advanced mathematics and AI to provide cyber security solutions for enterprises and organisations. Priced at 250p the shares have been greeted with great enthusiasm and have already more than trebled helped by a strong earnings report. On my theory that it is never too late to climb aboard great growth stocks I am adding the shares to the QV portfolio.
Founded in 2013 in Cambridge by a group of former intelligence experts and mathematicians, Darktrace uses artificial intelligence to detect and respond to cyberthreats in a business's IT systems. It raised a total of $230.5m from investors prior to its IPO, according to Crunchbase.
There is very little share price history for the chart but what there is is impressive. When shares are going to climb a great deal they often start strong. It is like a statement of intent. So we can put a tick in the chart box.
The growth has also been strong. Sales have risen from $79m for 2018 to $281m for 2021. Below are the strategic highlights from the latest year to 30 June 2021.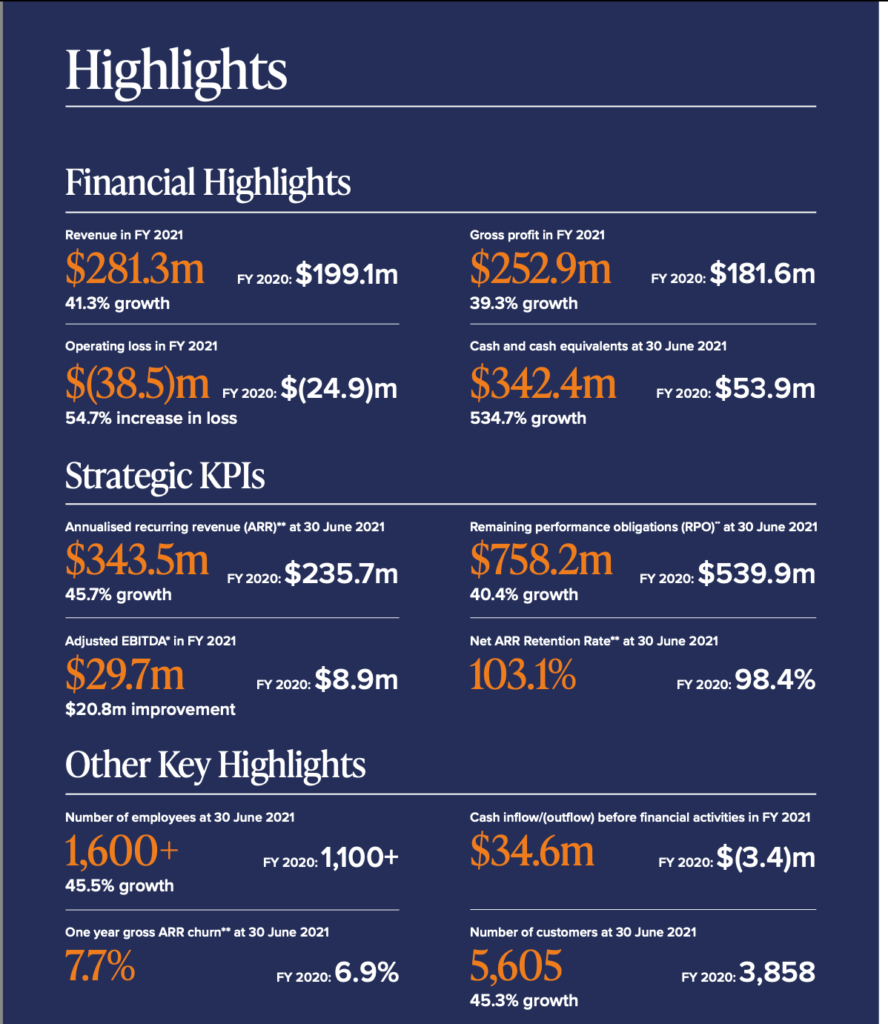 As you can see all the numbers are moving strongly in the right direction.
My latest mantra is that we are moving from the era of cloud computing into the era of artificial intelligence when companies in many industries are going to use AI as a disruptive force. Darktrace is very explicitly using AI and machine learning (ML) to bring new ways of doing things to the cyber security industry.
"Self-Learning AI learns the unique fingerprint of a business. It builds an understanding of 'self' for every customer, across all their technology environments, live in the real world. With this 'sense of self', not only does the AI understand where threatening activity is happening, but it also knows how to stop that attack in a way that is very targeted.
The customer's business is made up of unique people, devices, and data, so this is where the AI is deployed. We don't summarise the average smart phone and ship it to a generic data cloud to be shared across thousands of customers, because that is not capable of detecting new attacks nor successful in achieving surgical responses. Instead, we bring the AI into the customer's business so it can be truly bespoke and successful.
This works for any customer in the world and it is robust; it is designed to be left indefinitely without intervention because it continually learns for itself, as the business evolves and grows. Self-Learning AI allows organisations to detect novel threats (zero-days) that others miss: when we plug our AI into organisations, in 77pc of them, we find serious threats inside.
This is AI that works in the real world, solving real problems on real data. Our technology learns the business, not the breach, and we are the only company doing this."
Darktrace's business is evolving at a rapid rate.
"In May 2021, we announced a landmark partnership with Microsoft to allow organisations to enhance their cyber defence across multi-cloud and multi-platform environments. This enables businesses to reap the benefits of cloud infrastructure while proactively managing the risk it introduces and allows security teams to prioritise more strategic tasks."
The team at Darktrace are certainly very excited.
"Since becoming CEO of Darktrace in 2016, my excitement about the future of the business has only grown. We remain more ambitious than ever and focused on accelerating the adoption of Self-Learning AI worldwide."
There is a large addressable market opportunity. The directors say they believe there are 150,000 potential customers for Darktrace's technology. This compares with the existing customers base of 5,605, up from 3,858 the year before.
There is a slight sense in which Darktrace was born out of an earlier UK technology company called Autonomy which specialised in performing searches in unstructured databases (prose instead of columns). Mike Lynch, who founded Autonomy owns 19pc of Darktrace and CEO, Poppy Gustaffson, worked at Autonomy. The latter company became mired in controversy when it was sold to Hewlett-Packard who ended up suing Mike Lynch for fraudulently inflating the value of the company. Lynch is now fighting extradition to the USA, where he could face a lengthy prison sentence if found guilty.
I struggled to understand Autonomy's software when they were floated and I am not finding it much easier with Darktrace. However the general principle is easy enough to understand. Darktrace uses self-learning software to discover and fight threats from within the organisation in a process of constant improvement which is likely to become even more critical as the bad actors start using AI themselves.
Darktrace CEO, Poppy Gustafsson, also sees opportunities for the group's technology in areas beyond cyber security. "Our highly sophisticated AI capabilities, combined with the fact that we are plumbed directly into the central nervous system of our enterprise customers, gives us an incredible opportunity to help deliver value to them way beyond the confines of cyber security. It is not hard to imagine how we could provide unique insights in areas of compliance, HR, IT operations, or risk. Watch this space."
Darktrace meets my 3G criterion. The chart looks strong, all the key metrics are growing fast, it is based in Cambridge giving it access to a talented pool of labour and it has a story which could support its growth to become a much larger company. On that basis the shares look an exciting buy. I am not saying so much about magic any more because it is something intangible which you can feel rather than see and pretty much all these 3G companies have it. There is no need to try to quantify it.
Below is another summary of how Darktrace operates. It certainly sounds both amazing and something that every threatened organisation would want to have although I have to caution that I am not remotely qualified to make a judgement on this. I am a guy who struggles to get the most out of a mobile phone. Nobody is going to call on me to help fight off a cyber attack. The real proof of the pudding will be how customers react. Darktrace say they are not so much land and expand (win new customers and do progressively more business with them) as land, land, land (win loads of new customers). The key metric we want to see them growing fast is numbers of customers.
Below is a graphic giving an insight into what they do and how they do it.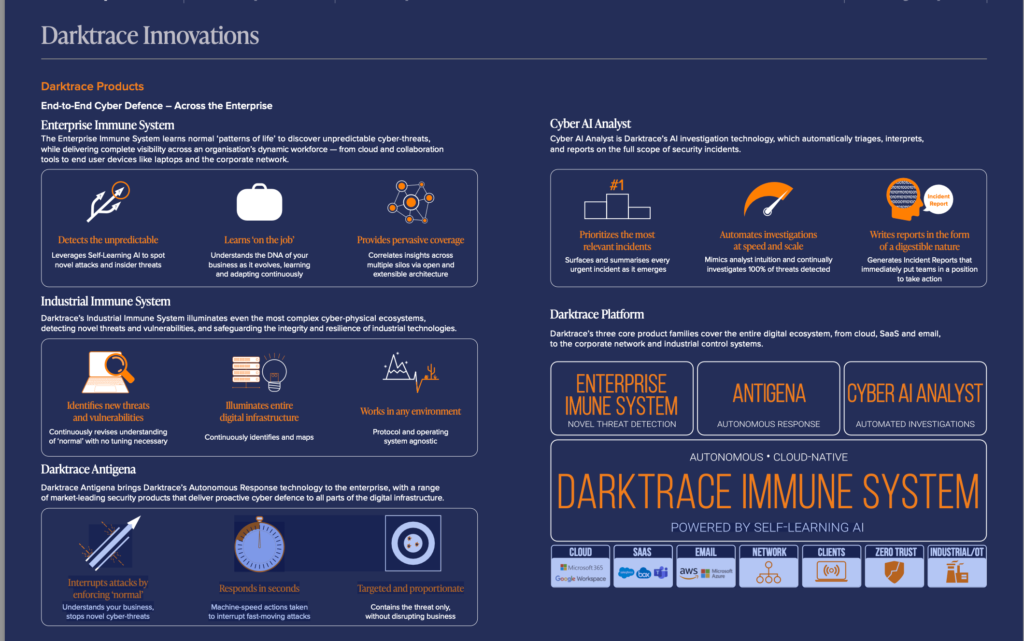 ---
Wise plc. WISE. Buy @ 1135p. New entry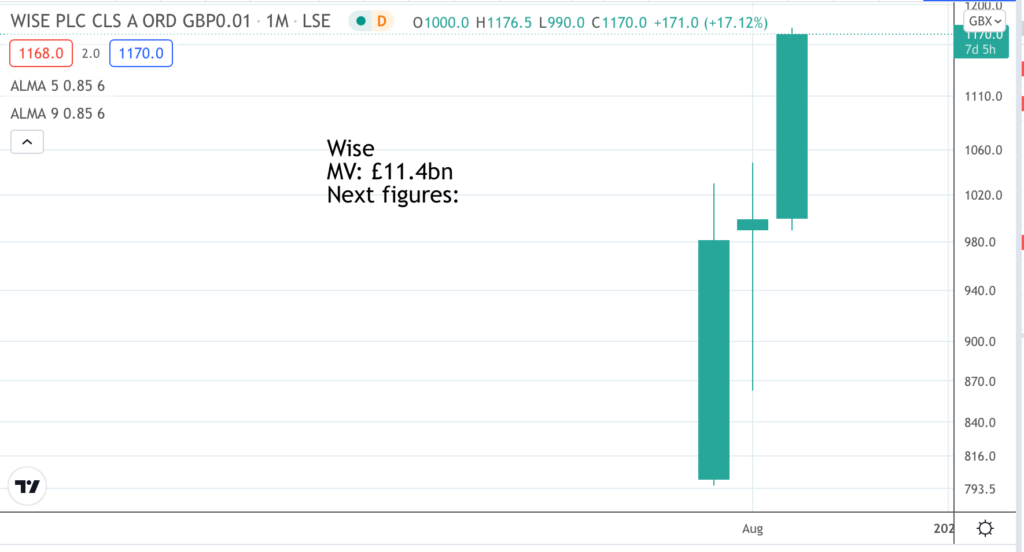 Just to make my position clear and apologies if you work for one of them. I hate traditional banks. Their business model consists of stealing as much money from their customers as they can get away with and many of their charges are imposed surreptitiously. They manage to continue doing this because of a vast inertia on the part of their customers. I cannot wait for them to disappear or at least find a new role that does not rely on legalised theft. They need all this money because of the vast traditional infrastructure which they have to pay for. This legacy makes them ripe for disruption and the disruptors are coming. One of them is featured here.
A key driver in the emergence of Wise has been the growing number of cross-border businesses, many of them quite small. I know this from my own business because we routinely uses services provided by people based in other countries and need to make cross-border payments. All of these people are naturally sensitive to being paid fast and receiving in their own currency an amount close to the payment made by their customer.
The origins of Wise, 10 years ago came about when two guys were transferring money between countries and losing a significant percentage of their hard-earned cash while doing it. They came up with the ingenious solution that the man transferring money to Estonia would pay pounds in the other mans bank account in London while he would pay money in Estonia into the first man's account. In this way they avoided all charges and also got the idea that something similar could work for other people.
It is very similar to Michael Dell's realisation in the last millennium that if he cut out the middlemen he could sell desktop computers much more cheaply.
Naturally it was not that simple but a decade later the infrastructure has been put in place to allow rapid and almost costless money transfers between many of the world's countries. The company was originally called TransferWise to reflect these roots but as time has passed, in typical fintech fashion, the group has begun to offer other services to its customers so prior to flotation they changed the name to Wise.
"In the decade since [formation], we've grown from a simple money transfer service into an international account that helps a community of over 10m like-minded people and businesses manage and move their money across the world.
Wise now moves over £5bn across borders every month, saving customers more than £1bn in fees a year.
Our Wise Account and debit card is replacing traditional international banking for millions of people and businesses. We've issued more than 1.6m debit cards and customers held £3.7bn in deposits as at 31 March 2021 across 56 different currencies in Wise accounts, and many use their Wise account numbers to get paid like a local in 30 countries.
Businesses now use us to manage their cash flow, pay suppliers, and get paid all over the world.
And by building this infrastructure for consumers and businesses, we've created a service over API [an application programming interface is a set of defined rules that explain how computers or applications communicate with one another] that more than a dozen banks and enterprises use today.
Over the years we expanded to new countries, launched new features, and are still fighting as hard as ever against hidden fees. Throughout this, one thing has remained constant – our mission."
The company is growing strongly.

Customer numbers are. not far off doubling in the last two years. What is also striking is the number of Wise business customers which is much less than personal but growing even faster pointing to a huge additional opportunity for fast future growth and expansion in the range of services offered.
It is also very evident that Wise is barely even scratching the surface of a vast opportunity.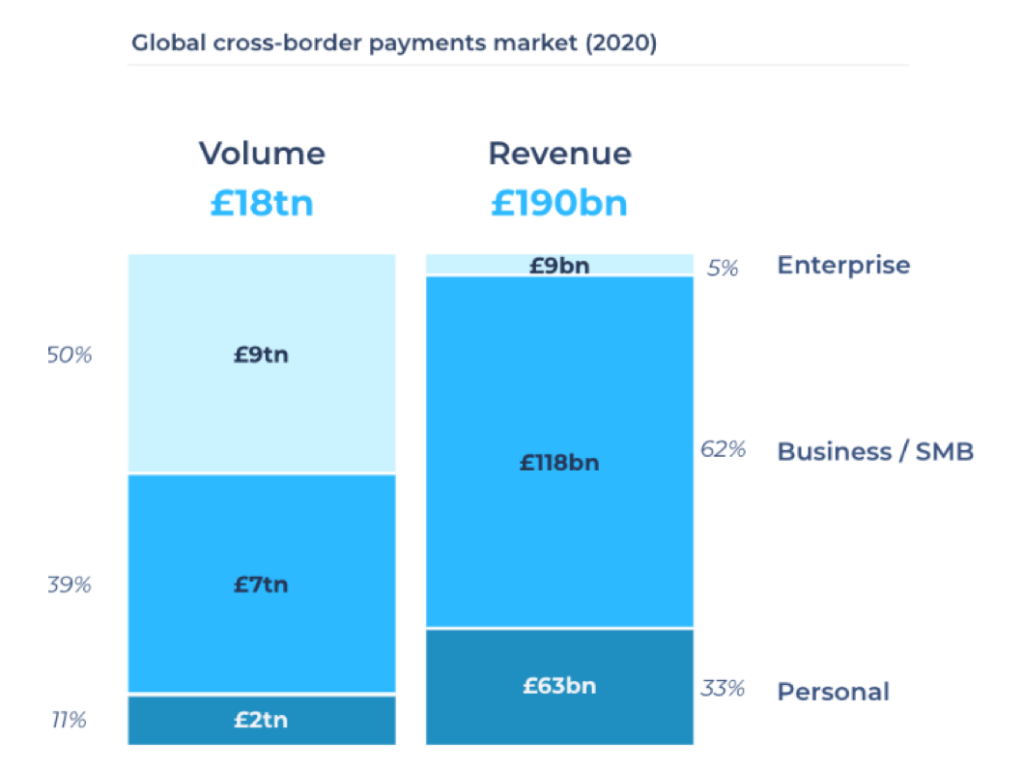 Below are the latest numbers for the business. The revenue number of $421m for the year to 31 March 2021 compares with $303m for fiscal 2020, $179m for 2019 and $117m for 2018. By any standards this is a very fast growing business.

And the difference between the cost and speed of the service offered by Wise and that offered by traditional banks is equally massive. Banks charge an average fee between three and seven percent, they take between two and five business days to move the money, the paperwork is cumbersome and unfriendly and the whole process is opaque not least because the banks know that it is a rip-off.
By contrast, Wise has an average charge around 0.69pc and moves 83pc of the money in less than 24 hours with 62pc moving within an hour and 38pc is moved instantaneously. You can tell how the banks feel about their customers that until fintech businesses like Wise came along nobody lifted a finger to improve the deal. Banks may strike a pious note in their ads but do they really care about the customer. It certainly does not appear so from their actions..
The contrast between the performance of the banks and the performance of Wise gives the latter a huge opportunity to steal their existing customers and mop up potential new ones, especially the more tech-savvy millennials and Gen Z.
And once Wise starts to take ownership of the customer the opportunity to offer additional services is enormous.
Amazingly in just 10 years Wise is starting to make a measurable dent in the market.
"Personal customers trust us with moving approximately £1 in every £40 of the £2 trillion personal cross-border volumes processed in 2020. That represents approximately a 2.5pc market share, making us a leading player in this fragmented market. Micro and small businesses face the same problems when moving money internationally and our product and infrastructure works just as well for them as it does for personal customers. Our share of the SMB [small and medium sized business] market is smaller, with banks holding approximately 95pc of the market, but we are growing fast, with 23pc of our FY2021 volume coming from micro and small businesses."
Banks are ponderous beasts. Wise is moving as fast as it can. "In order to solve the structural problems in the cross-border payments market, we realised we needed to replace the outdated correspondent banking system. Our infrastructure does this by stitching together local payment systems, eliminating intermediaries and manual processes, and hence removing the high costs, lack of transparency, delays and inconvenience that come with it."
They have the technology.
"Our infrastructure is powered by modern, purpose-built technology, allowing us to scale rapidly whilst maintaining the quality and convenience our customers have come to expect. We have over 500 engineers, distributed in six regions across the globe, constantly evolving and deploying our technology through over 90 production deployments per day (approximately 3,000 per month).
Our technological interface, which includes our website, mobile applications and third- party integrations, are built on the same open API, creating a seamless customer experience on any device or platform, anywhere in the world.
Our entire product suite is underpinned by a core engine of advanced payments technologies, including local payments systems integrations, a global real-time treasury management system, a smart, multi-currency ledger and automated KYC [know your customer] and AML [anti-money laundering] verification and financial crime fighting."
This cooperation with the regulatory authorities is a key element.
"Our compliance team collaborates with regulators and law enforcement to access resources and tools, improve monitoring and keep pace with the latest local law developments. We have zero tolerance for the loss of any licences or public issuances from regulators that may inhibit our ability to serve our customers. As a result, we have never been the subject of an enforcement action."
In essence what they do is much like how they started.
"Our infrastructure enables us to process Wise Transfers by utilising local pools of liquidity to help eliminate payment processing inefficiencies. Our accounts hold currency around the world from the local payments we receive from customers and we utilise our in-house treasury function to purchase currency in the open market at very low costs where needed. As much as possible, money does not cross borders. That makes our transfers much faster and cheaper than most traditional providers. There are no additional foreign exchange fees and customers know exactly how much they will be charged before initiating the transaction."
I can see how Wise Business could become huge.
"Wise Business provides all the benefits of Wise, tailored to freelancers, entrepreneurs and SMBs. As with Wise for personal customers, the Wise Business account provides business customers with international banking features, allowing businesses to manage money "locally" for a small fee.
Wise Business has scaled fast, replicating our success with personal customers, with over 300,000 active business customers in FY2021.
In addition to Wise Account features, Wise Business provides business-specific functionalities, all powered by our infrastructure. This includes invoicing, payment automation and accounting integration, multi-user accounts, enhanced spend money benefits through the Wise Business debit card, batch payments, recurring (scheduled) payments and API-based payment workflow automation.
It seems to me that the traditional banks are sitting ducks for an operation like Wise and there is even reason to expect strong growth to continue. The shares look an outstanding investment.
---

It is a pleasure to see two such exciting companies making their debut on the London Stock Exchange. Darktrace in particular is an enigma shrouded in a mystery for a layman like me but what they say they can do sounds amazing and they are certainly bringing in the customers. Wise is attacking a prey, the banks, which already looks wounded and vulnerable so they too have a massive opportunity.
I wouldn't worry that Mike Lynch is in the wars legally. I have no idea about the rights or wrongs of his situation but it has no implications either way for the success of Darktrace. There was arguably a somewhat similar situation with Carvana where a major backer and the father of the CEO actually went to jail for fraud. It hasn't stopped Carvana shares from being stunning performers.
---