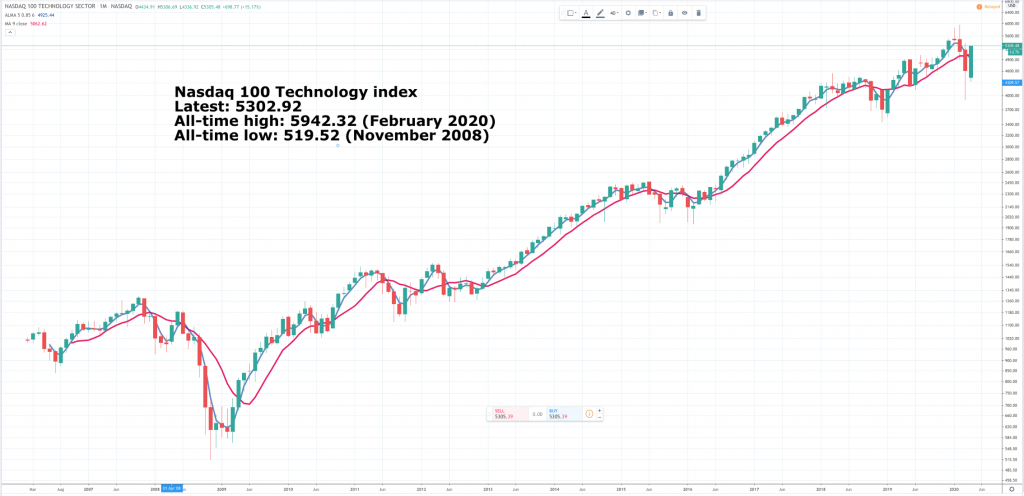 Invesco QQQ/ QQQ Buy @ $218
Wisdomtree Nasdaq 100 3x daily leveraged/ QQQ3 Buy @ $1500
Polar Capital Technology Trust/ PCT Buy @ 1790p
iShares PHLX Semiconductor/ SOXX Buy @ $241.75
Direxion Daily Semiconductor Bull 3x/ SOXL Buy @ $143.5
Wisdomtree S&P 500 3x daily leveraged/ 3USL Buy @ $495.5
S&P 500/ SPY Buy @ $294
iShares Edge MSCI World Momentum/ IWMO Buy @ $43.76
Invesco Nasdaq Internet/ PNQI Buy @ $146.12
iShares US Medical Devices/ IHI Buy @ $260.47
I am a great believer in US shares and in technology shares. They have been leading the global bull market for years now and I see this trend continuing well into the future. The ETFs above reflect that philosophy. They are all about the US and technology.
I am also with all my publications but especially Quentinvest trying to adopt a more portfolio-focused approach so I say less about the individual constituents and more about the whole portfolio. I am trying to help my subscribers create and maintain great portfolios, which will produce great investment returns.
For QV for ETFs this is an extension of what I was doing in the last issue. I have gone from recommending QQQ and QQQ3 separately to recommending them together, as part of a package and then in the last issue including PCT (Polar Capital Technology Trust) which is an actively managed UK investment trust, which consistently outperforms the Nasdaq 100, performing more like the Nasdaq 100 Technology index, charted above.
Now I am taking that process a step further and featuring 10 ETFs that I like including those three (bearing in mind that one is an investment trust, not an ETF). They are an aggressive selection since three of the 10 have 3x leverage built in. I think if you bought these shares as a portfolio on a regular basis, say every quarter or even every month or at whatever interval works for you, that you would do very well over the long haul.
A less aggressive and less volatile strategy would be to buy the seven unleveraged investments. Alternatively you could stick with my holy trinity selection of QQQ, QQQ3 and PCT. There are many variations on the theme. If you wanted to buy just one share in the group it could be PCT, it could be QQQ; it could even be QQQ3 if you like a roller coaster ride.
The hidden risk factor in the above selection is the dependence on really large technology companies like Apple, Amazon, Microsoft, Alphabet, Facebook, Netflix, Nvidia, Adobe and others. If they falter that would hit most of the ETFs in this portfolio hard but I believe that these big stocks that are creating the new digital world in which we live will continue to grow and prosper so I think betting on them is a good bet.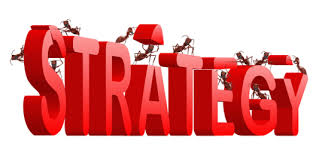 Today was a good day in the markets, at least so far. As I write the Nasdaq 100 is up around three percent. This may provoke a reaction in coming days, who knows, but meanwhile I see it as further vindication of my theory that the effect of the Covid-19 pandemic has been to add further fuel to the technology boom. If we are going to have to adapt to a stay-home economy, at least to some degree and for an extended period then technology will only become even more important in our lives.
The way that US indices are behaving, recovering strongly while we are still wrestling with the effects of the virus, strongly suggests a secular bull market that is by no means over. It is a good time to be investing. There are still many bears out there warning of horrors to come and drawing parallels with 2008 and even 1929. I think the comparisons are nonsensical. What we are seeing is not a bubble economy bursting but a sustainable economic boom, especially in the US, driven by technology and globalisation but temporarily knocked off course by the pandemic. We may have some painful months ahead but recovery is certain. It may even be surprisingly powerful.