Three technology focused trusts (not ETFs) including one exciting newcomer
November 5, 2021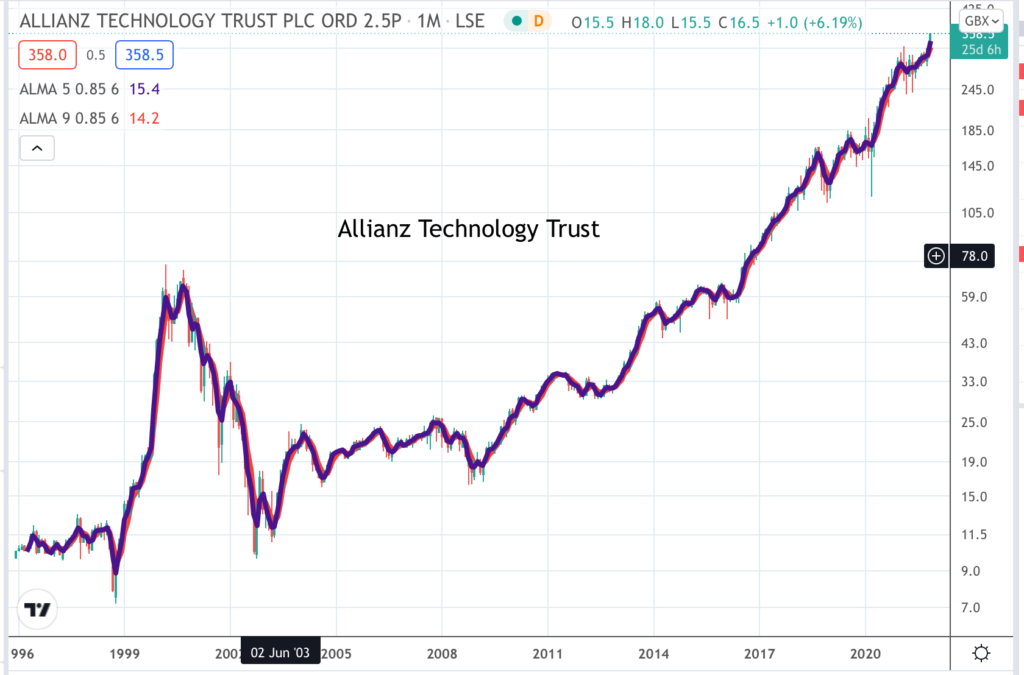 Allianz Technology Trust. ATT Buy @ 355.50p. Times recommended: 3. First recommended: 272p. Last recommended: 299p. Lowest recommended: 270p. Highest recommended: 302p
ATT, charted above, has been an impressive performer. Since 2003 the shares are up more than 30 times. Despite the name the fund is managed by an investment team in San Francisco, at the heart of Silicon Valley.
Their view of the technology sector corresponds closely with mine.
"In our view, the technology sector continues to benefit from strong tailwinds which, we believe, should continue to drive attractive long-term appreciation. There is no question in our minds that the COVID-19 crisis will spur the use of technology and change how we live and work in the future. Additionally, many businesses are struggling to find workers to meet customer demand and need technology solutions to improve productivity of limited staffs. As companies need to reduce costs and improve productivity, we expect to see accelerating demand for innovative and more productive solutions such as cloud, software-as-a-service, artificial intelligence, cyber security, etc. We are in a period of rapid change, where the importance of technology is key to the prosperity of most industries. We believe that this environment is likely to provide attractive growth opportunities in many technology stocks over the next several years.
We continue to believe the technology sector can provide some of the best absolute and relative return opportunities in the equity markets – especially for bottom-up stock pickers."
They have a sensational portfolio heavily skewed to technology and to North America. Nine of their top 10 holdings are in the QV for Shares portfolio. The odd man out is Infineon which obviously bears looking at, especially since it has a strong chart.
---
Allianz Global Artificial Intelligence Trust. ZZRA. Buy @ €307.86 New entry
This is another one from the Allianz stable, an investment group in which my interest is growing since they are clearly doing a lot of exciting things and also demonstrating like all three trusts in this alert that there is still a place for active investment management.
They have quite an unusual portfolio. Included in their top 10 is Tractor Supply, a company in the QV for Shares portfolio, but not one that springs to mind in connection with AI. Evidently I need to take another look. Tractor Supply is a US company that supplies everything for small holdings and gardens across the USA. The music on their corporate video has a country sound which works for me.
Just focusing more closely on why ZZRA might be interested in Tractor Supply which is trading phenomenally well there is this quote from the latter's 2020 annual report.
"Our omni-channel sales saw strong triple-digit percentage growth over last year and increased as a percentage of our overall sales. The work we did this year to improve our omni-channel capabilities has certainly resonated with our customers. They have adopted our digital tools – at a rapid pace that compressed our projected timelines of several years into a matter of months. For the year, 75pc of our omni-channel sales were picked up at a Tractor Supply store, further reinforcing the importance of our stores to our customers."
Six of their top 10 stocks are in the QV for Shares portfolio. I rang IG to see why the shares were not offered on their platform and they said they thought it was a mutual fund and they don't do those. Probably the best way to buy them is to go to their web site and contact them direct.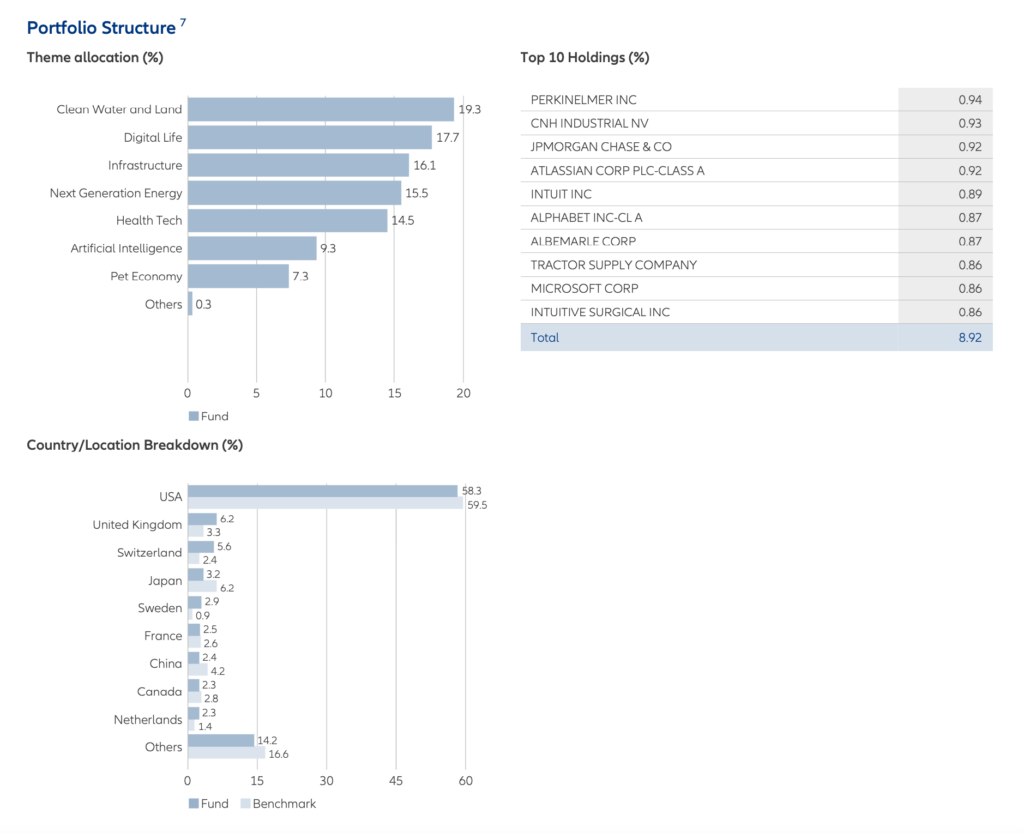 ---
Polar Capital Technology Trust. PCT. Buy @ 2670p. Times recommended: 10 First recommended: 1672p. Last recommended: 2480p
In general, my preferred way of recommending shares is at steadily higher prices. I do this to build bigger holdings in the stronger performers and let the weaker performers shrink as a proportion of the portfolio. My main exception to this rule is if macro economic factors like economic lockdowns depress all share prices. I see these events as opportunities to add to good stocks at lower prices because there is no reason to suppose that the fundamentals specific to the business have deteriorated in any way. PCT has been on a broadly ascending path with recommendations and hopefully will stay that way.
Polar Capital Technology Trust is both completely focused on technology and very well managed so I find it a very appealing investment, one which, effectively goes head to head with Allianz Technology Trust. The latter was first brought to my attention by a subscriber for which many thanks. It's a good one.
Shares in Polar Capital Technology Trust are up roughly 30-fold since the lows of 2002-03. As you can see below PCT is another trust with a fabulous portfolio dominated by North American technology shares with many names from the QV for Shares portfolio.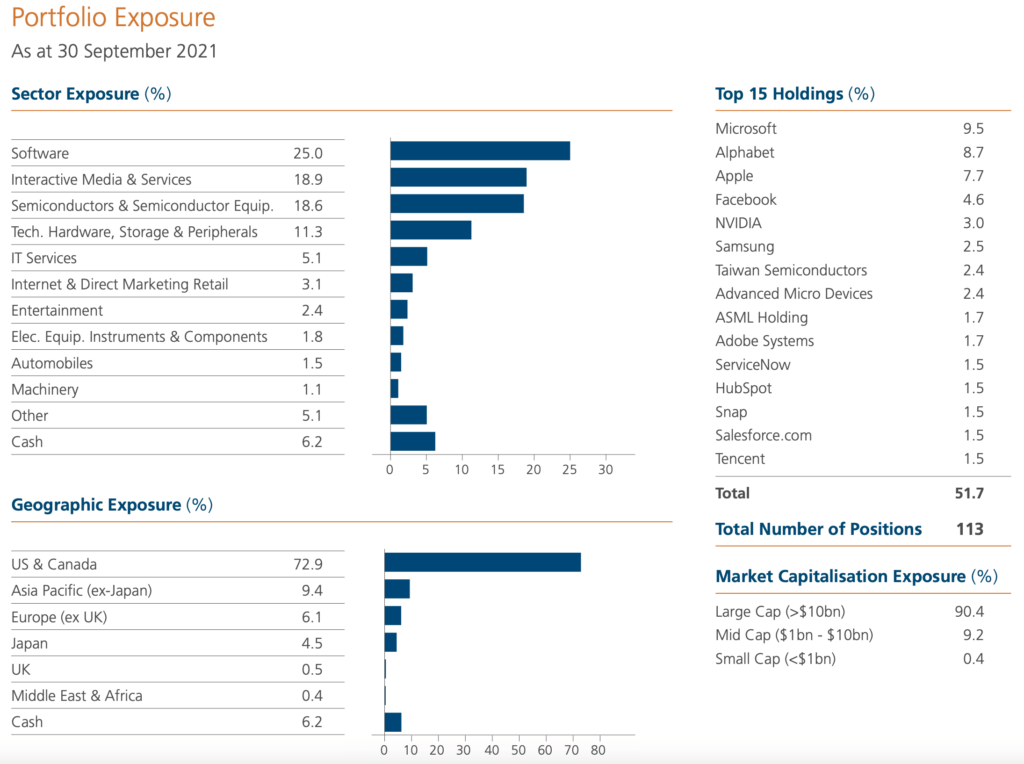 The team at PCT has been more cautious than the managers at Allianz as reflected in relatively high liquidity. Nevertheless they are also long term bulls of the technology sector.
"There is little doubt the pandemic has proven the centrality of technology reflected in the deepening and broadening of technology disruption. The digital transformation imperative looks likely to sustain into 2022 with a recent Morgan Stanley survey revealing it (together with the cloud and security) remains at the top of CIO [chief information officer] priorities. The same survey also revealed a healthy backdrop for IT spending in the years ahead with a net 40pc of CIOs expecting to grow IT spending as a percentage of revenue while IT budgets in 2022 are expected to grow +4.3pc, essentially in line with this year's growth."
---

ETFs (exchange traded funds) are also known as passive investments because they are design to track indices. This enables them to keep costs low and since many indices do very well investors can be very happy with their performance.
The alternative is actively managed funds like the three above where the managers try to use their research skills to beat the indices. This can produce great results, which is why I am enthusiastic about these three.
They are typically unleveraged or even, in the case of PCT, with its relatively high levels of liquidity they can have reverse leverage.
If you wish, at least with ATT and PCT, which are straightforward investment trusts traded on IG, you can construct your own leverage by buying CFDs or making spread bets. This is entirely your call. As my subscribers know I am addicted to leveraged investing. Many of my subscribers do not like it at all and I might well have done better over the years if I was not such a gambler.
Each of these three trusts gives wonderful exposure to the unfolding technology revolution and as new trends like AI [artificial intelligence] come into prominence you can expect this to be reflected in their portfolios.
---