The pundits are wrong – QQQ3 makes a great long term investment if you can stand the volatility; if you can't buy QQQ or buy both
January 28, 2021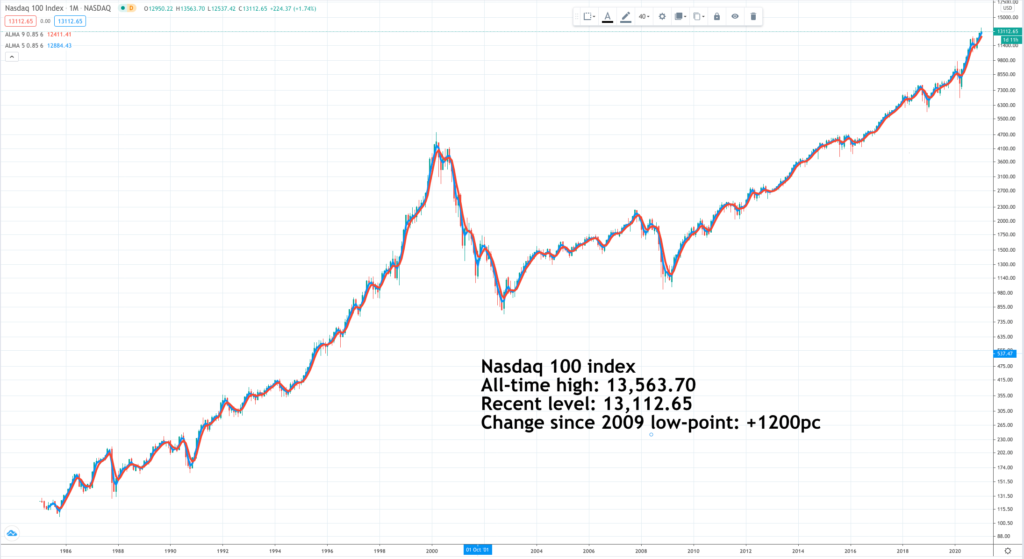 The Nasdaq 100 has been in a strong uptrend since the low point of the last bear market in March 2009. The main driver of this bull market has been technology. The world is being disrupted by an accelerating technology revolution. The companies making these changes or capitalising on them are growing strongly, underpinning a huge rise in values.
If you look at the list of constituents of the index it is stuffed with household name technology stocks. Apple alone is over 12pc of the index and 50pc of the index is accounted for by names with which everybody who uses smart phones and computers will be familiar.
The index is going through a period of turbulence at the moment but the technology revolution proceeds apace and I expect it to continue to trend broadly higher for the foreseeable future. Ten years from now I would be surprised but not astonished if the index topped 100,000.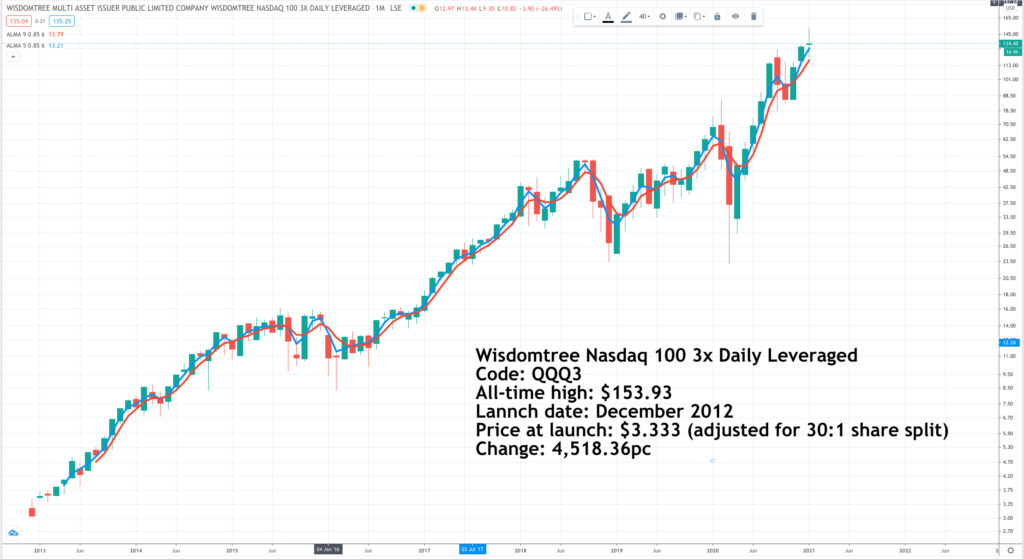 WisdomTree Nasdaq 100 3x daily leveraged QQQ3 Buy @ $139.10 Times recommended: 14 First recommended: $31.50 Last recommended: $90
If you agree with me that the long-term trend in the Nasdaq 100 index is likely to be up and that a 10 year target for the index of 100,000 is a reasonable possibility then an investment in an instrument which triples that return has much to recommend it.
I have just been reading an article in last Saturday's Money section in the Daily Telegraph discussing how free commissions are luring inexperienced investors into strategies including using CFDs, which are not only more like gambling than investing but where 75pc of participants lose money.
I am sure the author of the piece would feel very cautious about my advice to invest in QQQ3. I agree that for many people buying shares in QQQ3 would be very risky but that is because they don't realise how effective it can be as a long-term investment.
It would be easy to buy QQQ3 as it is soaring on a burst of enthusiasm and then be shocked by the next sharp fall and sell. Just today, at one point QQQ3, which is traded in US$ in London, was down around 10pc. I can see how scary that could be for somebody who had just bought them.
Investors need to realise that extreme volatility is what you must expect with leveraged investments but if you can live with it the long-term rewards can be phenomenal.
QQQ3 is fast approaching being up 50 times (fifty times) since launch in December 2012; that seems like something where it could be worth enduring some volatility.
You can even turn that volatility to your advantage as I have done with Quentinvest. On 2 March, just before the Covid collapse, I recommended QQQ3 at $63. The market plummeted and I recommended the shares again, on 17 March, at $30.50.
The thing to remember is that QQQ3 is like a wildly fluttering flag tied to the Nasdaq 100. As long as the index keeps climbing it will always pull the ETF out of a dive and take it to fresh peaks.
I have no idea where QQQ3 is going today, tomorrow or next week but I am very sure that given time it will march higher, dragged along by the index. So I am happy to alert the shares again.
If they are too fast and furious for your taste I am also recommending the unleveraged version, QQQ, which has also been very successful for Quentinvest.
Invesco QQQ Code: QQQ Buy @ $322 Times recommended: 19 First recommended: $151.89 Last recommended: $304
QQQ is a great ETF, arguably the most popular in the world and an excellent long-term home for savings. If you buy it with a CFD account on IG you can choose your leverage up to five times. If you don't want leverage and I know many of my subscribers don't you can buy it in a share account, with a tax free wrapping if you like (I think).

Quentinvest for ETFs is doing amazingly well, so well I am a bit stunned. Who would have though ETFs could be such exciting investments. The average gain on ALL recommendations since the service was launched in the summer of 2017 is over 57pc! Virtually every single ETF recommended is higher. I think there is one for gold which is down a bit.
I strongly recommend having some ETFs in your portfolio and if you decided to go 100pc ETFs I can see the logic. They are safer than shares but deliver a not dissimilar performance.
There are so many options. For example, if you are attracted by the gains delivered by QQQ3 but wary of the volatility, you could put three quarters of your allocated funds into QQQ and a quarter in QQQ3 and wait for the latter to catch up and overtake the former.
Good fun but also potentially very profitable.