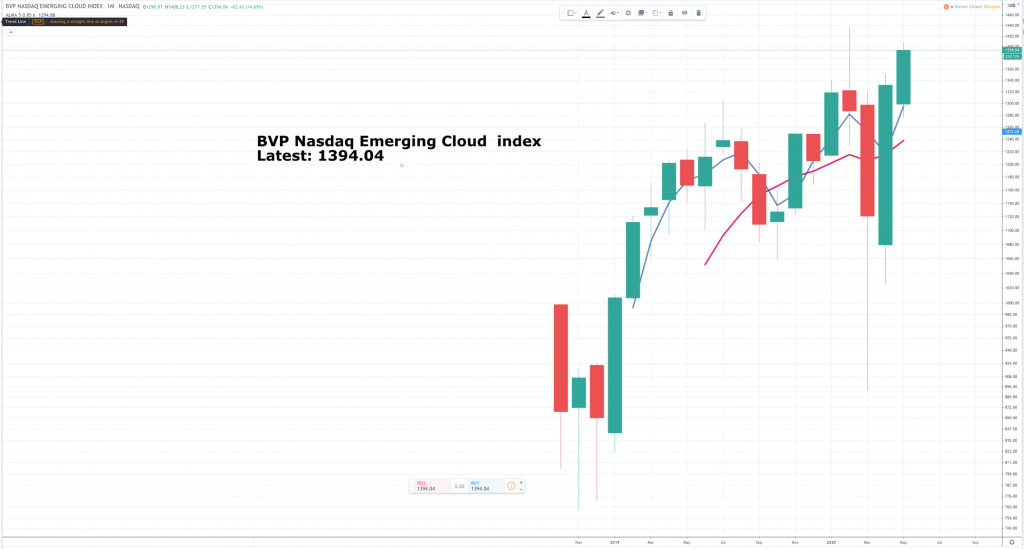 US stocks markets are outperforming global stock markets. Within that technology stocks are outperforming most other US stocks. The most exciting sector of the technology market is enterprise computing. I began alerting for shares in this sector many months ago so we already have huge gains on the QV portfolio but there is more to come, maybe much more.
Way back in the day computers were self-contained. If you wanted to store data for later you kept it in your computer memory, which was a big, heavy box under the desk. Now a phone which fits in your pocket can store every song and film ever created. It is able to do this because it has access to a huge central storage system, millions of servers, which provide a huge central memory from vast data centres operated by such as Amazon, Microsoft and Alphabet.
A replay of this whole transition is now happening at the enterprise level. Companies used to handle their technology on-site, on-premise as they call it in the US and maintain large expensive IT departments. Now all this is being outsourced too. It is not true to say that companies and government departments are turning into dumb organisations with all the brains and memory elsewhere, companies are becoming smarter than ever but it gives a flavour of what is happening.
This in turn has triggered other huge changes. First of all governments, companies and individuals increasingly rent stuff (pay subscriptions) rather than own things. This is a process that has a long way still to go. Future generations will be amazed that we all owned cars rather than consuming transport/ mobility as a service, which we either rented or paid for as we used it.
There are many other changes taking place. Call centres are going virtual, companies likeShopify can set you up with your own online retail business in days. You have an idea for a product or service that you want to source and sell and increasingly they will do everything else from taking payment to marketing to fulfilment to providing you with extra working capital to invest and grow your business. There are specialists with software and platforms to help with security, passwords, back office management, marketing, transaction taxes, importing and exporting, payroll and so on and so on.
They do it better and cheaper than you can; it is a no-brainer to use. I am currently engaged in a total reinvention of my business. The designers for logos and web site, the coders, the subscription management systems and the accounting systems are all outsourced and paid for either when used or by subscription. It is a new and better way of doing things and it is taking the world by storm.
The companies making this revolution possible, the architects of what is known as digital transformation, are growing at breakneck speed yet keep saying that they are only just getting started. The sense of dynamism and excitement is breathtaking. Forget ancient plodders like Marks & Spencer, Tesco, Barclays, BP, Shell, BP and others as they lumber off into the twilight. These new businesses, born in the 21st century and poised to grow for years and decades into the future are where you need to invest, even if you don't expect to be around to see the full extent of their achievement.
There are 26 names in my list of fast-growing, Nasdaq-quoted, enterprise software businesses. All but one are already in the QV for Shares portfolio and typically have been recommended multiple times. If some shares are missing that you might expect to be there this may be because they have grown so fast they are too big and will appear in other lists. The classic example is Shopify. Until recently it would have been in this list but will now appear in a list of bigger companies that are disrupting traditional industries and reinventing the way humanity does things. I fully expect Shopify to eventually graduate into the list of high tech behemoths, published yesterday.
Alteryx/ AYX MV: $8.1bn Buy @ $110 Next figures: 29 July
Anaplan/ PLAN MV: $5.5bn Buy @ $40.4 Next figures: 26 May
Atlassian/ TEAM MV: $42.9bn Buy @ $172 Next figures: 27 July
Avalara/ AVLR MV: $7.3bn Buy @ $93.1 Next figures: 7 May
Bandwidth: BAND MV: $2.44bn Buy @ $102 Next figures: 29 July
Bill.com/ BILL MV: $4.77bn Buy @ $65.9 Next figures: 7 May
Cadence Design Systems MV: $22.6bn Buy @ $81 Next figs: 22 July
Cloudflare/ NET MV: $7.6bn Buy @ $25.0 Next figures: 7 May
Cogent Comms/CCOI MV: $4.0bn Buy @ $85.59 Next figures: 7 May
Coupa Software/ COUP MV: $12.7bn Buy @ $191 Next figures: 2 June
Crowdstrike/ CRWD MV: $15.4bn Buy @ $72.4 Next figures: 17 July
Docusign/ DOCU MV: $21.1bn Buy @ $115 Next figures: 5 June
Five9/ FIVN MV: $6.51bn Buy @ $105.1 Next figures: 29 July
Hubspot/ HUBS MV: $7.6bn Buy @ $175 Next figures: 29 July
MongoDB/ MDB MV: $9.8bn Buy @ $170.6 Next figures: 4 June
Okta/ OKTA MV: $20.5bn Buy @ 164.4 Next figures: 29 May
Paycom Software/ PAYC MV: $14.6bn Buy @ $255 Next figures: 22 July
Ringcentral/ RNG MV: $21.6bn Buy @ $240 Next figures: 29 July
Smartsheet/ SMAR MV: $6.5bn Buy @ 54.6 Next figures: 4 June
The Trade Desk/ TTD MV: $14.4bn Buy @ $312 Next figures: 7 May
Twilio/ TWLO MV: $17.1bn Buy @ $122 Next figures: 10 August
Veeva Systems/ VEEV MV: $28.8bn Buy @ $193 Next figures: 28 May
Xero/ XRO MV: A$11,2bn Buy @ A$82.1 Next figures: 14 May
Zebra Technology/ ZBRA MV: $12.3bn Buy @ $232 Next figures: 28 July
Zendesk/ ZEN MV: $8.37bn Buy @ $73.3 Next figures: 4 August
Zscaler/ ZS MV: $9.8bn Buy @ $72.5 Next figures: 3 June
The newcomer is Bandwidth
Bandwidth is a software company focused on communications for the enterprise. Companies like Google, Skype, and Ring Central use Bandwidth's APIs to easily embed voice, messaging and 9-1-1 access into software and applications. Bandwidth offers a robust selection of communications APIs built around their own nationwide all-IP network, providing unmatched flexibility, control, and insight among CPaaS (communications products as a service) providers. The company reported great Q1 2020 figures on 30 April: "Our business is off to a very strong start in 2020 and we exceeded the high end of our first quarter guidance on both top and bottom lines. During the first quarter, our total revenue was $68.5m, up 29pc year-over-year and $4.8m above the high end of our guidance range. Within total revenue, first quarter 2020 CPaaS revenue was $59.1m, up 31pc year-over-year and $3.4m above the high end of our guidance range. The outperformance in CPaaS revenue was driven by two key factors; first, broad-based growth across all of our products as our customers grow their businesses and innovate on our platform. The fundamental strength in our business drove approximately $1.6m of CPaaS revenue outperformance in the quarter. This broad-based growth includes the ongoing momentum from the previously discussed strategic customer cohort of communication service providers whose migration progress remains on track. The second factor driving our outperformance was the increased usage driven by COVID-19-related remote work requirements resulting in an estimated $1.8m of CPaaS revenue in the first quarter."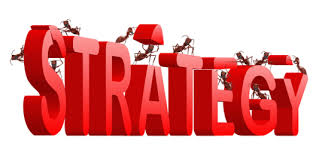 The list above includes many of the world's fastest growing businesses. They are highly valued but deservedly so since they are at the leading edge of creating the modern world. They all belong in a forward-looking 21st century portfolio.