The End of the Dollar Era and What it Could Mean for Stocks, Cryptos and Property
April 12, 2023
The end of the dollar era is hardly a done deal but what if it is happening. The implications for investors could be extraordinary.
Table of Contents
Look at this amazing quote.
According to Larry Lepard, managing partner at Boston-based investment management firm Equity Management Associates, the end of the dollar era might be the beginning of Bitcoin's golden age.

As The Daily Hodl reported, on April 10, Lepard predicted during an interview with Kitco News that the U.S. dollar would collapse within the next decade. This collapse, he believes, will significantly boost the price of Bitcoin.

Lepard mentioned that as people become more aware of the dollar's depreciation, they'll gravitate toward assets like Bitcoin, gold, and property. He pointed out a key advantage Bitcoin has over gold—its limited supply of 21 million coins. According to Lepard, this scarcity will be central to Bitcoin's long-term price increase.

Equity Management Associates, 11 April 2023
Bitcoin at $10m!
So let us have a look at the bitcoin chart.
It is that old classic again, a step pattern which is so often bullish. Bitcoin is always going to be volatile but this could easily be the beginning of a new charge. There is even the possibility that all the trading between 2017 and now is a consolidation which could support the type of move that Larry Lepard is talking about. At the very least bitcoin as an investment is looking very much like better in than out.
As Lepard noted.
If Bitcoin goes to $100,000 tomorrow, there's not going to be any more Bitcoin created." As more people choose Bitcoin as a means of saving, Lepard believes the price will continue to climb, potentially hitting $100,000, then $1 million, and eventually reaching an astounding $10 million per coin.

Equity Management Associates, 11 April 2023
It is not exactly new news that there are only ever going to be 21m bitcoins in existence but it is still of overwhelming importance for the potential price journey. Whatever happens to the demand side of this curve the supply side simply cannot react. It is totally fixed and we have already seen that there is huge demand for bitcoin in the. world.
If confidence fades in the dollar, bitcoin is there ready and waiting as are other asset classes like shares and property which would all benefit. My best guess is that anyone who thinks that the English boom in residential property has somehow topped out in 2023 is being premature. If you think prices are eye watering now my guess is you ain't seen nothing yet.
The problem for global equities is the incredible appeal of the US stock market against which almost nobody can compete. In theory, China should be able to and so should Europe and the UK, which all have plenty of bright, ambitious people. If it is not about either brains or ambition, my guess is that it is cultural. They love success, ambition and everything that goes with it in the USA. When they see a guy in a stretch limo they don't think evil capitalist b*****d, they think that is where they are going to be one day and maybe they will be.
Why ChatGPT is my new best friend
Across most of the world great fortunes come by inheritance. In the USA most great fortunes are first generation, in the hands of the guy or gal who made it. I asked my new best friend, ChatGPT, how many female billionaires there are in the USA and the answer stunned me – 88. Is this the land of opportunity or is it? Europe is all talk but in the US they walk the talk.
I know, they have rednecks, they have Trump, they have psychos with guns but even so what an amazing country where anything is possible and a bell boy can become a billionaire. Look at the villainous billionaire, Edward Lewis, in Pretty Woman, which I have just watched again. Everybody loved him and thought he was amazing, except for his victims; that happens in films but even so.
Now let us have a look at the Nasdaq 100 chart in the light of this idea that we are in a decade when there is going to be a flight from paper money into real assets.
Nasdaq 100 chart looks cool
This is a cool chart with each candlestick representing three months and a clear golden cross on the moving averages. These 3m golden crosses work well on this chart reinforcing my belief that we are in a new bull market.
It is anyone's guess how big this bull market is going to be but if there is any truth in Lepard's flight from a collapsing dollar theory it could be a big one and the world of technology is in a ferment of excitement since the launch of ChatGPT and its latest incarnation GPT-4 which is another big leap more amazing again.
I am using it now and it is spectacular. Ask it a question and you get an answer, a really good one. It is seriously wow! Even more mind blowing is the thought that this is still early days. It is so extraordinary that it is hard to figure out what this new technology is going to mean for technology or anything you care to think about – education, exams, human memory, cars, space travel, investment, factories, law, white collar jobs, everything is going to be affected by this.
I remember reading a science fiction book where everything was intelligent and you ended up having arguments with the lift. It was probably written by Phillip K. Dick, but even he could not have anticipated what is starting to happen now.
There is nothing in the chart above to help us make predictions on where the Nasdaq 100 could be going in either the short or the long term except that there is a marked tendency on the chart for periods of rising prices to be more sustained and go further than periods of falling prices. There is also a suggestion that after a big fall we get a big rise but in investment all rules are made to be broken. The chart is certainly compatible with a bullish posture.
My favourite white-knuckle ride
So now let us have a look at that crazy, white knuckle ride investment that is so dear to my heart – QQQ3.
It is not a perfect 3m buy signal because the longer moving average (the red line) is still falling though flattening out. If and when that turns higher we should be off to the races and sitting on a very fast horse or in a turbo-charged car, whichever metaphor you like best. For reasons I don't fully understand we do already have a perfect 3m buy signal for QQQ, the unleveraged version of this sort-of Nasdaq 100 tracking ETF. The answer I suppose is that QQQ, QQQ3 and the Nasdaq 100 are closely linked but not identical in their turning points so the bullishness of the first and last is a good omen for QQQ3.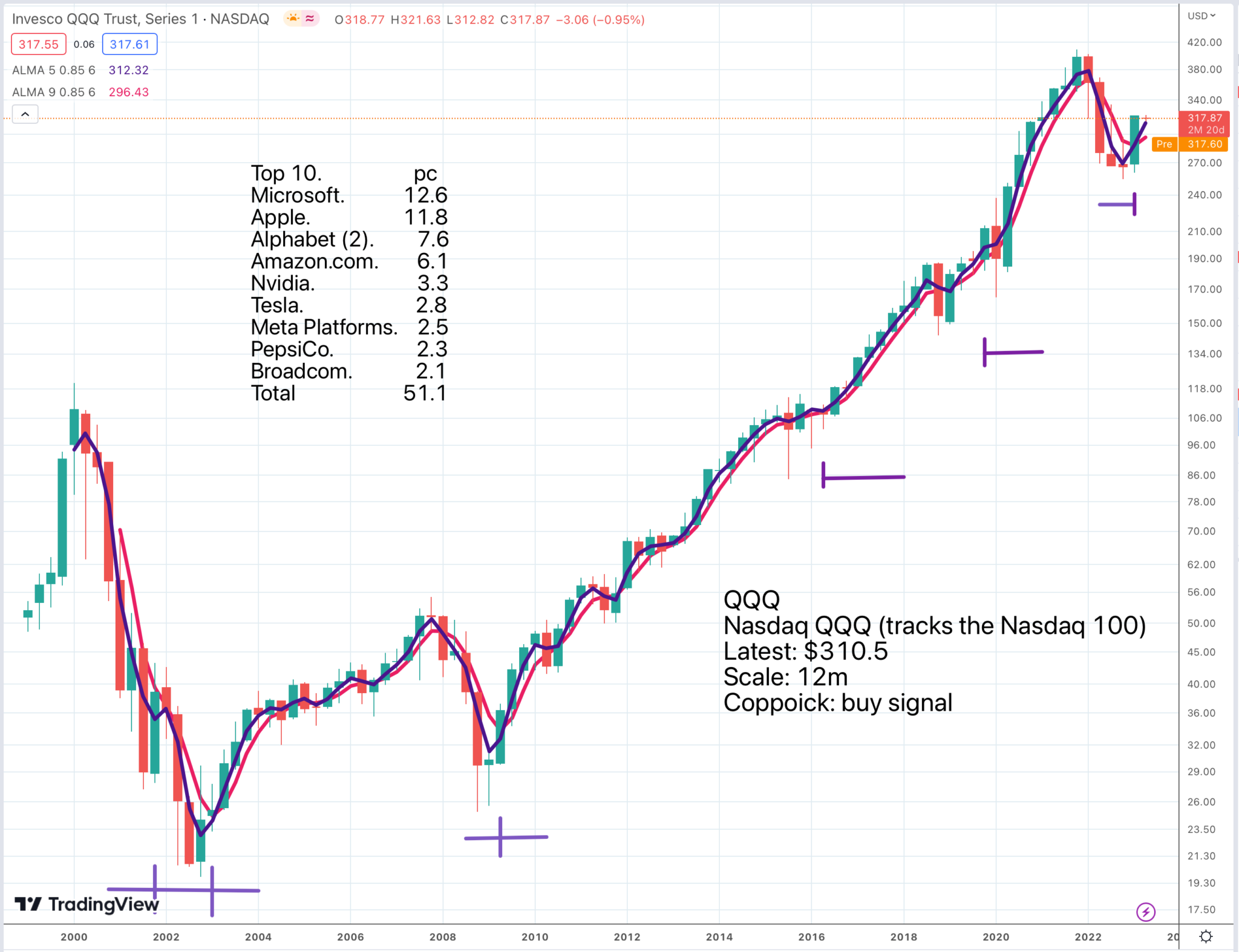 Buy signal for QQQ
I have set up a little competition. QQQ in a leveraged CFD account v QQQ3 in a share account. As and when, or if and when, QQQ goes up enough to generate significant free equity I will buy some more. It is the return on my initial QQQ investment plus these additions which I will compare with the return on QQQ3 to see which does best.
Apple is also a buy
Apple, which is such an important piece of QQQ, has an encouraging chart. There is a 3m buy signal and a Coppock buy signal from negative.
Apple is just about to open two new stores in India. I am sure Indians will love them.
Today Apple announced it will open its doors to customers at two new retail locations in India: Apple BKC in Mumbai on April 18, and Apple Saket in Delhi on April 20. These new retail locations mark a significant expansion in India that will offer great new ways to browse, discover, and buy Apple products with exceptional service and experiences for customers.

The barricade for Apple Saket was revealed this morning and features a unique design that takes inspiration from Delhi's many gates, each signifying a new chapter to the city's storied past. The colorful artwork celebrates Apple's second store in India — located right in the nation's capital. Beginning April 20, customers will be able to stop by to explore Apple's latest product lineup, find creative inspiration, and get personalized service and support from the store's team of Specialists, Creatives, and Geniuses.

Apple, 10 April 2023
Where bitcoin goes ether follows
Back to the subject of cryptos we have a nice buy signal for ether. At the end of the day bitcoin and ether seem to move broadly in lockstep so if bitcoin goes to $10m (which, at the end of the day is just a wild guess) ether is going to be up in the stratosphere too.
I think the point of saying bitcoin could go to $10m is just that there is no limit because of the inflexible supply. No matter how insane the price becomes supply cannot react; even gold is not like that because of the huge stocks of gold already in existence, which could be stolen, melted down, mined or whatever.
I was going to say now for something a little more speculative but what could be more speculative than investments like bitcoin, ether and QQQ3 so let me say another investment which many people will regard as being at the speculative end of the investment universe, or should I say metaverse.
Roblox is all about avatars, the creatures that live in the metaverse. We have just had the Uruguayan brother in law of my son's girlfriend staying in my flat with his seven year old son for several days. I asked the boy, Ignacio, if he had heard of Roblox. Heard of it; you must be joking; he knew all about it, much more than me.
The business seems to be in great shape.
Roblox, which lets players drop their avatars into millions of 3-D virtual experiences, is on track to double the number of branded worlds it hosts this year after recording about 100 in 2022, a spokeswoman said. Recent examples include Roblox experiences backed by retail clothing brand PacSun and restaurant-and-entertainment chain Dave & Buster's.

Designer Samuel Jordan, who goes by Builder_Boy on Roblox and has worked with fashion brands such as Stella McCartney and Forever 21 and celebrities including Elton John, has begun receiving requests to collaborate with properties ranging from TV shows to Nascar, he said.

Metaverse math

Metaverse campaigns' potential value can outweigh their modest price tags, even when they are less effective than envisaged, marketers said.

The cost of building many sponsored games in Roblox can range from $100,000 to $300,000, and brands can create a line of virtual goods on the platform for a low five-figure sum, according to Mr. Jordan.

Tokyo-based cosmetics giant Shiseido Co. is fully committed to the metaverse because it has found that consumers are more willing to engage with brands in such settings than on traditional social platforms, said Dina Fierro, senior vice president of the Web3 and metaverse group at Shiseido Americas.

"Nars Color Quest," a Roblox experience sponsored by the Shiseido makeup and skin care brand, attracted 41.9 million visitors while it was active from July to October of last year, said Ms. Fierro.

Consumers in 2021 spent an average of six to seven minutes playing a series of games on Drest, an app on which users can sample 3-D virtual fashions, that were sponsored by Nars, she said.

"When you think about seven or eight precious minutes with a consumer and how lucky you are to get maybe six seconds of someone's attention on a platform like an Instagram or a TikTok, I think it's very easy to validate the theory that this is a qualitative engagement," Ms. Fierro said.

Shiseido will look to expand on its past success with metaverse experiences and digital tokens, said Ms. Fierro.

Dow Jones newswires, 7 April 2023
Why Shiseido loves Roblox
It is not all good news on the Metaverse front but there is enough going on to keep the pot bubbling.
We continue to focus on innovation, and we're very pleased with our results from Q4 and the early signal on January. We have enormous headroom in our business. We have the whole company focused on one product, one platform.

And in the midst of a fair amount of turmoil over the last year, we continue to hire and build an amazing team with amazing people. We're focused on our four growth vectors. One is bringing people together all around the world. One is expanding our platform to encompass people of all ages.

Third growth vector is we continue to see expansion into education, into concerts, into communication. And finally, our economy is vibrant and growing, as we'll share in our call. A couple of details. Q4 bookings, $899m, up 17pc year over year or 21pc on constant currency, and highlighting this is around the world, including U.S., Canada, and APAC, each at 19pc growth in Q4 and Europe, 24pc.

Some slight acceleration in '22 going into '23. With December, 20pc year on year; January 21pc, year on year. And this is highlighting our global growth in January with Europe and APAC, up 29pc year on year. For older users, which is an enormous opportunity for the platform, sometimes referred to as aging up, this is not a new thing for us.

We are in the middle of aging up. And in January, we saw our 17- through 24 -year-old segment grew at 39pc year on year for bookings. Going into usage and DAUs [daily active users], we're proud to report that in January, we had our highest ever DAUs at 65m DAU, and Q4 DAUs continue to show really strong growth.

Q4 2022, 15 February 2023
It's not a slam dunk this chart but it has a number of good features. The Coppock indicator is climbing while still in negative territory. We have a golden cross on the moving averages and we have a classic Eustace Story-style double bottom with lows in May 2022 and December/ January 2022/23. Personally I probably would not buy right now but I would be ready to pounce if the price breaks above $50.
Strategy
These alerts are a pot pourri of all the things I am looking at in Quentinvest these days. There are alerts for cryptos, regular ETFs like QQQ, white-knuckle ride ETFs like QQQ3, portfolio growth stocks like Apple and speculative potential super star stocks like Roblox. All human life is here, you might almost say.
The background is an emerging bull market, I was going to say in real assets but that hardly describes crypto currencies, what weird things they are but you cannot argue with the performance. They may be a strange asset class that has old timers, very old timers, like Charlie Munger, who is almost 100, climbing up the wall but boy do they perform. Cash v bitcoin is like dozing on a couch v climbing the North face of the Eiger without safety gear.
One chart I have not looked at is that for the dollar but I can see that it wouldn't really help. What we want to know is not what the dollar is doing against a basket of paper currencies but how it is doing against asset classes, and there doesn't seem to be any way of charting that except perhaps by looking at inflation of asset prices, goods and services which may give us a sort of idea.
My famous cousin (famous to me anyhow) has insisted for years that inflation is much higher than the great and the good let on and maybe he is right. If you are a government, borrowing like there is no tomorrow, inflation is your friend, especially if it is higher than people realise. You borrow all that money that buys X and when you pay it back it only buys half X; sounds like a good deal for somebody and not necessarily the people who lent the money. So much so that I have long adopted a similar philosophy in my own life, much to the horror of my debt-averse millennial children.
My Spotify list tops 3,200 songs
My Spotify list is over 3,200 songs. As I write I am listening to Vaya con Dios singing 'I don't want to know'. They are a Belgian group and the lead singer is Dani Klein. She is awesome. I like her anyhow and a few weeks ago I had never heard of her. Another to check out is Mary Gauthier, who sounds as though her voice was carved out of rock and gravel. I have even discovered the Schrammel brothers, who created Schrammelmusik, a blend of waltz and the popular music of the Viennese slums in early 19th century Vienna.
My life is become ever more of a soap opera but what's not to like. What is astonishing is (a) what a treasure trove of all kinds of music Spotify is and (b) how easy it is to find stuff if you look. The other day I found Helene Fischer, a Russian-born, German singer about whom I knew nothing but in Germany she is a goddess. In 2018 she earned $32m. I realised she was special because she sings duets live with many famous performers, who I did know, but it is when she starts to sing that the audience goes mad and she does indeed have a wonderful voice. Incidentally I like it when duets, trios or even quartets of famous singers perform together because they often choose great songs.
Share recommendations
Bitcoin. Buy @ $30,000
QQQ3. Buy @ $80
QQQ. Buy @ $310.50
Apple. AAPL. Buy @ $160
Ether. Buy @ $1,870
Roblox. RBLX. Buy @ $46