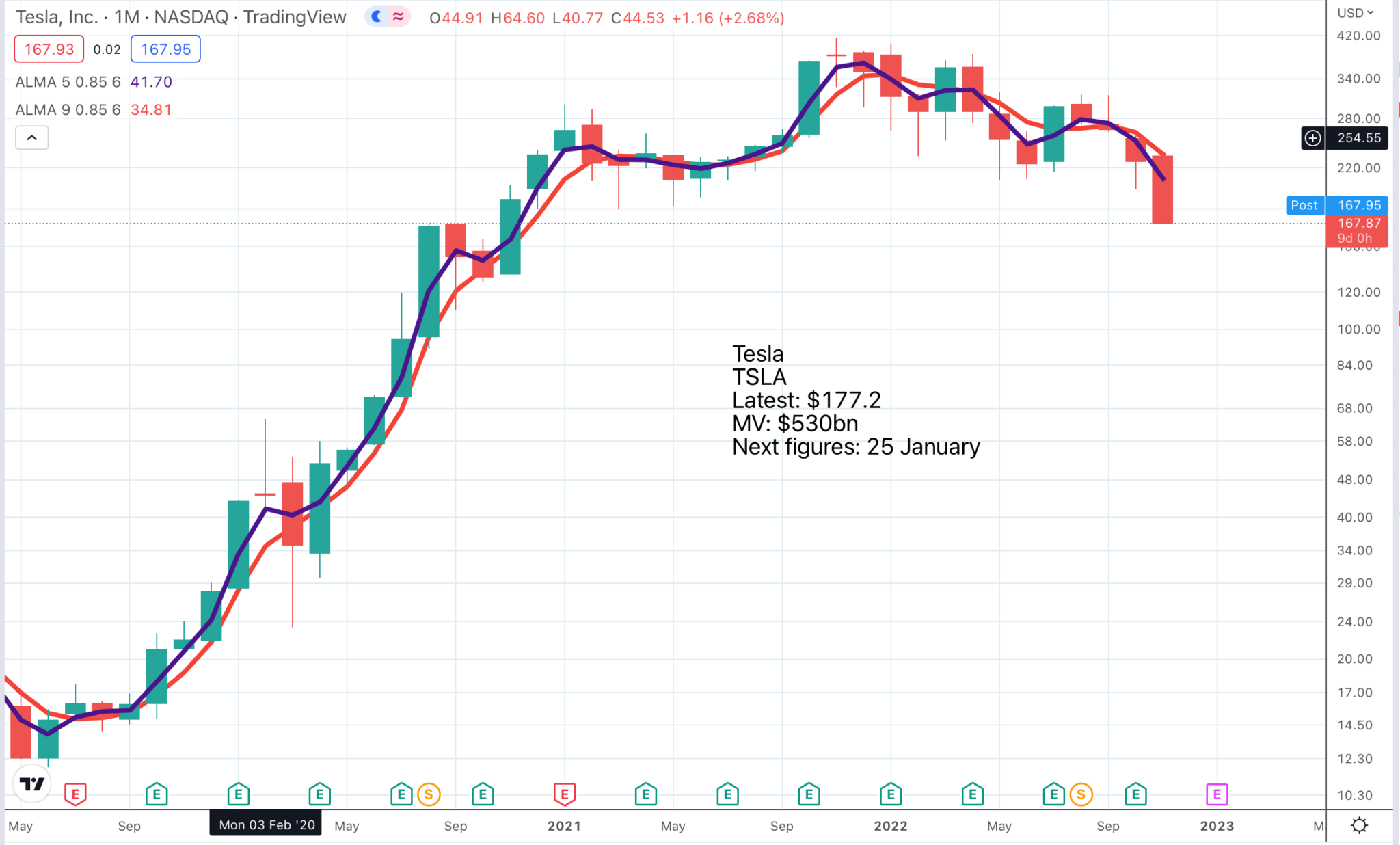 One of the most reliable patterns in technical analysis is a head and shoulders top. Above there is a classic example. If this chart is to be believed the Tesla priced is headed much lower. There is no significant support above $20!
The message from this chart is that something at Tesla is going badly wrong. It is mysterious because the cars are selling like hot cakes, the balance sheet is strong, profitability looks good and there are exciting new models in the pipeline.
Everything looks good except the chart, which looks terrible. The more the bulls tout the fundamental case for the shares with some huge targets in Wall Street the more the shares fall. It reminds me of the early 1990s when Maxwell Communications, the master company of billionaire Robert Maxwell, broke down and shortly thereafter Maxwell was found dead at sea, possibly having committed suicide and gigantic fraud was revealed within the company.
I am not remotely suggesting that anything like that has been going on at Tesla but the chart is as bad as was that of Maxwell Communications.
What may offer a clue is that the Tesla share price is acting surprisingly like the bitcoin share price. They are both in free fall, they both topped out in November 2021 and they both achieved extraordinary valuations based on widespread expectations that they had an exciting future.
Maybe the answer to the conundrum is that in some way Tesla is bitcoin. You can make a case for an incredibly exciting future but this case has been in the minds of investors for so long that it has driven the price far too high and created massive potential for profit-taking and margin calls to over-exposed investors.
Any significant bad news and Tesla shares could not only plummet but, like bitcoin, have consequences for some of the people who have bet too heavily on Tesla and its extraordinary CEO. Between June 2019 and November 2021 Tesla shares rose nearly 35 times. It is not uncommon for such extraordinarily rapid gains to end in tears.
In the 1840s there was extraordinary boom in railway shares as investors grew excited about the potential of railways to transform transportation. They were right to be excited about the coming transformation but the boom in railway shares was short-lived and ended in a mighty crash. Railway companies needed to invest on a massive scale just to survive in a cutthroat business and sustained profitability proved elusive. Maybe electric cars will be the same.
There is also the simple argument that maybe Tesla shares are just too expensive.
Tesla is on a 2022 PER of nearly 50 and a zero yield. BMW, which is introducing a growing range of electric cars (and I love my BMW i3) is on a 2022 PER of 3.4 and a dividend yield of 8.62pc although this is apparently set to fall to 5.53pc in 2023. Even so if that valuation gap is starting to close maybe that is why Tesla has a problem. Perhaps the world is going to be flooded with exciting electric cars and Tesla will have to fight like everybody else to sell in a crowded market. If it has to spend heavily on marketing and make sure its cars are competitively priced that could be a game changer.
Whatever is going on anyone who finds share price charts as useful as I do is not going to want to hold Tesla shares, not until that chart looks a great deal more positive.
Strategy
Ever since this bear market took hold last November charts have been a far more useful guide to what is happening than any study of fundamentals. The chart message for Tesla shares could not be clearer and has been clear since they broke below $220. There is a huge top and a history of massive gains in a short period of time, vulnerable to melting away as fast as they came.
I also saw an interesting quote on equally under pressure bitcoin.
The news [that many bitcoin addresses are in loss] followed recent reports that the number of Bitcoin addresses holding at least 1,000 BTC — for a minimum value of about $15.9 million as of press time — reached a three-year low of 2,090.

This is an important data point since such big holders are a major influence in the crypto economy and some of the biggest experts in riding its waves. When those holders sell, major downturns usually follow.

Benzinga, 21 November 2022