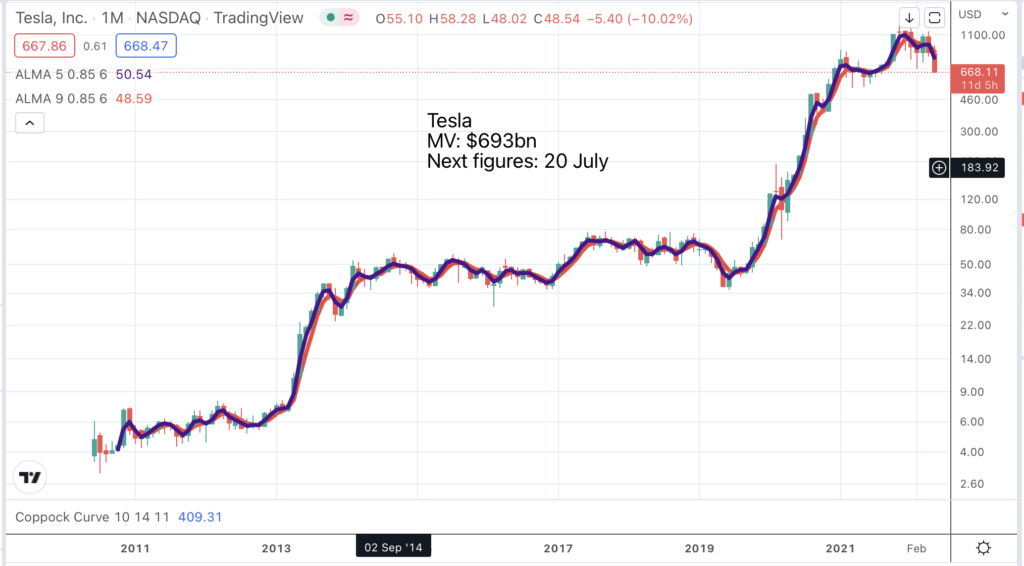 Tesla shares look to me as though they are breaking down from a significant top area. It's an unusual top area because it is upward sloping but it is alarming. Three of the poster children for the post 2009, and especially the most recent stages of the bull market have been Tesla, bitcoin and Shopify. Shopify has broken down and lost a huge amount of value, bitcoin, I suspect, has formed a major top, has broken down and is in danger of falling sharply and now Tesla, which is already well down from the peak, looks at risk of falling sharply further.
The chart looks very threatening with no real support above $67, a tenth of the current share price. The problems on the fundamental side may be more subtle. The company is probably going to keep on doing exciting things but now, with every man and his dog, joining the EV bandwagon competition can only intensify.
I suspect also that investors have changed their frame of reference. For years Tesla has been a classic example of a news driven story. The sheer physical progress has been astounding but also there have been a steady stream of announcements, promises, exciting projects and a general aura of excitement.
In this harsher environment where monetary easing is off the table and the battle against inflation means rising interest rates for the foreseeable future investors are not so interested in stories and will be looking for cash flow, profits, even dividends. While that mindset remains in force blue sky shares like Tesla will face pressure and may even come under attack from short sellers.
This is why I think if one does want to dip a toe in the water in this market, leveraged ETFs like QQQ3 are a good option. They won't go bust and you can just build your holding into a collapsing price sure that they will recover in the end.
---

A plunging Tesla share price would be another nail in the coffin of the last bull market. It is very much still watch and wait time for investors as the equity bloodbath unfolds.
---