Synopsys – another unsung hero of the technology revolution providing the tools for smart everything
November 29, 2021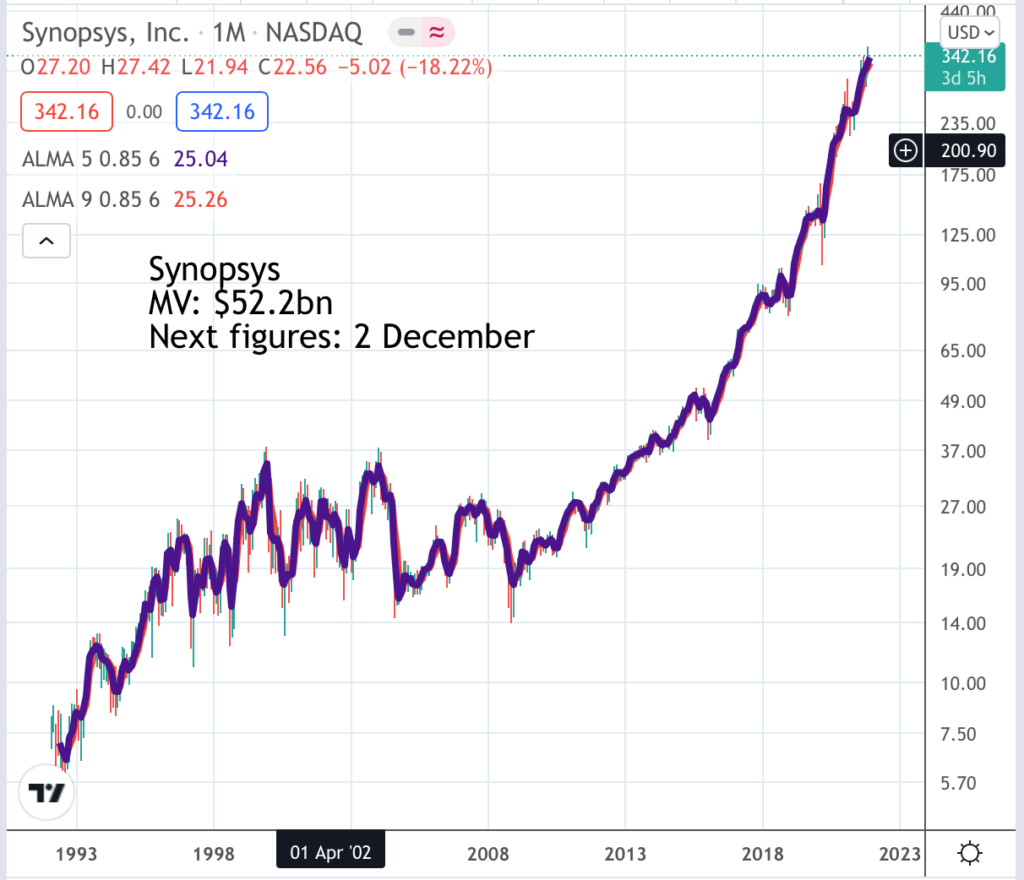 Synopsys. SNPS. buy @ $342. Times recommended: 9 First recommended: $180.50 Last recommended: $347
"It's not too bold to say that the future of 'smart everything' – a world full of interconnected devices and the infrastructure that supports them – depends on us. The technology we create at Synopsys is used in virtually every electronic device in the world."
You can see why I think that Synopsys could make a great investment in a world of accelerating technological change.
"Synopsys technology is at the heart of innovations that are changing the way we live and work. The Internet of Things. Autonomous cars. Wearables. Smart medical devices. Secure financial services. Machine learning and computer vision. These breakthroughs are ushering in the era of Smart, Secure Everything―where devices are getting smarter, everything's connected, and everything must be secure.
Powering this new era of technology are advanced silicon chips, which are made even smarter by the remarkable software that drives them. Synopsys is at the forefront of Smart, Secure Everything with the world's most advanced tools for silicon chip design, verification, IP integration, and application security testing. Our technology helps customers innovate from silicon to software, so they can deliver Smart, Secure Everything."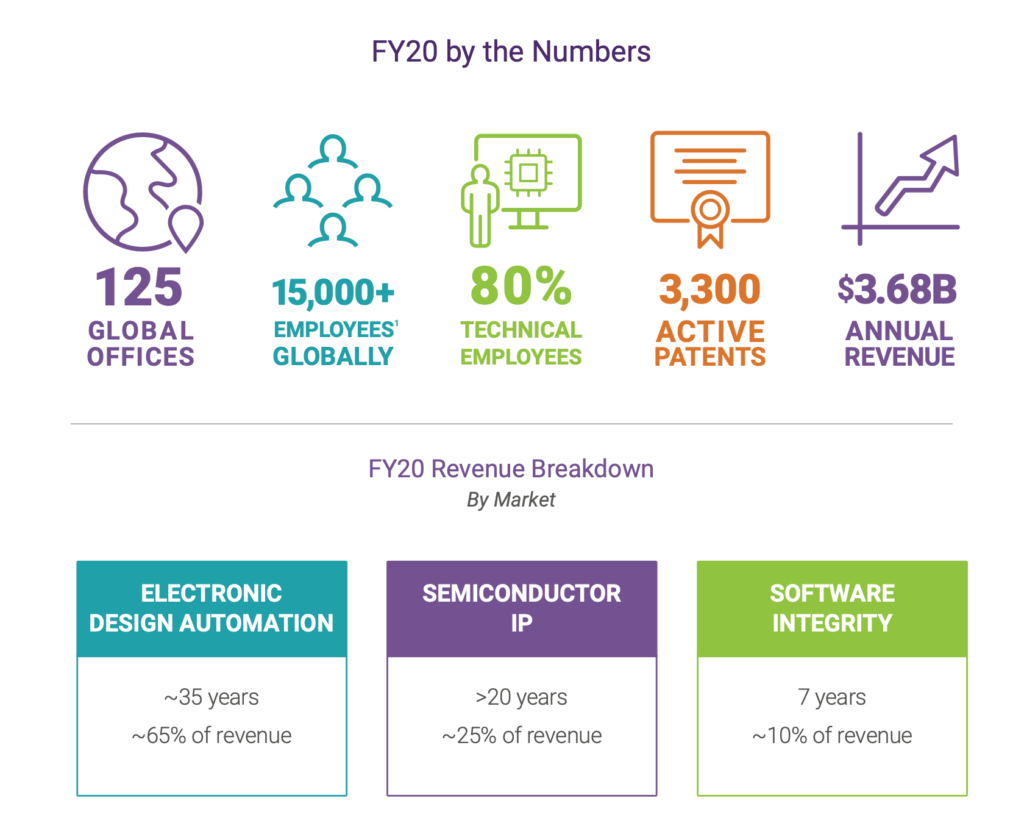 Trading is going well.
"Revenue [in Q3 2021] was $1.057bn with GAAP earnings per share of $1.27 and non-GAAP earnings of $1.81. We again made excellent progress on our margin expansion goals and generated $422m of operating cash flow. Thanks for the hard work of our entire Synopsys team. On the TTM basis [trailing twelve months basis], we have surpassed the major milestone we set our sights on a few years ago, $4bn in revenue and 30pc operating margin.
Reflecting our strong year-to-date results, the vibrant markets we serve and technology innovations driving customer momentum in all product groups and all geographies, we are raising fiscal 2021 revenue, non-GAAP ops margin, earnings and cash flow targets. We are well on the way toward our next goal of crossing $5bn in revenue by 2023, raising our long-term revenue objective to double-digit growth with continued margin expansion."
And the outlook is improving, if anything.
"Meanwhile, the market is not only strong, it is transforming in a way that is very positive for Synopsys. Both consumer and business demand for Smart Everything continue to intensify and grow. Smart devices intersect many skills and technologies, massive amounts of data to be stored, transmitted and process, sophisticated machine learning and application software specific to each market segment. In this mega trend, semiconductors are absolutely critical. This means, not just more chips, but more advanced chips, lower power chips and chips that can be abutted or stacked for type implementation.
In addition, security and safety are rapidly becoming must haves integrating into more and more system requirements. To make Smart Everything possible, companies need more automation while transforming the way they approach the development of their system. New entrants, such as large hyperscalers increasingly design their own specialized chips and our business with them is growing rapidly. Other systems companies, such as automotive increasingly exert heavy influence on their suppliers by specifying key elements of chip performance as well as functional safety and security. Synopsys is a crucial enabler and this broad economic pool is now augmenting the traditional Moore's Law push, thus driving more opportunity for us."
More on the outlook.
"Q3 results were excellent and we are raising our full-year objectives substantially. Vibrant markets, compelling innovations, and strong execution positioned us to continue to increase shareholder value going forward. While we will provide specific long-term objectives next quarter, we aim to cross $5bn in revenue by 2023. We are raising our annual revenue growth objectives to double digits with continued margin expansion."
Another interesting recent development at Synopsys is what looks like an important executive moving rapidly up the ranks, maybe even pointing to some succession planning.
"Synopsys today announced that as part of its ongoing evolution and scaling of the business, Sassine Ghazi has been appointed as president and chief operating officer, effective November 1, 2021. Chi-Foon Chan will transition from his co-CEO position over the first half of fiscal 2022, after which he will continue to support the company's long-term success in a new role.
Since becoming COO in August of 2020, Ghazi has had a significant impact on the company, bolstering its EDA and IP strategy and portfolio, broadening customer collaborations, enhancing a strong management team, and providing exceptional corporate leadership.
Throughout his 23 years at Synopsys in technical, sales, general management and corporate leadership positions, Sassine has always brought a 'Yes, if…' mindset, skill and perseverance toward making Synopsys a stronger and better company," said Aart de Geus, chairman and co-CEO. "He is a motivating and impactful leader, and we look forward to extending his impact throughout the company as we build on our current momentum and further enhance our very strong position."
I wonder if the headhunters were after this guy and Synopsys had to move fast to keep him at the company. It looks fairly dramatic since Chi-Foon Chan has stepped down from his positions without even having clarity on his new role.
"Chan was appointed co-CEO in 2012, after serving as president and COO for 14 years. During his tenure, he has been a key driver of corporate strategy, strong customer and ecosystem relationships and excellent operational execution."
I don'r pretend to be the go-to guy if you want to know what Synopsys technology is all about and the key role they play in facilitating all the advances we see around us but I do get a strong feeling that it is a great business with a future as exciting as its past, if not more so. It deserves a place in any 21st century portfolio.
---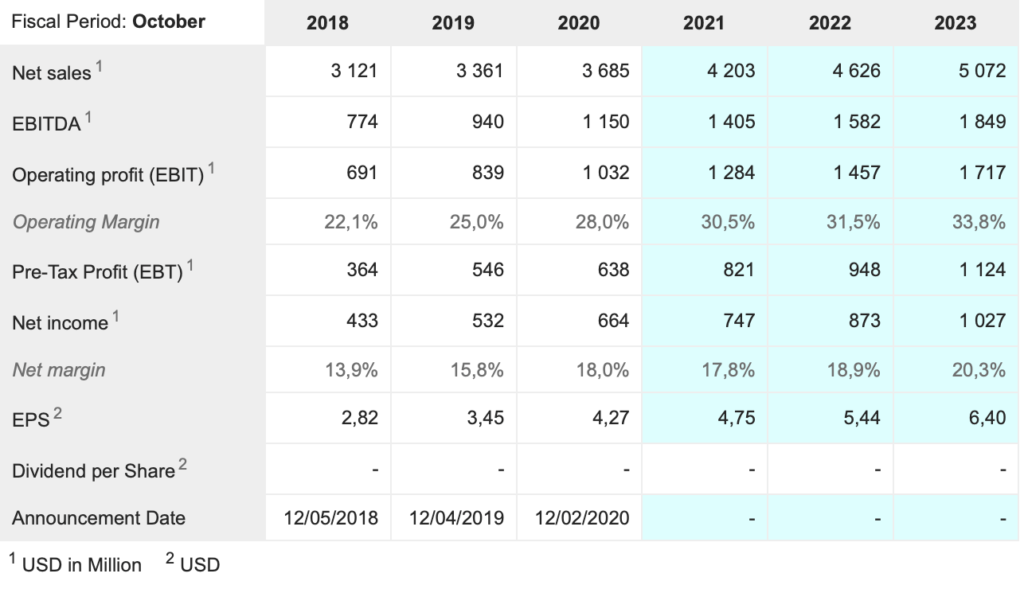 In answer to a question at the analysts' conference, CFO, Trac Pham, said:- "But the outlook is very good growth in next few years as well as, margin improvements." This for a company, whose shares have risen 25-fold in the last 14 years. Plus also the fact that they can claim that the future of a world with smart everything depends on them. How can that not be a great investment.
---