On Friday, July 7, the Nasdaq announced a special rebalance of the Nasdaq-100, effective Monday, July 24, which will be the first day of trading based on the new rebalance parameters.

Normal rebalancing happens on a quarterly basis—at the end of March, June, September and December. Nasdaq is doing this "special" rebalancing to address over-concentration of the index and redistribute weighting across the index. The rebalancing will not include any additions or removals from the index, it will just adjust the overall weighting of some of the components.

Currently the weighting of the "Magnificent 7" account for 55.40pc of the Nasdaq. They are Microsoft (MSFT) 12.89pc; Apple (AAPL) 12.45pc; Alphabet (GOOGL/GOOG) 3.73pc/3.64pc, 7.37pc total; Nvidia (NVDA)7.03pc; Amazon (AMZN) 6.87pc; Tesla (TSLA) 4.49pc; and Meta (META) 4.30pc

What changes will be made to the weighting?

A couple of factors go into the weighting of the index:

The top five stocks in the index must not exceed 38.5pc of the total weighting.
No component outside the top five can exceed 4.4pc weighting in the index.
Currently, the Top 5 holdings—MSFT, AAPL, GOOGL/GOOG, NVDA and AMZN—account for 46.61pc of the Nasdaq weighting. That means those stocks will have to be rebalanced to fit within the 38.5pc max. Currently the rebalancing numbers are unknown, but it likely includes a reduction in all of these weightings.

Outside the Top 5 stocks, TSLA currently holds a larger weighting above the max threshold of 4.4pc (currently 4.49pc) and is likely to see a small adjustment to rebalance below that threshold.

The official release of the weighting changes will be Friday July 14. It will include all notes on rebalancing for the top stocks as well as the rest of the index.

What does this mean for the stocks in the index?

Rebalancing the index would suggest selling overweighted stocks and buying potentially lower-weighted stocks. Can that contribute to downside moves in the top stocks? Potentially. But these moves can be relatively muted, considering the year-to-date gain on most of these stocks. Additionally, the Nasdaq is much smaller than the S&P500, with market capitalization of around $140bn in QQQ versus SPY at almost $400bn. So, the overall value of the weighting change will be much less than a S&P500 rebalancing.

Nick Battista, TastyLive, 10 July 2023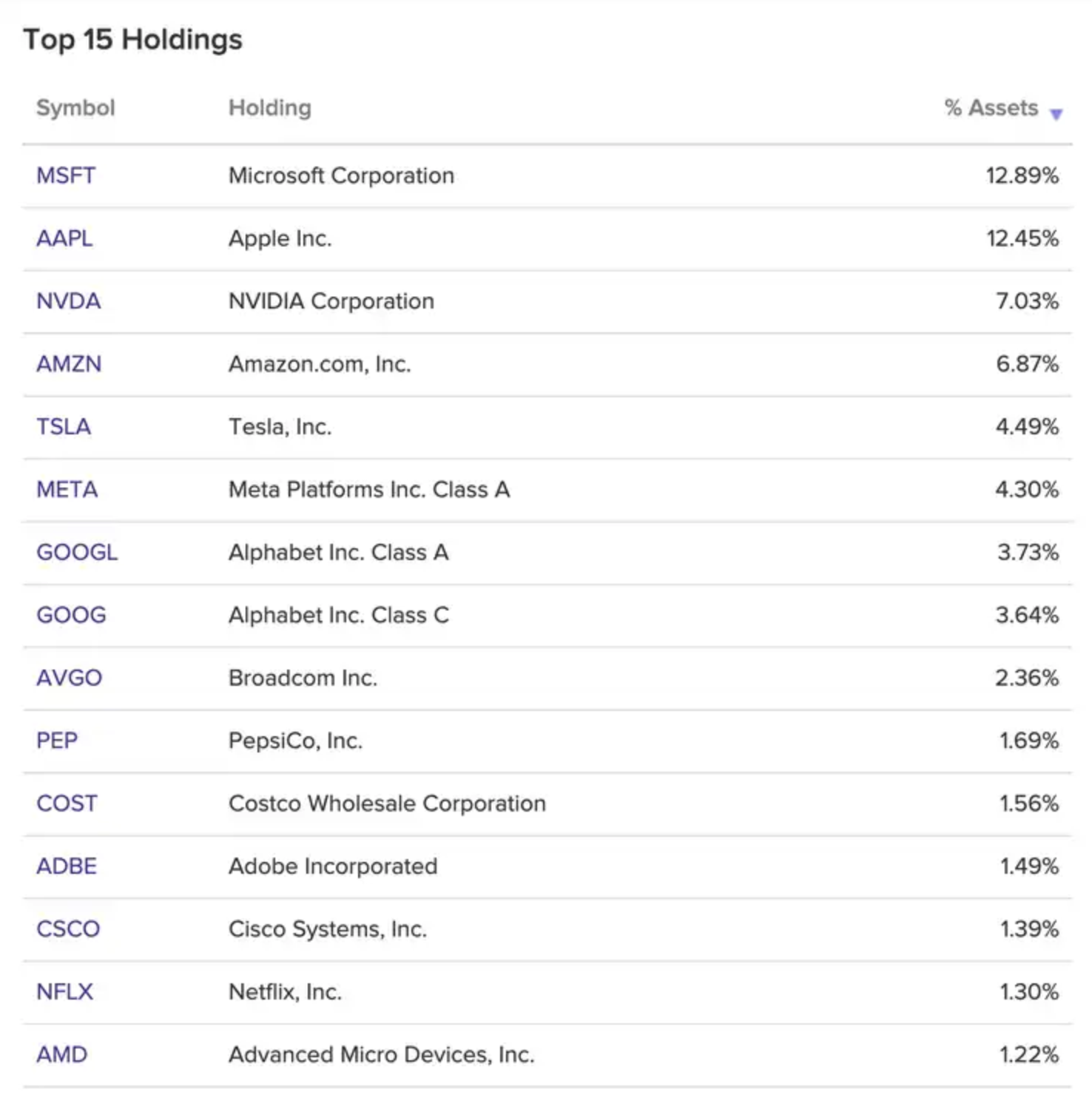 As can be seen above the QQQ, the ETF which tracks the Nasdaq 100 is in great shape and has recently given a double whammy buy signal (moving averages plus Coppock) even on a 6m candlestick chart. These signals are rare as can be seen from the chart.
In theory, there should be some selling pressure on the mega caps as ETFs rebalance for the new weightings but I would treat any small declines as buying opportunities since the rebalancing will be done and dusted on 24 July and forgotten very soon.
Tesla and Buy the Dip
These numbers are just one person's informed guesstimates and the only certainty is that the actual outcome will be different and could be higher or lower. Analysts' forecasts almost invariably show growth slowing in future years as they build in more uncertainty. The message of the table is that Tesla is a business with huge growth potential.
At the moment it has six gigafactories but has said that it expects that number to reach 20 with each gigafactory producing 1m cars a year.
Tesla currently has six massive Gigafactories. They're located in Fremont, California; Sparks, Nevada; Berlin, Germany; Shanghai, China; Austin, Texas; and Buffalo, New York. In May, Tesla confirmed plans to build a Gigafactory in Mexico

Google, 23 June 2023
It also has plans beyond cars Iike autonomous driving, robo taxis, robots, solar heating, electricity storage and services like charging, software, insurance and who knows what else the company will dream up between now and 2023. There should certainly be plenty to keep investors excited.
The chart shows a third consolidation being built. The golden smiley and the Coppock buy signal suggest that the breakout when it comes will be upwards and could be powerful judging by past breakouts.
Meta Platforms' Twitter Rival, Threads, Tops 100m Users in Less Than Five Days
Another mega cap with a strong chart and interesting things happening is Meta Platforms which has just launched Threads, a rival to Twitter, to an enthusiastic response. Threads has surged to over 100m users in just five days.
The chart looks strong with a double whammy buy signal, only the third time there has been such a strong buy signal for the shares. Again, the likelihood is that the shares are building a springboard for above to new highs and further leg of advance.
Thee is a great deal of hostility around Meta Platforms and Mark Zuckerberg, who is still not yet 40 years old. Much of this relates to data collection which is a controversial subject but in many ways a good idea. There are over 200m businesses on the planet who depend on that data to focus their marketing spending. This is a very different world to old style broadcast TV where advertising was confined to a relative handful of giant businesses, which could afford the rates.
Given its footprint, its importance to advertisers, its scope to apply AI within the platforms, and the innovative energy of a company which spent some $38bn on r&d last year it would be no surprise to see the company valued in the trillions of dollars in the future.
Another share looking good is my great favourite, Nvidia, which will be affected by the rebalancing but where quarterly results, news flow and long term prospects are far more important.
The shares have risen dramatically in the last nine months and may need to back and fill a bit as those gains are absorbed but all the signs are that profit taking is being easily absorbed with the shares moving into firm hands ahead of a new advance.
They are routinely described as expensive which is hardly surprising when the price has almost quadrupled in a short space of time but this is a stock with a history of massive moves. The price has risen over 1,400 times in less than 25 years and 141 times in the last decade.
The amazing thing about QQQ3, my favourite leveraged and daily rebalanced version of QQQ, is that on the chart the price looks poised to move strongly higher. There is resistance around $120, through that and it looks a clear run to $200-plus.
This ties in with two theories I have about what is happening in the world. First is the idea that the technology revolution is going exponential which is significant for a heavily tech-weighted index like the Nasdaq 100 and so for these two ETFs.
Second is my idea that as the world moves from the Internet age to the space age we are going to see the emergence of enormous giga corporations with market values of $10 trillion plus reflecting their huge business footprints and gargantuan spending on research and development and sales and marketing.
The special rebalancing we are expecting for the Nasdaq 100 on 24 July to reduce weightings for the 'magnificent seven' mega caps is a reflection of that trend and shows us what is happening.
There is every likelihood that even $200 will just be a staging post in the ascent of the QQQ3 share price.
Strategy – It Is a Time to be Bold
Fortune favours the brave. I think it is a time to pursue aggressive investment strategies. There are always negatives which currently include worries about rising interest rates and recession but the big picture is the incredible advances being made in the world of technology. Humanity is riding a rocket which will take us and future generations who knows where. This is going to have, is having, a massive impact on the stock market, especially in the US where these exciting companies are overwhelmingly located.
QQQ3 is an incredibly exciting way of investing in what is happening but big gains will be taxable. An alternative, or as well, is to buy shares like QQQ, Nvidia, Tesla, Meta Platforms and others in a Spread Betting account on leverage. This is riskier because you need to manage your margin but the gains can be as large or larger and are tax free.
You can also use both strategies to generate an income. Once you have a decent holding in QQQ3 you can always sell a few to produce some money. In the case of a spread betting account when the shares go up they will create available margin. This can either be reinvested in further purchases, left to bring the margin down (like repaying a mortgage) or withdrawn to pay the bills, fly off to the Bahamas or whatever.
Share Recommendations
Invesco QQQ QQQ Buy $364.5
Tesla. TSLA. Buy @ $267.5
Nvidia. NVDA. Buy @ $421.5
Meta Platforms. META. Buy @ $293.5
Wisdomtree Nasdaq 100 3x Daily Leveraged. QQQ3. Buy @ $118.72
I am adding two more stocks to my list of must-owns. The two are Deckers Outdoor and E.L.F.Beauty. My idea of must-owns is a bit like Goldman Sachs' high conviction buys but stronger. I would be shocked and disappointed if these two do not do well like my two other must-owns, Nvidia and QQQ3.
More Share Recommendations
E.L.F. Beauty. ELF. Buy @ $113
Deckers Outdoor DECK. Buy @ $ 543.5