Shares in Pharma giant, Merck, have had a good bear market and have recently been hitting all-time highs. The latest news from Merck, which had a dramatic effect on the latter's shares, is a partnership with Moderna to develop a cancer vaccine. The excitement is all about mRNA, the same technology which helped Moderna develop a Covid vaccine so rapidly and adapt to all the new strains of the virus.
The success with its Covid vaccines has given Moderna a strong balance sheet which positions it well to pursue its ambitions for further development of the mRNA technology.
This is the announcement which put a rocket under Moderna's share price.
mRNA-4157/V940, in combination with KEYTRUDA, demonstrated a statistically significant and clinically meaningful reduction in the risk of disease recurrence or death compared to KEYTRUDA monotherapy in stage III/IV melanoma patients with high risk of recurrence following complete resection.

Results are the first demonstration of efficacy for an investigational mRNA cancer treatment in a randomized clinical trial.

Companies plan to discuss results with regulatory authorities and initiate a Phase 3 study in melanoma in 2023 and rapidly expand to additional tumor types.

Announcement, 13 December 2022
Just reading that announcement it sounds important, like something where we could look back in future years and say – this is where it all began, the use of mRNA to transform cancer treatment. I am not going to go too deeply into this because it is easy to get lost in the science but this is the companies' explanation of what is going on.
Personalized cancer vaccines are designed to prime the immune system so that a patient can generate a tailored antitumor response specific to their tumor mutation signature. mRNA-4157/V940 is designed to stimulate an immune response by generating specific T cell responses based on the unique mutational signature of a patient's tumor. KEYTRUDA is an immunotherapy that works by increasing the ability of the body's immune system to help detect and fight tumor cells. Based on early clinical studies, combining mRNA-4157/V940 with KEYTRUDA may potentially provide an additive benefit and enhance T cell-mediated destruction of tumor cells.

Announcement, 13 December 2022
If it works the plan is for the two companies to share costs and profits worldwide. This could be huge or it could fizzle out. The promise of phase three trials in 2023 should keep the excitement level bubbling. The first target for trials, melanoma, is an important form of cancer.
Melanoma, the most serious form of skin cancer, is characterized by the uncontrolled growth of pigment-producing cells. The rates of melanoma have been rising over the past few decades, with nearly 325,000 new cases diagnosed worldwide in 2020. In the U.S., skin cancer is one of the most common types of cancer diagnosed, and melanoma accounts for a large majority of skin cancer deaths. It is estimated there will be nearly 100,000 new cases of melanoma diagnosed and almost 8,000 deaths resulting from the disease in the U.S. in 2022. The five-year survival rates are estimated to be 60.3pc for stage III and 16.2pc for stage IV.

Announcement, 13 December 2022
I think it is a fair bet that if the trials are successful the value of both companies will rise significantly. If this is a treatment that works with additional tumour types then we could see some real fireworks. I have no idea how likely that is but it is clearly a possibility.
One interesting aspect of what is happening is that it is an equal partnership sharing costs as well as profits. This shows how far Moderna has come thanks to its success with Covid.
Merck, known as MSD outside North America, is a large pharmaceutical company with many other irons in the fire. What is interesting though is that by far its biggest selling drug is Keytruda with sales in 2021 of $17.2bn which makes it one of the biggest selling drugs in the world.
It turns out Keytruda is a massive drug, which is most likely the reason why Merck shares have been so strong.
Merck has the industry's largest immuno-oncology clinical research program. There are currently more than 1,600 trials studying KEYTRUDA across a wide variety of cancers and treatment settings. The KEYTRUDA clinical program seeks to understand the role of KEYTRUDA across cancers and the factors that may predict a patient's likelihood of benefitting from treatment with KEYTRUDA, including exploring several different biomarkers.
Another big pharma stock with a strong share price is Novo Nordisk, best known for its diabetes treatments. It is now making great progress with drugs to treat obesity. Below are its strategic plans for 2025.
Further raise the innovation-bar for diabetes treatment

Develop a leading portfolio of superior treatment solutions for obesity

Strengthen and progress the Rare disease pipeline

Establish presence in other serious chronic diseases focusing on CVD [cardiovascular disease], NASH [liver disease resulting from obesity] and CKD [chronic kidney disease]

Novo Nordisk web site, undated
To give you an idea of the power of the NVO business it is targeting a market share of one third in the diabetes market and sales of DKK25bn (US$3.54bn) in the obesity market by 2025. In their 2022 Capital Markets Day, NVO referenced a drug called Semaglutide which is critical to their success.
Semaglutide, sold under the brand names Ozempic, Wegovy and Rybelsus, is an antidiabetic medication used for the treatment of type 2 diabetes and as anti-obesity medication for long-term weight management, developed by Novo Nordisk in 2012

Wikipedia
Also at their Capital Markets Day there was a lady who spoke about her success with Semaglutide in treating her obesity, which she said had changed her life, not least in giving her the confidence to get up on a stage and talk about something as private as obesity. She said she had tried exercise, eating less, all the usual things but nothing worked until her physician started to treat obesity as a disease and then the results were dramatic. She was not thin but she had womanly curves and came across as a happy, confident lady, so definitely a win for the treatment.
It may not be surprising that the same core therapy has applications in diabetes and obesity since diabetes is widely regarded as a disease of obesity.
The success of Semaglutide is driving strong free cash flow which is forecast to reach around $10bn by 2024. This makes Novo Nordisk somewhat like Moderna in having the financial fire power and the medical technology to drive the development of new drugs. Meanwhile the opportunity in obesity and success with new diabetes treatment formulations is driving an acceleration in the growth rate.
Most recently NVO has said its is postponing the European launch of its anti-obesity drug because of supply chain issues but those will no doubt be resolved in due course.
Sales grew by 26pc in DKK and 16pc in constant currency but the big driver was diabetes, not obesity.
Lars Fruergaard Jørgensen, president and CEO: "We are very pleased with the sales growth in the first nine months of 2022 which has enabled us to raise the outlook for the full year. The growth is driven by increasing demand for GLP-1-based diabetes treatments, especially Ozempic®. Within R&D, the encouraging phase 2 data with CagriSema in type 2 diabetes and the successful completion of the phase 3 programme for once-weekly insulin icodec support our aspiration of further raising the innovation bar for diabetes treatments."

Nine months to 30 September 2022, 4 November 2022
I am not surprised the shares are doing so well. NVO is clearly an excellent company (classic 3G) targeting large markets.
BionTech is like a smaller version of Moderna, and partnered with Pfizer to develop the Pfizer Covid vaccine.
With our deep expertise in immuno-oncology, our scientifically graph of a fully integrated spectrum of translational research and manufacturing competencies, we succeeded, together with our partner, Pfizer, in developing and supplying variant-adapted vaccines globally. We did so at an unprecedented speed. Since BioNTech inception, we have pursued our vision to establish a fully integrated global immunotherapy powerhouse, aspiring to translate science into survival. We follow a technology-agnostic solution-focused multiplatform strategy.

Our innovation engine leverages various emerging technologies and therapeutic approaches. Our aim is to address high unmet medical needs in oncology, infectious diseases, and beyond. We are advancing a diversified product pipeline of immunotherapies and are facing an unprecedented opportunity to accelerate our progress toward our long-term vision to bring the next generation of immunotherapies to patients.

Q3 2022, 7 November 2022
Like Moderna BioNTech is targeting flu as well as Covid.
At the end of October, as part of our ongoing collaboration, we and our partner, Pfizer, initiated a phase 1 clinical trial evaluating our omicron BA.4/5-adapted bivalent vaccine in combination with an mRNA influenza vaccine. The mRNA influenza vaccine candidate is also partnered with Pfizer and has now advanced to phase 3 clinical testing after positive data from the phase 2 trial we have reported in the second quarter of this year. Slide 8 highlights our COVID-19 vaccine execution on a global scale.

Q3 2022, 7 November 2022
Demand for the Covid vaccine seems likely to be a perennial requirement like the flu jab.
Looking at the evolution of COVID-19 pandemic and currently overt evidence, we anticipate a long-term need for annual or seasonal variant-adapted booster. If the virus is in a state of continuous evolution, the possibility of a new wave of infections driven by novel immune-evasive strains remains. We are vigilantly monitoring the landscape and are prepared to adapt our vaccines as needed. The risk of severe COVID-19 disease remains high in the vulnerable population.

Q3 2022, 7 November 2022
The argument for the shares in these biopharma companies is that the success against Covid is just the beginning.
First, we have demonstrated the safety, tolerability, and efficacy of our mRNA COVID-19 vaccines. Second, we have shown our ability to rapidly adapt our products and processes to address emerging variants of concern. Third, our expertise in navigating the evolving regulatory landscape on a global scale has positioned us as the first mover and enabled us to receive one of the broadest labels among currently available COVID-19 vaccines. This applies to both the original Comirnaty vaccine and our omicron BA.4/5-adapted vaccine.

Fourth, this continued innovation by improving the already strong product profile of our COVID-19 vaccine, targeting continuous protection from current and future virus threats. These four pillars are built on our validated mRNA platform of proven science, discovery, development, manufacturing, and commercialization and position us for success as we continue to expand and advance our pipeline and build our 21st-century immunotherapy powerhouse.

Q3 2022, 7 November 2022
It seems to me that two things are happening. First, companies like Moderna and BioNTech are learning a huge amount from developing the vaccines and boosters to fight Covid and now flu. Secondly the success of their Covid vaccines has injected a great deal of cash into their operations making many things possible and making the companies magnets for talent.
This is driving growing research activity.
In addition to the previously mentioned COVID-19 vaccine trial initiation from the first quarter, we expect the start of multiple first-in-human trials of our mRNA vaccine candidates over the coming months. This includes our shingles and HSV 2 vaccine candidates, which are expected to enter the clinic in the final part of this year.; our malaria vaccine candidate trial either in the fourth quarter of 2022 or early '23, and our tubercolosis vaccine candidate expected to dose the first patient in early 2023.

We now have a total of 19 oncology product candidates across four different drug classes and 24 ongoing clinical trials, five of which are randomized phase 2 trials. Our programs address areas of high unmet need and have the potential to tackle tumors using complementary strategies by targeting tumor cells directly or by modulating the immune response against the tumor.

Many of our product candidates have the potential to be combined with other — with other pipelines. In the third quarter of 2022, three preclinical programs advanced to phase one clinical testing. This includes our FixVac candidate, BNT116, for second-line treatment of nonsmall cell lung cancer; and our bispecific RiboMabs product candidate, BNT142, for solid tumors. In collaboration with Genmab, we recently initiated a phase one study evaluating BNT313, our anti-CD27 HexaBody product candidate in solid tumor.

Q3 2022, 7 November 2022
There is a great deal going on at these companies and any success outside the Covid field will have a dramatic impact on the shares.
Strategy
My hunch is that success with mRNA outside the Covid area could spark a spectacular stock market boom. There could be a feeding frenzy for stocks involved in mRNA, which has the other appeal that, a bit like bitcoin, only a handful of people in the world understand what it is all about.
In chart terms all these shares are scoring 6/9. This is because of a strong buy signal for a biotech ETF, iShares Biotechnology, IBB, which could be purchased as an alternative to buying individual shares.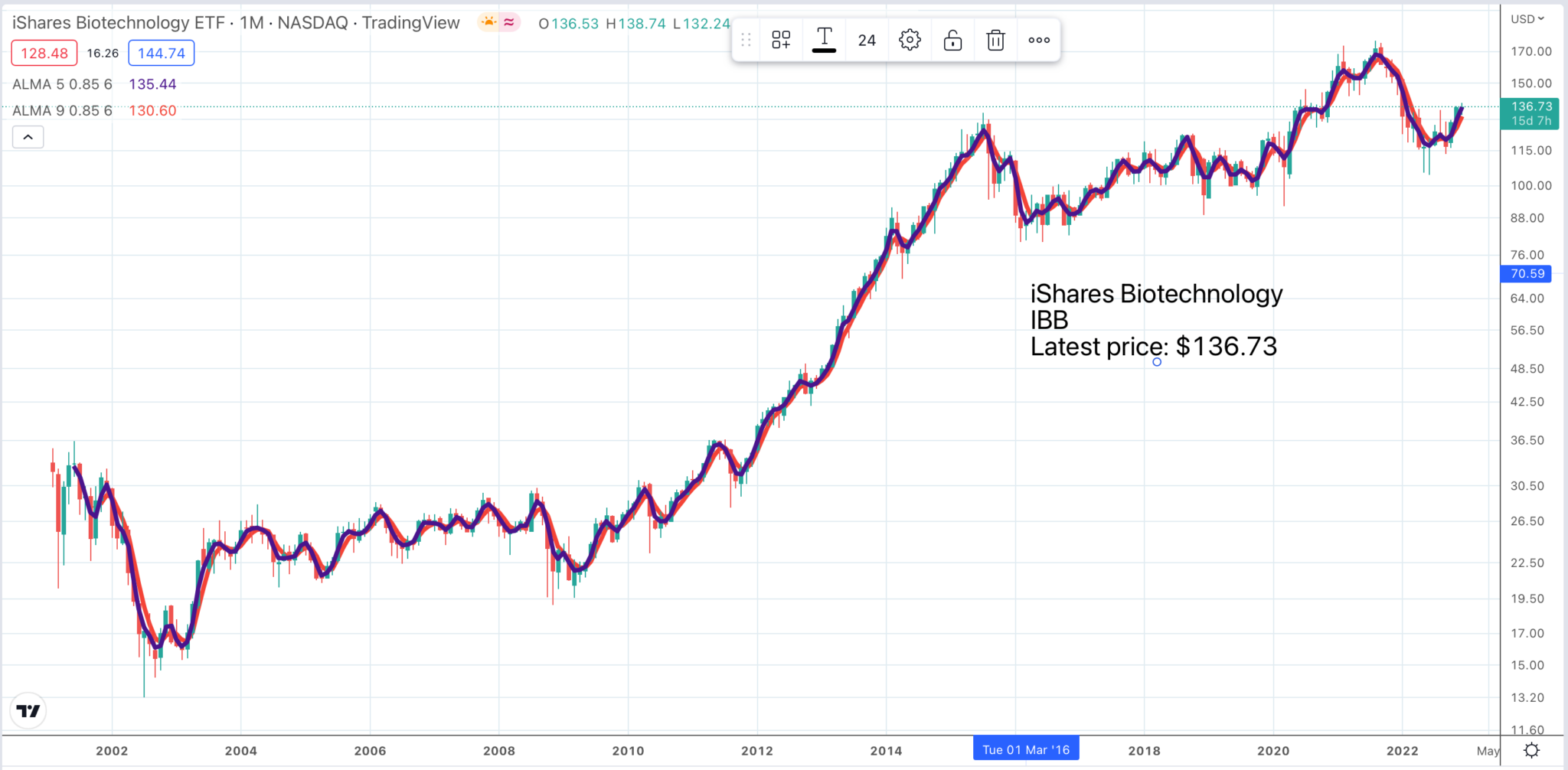 Interest rates signal recession
Just a last point on interest rates. In both the UK and the US short rates are still climbing while long rates are steady to falling. Short term interest rates, especially in the US, are now significantly higher than long term interest rates. This is an inversion of the normal state of affairs where money lent for longer periods commands higher returns. It is a sign that investors expect interest rates to reach a peak and then start falling which would be a positive backdrop for stock markets and likely to occur some time in 2023. The reason why interest rates are expected to fall (although they may well not yet have peaked) is because investors are anticipating a recession. The combination of rising interest rates and rising recessionary expectations, which is what we have now, is not a great backdrop for share markets which explains the continuing short term weakness.
In the USA at least the pace of rises seems to be slowing.
Fed chair Jerome Powell said: "Having moved so quickly, and having now so much restraint that is still in the pipeline, we think that the appropriate thing to do is to move to a slower pace."

Federal Reserve, 15 December 2015