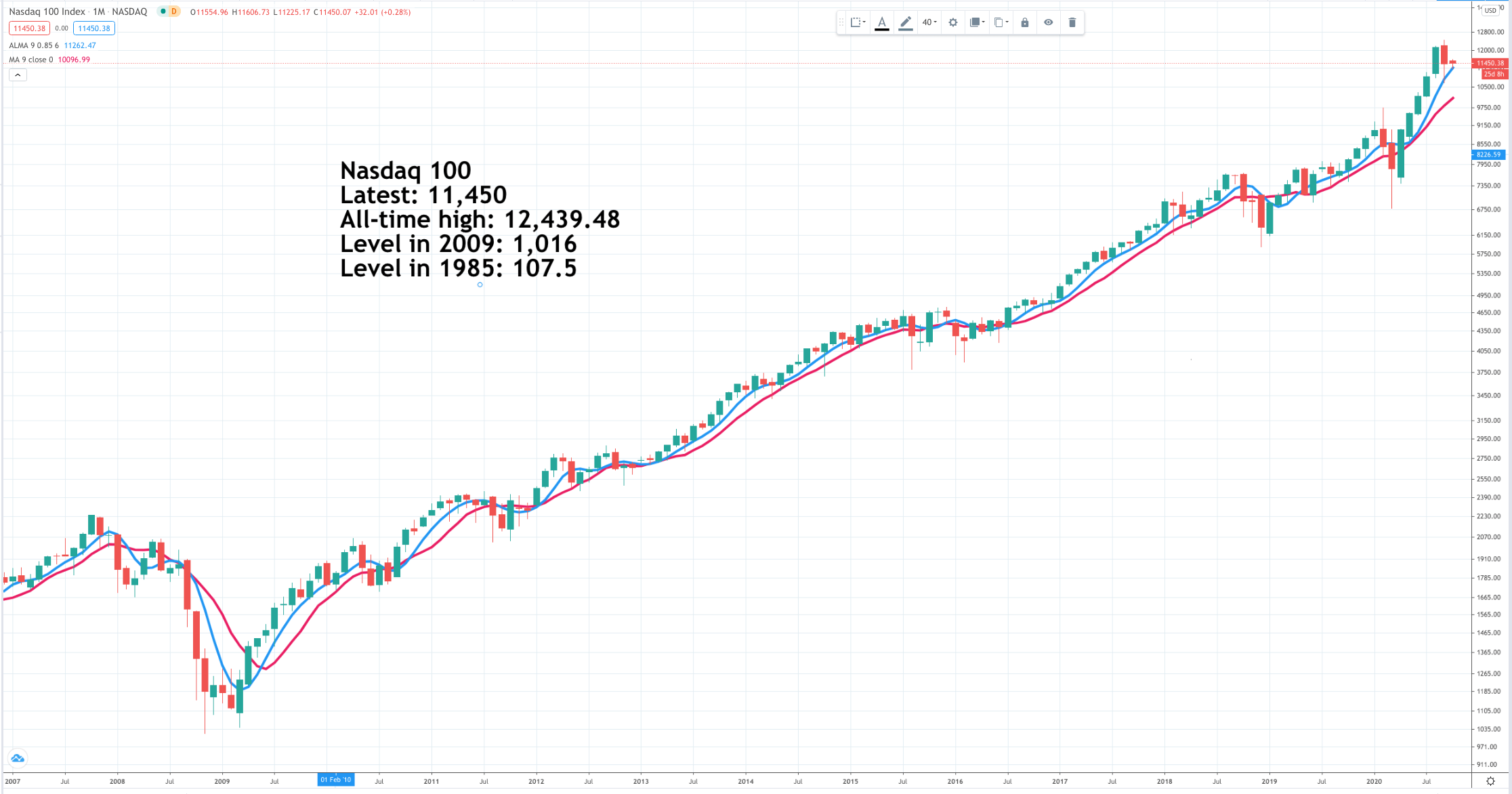 Before I start I just want to warn subscribers that I am inputting this article directly into the newly launched web site for the first time and my daughter is not here to help me so there may be some glitches. I also anticipate that there may be more new subscribers than usual so I will say more about strategy, tactics and the philosophy behind Quentinvest. In particular I am increasingly aware that just making good recommendations/ selecting exciting shares is not enough. I and you also need to pay attention to what we do with that information. The objective, for me and all my subscribers, is to build a great portfolio full of great shares. This sounds very straightforward but it seems many people find it difficult. This is partly because we are at the mercy of our emotions, in particular greed and fear.
This is why I have yet again featured a chart of my favourite index, the Nasdaq 100. It is stuffed with technology shares, has risen 100 fold since it was created in 1985 and I believe it is going much higher in coming years as part of what history will come to see as the greatest equity bull market of all-time. Forget houses, guys; it is shares you should be buying; that's where the fortunes are being made and will go on being made. This index is the perfect advertisement for buy and hold as an investment strategy. Albeit you do need to refresh your portfolio with new ideas. This great new bull market is being led by 21st century stars, not the names that dominated the last century.
It is amazing how easy it is to find a great share, buy some, see them fall, get scared, sell them, see them recover, buy them back, see them fall again, sell and so on ad infinitum. Two years later you look back at a share which has risen 10 times and somehow you managed to lose money on it. My solution to this problem is to be very ready to buy great shares and very reluctant to sell them. This can sometimes mean feeling wrong for quite a long time and some shares do crash and burn. However I try my utmost to only pick high quality growth shares for Quentinvest, most of them do perform well and keep on recovering even after fierce stock market set backs so buy and hold as a mantra is a good one for my subscribers.
I am increasingly intrigued by the idea of what I call a 100 share portfolio. The idea is to build over time towards a portfolio consisting of at least 100 great shares. I believe if you do this using QV selections you will do well, hopefully very well, conceivably incredibly well. You don't have to stop at 100. I am always adding new names to the QV for Shares portfolio. If you end up with 200 great shares so much the better although with that sort of number there will be some duds. My rule is simple. If a share is obviously no longer 3G (great story, great chart, great growth) it's time to sell, release whatever money is left and move on. The beauty of a big portfolio is that a few losers should not significantly affect the overall result. Even big losers shouldn't do too much damage, whereas big winners can be game changers. Indeed a key part of the QV strategy is the hunt for big winners. As you can see I have a great track record of finding them but you need patience to let them win big – what I call allowing miracles to happen.
Incidentally, just to reassure you, the average gain on the entire QV for Shares portfolio is 52pc based on yesterday's prices and allowing for the sale of total duds like NMC Health and Wirecard, when it was apparent that they were no longer worthy of being in the portfolio. The vast majority of shares are live members of the portfolio in line with the buy and hold approach.
Performance tables are at the heart of what I do. I have a table of Quantum Leap recommendations – all of them – going back to 2009 (hence the performance figures quoted on the web site). I have another table, which I call the QL/CB Live Portfolio, which is regularly updated with QL and CB selections and new shares which are candidates for recommending. This is a huge table and drives much of what I do. I also have the QV for Shares table going back to June 2017 when QV for Shares was launched and a fourth table for QV for ETFs covering everything recommended there plus new candidates. These tables are an important part of what I do and I update them regularly, which gives me (a) an insight into what is happening in the world of growth shares (the only shares in which I am interested) and (b) gives me lots of ideas for future publications.
I have just updated the QV for Shares portfolio and there are 69 shares which I think are worth buying now. They are listed below and will be added to the table at the recommended prices. There are also eight shares that have been out of favour but look as though they may be starting to recover. This relates to another of my key ideas that buying shares should never be a one-off purchase. There are shares like Apple, Amazon and Netflix , which have been recommended 50 or more times in my various publications over the years. If you bought every time you would have done unbelievably well. I believe you should neglect your poor performers and add to your stars again and again and again.
Back winners, cut losers is another of my mantras but don't be too trigger happy in doing this. It is amazing how many shares win in the end if given enough time.
So here is the list of QV shares that I believe are candidates for buying right now.
Alibaba/ BABA @ $286
Anaplan/ PLAN @ $63
Argenx SE/ €228
Ahstead/ AHT @ 2879p
ASOS/ ASC @ 5438p
Atlassian/ TEAM @ $190
Avalara/ AVLR @ $132
Bandwidth/ BAND @ $179
Beigene/ BGNE @ $307
BOTB (Best of the Best)/ BOTB @ 1730p
Bill.com/ BILL @ $102
Blackline/ BL @ $88
Boston Beer/ SAM @ $879
Carvana/ CVNA @ $221
Cloudflare/ NET @ $42.50
CoStar/ CSGP @ $860
Croda International/ CRDA @ 6326p
Crowdstrike/ CRWD @ $146
Datadog/ DDOG @ $105
Docusign/ DOCU @ $228
Domino's Pizza Inc./ DPZ @ $428
Epam Systems/ EPAM @ $331
Estee lauder/ EL @ $222
Etsy/ ETSY @ $135
Experian/ EXPN @ 2999p
Fair Isaac/ FICO @ $435
Fastly/ FSLY @ $95
Five9/ FIVN @ $132
Fiverr/ FVRR @ $155
Games Workshop/ GAW @ 10520p
Globant/ GLOB @ $188
Halma/ HLMA @ 2393p
HelloFresh/ HFG @ €47.82
Hermes International/ RMS @ €750
Horizon Therapeutics/ HZNP @ $81
IDEXX Laboratories/ IDXX @ $388
Intertek/ ITRK @ 6400p
JD Sports Fashion/ JD. @ 794p
Kering/ KER @ €583
Liontrust Asset Management/ LIO @ 1370p
Livongo Health/ LVGO @ $144
Logitech International/ LOGI @ $80
London Stock Exchange/ LSE @ 9216p
LVMH/ LVMH @ €413
Match Group/ MTCH @ $114
Meituan Dienping/ 3690 @ HK$245 (Hong Kong quoted)
MongoDB/ MDB @ $237
Monolithic Power Systems/ MPWR @ $277
Nio Inc./ NIO @ $21.40
Nvidia/ NVDA @ $543
Okta/ OKTA @ $226
Paycom Software/ PAYC @ $336
Paylocity/ PCTY @ $170
Peloton International/ PTON @$109
Renishaw/ RSW @ 5845p
Rightmove/ RMV @ 675p
S4 Capital/ SFOR @ 383p
S&P Global/ SPGI @ $365
Sea Limited/ SE @ $156
ServiceNow/ NOW @ $499
SolarEdge Technologies/ SEDG @ $267
Spirax-Sarco/ SPX @ 11105p
Square/ SQ @ $179
Stamps Inc./ STMP @ $265
The Trade Desk/ TTD @ $569
Twilio/ TWLO @ $287
Xero/ XRO @ A$104.50 (Australian quoted)
Zoom Video Communications/ ZM @ $482
Zscaler/ ZS @ $145
Recovery shares
Baidu/ BIDU @ $125
Burford Capital/ BUR @ 690p
Canada Goose/ GOOS @ $33
Corporate Travel Management/ CTD @ A$17 (Australian quoted)
Fevertree/ FEVR @ 2300p
First Derivatives/ FDP @ 3350p
iRobot/ IRBT @ $80
Unilever/ ULVR @ 4800p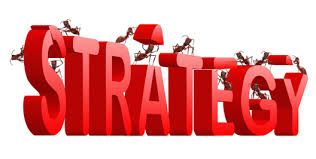 All the shares above are candidates for purchase.  The main list of 69 shares are all classic 3G + M (3G plus magic) stocks. If you check them out by reading their latest earnings report, for example, you will see that they are all in great shape with great leadership and great prospects. The recovery selection are former stars which, after a period of underperformance, seem to be on the up again. Just because the main list is so long does not mean that I am not as enthusiastic about them as if I was doing in-depth research on just one. There are some 100,000 quoted shares in the world. These are 69 of the best; that's how exclusive they are. If you owned all of them I would say you had a superb portfolio, turbocharged to do well in coming years.