RH – an explosively fast-growing furniture business with global ambitions
April 1, 2021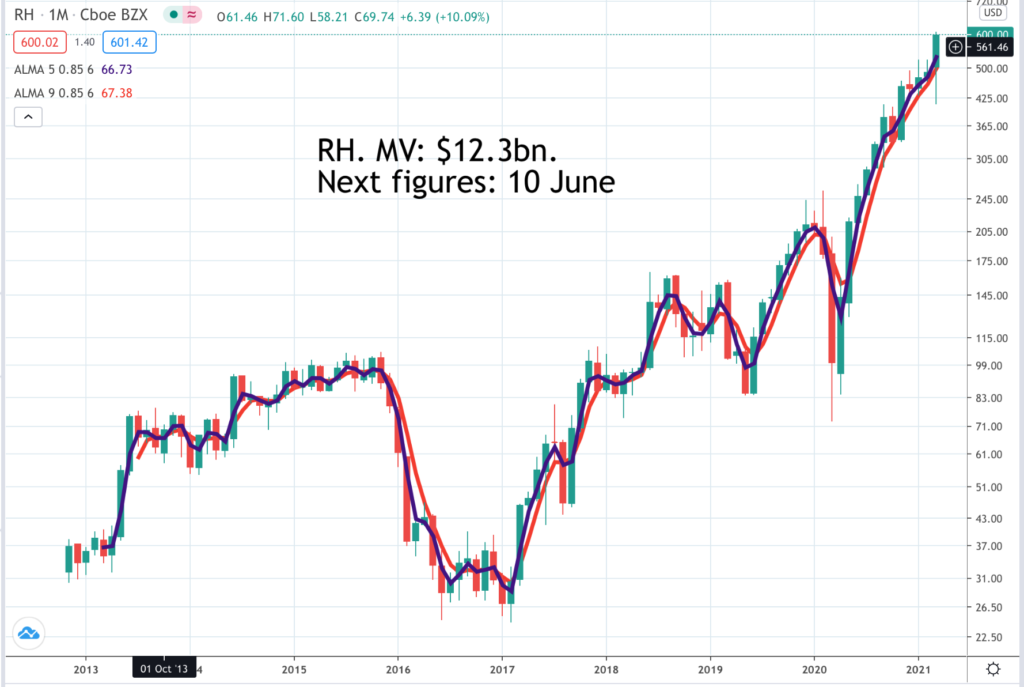 RH. RH Buy @ $603. New entry (also featured in the latest Great Charts by Quentinvest)
"We are building the most comprehensive and compelling collection of luxury home furnishings in the world. The desirability and exclusivity of our product amplified in our inspiring spaces has enabled us to gain significant market share with RH Core demand up 36pc in the fourth quarter. Our demand has accelerated sharply with February up 73pc, and the first two weeks of March up 96pc, prior to cycling the closing of our Galleries, Restaurants and Outlets a year ago."
That quote tells you immediately that RH's business is on fire. Thanks to things like the panic that first greeted Covid-19 the shares have been all over the place. They are up more than sevenfold on their post-Covid low point but more informatively they have quadrupled since June 2018 and risen sevenfold plus since early 2013.
Part of the key to the success of RH, which used to be known as Restoration Hardware, is its perma-tanned billionaire boss and founder, Gary Friedman. He may look like the kind of guy, who wears a gold medallion on his chest but make no mistake, he is a massively talented individual. He briefly left the company after an inappropriate relationship with an employee but he soon came back. Every company needs magic and at RH he is the one who supplies it. Their furniture and household furnishings, which I love, almost look a bit like him. Have a look at their catalogue. It is a mind-blowing experience. Ikea this isn't!
I was intrigued to see that the latest letter from CEO and chairman, Friedman, ends with the Latin words, carpe diem (seize the day). I have for years worn a silver bracelet, given to my son for his 21st birthday but he lends it to me, which bears the inscription, carpe diem. Is this a sign that the shares are going to do well?
RH likes to sell its furniture from converted galleries and museums, which gives you an idea of how he sees the pieces, which are made to designs sourced from all over the world. Friedman sees RH explicitly as a luxury goods business in the mold of companies like Hermes, Louis Vuitton and Ferrari. In particular, he wants RH to have or even exceed their incredible profit margins.
"I often quote Bernard Arnault, the chairman & CEO of LVMH as he says, "Luxury goods are the only area in which it is possible to make luxury margins." At 21.8pc adjusted operating margin in 2020, RH has now eclipsed the operating margin of LVMH, and we have a clear line of sight to 25pc-plus operating margin over the next several years. With less than $3bn of net revenues, you can imagine the leverage we should experience as we scale."
You can see from the table below what has happened to RH's operating margins since the year to end-February 2018 and where analysts see them going over the next couple of years. Put those margins with Friedman's views on where sales could be going and you have an explosive cocktail of potential growth.
"We ended 2020 with just less than $3bn in net revenues and believe the data supports the RH brand reaching $5bn to $6bn in North America and $20bn to $25bn globally. We believe that number will continue to grow when you consider our opportunities in hospitality and homebuilding as we continue to expand the RH ecosystem with the introduction of RH Guesthouses and RH Residences. We are tracking to begin our international expansion in Europe with the openings of RH England and RH Paris in 2022. We are planning to open our first Guesthouse in New York City this fall, followed by our second Guesthouse in Aspen, which will include our first RH Bath House & Spa, in the fall of 2022."
There is another echo of the LVMH playbook here because the latter has already expanded into luxury hotels under the Bulgari brand. In the same way as Soho House has been such a successful hospitality brand in the UK it is easy to see RH doing well also.
"We are currently in design development for our first RH Residences as part of our larger Aspen ecosystem and have already received multiple unsolicited proposals to purchase the homes sight unseen, and to place deposits to reserve a home. We believe the revolutionary design of both the Guesthouses and Residences have the potential to create entirely new markets in their respective industries, while also positioning RH as a thought leader, taste, and place maker."
RH has also started putting restaurants in its galleries. It has around 10 so far and they are doing amazingly well. "We never knew anything about restaurants, right? A few years ago, everybody will tell you, you're going to open a restaurant like, what are you going to do? Who's going to run it? It's just that we had a partner to start now we run the whole thing ourselves. We have — we're vertically integrated to hospitality organization. We have 10 restaurants today. Our restaurant volumes and how they're tracking, because we keep innovating and evolving. And the things we've done in the last 18 months — 12, 18 months, you can't even see them yet because of the pandemic. But our restaurant volumes will rival the highest volume of restaurants anywhere besides the one or two great ones. But when people — when we reopen and really reopen, when we can seat all our restaurants our volumes are going to be among the best. If you looked at the numbers and the returns and the margins on our restaurants today, they're three times better than they were three years ago."
Below is an example of one of the restaurants inside their galleries.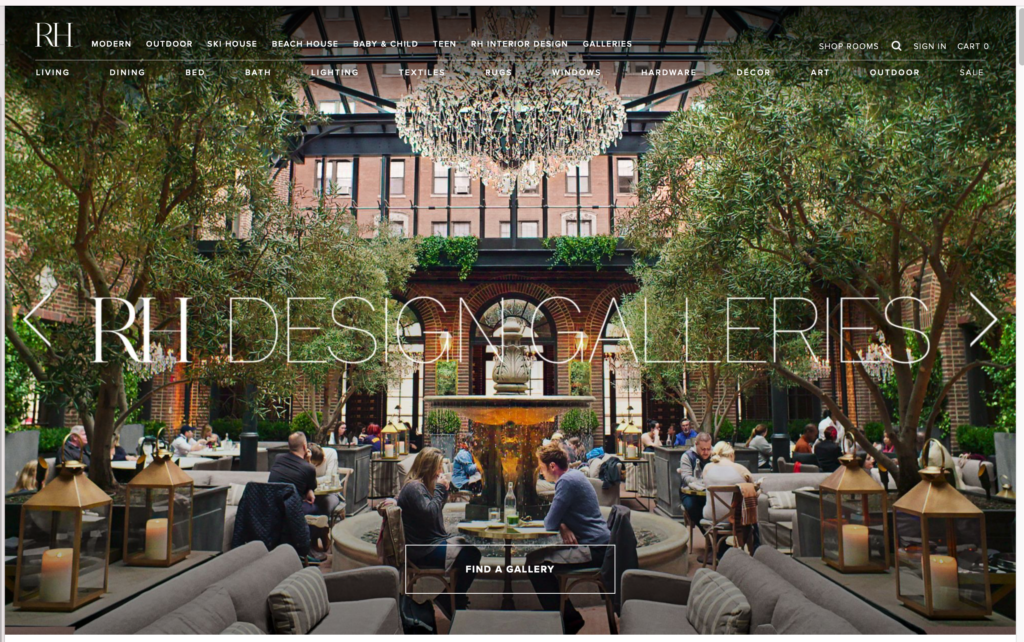 You can gain a flavour of their shops by their opening plans. "We also plan to open four new Design Galleries in 2021, all with integrated restaurants and wine bars: RH San Francisco, The Gallery at the Historic Bethlehem Steel Building; RH Dallas, The Gallery on Knox; RH Oak Brook The Gallery at the Center; and RH Jacksonville, The Gallery at St. Johns Town Centre."
Below is an example of one of their galleries. They are seriously – Wow! Note that it is a screenshot so the arrows won't work.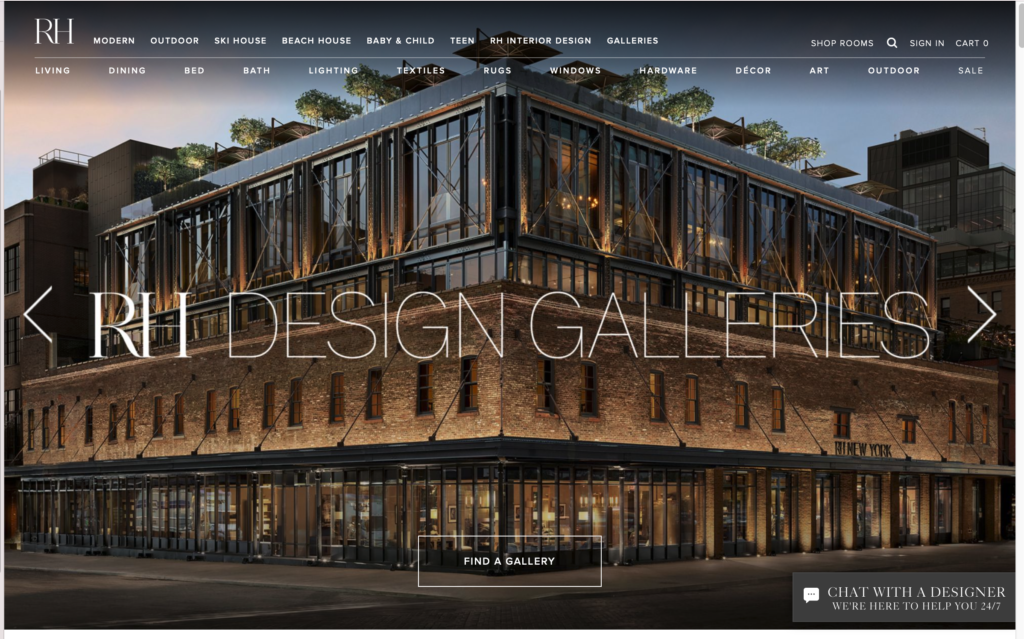 Furniture is not only a product which has seen growing demand during lockdown as consumers focus on their homes but it is also something which really benefits from being seen and touched. RH specialises in showing you the whole space to really enthuse its customers. It's all a bit in your face and flirting with being over the top but it certainly has impact. They may need to adapt their offerings in Europe with its smaller homes. Some of their sofa displays could seat a football team.
Immediate prospects look strong. "With the momentum in the business, we believe it's safe to say 2021 should result in revenue growth in the range of 15pc to 20pc with adjusted operating margin expanding 100 to 200 basis points and ROIC [return on invested capital] in excess of 60pc." Those projections could easily prove conservative given that Friedman expects Q1 sales growth for the year ending February 2022 to exceed 50pc.
I was an early enthusiast for RH but lost interest when the business ran into difficulties earlier in the decade. Plus Friedman personally is so glitzy that it is easy to underestimate him and think he is all show and no substance, which is emphatically not the case. His achievement has been extraordinary starting with the resuscitation of a near bankrupt company selling nostalgia items and valued at $20m, into the luxury goods behemoth that RH has already become.
"RH has also become one of the top performing consumer stocks of the past decade. Since our IPO on November 2, 2012 at $24 per share, RH has outperformed Apple, Amazon, Google, Facebook, Nike, Starbucks, LVMH, Home Depot, Hermès and just about everyone else but Tesla. Warren Buffett says, "Time favors the well-managed company." We believe our performance has and will continue to prove that point."
RH is a highly successful, brilliantly led business, that is growing fast, is highly profitable and sees the opportunity to become much bigger as its expands from the US into global markets.
Just for the record here is a look at one of their sofas.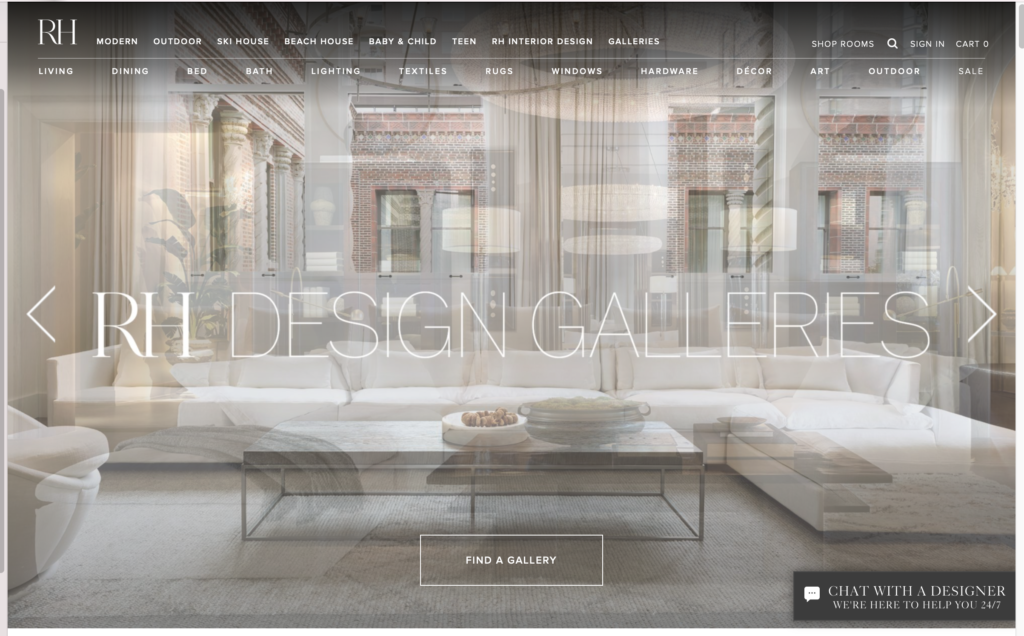 I am becoming increasingly interested in shares where something new and important is happening to provide a reason for the company to do better and the shares to go higher. RH has so many 'something news' it is hard to know where to start. Like many businesses the team at RH has used Covid to rethink and reimagine the business, which helps explain the palpable sense of excitement about prospects.
They plan to introduce RH Contemporary in 2021 plus RH Colour, RH Couture and RH Bespoke over the next several years. They all kind of speak for themselves. What is clear are the echoes of the European luxury fashion and accessories giants like Hermes and LVMH, which Friedman sees as models for RH. I googled global luxury furniture brands and Restoration Hardware came fifth after three Italian brands of which I have never heard and with Ralph Lauren Home in first place. This suggests that Friedman's plans to make Restoration Hardware the world's preeminent luxury furniture brand are very achievable.
The group also plans to unveil The World of RH, a digital portal presenting their products places, services and spaces this fall. It is hard to say how important this could be because Friedman says that the vast bulk of sales are already delivered making the group largely channel independent. The huge drive to go online is not a big issue for them. Even so he says – "We will begin to bring the different parts of our integrated ecosystem to life with rich content that we believe will enhance our brand and connect with our clients on a much deeper level."
A third exciting 'something new' is the restaurants, which will move from 10 to 14 with the four new galleries to be opened all coming with restaurants and wine bars. I can see these being both very successful and very synergistic with the furniture business. The locations are great for meeting and eating and who better than Friedman and RH to make them really dramatic, inviting spaces.
A fourth something new is that RH is at the very beginning of its international expansion. "We're tracking to begin our international expansion in Europe with the opening of RH England and RH Paris in 2022."
Fifth is the move into hospitality and homes, the RH Guesthouses and the RH Residences. Friedman is bursting with all his usual confidence and sees these new ventures adding to the $25bn market potential he sees for furniture. "We believe the revolutionary design of both the Guesthouses and Residences have the potential to create entirely new markets in their respective industries while also positioning RH as a thought leader, taste, and place maker."
Bottom line many exciting things are happening at RH, which already has a record of exceptional achievement. Some of this excitement is in the price. RH is valued at 48.6 times earnings for the year to end February 2021 and 29.6 times expected 2022 earnings. Given the growth aspirations of the business these valuations look reasonable and the long term outlook should be for more impressive progress.