Refrigerated fresh food for pets group, FreshPet, is an under the radar growth star joining the QV portfolio
January 7, 2021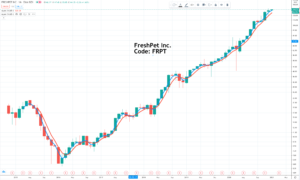 Freshpet Inc. FRPT  Buy @ $144  MV: $5.9bn  Next figures: 10 March New entry
Freshpet is disrupting the global pet food industry, starting in the US but already spreading to Canada and the UK.
This is how they describe what they do. "We started Freshpet with a single-minded mission—to bring the power of real, fresh food to our dogs and cats. We were inspired by the rapidly growing view among pet owners that their dogs and cats are a part of their family, leading them to demand healthier pet food choices. Over the last eight years, we have created a comprehensive business model to deliver wholesome pet food that "pet parents" can trust, and in the process we believe we have become one of the fastest growing pet food companies in North America. Our business model is difficult for others to replicate and we see significant opportunity for future growth by leveraging the unique elements of our business: We founded the fresh, refrigerated pet food category in North America and our brand transparently communicates our passion and dedication. Our fresh, refrigerated products are differentiated inside and out from conventional pet food as a result of our proprietary recipes, cooking techniques and packaging developed over the last eight years. All of our food is made in the United States, and we own and operate what we believe is North America's only fresh, refrigerated pet food manufacturing facility, which we call the Freshpet Kitchens, located in Bethlehem, Pennsylvania. We sell our products through a fast-growing network of company-owned branded refrigerators, known as Freshpet Fridges, installed in over 12,500 retail stores across North America. We foster a culture of innovation, and we strive to be open, honest and socially responsible in everything we do.
Freshpet is disrupting the $22.5bn North American pet food industry by driving consumers to reassess conventional dog and cat food offerings that have remained essentially unchanged for decades. We position our brand to benefit from mainstream trends of growing pet humanization and consumer focus on health and wellness. We price our products to be accessible to the average consumer, providing us with broad demographic appeal and allowing us to penetrate multiple classes of retail including grocery, mass, club, pet specialty and natural. We have successfully expanded our network of Freshpet Fridges within leading blue-chip retail chains including Albertsons, BJ's, Kroger, Petco, PetSmart, Publix, Safeway, Target, Wal-Mart and Whole Foods. The strength of our business model extends to our customers, who we believe find that Freshpet grows their pet category sales, drives higher traffic, increases shopper frequency and delivers category leading margins. As of 30 June, 2014 [date is not a mistake], Freshpet Fridges were located in over 12,500 stores, and we believe there is an opportunity to install a Freshpet Fridge in at least 35,000 stores across North America.
Freshpet's differentiated pet food empowers pet parents to provide positive nutrition and well-being to their pets. Our success is reflected in the growth we have delivered. Our Freshpet Fridge store locations increased from 7,001 in 2011 to 10,836 in 2013, representing a compounded annual growth rate of 24pc; and, as of 30 June, 2014, we had 12,593 installed Freshpet Fridges, representing 28pc growth over the number as of 30 June, 2013. Our net sales increased from $25.4m in 2011 to $63.2m in 2013, representing a compounded annual growth rate of 58pc; and for the six months ended 30 June, 2014, we reported net sales of $39.7m representing growth of 38pc over the six months ended 30 June, 2013.
We believe that the following strengths differentiate Freshpet and position us to become a leading brand in pet food:
The category defining brand in fresh, refrigerated pet food. Freshpet is the first and only fresh, refrigerated pet food brand distributed across North America. Our products represent a significant innovation in pet food, and we have developed a brand proposition that pet parents can intuitively trust.
All of our meats and vegetables are sourced in North America, and all of our products are made in the United States. We use simple, fresh ingredients that are gently cooked without preservatives. Pet parents can easily recognize ingredients in our products as being similar to fresh food they buy for their families. In palatability tests commissioned by us and conducted by third party kennels, dogs chose Freshpet over other leading pet food brands by a wide margin. In addition, according to a study commissioned by us and conducted by a third party researcher, pet parents perceived that Freshpet provides their pets with greater enthusiasm for eating and visible health improvements. By satisfying pet nutritional needs and strong pet parent motivations, we have built a growing base of loyal consumers who we believe have a deep emotional connection to the Freshpet brand.
We sell our products through a fast-growing network of company-owned branded refrigerators, or Freshpet Fridges, which replace standard shelving in the pet aisle or an end-cap of a retail store. We are the only company to have a branded refrigeration fixture, in-aisle electric power and significant exclusive shelf space in the pet department of leading national retail chains. We believe our Freshpet Fridges generate compelling economics with an average cash-on-cash payback period of less than 15 months, calculated by comparing our total current costs for a refrigerator (including installation and maintenance) to our current margin on net revenues. We have installed Freshpet Fridges across all major classes of pet retail including grocery, mass, club, pet specialty and natural. Our track record of consistently growing the number of store locations with key customers underscores the success of our point-of-sale model.
As an example of how the company can grow the company launched in 2007 with 51 locations in Wal-Mart. By 2014 this had grown to 1,578. The group has had similar success at other retail chains where pet food is sold.
We believe the following trends are driving growth in our industry: There are currently 84.6m pet-owning households in the United States, according to the APPA. The percentage of U.S. households with dogs or cats (or both) has increased from 47.8pc in 2006 to 52.3pc in 2013. More U.S. households today have pets than have children, which we believe to be a result of demographic shifts and changing attitudes towards pets.  According to Packaged Facts, 83pc of U.S. pet owners view their pets as members of the family. As pets are increasingly viewed as companions, friends, and family members, pet owners are being transformed into "pet parents" who spare no expense for their loved ones, driving premiumisation across pet categories. This trend is reflected in food purchasing decisions. Nearly 80pc of U.S. pet owners are as concerned about the quality of their pet's food as they are about their own, according to Market researcher Mintel. Consumers are increasingly purchasing fresh, natural, and organic food products. According to Euromonitor, from 2002 to 2013, the U.S. natural and organic food market grew at a compound annual growth rate of 9.8pc, compared to the overall U.S. food market's growth rate of 2.8pc. We believe consumers are seeking simple, fresh and easy to understand food products from brands they trust and made with ingredients that are transparently sourced. The pet food purchasing decision is underpinned by higher brand loyalty than many other consumer packaged goods categories. A consumer selecting a pet food brand resists frequent switching in order to avoid disrupting the pet's diet, resulting in high repeat purchasing behavior. As a result, we believe that as consumers try fresh, refrigerated pet food, they are likely to become repeat users of the product."
All the above comes from the group's 2014 IPO document. At that time the group had less than one per cent share of the US pet food market. It had Freshpet fridges in more than 12,500 stores. It had a strong innovation pipeline to expand its product offerings. Lastly it saw the opportunity to continue to grow operating profit margins which rose from 42.6pc in 2011 to 48.7pc in 2014.
We can now fast forward to the results for Q3 2020, released on 2 November 2020 to discover that nearly seven years later this exciting business is growing faster than ever.
"During the third quarter, our Nielsen Mega Channel consumption growth, driven by continuous media since May, exceeded 40pc and made it very difficult to keep up with demand, particularly on our premium Fresh from the Kitchen line. Our manufacturing team performed very well, delivering record total output and a strong adjusted gross margin, but that was not enough to keep up with the demand. As a result, we drew down trade inventories during the quarter and had much higher out of stock than we, our customers and our consumers would like. With Kitchens 2.0 [a new production facility] up and running, we are now able to start rebuilding that trade inventory and expect that we will be fully caught up within a few months. We are rapidly building the capability to scale that next mountain. Nowhere is that clearer than in Ennis, Texas, where we have broken ground on our next Freshpet kitchen on almost 70 acres of land. We now have seven engineers in Ennis and a large array of construction and engineering partners, most of whom have been with us through multiple expansion projects. That site, when fully built, will be almost double the size of our Bethlehem operations and add more than $700m of capacity. We are very excited about what is happening in Ennis and look forward to opening that facility in mid-2022.
We feel very good about what we accomplished in the quarter. We shipped everything we could make, delivering $84.2m of net sales for 29pc growth versus a year ago. Recall that the year-ago quarter included about three points of trade inventory refill. So, on an apples-to-apples basis, our growth was closer to 32pc. Our growth rate is still running in the high 30s today despite those out of stocks [during the Covid period demand has exceeded supply holding back reported growth]. The consumption growth was incredibly broad-based with grocery up 40pc, mass up 46pc and big box pet specialty up an impressive 32pc. In each class of trade, Freshpet's growth was at least 35 points better than the category as a whole. Driving this growth were the strongest velocity gains, measured as dollars per million ACV [a measure of sales volume] we've ever experienced, up 29pc versus a year ago in the quarter. It is that kind of performance that convinces our customers that Freshpet is a good investment in space and inspires them to find ways to add more and bigger fridges to more stores. By the end of the quarter, seven of our top 10 customers had significant tests or expansions of multi fridge sets under way. Household penetration gains were the major driver of our growth.
Total household penetration is up 23pc versus a year ago. Core dog household penetration was up even more at 27pc growth. Over the last 12 months, we've added 725,000 incremental households. This puts us slightly ahead of the pace we expected on our quest to add 5m more households by 2025. It is our expectation that we will add households faster in the early years of our five by 2025 program, and that the buying rate will come along faster in the later years as our installed base of users gets bigger. We took a deeper look at who the new users were who joined the Freshpet franchise in the post-COVID period and we're encouraged to see that they were younger, skewing toward millennials and Gen Z, ethnic, unmarried and urban. This is very good for the longevity of the franchise we are building and is also indicative of the role Freshpet and pets play in our lives. Pets are highly valued for the companionship, particularly in times of stress.
And the highest quality food becomes even more important when you spend so much time with a pet you love. That is the perfect recipe for success at Freshpet. Our buying rate was up 5pc, which is strong growth despite the large number of new users we acquired. As we've indicated before, when we look at an undiluted cohort of established users, we typically see 6 to 7pc buying rate gains. That includes consumers who are moving from our lower price per pound items to our higher price per pound items and increased usage on a daily basis. Everything we are seeing in our data suggests that that is still happening, but they're being diluted by the large number of new users who are just beginning their Freshpet journey.
When the rapid growth began to exceed our capacity in August, we pushed some of the advertising back to Q4 to better match our available capacity. That advertising begins this week now the Kitchens 2.0 is up and running. We've also made an incremental investment in UK media in Q4 to begin to recapture the growth that were obscured by the COVID crisis there. That advertising ran in October and it produced exactly the results we hope to see and positions us well for 2021.
We believe that the long-term trends that have been driving Freshpet's growth have been amplified and accelerated this year, giving us increased confidence in our long-term goals. Despite all the economic and social uncertainty this year, ultra-premium pet foods have accelerated their growth, while the lower-priced value-oriented brands have struggled.
There's also a lot of discussion about whether there have been increased pet adoptions that are driving the pet food category during the challenging circumstances we've experienced this year. We believe the data on that is very murky. As we have seen evidence both supporting that notion and evidence that suggests there was only a temporary increase in pet adoptions. In the end, we are treating any increase in adoptions as a pull forward in demand for pets and believe that it doesn't really matter for a brand as small as Freshpet, whether there are 63m households with a dog or 65m, when we were only in 3.8m households.
The untapped opportunity is enormous either way. More importantly, we believe that consumers' increased awareness of the role pets play in their lives and the benefits of feeding them the best that they can provide scale force tailwinds for Freshpet. As we said at our investor day, pets are replacing kids in many families. It is now very clear that dogs are no longer just a member of the family, they have become our favorite child.
I look forward to helping drive Freshpet to become a $1bn business by 2025.
In closing, we are well positioned to finish this year strongly and come out of the gate quickly next year. We are thriving in the midst of an incredibly chaotic year. And have successfully added capacity that will enable us to unleash our marketing and innovation expertise next year and have built significant organizational capability to help us achieve our long-term goals. We have a winning brand with a strong product and exceptional idea behind it, growing consumer interest in less processed, more natural foods and in treating our pets well, a highly capable organisation that has proven to be up to the challenge in front of us and a strong balance sheet."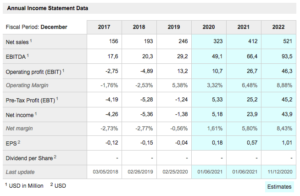 The table above shows the growth that analysts expect for Freshpet with sales on course to more than triple between calendar 2017 and calendar 2022. My simple rule for companies is that if they are to grow to become very large they need to grow very fast. Freshpet is delivering on that path with sales growing from $11.7m in 2009 to $63.2m for 2013 and $246m last year. The opportunity is enormous with the company addressing a pet food market in the tens of billions of dollars with an offering geared both to changing attitudes to pets and increasing awareness of the benefits of fresh food. The bottom line is that pets are becoming very big business.
I know this because my daughter wants a dog for her family and tried to coax me into buying one that my wife and I would be responsible for with her taking it when she wanted. What really amazed me was that the dog she found, a Bedlington terrier puppy, was going to cost over £1,750. Two days later somebody else bought the dog. I was discussing this with my wife when we passed a young guy with a puppy. He overheard our conversation and said his dog, an American Bulldog, cost £2,000. When I told him that I had just read an article saying running costs for a dog are around £3,500 a year he didn't bat an eyelid. The average price of a thoroughbred puppy is now around £1,500 so it is hardly surprising that the old tinned unfit-for-human consumption pet food does not make the grade any more. The opportunity for Freshpet looks huge and they are showing every sign of capitalising on it with a great business model and clear first mover advantage.
The one thing Freshpet is not is a major ecommerce play. Against the background of Covid, e-commerce sales grew 188pc in Q3 but are still only 5.1pc of total sales.
Years ago I remember learning about something called the cool chain. Lettuces picked in Israel went via refrigerated trucks to stripped down refrigerated jumbo jets to further refrigerated trucks and then into the cooled display units at Marks & Spencer et al without ever going into the open air until a consumer bought them. I was impressed at the time but never realised that years later there would be a similar cool chain for freshly made pet food. Another staggering statistic is that the global pet product market is worth $125bn a year of which 75pc is pet food. No wonder the guys at Freshpet think they have a huge opportunity.
Incidentally, one reason why the shares have already risen so much is that they floated when the company was still tiny with just 150 employees and sales of $63.2m. Even now, after years of strong growth, the market cap is less than $6bn, which is nothing for a company which could become one of the world's leading suppliers of high-prices, high margin pet food. There is still everything to play for.

The volatility in financial markets seems to be becoming even more pronounced. I have just noticed bitcoin falling $3,500 in less than an hour after touching $40,000 and the Nasdaq 100 index seems to be in a pattern of rising or falling by hundreds of points on alternate days. Bitcoin and the cryptocurrencies are a law to themselves but as far as equities are concerned I still find many exciting shares to write about, the economic background will likely improve sharply at some point in 2021, interest rates are low, liquidity plentiful and governments are pursuing stimulatory policies. Prospects for shares look positive.