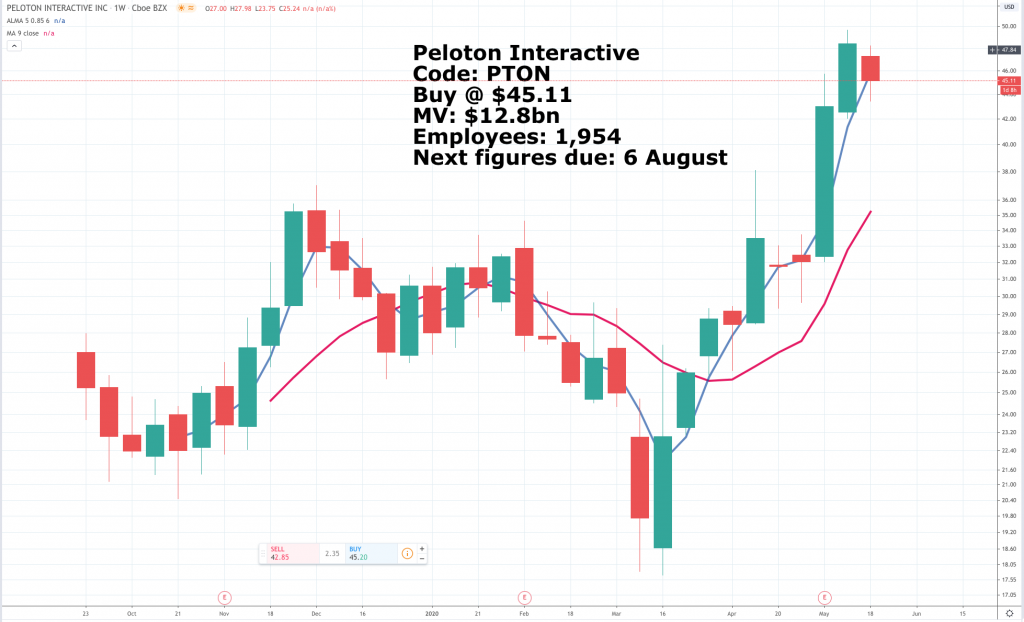 I am adding shares in Peloton Interactive to the QV for Shares portfolio. I was slow to react to this one because I thought it might be just a here today, gone tomorrow result of the pandemic-inspired stay-home economy. Gym-related activities are notorious for triggering short-lived bursts of enthusiasm.
Two things are changing my mind. First, I think aspects of the stay-home economy are going to become permanent. I began working from home over 30 years ago. I was only able to do this thanks to the Internet. I never missed the travelling, I found my work became vastly more productive and I am a regular visitor to the gym. I am lucky because two of London's best gyms are five minutes walk from my home.
Absent that I think I would be very tempted by Peloton and because it is so cheap I may even do it as well as remaining a member of my local gym. When a typical class goes out to 175,000 attendees you can obviously afford a very special instructor and like work, exercising at home can be very efficient and you can choose the time if you want to do classes, which is all I ever do at my gym.
Second, I can see that Peloton has all the characteristics of a sexy, cloud-based hyper growth technology company. It spends heavily on sales and marketing and increasingly on research and development, it is a fitness platform, which recruits subscribers so generates high recurring income. It even finds it hard to make money, which is almost the ultimate sign of a high growth business. [This is not a negative; it just shows a company with such a big opportunity that it makes sense to spend like mad to capitalise on it; a strategy which has come to be known as the land and expand business model; recruit like mad and get your new recruits not just to stay but to spend more as you continually improve the basic proposition.]
In a nutshell .you could say that Peloton is disrupting the fitness business in exactly the same way that Amazon disrupted bookselling and retail and Netflix disrupted entertainment and linear TV.
Peloton is classic 3G, has enough magic to fill a Harry Potter book and is growing at a spectacular rate.Below is a snapshot of what happened in the latest quarter (Q3 2020 ending 31 March) , reported on 6 May.
"We generated total revenue of $524.6m, representing 66pc year-over-year growth. Connected Fitness Product revenue was $420.2m, representing 61pc year-over-year growth and 80pc of total revenue. Connected Fitness Product revenue exceeded our expectations across all geographies driven by strong demand for our Bike and performance of Tread [treadmills] prior to pausing sales and deliveries of our Tread on March 19. During the last few weeks of Q3, we saw a significant increase in demand for our Bike which has continued into Q4 so far. Subscription revenue was $98.2m in Q3, representing 92pc year-over-year growth and 19pc of total revenue. The increase in subscription revenue was a result of strong growth in our Connected Fitness Subscriber base, which reached over 886,100 by the end of Q3, representing year-over-year growth of 94pc. We experienced low Average Net Monthly Connected Fitness Churn in the third quarter of 0.46pc driven by increased subscription reactivations during the period, especially in January and during the last few weeks of March. As of March 31, 95pc of our Connected Fitness Subscribers were on month-to-month payment plans. Member engagement grew in Q3 with 17.7 Average Monthly Workouts per Connected Fitness Subscriber versus 13.9 Workouts in the same period last year. Our Connected Fitness Subscribers worked out with us 44.2m times, up from 18.0 m workouts in the same period last year, representing 145pc year-over-year growth. In addition, we ended the quarter with 176,600 paying Digital Subscribers, up 64pc year-over-year."
This rate of growth owes much to the virus and the stay home economy but Peloton was not exactly dawdling along in previous years.
"For fiscal 2017, 2018, and 2019: • we generated total revenue of $218.6m, $435.0m, and $915.0m, respectively, representing 99.0pc and 110.3pc year-over-year growth. For fiscal 2017, 2018, and 2019, key metrics of our business included: • Connected Fitness Subscribers of 107,708, 245,667, and 511,202, respectively; and • Average Net Monthly Connected Fitness Churn of 0.70pc, 0.64pc, and 0.65pc, respectively."
They summarise what they do as:
"We are a technology company that meshes the physical and digital worlds to create a completely new, immersive, and connected fitness experience."
They have a powerful business model.
"Our compelling financial profile is characterised by high growth, strong retention, recurring revenue, margin expansion, and efficient customer acquisition. Our low Average Net Monthly Connected Fitness Churn, together with our high Subscription Contribution Margin, generates attractive Connected Fitness Subscriber Lifetime Value. When we acquire new Connected Fitness Subscribers, we are able to offset our customer acquisition costs with the gross profit earned on our Connected Fitness Products. This allows for rapid payback of our sales and marketing investments and results in a robust unit economic model."
It is no surprise that when they look at the rate at which they are growing and the size of the global markets they are addressing they say:
"This is just the beginning."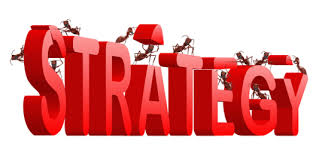 Quentinvest is a portfolio strategy. I want you and I to build portfolios of at least 100 different shares all of which are classic 3G plus that extra magic needed to make any investment special. Do this, be patient, soldier through what I call the snakes, when everything temporarily dives in value and we will win together and win big.

Every time I find a new company that displays the characteristics I am looking for it becomes a candidate for addition to the portfolio. Peloton Interactive embodies everything I am looking for; I have to add it to the list.