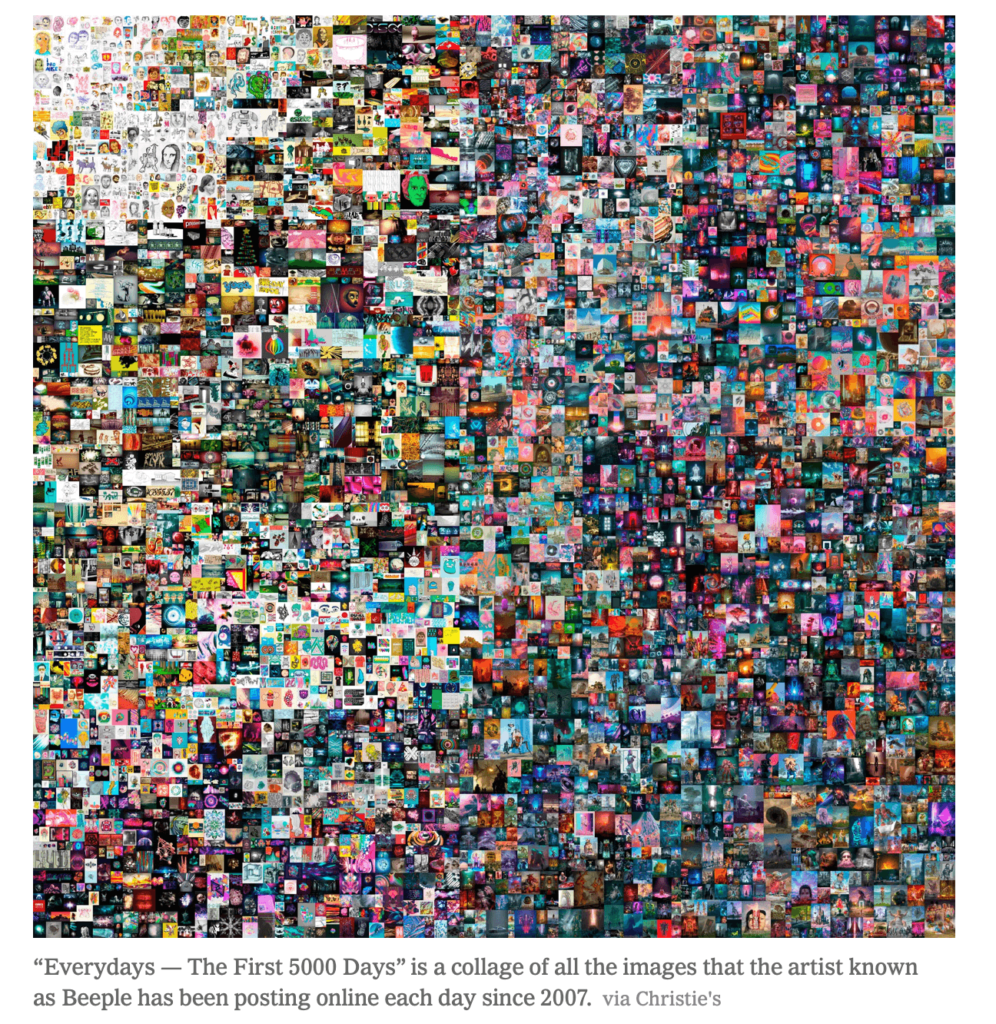 Adam Bomb Squad Collection. Floor price: 1.18 ethers $3176
Bored Apes Yacht Club Collection. Floor price: 100 ethers. ($269,200)
Superplastic: Gucci. Floor price: 17.4 ethers ($46,840)
Superplastic: Cryptojankyz. Floor price: 0.564 ethers ($1518)
I am a million miles out of my comfort zone here but it is evident that a new investment class is becoming important and we need to learn about them. In fact, I am dying to buy one but in order to do that you have to buy with ethers which means you need something like a Coinbase account and a digital wallet to store the NFTs that you buy.
I know you are probably thinking NFTs are not for you but give them a chance. You may be surprised. My son in law has already moved his entire portfolio from shares to NFTs and in just several months he is doing very well and also having a lot of fun.
According to him the whole NFT phenomenon is part of a broader movement that can be summed up as Web 3. So first of all, what is Web 3.
To understand Web 3, it makes sense to understand what came before. The first version of the Internet – known as Web 1 – arrived in the late 1990s and comprised a collection of links and homepages. Websites weren't particularly interactive. You couldn't do much apart from read things and publish basic content for others to read.
Web 2 came next. Some people call this the "read/write" version of the internet, in reference to a computer code that lets you both open and edit files rather than just view them. This version of the Internet allowed people to not only consume content, but create their own and publish it on blogs like Tumblr, Internet forums and marketplaces like Craigslist. Later, the emergence of social media platforms including Facebook, Twitter and Instagram took content sharing to new heights.
Although Web 2 has brought the world amazing free services, a lot of people have grown tired of the new "walled gardens" these huge tech companies have created and want to have more control over their data and content. This is where Web 3 comes in.
Web 3 can be understood as the "read/write/own" phase of the Internet. Rather than just using free tech platforms in exchange for our data, users can participate in the governance and operation of the protocols themselves. This means people can become participants and shareholders, not just customers or products.
According to one observer, the real message here is that what happens on the decentralized internet is decided by the investors versus what happens on the main internet is decided by Twitter, Facebook, Google and a small number of other companies.
Anything at all can be tokenized, whether it's a meme, a piece of art, a person's social media output or ticket's to a conference.
Next question – what are NFTs
NFT stands for Non Fungible Token. Non Fungible means its unique. Bitcoins are fungible because one bitcoin is identical to another.
NFTs can really be anything digital (such as drawings, music, your brain downloaded and turned into an AI), but a lot of the current excitement is around using the tech to sell digital art.
The pandemic has brought much of the doggedly analogue art world kicking and screaming into the 21st century, and NFTs are benefitting from that seismic shift. "Covid is a definitely a big piece of this frenzy, people are sitting at their computers all day—they're locked inside and have fewer options. If there was no Covid-19, I honestly don't think the space would have accelerated this fast," Winkelmann says. [Winkelmann is the real name of an artist known as Beeple, one of whose images, shown above, sold at Christie's for $69m]. Another Beeple piece, "Crossroad" — a 10-second video NFT showing animated pedestrians walking past a giant, naked likeness of Donald J. Trump, collapsed on the ground and covered in graffiti — sold for $6.6m in Ether on Nifty Gateway. The seller was Miami-based art collector Pablo Rodriguez-Fraile, who had brought the piece in October for about $67,000.
For many artists struggling to make a living without physical shows, the NFT space offers a tangible income. Smart contracts automatically provide artists with a cut, usually around 10pc, of all future sales.
Many of those investing in NFTs made their millions from Bitcoin and Ethereum—and the art market is taking notice. After being quizzed on Clubhouse, Christies agreed to accept Ethereum for the Winkelmann sale though the premium must still be paid in dollars. Since then Damien Hirst announced he would accept crypto for a new series of prints published by Heni.
It must surely only be a matter of time before others follow, particularly now luxury brands are eyeing up crypto after Musk's electric car maker Tesla acquired $1.5bn of Bitcoin in January. Musk has made no secret of his NFT art collection, while his girlfriend Grimes has sold around $6m-worth of digital works . According to Nonfungible.com, which monitors the crypto collectable market, in July 2020, total NFT sales surpassed $100m. And they currently stand at almost $375m.
As Winkelmann notes, tech investors have so far been driving the NFT craze. "People who have made a lot of money on crypto have kickstarted this market. If you made a lot of money on crypto, you were buying it back when it was really not that proven, and it was still pretty speculative. And now they have started speculating on these NFTs."
In terms of collectors, the Christie's sale could provide some cross-pollination from the fine art world. According to one art advisor, even clients in their 60s and 70s are making enquiries about NFTs.
A New York Times article about the NFT phenomenon in March 2021 noted – "In the art world, where the market for NFTs is more established, the current top-sellers are "Crypto Punks " a cohort of 10,000 individual algorithm-created characters, 9,000 of which were given away in 2017 for trading and collecting on a dedicated Ether platform. Early the next year, the most sought-after "punks" were selling for about $13,500.
On Wednesday, "CryptoPunk 7804" sold for the equivalent of about $7.6m in Ethereum, a record for any computer-generated artwork, according to Georg Bak, a curator at the Museum of Contemporary Digital Art. . The price was five times the previous record for a CryptoPunk, set last month.
John Watkinson, the co-founder of CryptoPunks, said in an interview that he first noticed a resurgence of online interest last spring, during the early days of worldwide coronavirus lockdowns. "There was a showing-off factor," Watkinson said. "Flashing what you have to other people in a virtual way was the only way to do it."
Another example of what is going on with NFTs is that on Monday my son in law messaged me that Gucci was going to sell a Gucci Superplastic NFT at 3pm with only 500 copies available at $2,000 each. Today, Tuesday, they have already reached $50,000 each. The NFTs are the result of a collaboration between fashion house Gucci and toy firm Superplastic.
A collection of NFTs which has come into prominence recently is Bored Ape Yacht Club. There are 10,000 Bored Ape images. Each one is different and some have characteristics that make them rarer than others. A number of celebrities have been buying Bored Apes, most recently Gwyneth Paltrow.
One of the perks of owning a Bored Ape NFT is access to the so-called bathroom which is essentially a virtual hangout place with a canvas that's accessible only to wallets that contain at least one ape. This is where owners can draw, write expletives, or do whatever they see fit. Every ape-holder is allowed to paint a pixel on the bathroom wall every fifteen minutes. Essentially, buying an ape NFT makes the owner a member of an exclusive club that has a membership cap.
In addition, owning a high-priced NFT and one that's recognized within a community is much like buying a valuable painting. Its value is derived from the subjective worth of what it means for the owner himself. And remember – each Bored Ape NFT is completely unique, and there will never be a second one like it.
Last but not least, some of the users who buy these NFTs look at them as an investment.
Besides the provable and verifiable uniqueness of each NFT, the Bored Ape Yacht Club, as a project, is also interesting because of a few other attributes.
The project launched with a detailed roadmap from the start. The relatable attributes for the Bored Apes also managed to make them perfect for online avatars and grew to become the biggest PFP [profile picture] project.
The number of unique owners is also enough for a strong NFT community. In addition, owners get the rights to use the Bored Apes commercially – something that's critical for the future development of the project.
There's already a very strong community centered around BAYC, and it grows each day. This is also because a considerable number of celebrities have jumped on board, including Eminem, who bought his Bored Ape for $462,000 and now uses it as his profile picture.
Bored Apes have been very profitable for early owners. They were minted at a price of 0.08 ETH each in April 2021, which is $215 at today's Ether price. As of January 2022, the floor price on OpenSea stood at 77.99 ETH or around $210,000.
While many apes sold for six and even seven figures, the most expensive one seems to be Bored Ape #3749. It sold for 740 ETH, worth around $2.9m at the time of the purchase. This is what it looks like: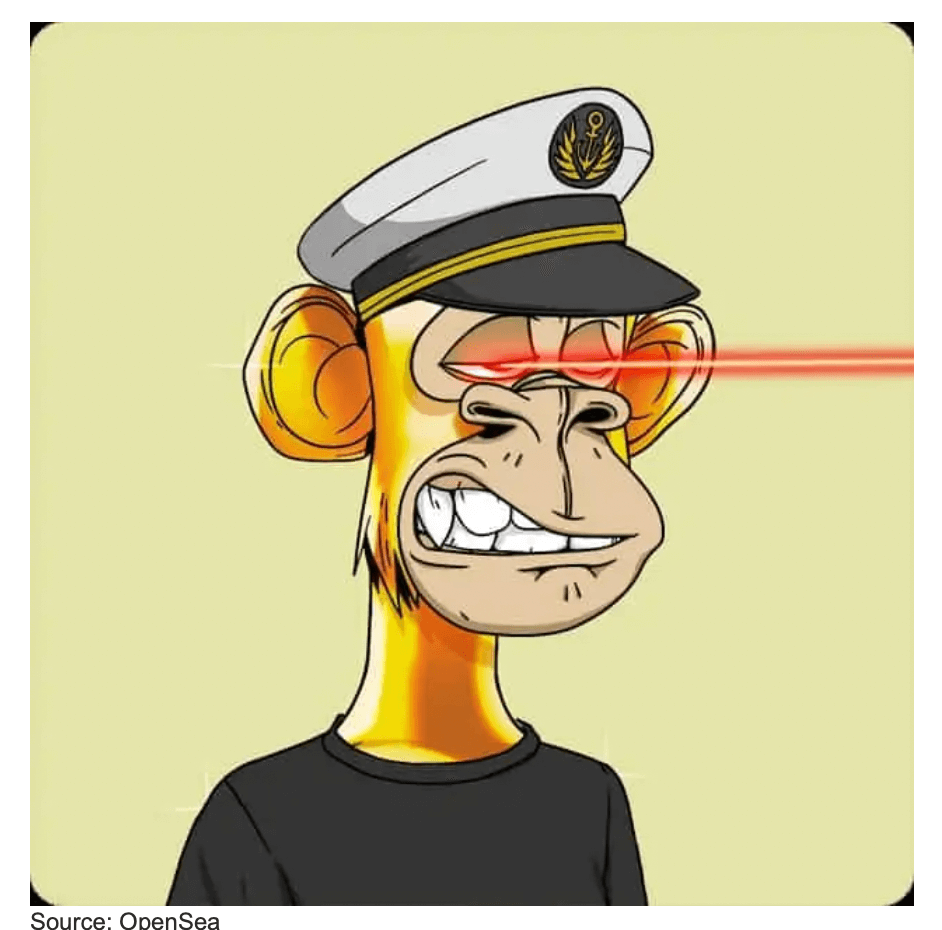 There are other notable mentions here, including Bored Ape #2087, which sold for $2.3 million, Bored Ape $8585 – sold for $2.67 million, Bored Ape #7090 – sold for $2.27 million, and so forth.
How to Buy Bored Ape NFTs?
As mentioned above, Bored Ape NFTs were first minted at a price of 0.08 ETH each, but that was only available for a short period of time upon the project's launch. Now, the only way to buy them is on secondary marketplaces, and the most popular one is OpenSea.
To buy a Bored Ape NFT, you would have to visit OpenSea and connect your MetaMask wallet. Once there, find the Bored Ape Yacht Club collection in the search bar, and you can start browsing. Once you select the ape that you want to buy, you need to click on the image which will take you to a separate window where you can place your bid: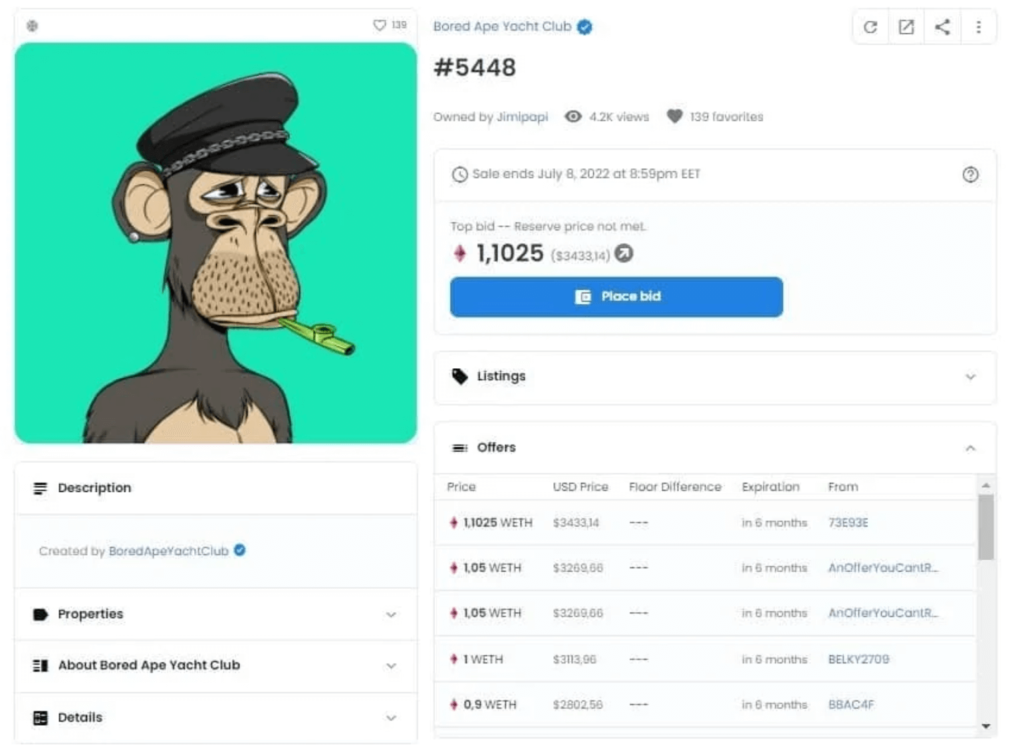 If the seller accepts your bid the NFC will be transferred to your account. Buyers are advised to connect their Metamask through a hardware wallet like a Trezor or Ledger.
The road map is very clever in creating additional value for Bored Ape owners. Since the original launch they have launched The Kennel Club, free digital dog images and Mutant Apes. At the time of writing the floor price on the former was 6 Ether($16,152) and for the latter 14.75 Either ($39,707).
Most recently The Bored Ape Yacht Club has teamed up with one of the leading entities in the field of P2E [play to earn] – Animoca Brands, in a bid to develop a play-to-earn blockchain-based game. The implication is that there is going to be constant value creation going forward.
Bored Ape Yacht Club prices have really raced into the stratosphere but there are cheaper options like the Adam Bomb Squad Collection. Adam Bomb Squad NFTs were sold 3,210 times in the last 7 days. The total sales volume for Adam Bomb Squad was $10m. The average price of one Adam Bomb Squad NFT was $3.1k. There are 8,753 Adam Bomb Squad owners, owning a total supply of 24,999 tokens. This is what a typical Adam Bomb Squad Collection image looks like: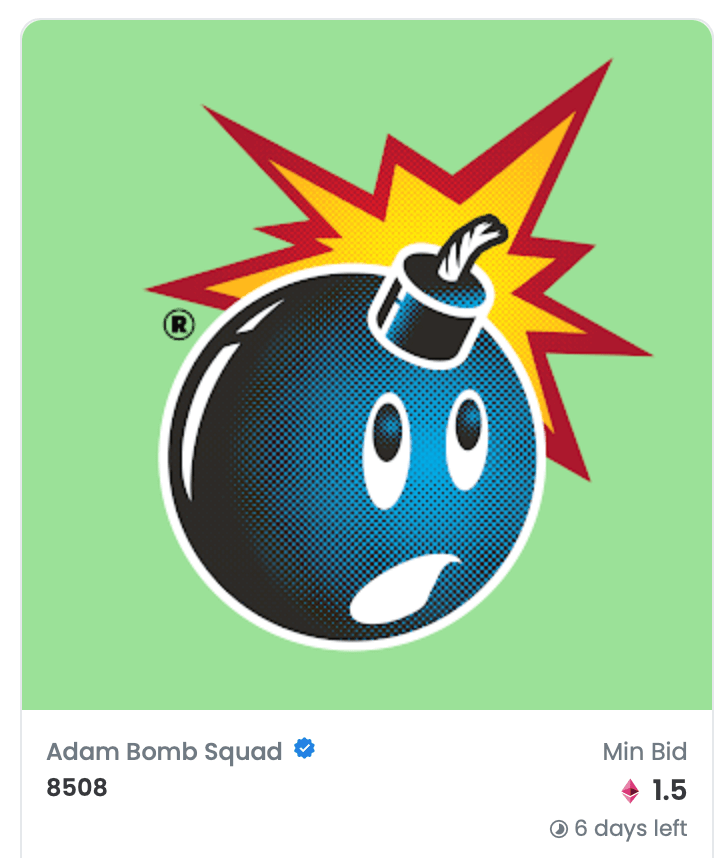 Prices are expressed in ether so a minimum bid of 1.5 equals 1.5 Ether and means the minimum bid is around $4,000 at current Ether prices.
The history of Adam Bomb Squad starts with a brand called The Hundreds. The Hundreds is a streetwear brand that has amassed a huge following over its 18-year life – to the point where it is now iconic to many. Started by Bobby Kim and Ben Shenassafar, The Hundreds is a community-based streetwear brand that manufactures an original line of clothing as well as frequently collaborating with other companies including adidas, Disney, PUMA and the Yale School of Art. According to the project's website, Adam Bomb Squad grew out of The Hundreds and the brand's willingness to experiment and find new creative outlets. The collection, of 24,999 minted NFTs, dropped on 27 August 2021. Each NFT is a unique piece of artwork that includes the brand's iconic cartoon bomb mascot, Adam Bomb. Nearly all drawings of Adam Bomb were developed throughout the 18-year history of The Hundreds, with bombs depicted on T-shirts, apparel and billboards. Each background used in a piece speaks to some of the seasonal collections offered by The Hundreds. This means in comparison to other NFT projects, Adam Bomb Squad is already steeped in history.
The Hundreds took a somewhat unusual approach with Adam Bomb Squad. According to the project's website, while some Bombs are unique and created only for the collection, most are based on previous works from The Hundreds catalogue. With 18 years of designs to choose from, that's quite a potent source of inspiration; it also means there's a real-world piece of gear that coordinates with almost every NFT in the collection.
Owning an Adam Bomb Squad NFT offers holders 5 key benefits: a free ABS-exclusive T-shirt, early access to The Hundreds drops, drops that are exclusive to ABS holders, events that will be exclusive to ABS holders and fast lane privileges on The Hundreds streetwear.
Developers of ABS have also hinted that, in the future, holders will be able to utilise their ABS NFTs within the metaverse. It is claimed that additional sociable functionality is being added to the token all of the time.
Below is a price chart for Adam Bomb Squad.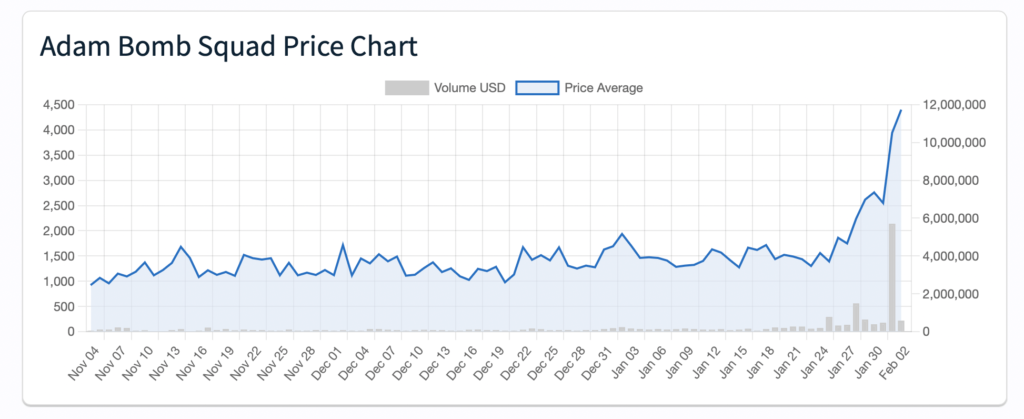 ---

This is really early days for me looking at NFTs but it seems obvious that they are going to have a huge role to play going forward as fun things to own and/ or as investments. Demand has barely got going but obviously there will also be a lot of supply. The trick will be to manage the NFTs in a way that creates value or, in the case of works of art by people like Beeple are perceived to already have value.
Bored Ape Yacht Club NFTs are already serious investments. Adam Bomb Squad are cheaper and there are NFTs available at the whole gamut of price points. You need to remember that if you buy an NFT which never attracts any offers it is worthless.
I rather like the idea of Adam Bomb Squad because prices are not ridiculous, the images are fun, there is a clear chart breakout and the brand is being managed with a clear road map and a definite intention to create value.
Here is another instructive quote.
"Where NFTs will end up is anyone's guess — and anyone who claims to know is probably trying to sell you something. What we do know is that the amount of people buying NFTs is almost definitely about to grow. It's estimated that around 250,000 people trade NFTs each month on OpenSea , the biggest NFT marketplace. In the short term, CoinBase will soon open its own NFT marketplace, for which 2m users are on the waiting list. Robinhood has similar plans."
If you want to find the latest floor price on any of these collections just type in the name and select the OpenSea option and you will find prices and offers.
---