New to the QV portfolio – Roku vies with Netflix to be the king of streaming
January 14, 2021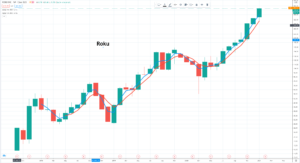 Roku  ROKU Buy @ $420  MV: $52bn  Employees: 1,650 Year-end: 31 December  Next figures: Q4 on 25 February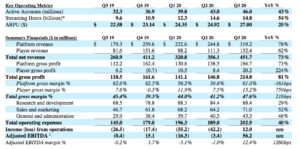 Founded by an English-born American called Anthony Wood, Roku's business is built on the premise that eventually all TV/ video is going to be streamed. In the US they call this cord cutting because so many people who pay for cable TV are metaphorically cutting the cable and switching to streamed TV, which is delivered, like BBC iPlayer, via the Internet.
The business started with a lunch meeting between Anthony Wood and Reed Hastings, the CEO of Netflix. The plan, duly executed, was to develop a device, which people could use to enable streaming on their TV. Somewhere along the line Hastings got cold feet, thinking that the device would somehow hamper Netflix's ability to source content from a wide variety of suppliers and he closed down the project. Wood left and set up Roku. Initially these devices generated the lion's share of group revenue. In 2015, the player division delivered revenue of $270m against $50m for the platform division. However the group explained in the 2017 prospectus that the strategy was all about building Roku as a platform, which people could use to access streamed Internet content and using the player business to bring in customers to achieve that result. Accordingly, in 2016 player revenues grew to $294m but platform revenues more than doubled to $105m. If we fast forward to 2019, the last reported full year, player revenues were $388m on which the group roughly breaks even whereas platform revenues were $741m of which roughly two thirds is gross profit.
Roku's platform, accessed by its devices, which are refreshed with a new generation every year and many of which are built into Roku badged TVs, is the place where streamed content meets the customer and is monetised by subscription income (Netflix, Amazon Prime or Disney), ad revenue (YouTube although the latter also has a subscription business) for the many free to the user but ad funded content streams or transaction funded, where the viewer pays to download a film or a sporting event. Roku takes a cut on all these revenue streams, which helps explain why the Roku platform is such a sensational business, which has grown revenue 15-fold between 2015 and 2019 as the world has shifted to streaming.
Other statistics demonstrate the power of the Roku platform. The number of active accounts, people using the Roku platform to access content, has climbed from 4.4m at the start 0f 2014 to 36.9m at the end of 2019 and 46.0m for Q3 2020. The number of hours streamed (watched) by those customers has rocketed from 700m in 2014 to 40.3bn at the end of 2019 and 14.8bn (59.2bn annualised) for Q3 2020. Streamed hours are driven both by the number of active accounts and the average revenue (ARPU) per user. This has risen from $3.80 per user in 2014 to $23.14 by Q4 2019 and $27 for Q3 2020. You start to see the forces helping group sales to rise more than sixfold between 2017 and 2222. Plus, in the later years, as sales rise faster than operating costs (principally r&d and sales and marketing), the group is expected to deliver rapidly rising profits.
In 2017, encouraged by the rapid growth of the platform business, the group launched the Roku Channel, which is funded by ads and delivers free and licensed content much like an ad-funded version of Netflix. As an example, on 8 January 2020, Roku announced that it was acquiring the streaming rights to content produced by Quibi, a studio founded by Jeffrey Katzenberg, formerly of Disney and one of the founders of Dreamworks. Roku describes the Roku Channel as growing very fast. "The Roku Channel is the home for free and premium news and entertainment and in Q4 2020 reached U.S. households with an estimated 61.8m people. The Roku Channel experienced rapid growth in Q4 2020 doubling household reach year over year and was a top 10 channel in both streaming hours and active accounts."  Will Roku eventually go the full Netflix and start funding the production of original content? Who knows?
On the hardware side the group is also spreading its wings. "In Q3, we introduced several innovative streaming devices. We recently announced the new Roku Ultra, our top-of-the-line, 4K HDR streaming player that supports Dolby Vision and Dolby Atmos. We also introduced a new category of streaming devices, the Roku® Streambar™ in the U.S., UK, Canada, and Mexico. Combining 4K HDR streaming and soundbar capabilities into a compact form factor, the Roku Streambar is an exceptionally easy and affordable two-in-one upgrade of streaming and sound for any TV with HDMI. The Roku Streaming Stick®+ also recently received CNET's prestigious Editor's Choice award for "best streamer overall" which marked the 9th year in a row a Roku product earned a CNET Editor's Choice award."
The group is also aggressively expanding geographically. "In October, we expanded our presence in Brazil with the launch of the Roku Express player. We believe that offering Roku players and Roku TV models strengthens our position and will enable us to build scale in Brazil more quickly." On 14 January the group announced that in partnership with Philco it would be launching a range of four Philco Roku TVs in Brazil to speed up adoption of the Roku platform.
No question Roku is on a very strong growth path and offers a perfect way for investors to gain exposure to the accelerating shift from old style linear TV and cable to the brave new world of streaming. Their contention that eventually all content will be streamed seems very reasonable and suggests that there is still a huge global growth opportunity.
I have to admit that I have been slow to move on Roku. I was put off by the device business and didn't realise that this was a way to gain subscribers to the platform, where the real money would be made. I also didn't realise just how powerful the Roku platform was or how fast it was growing. This is a sensational business and still worth buying into even on a $50bn plus valuation. Roku has the potential to become a very large global business. It is in a virtuous circle so that the bigger it becomes the more attractive it is to viewers, content providers and advertisers. It is also using its key position as a streaming gateway to collect massive amounts of data, which further adds to the self-reinforcing nature of its growth.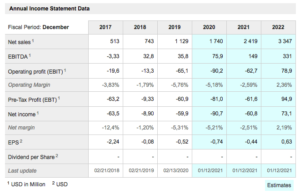 Roku shares have had a sensational run since the IPO as the business has been a massive beneficiary of the stay-at-home economy. Nevertheless the group has clearly attained critical mass with its devices, its streaming platform and the Roku Channel and looks ideally placed to sustain strong growth going forward.