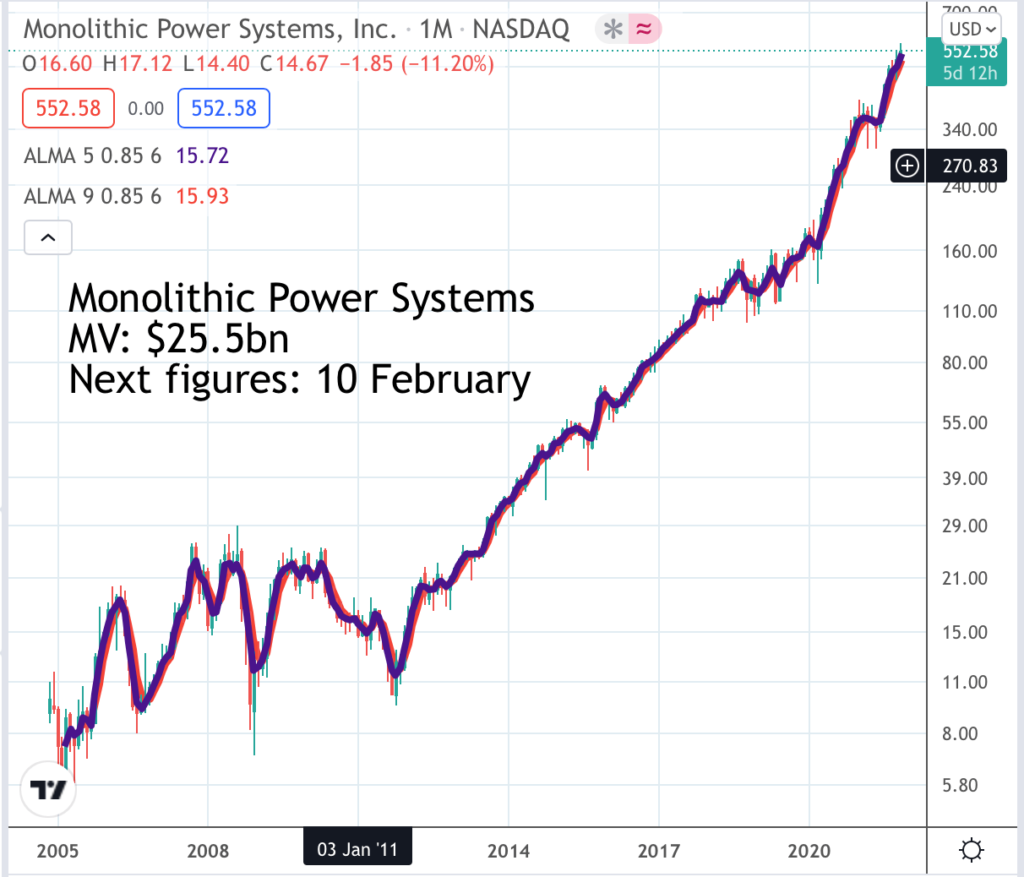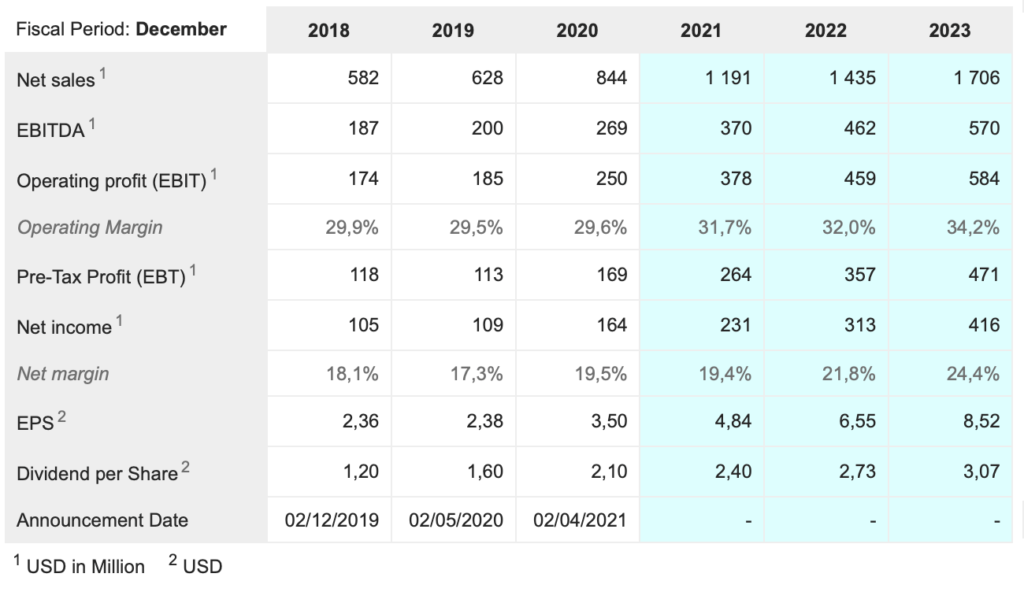 Monolithic Power Systems. MPWR. Buy @ $552. Times recommended: 9 First recommended: $225 Last recommended: $496
"This market is an exceptionally strong market. A lot of demand is everywhere and also constrained by the supply."
Monolithic Power Systems is going through a good period at the moment with exceptional strong demand but it has been doing well for a long time now and the forces driving the strong demand do not seem as though they are going to go away.
MPWR does not make the kind of semiconductors made by companies like Intel. It makes things like high performance pre-drivers for automotive DC motors. When I clicked on the learn more button to find out what they were all about the explanation left me completely baffled.
It seems that MPWR makes many things which play a key role in the final products produced by its customers. It doesn't exactly make them since it is a fabless business. Instead it assembles them at a plant in China. It makes sense to do this because nearly all its customers are in the Far East.
Since the founder and CEO, Michael Hsing, is also of Chinese descent it is hard to say whether MPWR is a Chinese or an America company. It feels like an American company and behaves rather like one but all is business and many of its operations are in China.
This in itself is rather puzzling because the company is evidently very good at what it does so why does it not look for customers in America and the rest of the world.Below is what they say on their careers page about what they do.
"MPS' mission is to focus on providing ease of use power solutions in Cloud Computing, Telecom, Industrial and Automotive market segments. We have become a technical leader in Integrated Power Semiconductor and Systems Power delivery architectures in the world. We accomplish this by:
Designing innovative, leading edge products that provide effortless programmable miniature power solutions to our customers.
Continuing to advance and improve our leading edge process technology in order to reduce manufacturing costs and improve product performance.
Providing high quality products and service to our customers and our focus is top-tier companies who are leaders in the targeted markets.
Fostering a business environment where our employees will excel and grow along with the company. This enables us to attract and recruit the most capable and talented employees in the business."
In 2018 they had an analysts' day. I went back to this to see if I could gain a better understanding of what they are all about. I think the graphic below gives a flavour of what they do. Basically their product takes up less space and uses less energy.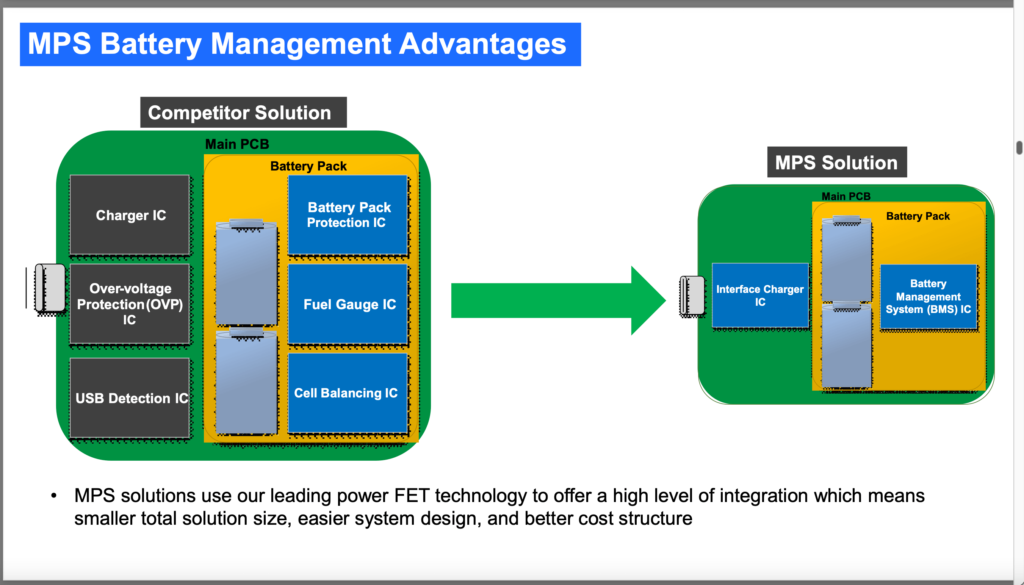 The next graphic explains why there is so much demand for their battery management solutions.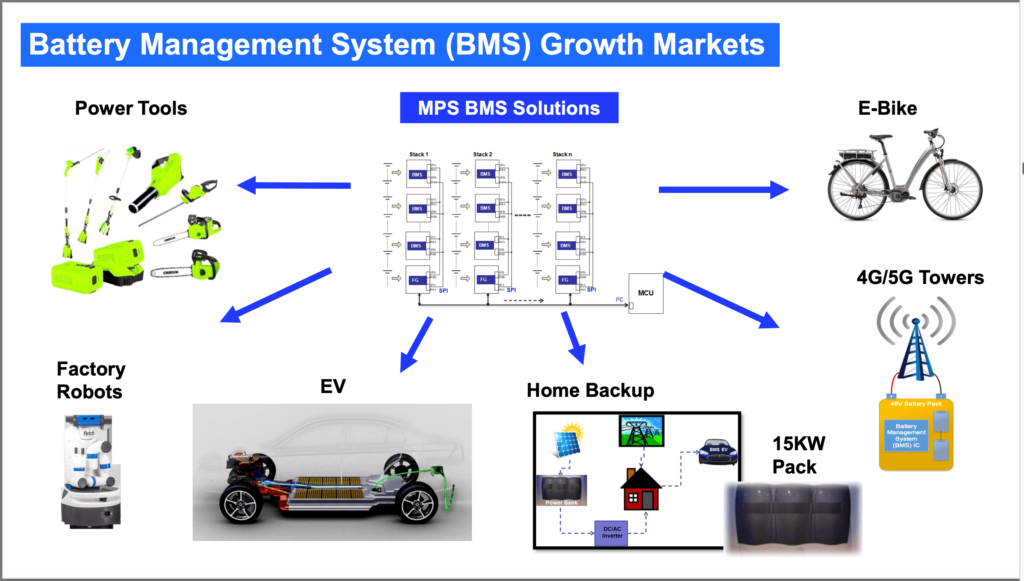 A third graph illustrates what is happening to demand in the markets they are addressing. Presumably the huge growth in billions of units consumed is offset and explained by sharply falling prices which is why MPWR revenues are not growing by over 100pc a year. It does help explain why the shares are racing higher though. We live in a world where their special expertise is much sought after.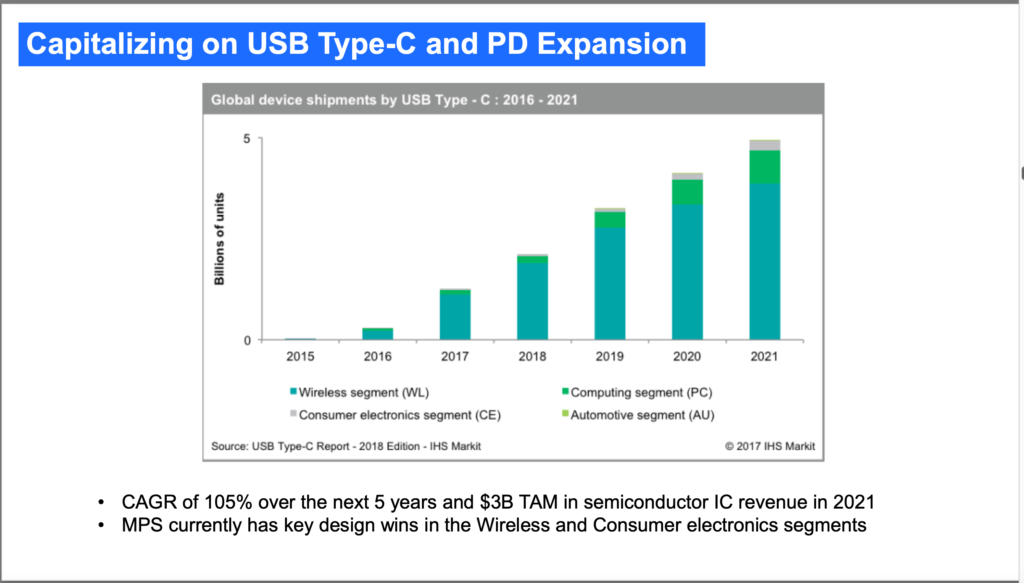 They then explain in words why their approach to battery management will win. Increasing product offering diversity driving SAM [serviceable available market] expansion. Growth strategy focused on high level of integration of charger, BMS [battery management system], USB, and protection functions. R & D investment on precision accuracy monitoring and protection circuits for BMS.
I am just going to throw in another graphic to illustrate the automotive applications they are targeting.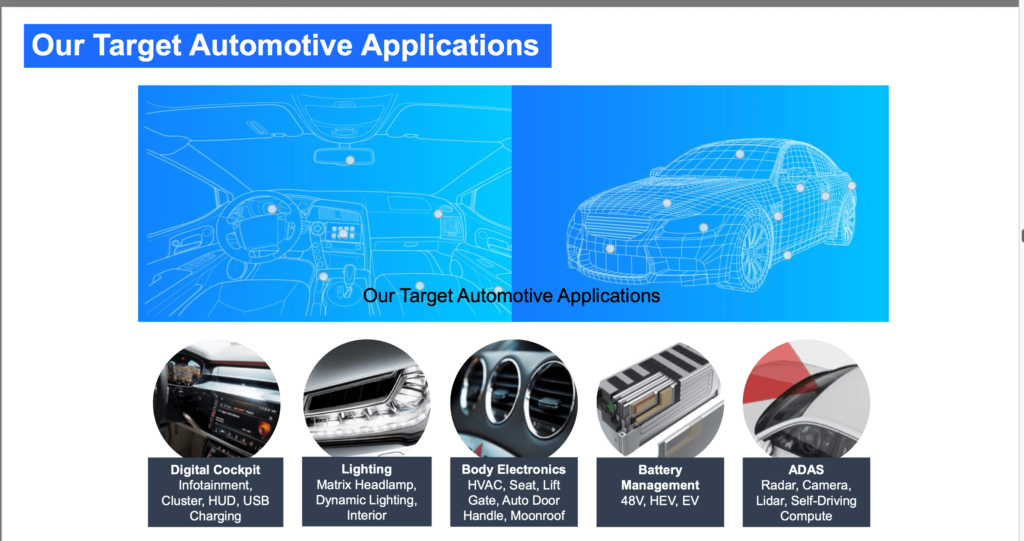 Then they talk about their goal for their automotive business.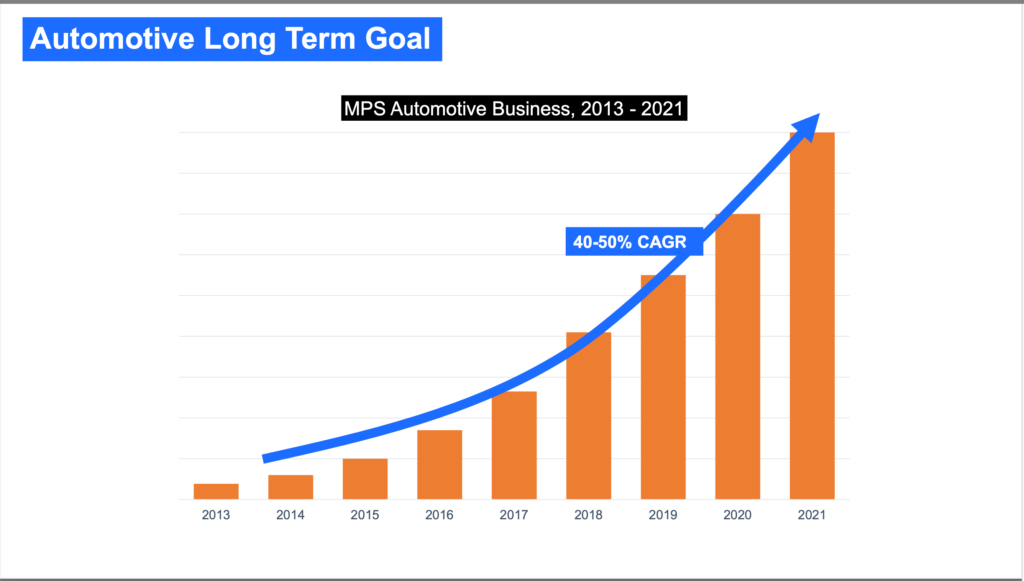 I could show you much more; that analysts' day in 2018 was very impressive and the proof of the pudding is that since 2018 the share price has more than quadrupled although they were doing very well before.
I am convinced. I still don't really understand what they are all about except that for countless key electronic applications they make solutions that occupy less space and consume less power and that these advantages are very important to their customers.
Incidentally I was seriously wide of the mark in imaging that all their customers are somehow Chinese. Their automotive customers are illustrated below. This is the quote from their annual report which confused me.
"Because our sales are primarily billed and payable in United States dollars, our sales are generally not subject to fluctuating currency exchange rates. However, because a majority of our revenue is attributable to sales to customers in Asia, changes in the relative value of the dollar may create pricing pressures for our products. In 2020, 2019 and 2018, our revenue from sales to customers in Asia was 91pc, 89pc and 88pc, respectively." Maybe the companies below are the end customers.
But they also say
"We have sales offices located in China, India, Japan, Korea, Singapore, Taiwan, the United States and throughout Europe. Our products typically require a highly technical sales and applications engineering effort where we assist our customers in the design and use of our products in their application. We maintain a staff of applications engineers who work directly with our customers' engineers in the development of their systems' electronics containing our products."
They also have this to say about production.
"We currently contract with several suppliers to manufacture our wafers in foundries located in China, Taiwan and Korea. Once our silicon wafers have been produced, they are shipped to our facility in Chengdu, China for wafer sort, which is a testing process performed to identify non-functioning dies. Our semiconductor products are then assembled and packaged by independent subcontractors in China and Malaysia. The assembled ICs are then sent either for final testing at our Chengdu facility, or to other turnkey providers who perform final testing based on our standards prior to shipping to our customers.
We have a 60,000 square-foot manufacturing facility located in Chengdu, China, which enables us to benefit from shorter manufacturing cycle times and lower labor and overhead costs. We have expanded our product testing capabilities in this facility and are able to take advantage of the rich pool of local engineering talent to expand our manufacturing support and engineering operations."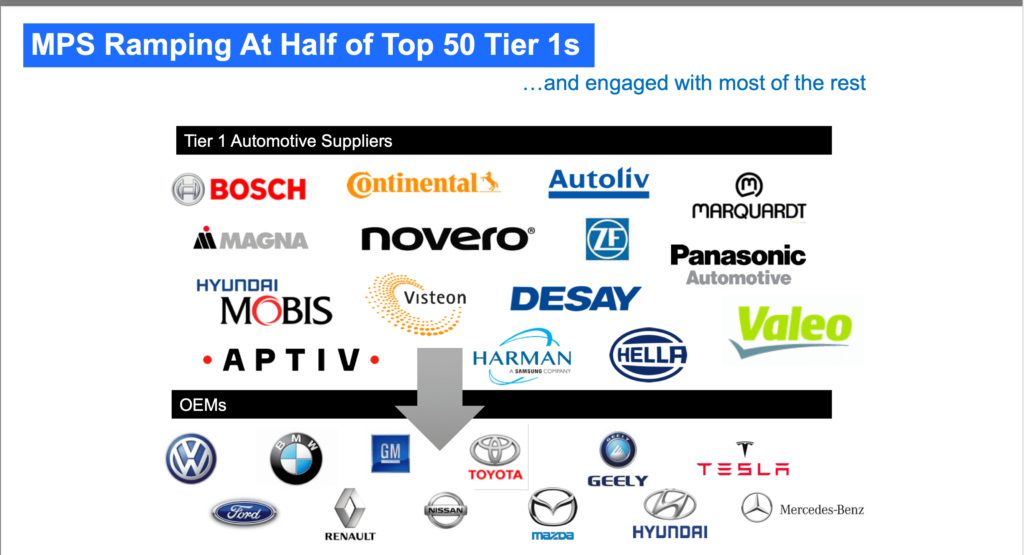 It's worth looking at that 2018 analysts' day presentation because it does make clear that MPWR is an amazing company. It is no wonder that they are experiencing very strong demand, that the business is growing so strongly and that the shares just go up and up.

Monolithic Power Systems is one of those special companies that is a bit under the radar, never grows that fast in any one year but over the long haul delivers an amazing performance with metronome consistency. The shares have appreciated around 65 fold on the 2005 IPO price and have really been motoring since 2011.
They look to me like a high quality, classic 3G, long-term investment.