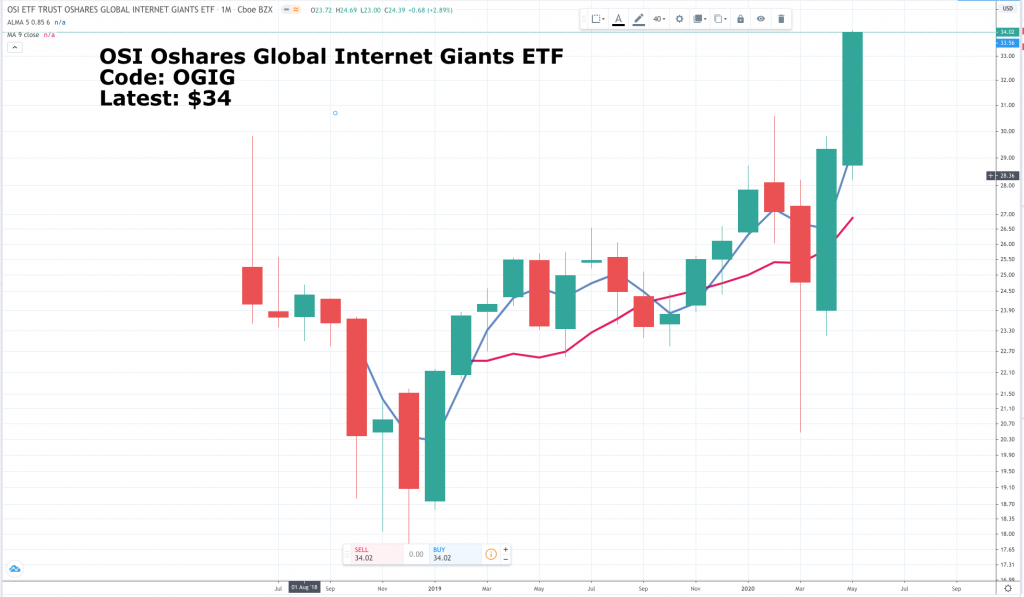 OSI Oshares Global Internet Giants ETF/ OGIG Buy @ $34
This ETF has holdings which overlap with others in the QV for ETFs portfolio but in its relatively short life it has been a great performer and has a great chart. Most of the names on the list of largest holdings will be familiar to subscribers. The one which was new to me was Meituan Dianping. I had a look at the chart and the shares are doing very well. This was a recent comment on the stock,
"Meituan Dianping founder Wang Xing's fortune has nearly doubled since his company emerged from the depths of China's Covid-19 lockdown, cementing his place among a generation of the country's most prominent tech entrepreneurs. Meituan's stock climbed 10.4pc on Tuesday after it reported better than expected revenue, driving its market value past $100bn for the first time and stoking hopes the world's largest meal delivery business will bounce back as China regains its footing. Based on his 11.3pc slice of the company, the chief executive officer's wealth has soared since Meituan plumbed a low on 19 March to about $10.3bn as of Tuesday.
I have had a look at the complete portfolio and it is sensational. I strongly urge subscribers to buy this ETF. I am not surprised it is outperforming all the main US indices and is one of the world's best performing ETFs.
OGIG describes itself as "an exchange traded fund (ETF) that seeks to track the performance (before fees and expenses) of the O'Shares Global Internet Giants Index (the "Target Index"). O'Shares Global Internet Giants ETF (OGIG) is a rules-based ETF designed to provide investors with the means to invest in some of the largest global companies that derive most of their revenue from the Internet and e-commerce sectors that exhibit quality and growth potential.
I have not been able to establish what the rules are but I have the feeling that this ETF is almost a cross between a passive index tracker and an actively managed fund that chooses investments based on predetermined criteria – the rules.
When I looked into rules-based ETFs this is what I found.
"Market capitalisation-weighted strategies dominate the fund industry. Alternatively, a new breed of smart-beta exchange traded funds that adhere to strict rules-based indices could help enhance an investment portfolio. On a recent webcast, Kevin O'Leary, chairman of O'Shares Investments, said that rules-based or custom index-based ETFs are one of the fastest growing segments of the fund industry. Supporting the rising popularity of these rules-based strategies, smart-beta ETFs leverage academic research to capture a market upside while limiting downside risks to potentially generate improved risk-adjusted returns, or what O'Leary dubs "winning by losing less". Connor O'Brien, chief executive officer and president of O'Shares Investments, explained that the O'Shares ETFs follow a rules based approach built on FTSE Russell Disciplined Rules."
It is still not entirely clear what being rules-based is all about but the fund has a great portfolio and has delivered a great performance so the rules seem to be working. Some statistics about the fund are illustrated below, for example that it is fairly evenly divided between consumer discretionary, communications services and information technology and that around 88pc of the investments are in the US or China, the two global hotbeds of technological progress.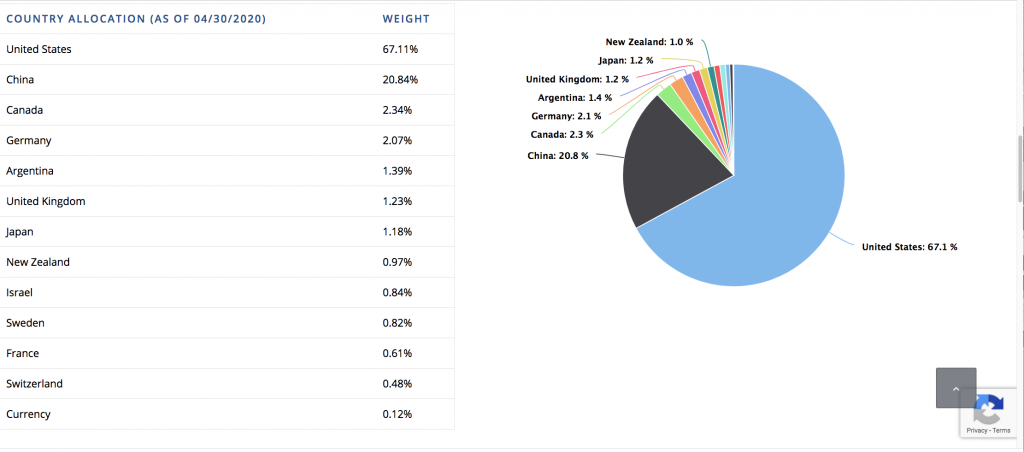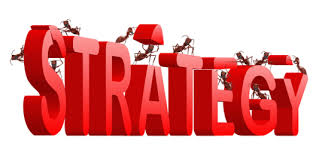 This is such a stunning ETF I am going to watch its progress closely in a head to head with my favourite investment trust, Polar Capital Technology Trust (PCT). My guess is that it is going to be a close fought battle. Subscribers should hedge their bets by buying both. They are both ideal for regular £-cost averaging investment strategies. Since I don't like mentioning stocks without recommending them I am going to take this as a recommendation for Polar Capital Technology @ 1935p.