Share buybacks are a spectacular way of generating shareholder value. A supreme exponent of this strategy is a company which since 2012 has spent a staggering $573bn on share buybacks. Add in dividends as well and over the last decade this company has returned $740bn to shareholders. We get so inured to large numbers that we can lose sight of what this means so let's spell it out – $740,000,000,000; that is an unbelievable amount of money and helps explain why this company is so valuable.
Sales for 2022 were a little shy of a staggering $400bn, spread around the world.
One of the jewels in the crown of this business is its services operation. The company has a huge disport of devices and these make ready made customers for its services operations which are both growing rapidly and incredibly profitable. Total services sales in 2022 were $78bn, up from $68bn the previous year and the cost of sales for this services business was $22bn, leaving a stunning $56bn of operating profit. Talk about nice work if you can get it.
I had a look back in time. In 2016 services sales were $24.3bn so in six years they have climbed 3.2 times. If this was an independent business it would be highly valued except that it could not exist as an independent business because it is only able to grow so fast because of the massive hardware sales of the business and its overwhelming presence in the world.
Table of Contents
So what is this incredible company. You have guessed, of course. It is Apple and for many of us it is a ubiquitous presence in our lives. It is not just hardware and services. It is traditional hardware like iMacs, iPads, lap tops and smart phones; then there is what they call wearables and then there is services.
The combination of huge and growing sales plus almost monopolistic levels of profitability, helped by the power of the brand and the loyalty of so much of the customer base who simply won't entertain buying anything but Apple means that the group generates a tidal wave of free cash flow.
Look at these results for Q4, 2022.
Apple returns over $29bn to shareholders in just one quarter
"We continued to invest in our long-term growth plans, generated over $24bn in operating cash flow, and returned over $29bn to our shareholders during the quarter.

Q4, 2022, 27 October 2022
On an annual basis we are looking at around $100bn of cash flow and maybe $120bn being returned to shareholders.
India is looking very interesting for Apple
Bloomberg reports that Apple's revenue in India hit $6bn in the 12-month period from April 2022 to March 2023. Citing a source familiar with Apple's India-specific performance, the publication pointed out that the company enjoyed a 50pc revenue bump in India during this period, compared to the previous fiscal year, which ended in March 2022, when the company had enjoyed a 45pc revenue jump.

Apple has generated $387bn in revenue in the trailing 12 months, which means that India is still a very small portion of its business and doesn't account for even 2pc of the company's top line. But that doesn't mean investors should discount Apple's massive potential in India, especially considering the pace that market has been growing at a time when the broader smartphone market is under stress.

Motley Fool, 28 April 2023
It is still early days for growth in India
It won't be surprising to see Apple further increase its market share in India this year. The company has just opened its first stores in India, one in Delhi and the other one in Mumbai. At the same time, Apple is also increasing its manufacturing footprint in the country. The company reportedly produces between 5pc and 7pc of its iPhones in India at present, which is a up from just 1pc in 2021.

Looking ahead, the Indian government believes that Apple could eventually manufacture a fourth of its iPhones in the country. The focus on increasing local production and enhancing the retail footprint is likely to help Apple increase its India-specific revenue substantially in the long run. Wedbush Securities analyst Dan Ives believes that Apple could generate $20bn in annual revenue from India by 2025, suggesting that its business there could more than triple within the next three years.

More importantly, the Indian smartphone market is expected to generate $281bn in revenue in 2028, compared to $139bn in 2021. So Apple's market share growth and the company's strategy of boosting sales by lowering the price barrier, in addition to the moves discussed above, could make India a much bigger market for the company.

Motley Fool, 28 April 2023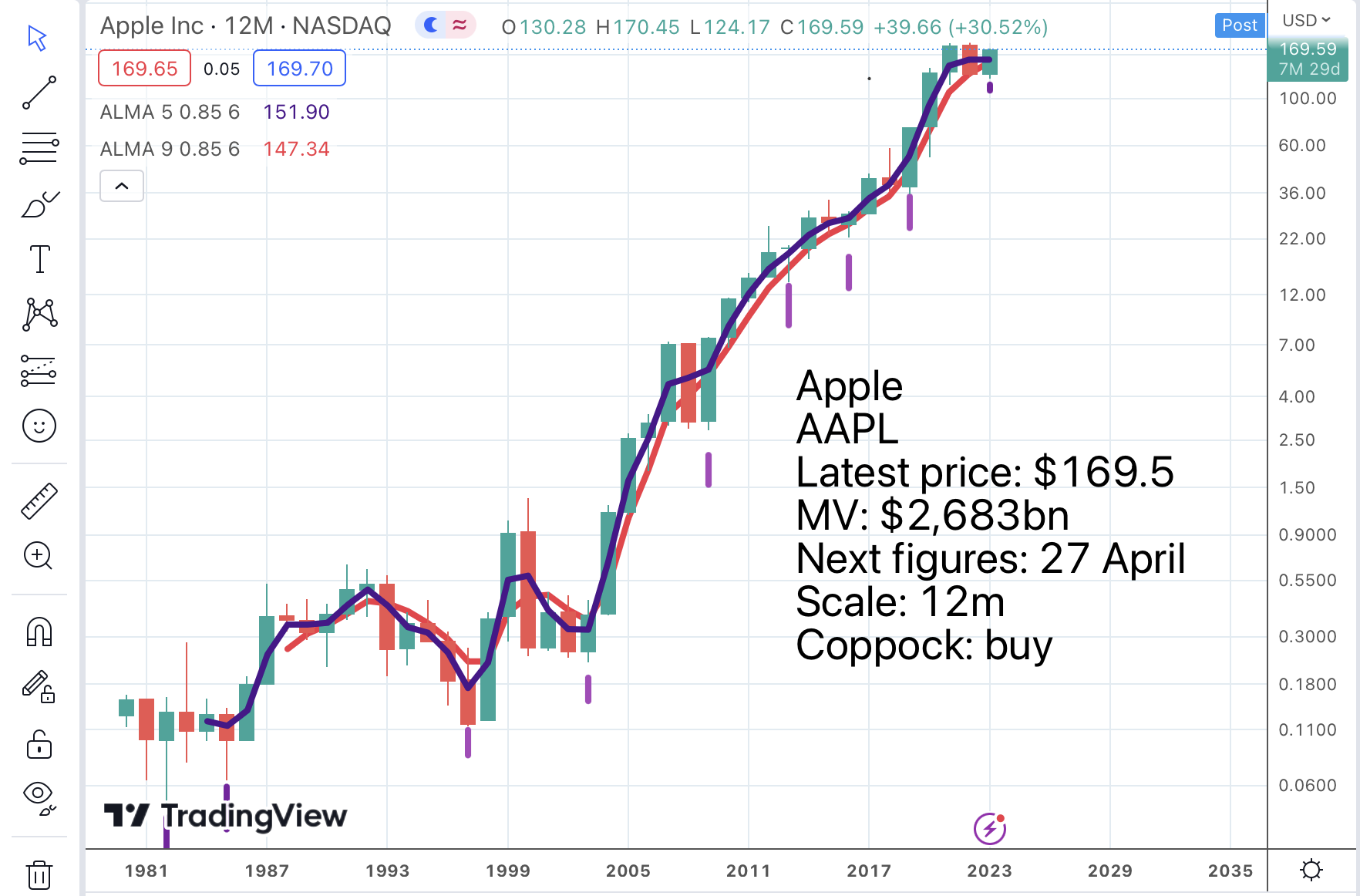 This is a promising chart. If it were a three month candle chart we would see a golden cross on the moving averages and there is a Coppock buy signal. On this chart, with each candle stick representing 12 months there is a promising consolidation.
The company is due to report Q1 2023 results on 4 May, which may induce some short term volatility but is unlikely to determine the long-term trend.
The services business is a key growth driver
There is always something new happening at Apple but nothing currently on the scale of the introduction of the iPhone which proved to be a global game changer. Wearables is an exciting and fast growing business and the services businesses also offers huge potential.
The latter draws its strength from the huge global diaspora of Apple devices which in the first quarter of 2023 topped 2bn.
There are more than two billion active iPhones, iPads, Macs, and other Apple devices worldwide, Apple said today in the earnings report covering the first fiscal quarter of 2023.

2 February 2023
This compares with over 1.8bn devices in the first quarter of 2022 and has more than doubled in seven years so the number is still growing strongly. I have in the past used Apple Music although I have switched to Spotify, which I find amazing. I also pay a modest monthly amount for increased iCloud capacity. This is so cheap that I cannot be bothered to follow their advice on how to reduce my usage and I expect many people feel the same way. All those small amounts soon add up to a worthwhile figure and there are many types of Apple Service such as the App Store, ApplePay, AppleTV and so on.
Apple's world-class portfolio of services proved essential in 2021, as people worldwide sought new ways to keep entertained, informed, connected, and inspired," said Eddy Cue, Apple's senior vice president of Services. "With over 745m paid subscriptions, Apple continues to connect the world's developers, artists, and storytellers with users across more than a billion devices, delivering powerful tools, content, and experiences that enrich their lives in profound ways every day."

Apple newsroom, 10 January 2022
One service per device would take them to over 2bn paid subscriptions and the figure could easily climb much higher. The trick for Apple is to provide services that people really want at an affordable price and this is something it is ideally placed to do.
Just look at this recent analysis of their services business.
Apple's services segment isn't just News+, Music, TV+, Arcade, Fitness, and iCloud. It also includes AppleCare, App Store, Apple Pay, Apple Card, iTunes Store and a range of lesser-known manifestations, probably including cash the company gets paid to make Google's search engine default across its product range.

The services element of Apple's business has tripled in the last six years and now brings in about $86bn in revenue, the company said during its most recent fiscal call.

That's more than $7bn a month in predictable earnings.

Apple CEO Tim Cook has said the company now has 745m paid subscribers across it services, including in-app subscriptions. "That's up 160m year on year, which is up five times in five years," he said.

Apple's growth apes the trend. Zuora's Subscription Economy Index shows subscription businesses have grown six times faster than the S&P 500 over the last nine years.

Computerworld, 21 December 2022
Paid subscribers fast approaching 1bn
It really is extraordinary what is going on including an even higher figure for the latest number of paid subscriptions.
This is an incredible testament to our products and services and the strength of our ecosystem. We set an all-time revenue record of $20.8bn in services, which was better than what we had expected. We achieved double-digit revenue growth from App Store subscriptions and set all-time revenue records across a number of categories, including cloud and payment services. All told, Apple now has more than 935m paid subscriptions.

Apple has also just begun a historic 10-year partnership with Major League Soccer. Just yesterday, we launched MLS Season Pass, which will give fans in more than 100 countries access to every live MLS regular season game as well as the playoffs and MLS Cup, all with no blackouts. And while we're providing more content to sports fans than ever before, Apple TV+ continues to showcase powerful characters and moving storytelling. We were thrilled to celebrate the holidays alongside our Apple TV+ subscribers with the hit movie Spirited.

And we're delighted to see how much people are enjoying new and returning series like Shrinking, Slow Horses, and Truth Be Told. And we have some great upcoming movies in Sharper and Tetris, along with Emmy Award winner, Ted Lasso, returning this spring. During the quarter, we made some great updates to Fitness+ as well, expanding our catalog of more than 3,500 workouts and meditations to include a new kickboxing category and a new sleep theme for meditations. Our latest artist spotlight series features the music of the incomparable Beyonce, and we're excited to take a stroll with guests appearing on our fifth season of Time to Walk.

Q1 2023, 2 February 2023
This also has the makings of a powerful virtuous circle as all these exciting services give people even more incentive to buy Apple devices and make it ever harder for rivals to match the power of the expanding Apple ecosystem. It is almost as though they have all these wonderful and constantly improving devices out there but are only just beginning to learn how to monetise them.
Even on a valuation of nearly $2.7 trillion I can see why Apple shares could still offer excellent vale and be well worth buying.
Share recommendations
Apple. AAPL. Buy @ $169.50