Four leveraged ETFs looking hot right now and why buy and forget is the best strategy
November 3, 2021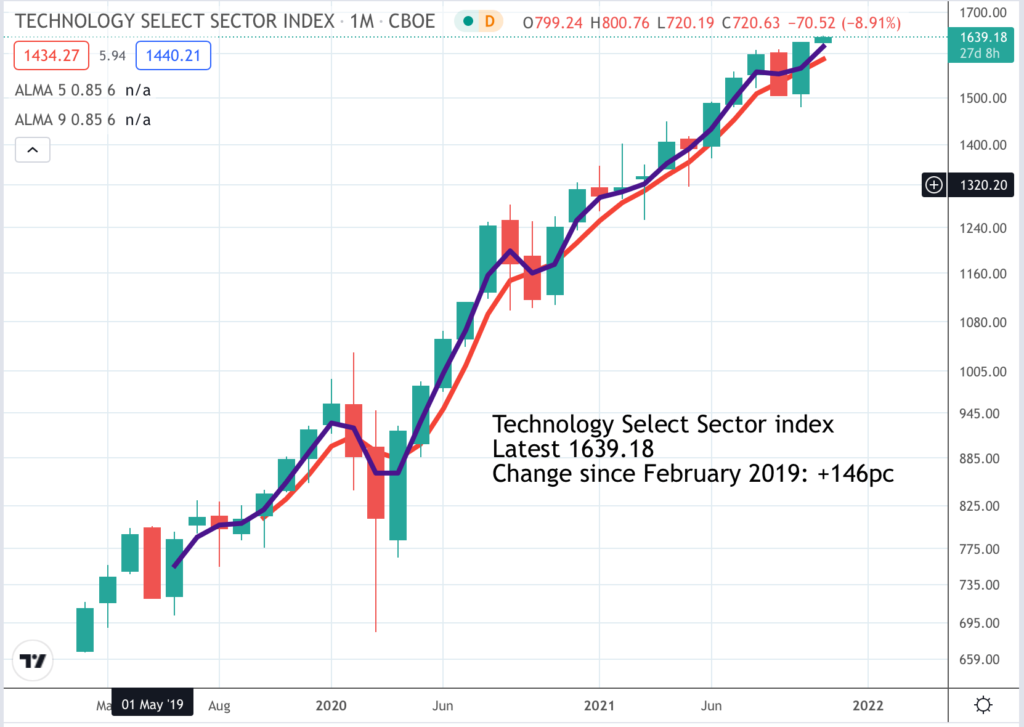 "TECL provides 3x leveraged exposure to the S&P Technology Select Sector Index, reset daily. Like all leveraged funds, it tends to underperform in volatile markets if held for longer than its reset period, and is only suitable for short-term trading positions. The underlying index (tracked in unlevered form by SSgA's XLK) consists of all tech companies in the S&P 500. This broad definition of the tech sector means TECL contains names traditionally thought of in technology in addition to those in diversified telecommunications services, communications equipment, semiconductors, and office electronics. However, the portfolio is concentrated in just a few names. It is important to clearly understand the risks in using such leverage. In addition, this product should only be utilized by those who actively manage their investments."
TECL is one of the four leveraged ETFs recommended as buys in this alert. The above is what one respected ETF information service has to say about TECL. Note the emphasis on volatility, need for active management and suitability only for short-term trading positions.
This all sounds very sensible given that the three times daily leverage makes the ETF so volatile but actually my impression is that buy and forget is a much better strategy for ETFs like TECL than trying to trade them. In December 2009 this ETF was trading at around 10 cents. The latest price, after some wild gyrations, is $72.13 or 7,213 cents, a rise of 721 times.
Is that a great long term investment or is it? It looks fantastic to me. So my strategy for these exciting ETFs is first, never sell, second add to your holdings on buy signals after market corrections and third add to your holdings or buy for the first time on fresh buy signals.
You could add a fourth strategy which is buy any time and hold for ever. TECL is a leveraged bet on the global technology revolution. What's not to like.
Here are the four daily leveraged ETFs I am recommending today.
QQQ3. Wisdomtree Nasdaq 100 3x daily leveraged Buy @ $231.4. Times recommended: 18 First recommended: $31.50. Last recommended: $198.74. Lowest recommended: $30.50
SOXL. Direxion Daily Semiconductor Bull 3x daily leveraged. Buy @ $52.43. Times recommended: 14 First recommended: $11.33 Last recommended: $46.56. Lowest recommended: $7.86
TECL Direxion Technology Bull 3x daily leveraged. Buy @ $72.47. Times recommended: 6 First recommended: $22.20 Last recommended: $63.58
3USL Wisdomtree S&P 500 3x daily leveraged Buy @ $1777 Times Recommended: 10 First recommended: $572.25 Last recommended: $1555
---

The most important thing I have learned from writing about ETFs over the last four and a half years is the incredible power of leveraged ETFs. The popular wisdom is that they work best for day traders and are not appropriate for long-term investors. I think the truth is exactly the opposite.
Leveraged ETFs are impossible for short-term investors because there is no way to predict what they are going to do. You might as well go to a casino and bet on a number at roulette.
But as long term investments their behaviour is both predictable and very impressive. In this respect they are a bit like cryptocurrencies. Everybody sees the day to day volatility but people are often less conscious of the long-term performance which has been exceptional.
Just take the four leveraged ETFs above which are my favourites. Since the launch of QV for ETFs in 2017 I have recommended these four a total of 48 times. The average gain is 243.50pc on ALL those recommendations. They have been phenomenal performers!
Admittedly I am looking at them in a good moment, when the Nasdaq 100 index is trading close to an all-time peak. The next correction may see that gain sharply reduced. But it will also provide an opportunity to buy more shares at excellent prices.
The one thing we know almost for sure is that thanks to the power of the US economy and the accelerating advance of the technology revolution after every plunge they will recover and go on to new peaks. The thing that is massively on your side with these ETFs is time.
My view is that they make sensational investments and every subscriber should have some.
---