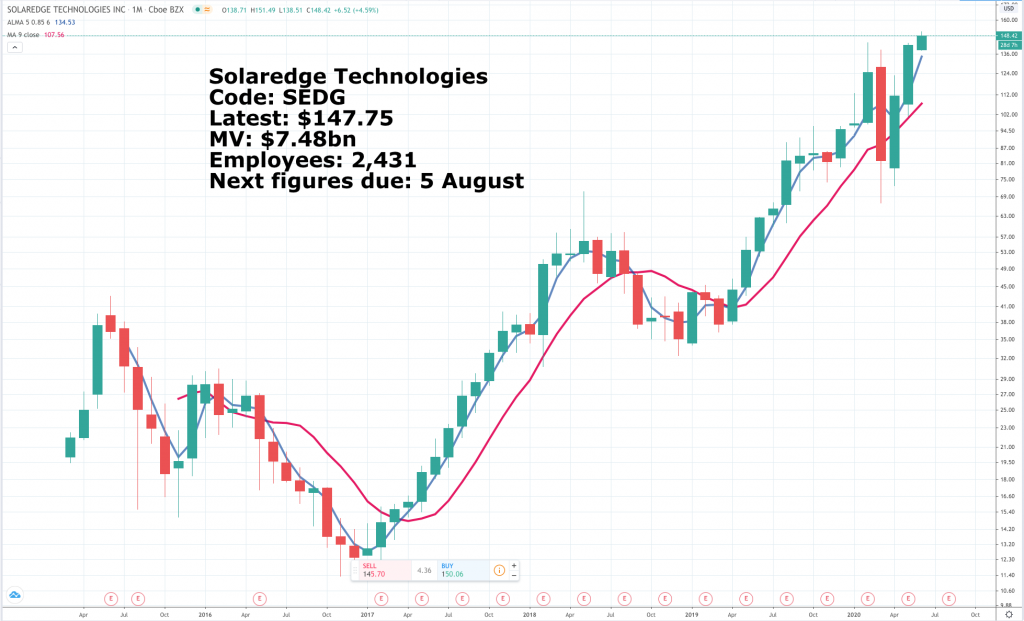 I am keeping up the pressure in terms of new buying ideas because the stock market is in an exciting phase, climbing up a ladder as opposed to falling down a snake. The impact of Covid-19 scared all the hot money out of the stock market, slashed interest rates to the bone, devastated many of the more traditional, labour intensive sectors of the stock market and has triggered a dramatic acceleration of some existing trends, notably the growing role of technology in our lives. It is an exaggeration to say that the pandemic has forced us to leave our old online world for a new virtual world but it does give a flavour of what is happening. There is a huge shift taking place, which is combining with an older generation handing over the baton to millennials, who grew up in a connected world and feel at home there (to coin a phrase).
Key sectors like technology and health care have resumed the pre Covid-19 bull market as rapidly as they briefly tumbled out of it. There could easily be a whole new leg of the bull market ahead of us as companies in the favoured sectors report stunning growth numbers, address huge markets in a world rushing to get its online act together and are able to raise equity finance from enthusiastic investors and tap bond markets at near zero interest rates.
The ride may be bumpy at times but no question we are living through an incredibly exciting period for investors.
Dexcom/ DXCM Continuous glucose monitoring systems Buy @ $373.50 MV: $35bn Employees: 5,200 Next figures due: 4 August
Facebook/ FB Social media, Instagram. WhatsApp Buy @ $228 MV: $660bn Employees: 44,942 Next figures due: 22 July
PayPal/ PYPL Online payments services Buy @ $154.50 MV: $181bn Employees: 23, 200 Next figures due: 22 July
Solaredge Technologies / SEDG Intelligent inverter solutions for solar systems Buy @ $147.5 MV: $7.5bn Employees: 2,431 Next figures due: 5 August (new entry)
Wix.com/ WIX Cloud-based website development services Buy @ $221 MV: $11,4bn Employees: 3,071 Next figures due: 22 July (new entry)
Dexcom is using technology to transform diabetes care. The shares wobbled a bit after the company suspended 2020 guidance in the light of the pandemic but Q1 to 31 March 2020 came in ahead of expectations. According to the company only six per cent of diabetes sufferers live a life free of diabetes complications. Their solution, which provides continuous information on glucose levels, goes a long way to enabling sufferers to manage their condition. The company is on the sixth, G6 version of its system and is already looking ahead to G7, which will be even simpler to use and son on into the future. The addressable market is vast.
Facebook has become a controversial investment with endless issues about privacy. This is important but equally people want to engage online and they want the service to be free. Facebook collects data to help create more targeted advertising programmes and makes it possible for millions of small and medium sized businesses to engage with their customers, even globally, in a cost effective way. In broad numbers the group is expected to increase sales from $40bn for 2017 to $114bn for 2022. A small example of what Facebook can do for its customers show why the business is going to keep growing.
"In Thailand, when Penguin Eat Shabu closed the doors of its nine restaurants, they started selling to-go boxes. They promoted them with Facebook posts and customers could order through Messenger and they got 350 sales in one minute. A second offer led to 2,500 hot pot sales. After initially putting their employees on unpaid leave, these sales increased their revenue and helped restore employees to full pay. Marketers of all sizes have more limited budgets. So they need to make every dollar work as hard as possible. That means measuring the value of their advertising is more important than ever, which is something our personalised ads provide. For years we have made major investments in systems and tools that enable businesses to easily understand their return on investment. In the current environment these investments are paying off."
The chart looks amazing with the shares punching higher from nearly three years of sideways trading.
Paypal's business has been turbocharged by Covid-19. "I think we all would agree that COVID-19 has fundamentally changed the way we think about the future. One profound change will be a dramatic acceleration from physical to digital. It's clear that digital payments have evolved from a nice to have capability to an essential service. There has always been a distinct secular trend toward digital payments but the current environment has rapidly accelerated that movement. Our products and services have never been more needed and more relevant. We've worked hard in recent years to establish PayPal as one of the world's most trusted digital payments brands, with substantial reach and scale for both consumers and merchants, and those efforts are clearly paying off. In the past month, there has been unprecedented demand for our products and services. Our transactions are up 20pc year-over-year, with branded transactions up over 43pc more than double pre-COVID levels in January and February. On 1 May, we had our largest single day of transactions in our history, larger than last year's transactions on Black Friday or Cyber Monday. Our net new actives hit record highs in April, surging over a 140pc from January and February levels, averaging approximately 250,000 net new active accounts per day. For the month of April, we added an all-time record of 7.4m net new customers. I don't want to lose sight of the fact that we also had a record Q1 adding 10m net new accounts, but that will pale in comparison to the 15m to 20m net new active accounts we anticipate adding in Q2. And last but certainly not least, in April, our revenues grew by 20pc on an FX-neutral basis, including record revenue growth of 35pc in our PayPal checkout experiences."
Newcomers
SolarEdge Technologies has been affected by the pandemic but remains confident on longer term prospects. "We are pleased with the results of the first quarter and while we expect a challenging period in the near future, we are confident that the core strengths of our company in technology and institution feasibility combined with our extensive product roadmap will enable us to come out of this period even stronger." The group is aiming to extend its leadership in inverters into new segments and geographies and introduce products to increase average spend per installation. Inverters play a key role in the renewable energy and electric car markets so placing SolarEdge at the heart of sectors likely to deliver strong growth in the future. The group is strong in residential markets and is looking to grow strongly in commercial and utility markets.
This is what one analyst said about the company. "SolarEdge makes power inverters, optimisers, and monitoring systems for solar panel arrays. The company's products have been shown to transfer power from solar cells to the power grid or a local battery with market-leading efficiency. Revenue has grown nearly fivefold over the past five years, resulting in a compound annual growth rate of 34pc. The company is already consistently profitable, though earnings will take a hit during the COVID-19 pandemic. Solar system installations have slowed to a crawl in many parts of the world, including SolarEdge's largest target market in North America. That hasn't stopped the company from introducing a slew of new products in the spring, including a commercial-grade power inverter for very large solar systems and a residential inverter with support for battery packs from third-party manufacturers. This company is sowing the seeds for torrential growth once the global economy gets back on track."
Wix.com, coincidentally another Israeli company like Solaredge Technologies, helps customers create off-the-peg web sites and has seen growth accelerate as a result of the stay-home economy. In mid-April the group reported that business was growing strongly: "Beginning in mid-March, new registered users, premium subscriptions and cohort collections across many of our geographies — initially in Europe and followed by the US — began increasing compared to prior weeks and beyond typical seasonality, and overall visits to Wix.com as well as website creation and publishing activities also began increasing. These increased levels have maintained through today." In May the group reported Q1 results and elaborated further on what was happening. "COVID-19 has accelerated a huge shift of businesses that rely on an online presence as the anchor of their activity. As we look ahead, we are considering multiple aspects of this transformation:
Global changes in consumer dynamics shifting to online. The global rise in unemployment rates and the need of individuals to turn to the internet to find a source of income. Faster adoption of our platform (increases in new user demand) coupled with higher intent (increases in conversion of users to premium subscription purchases). The mix shift of subscription purchases to business packages, resulting in higher ARPS and higher GMV of transactions on Wix Stores and other verticals. The overall impact of these changes on our ability to invest our marketing budget faster. This change in behaviour is creating a vast tailwind for our business. Our second quarter guidance reflects this rapid acceleration. In addition, we expect the second half of 2020 may be very different from what we originally anticipated. when we provided full year 2020 guidance in February. We are obviously experiencing changes that are positive to our current state of growth. However, at this stage we have no way to estimate the longevity of these changes, what else may change or what will stay the same. We do strongly believe that we have seen a paradigm shift as the speed of businesses moving online has dramatically increased – changes that may have taken many years are now happening in months. We believe these changes will continue and business will not return to the way it was before."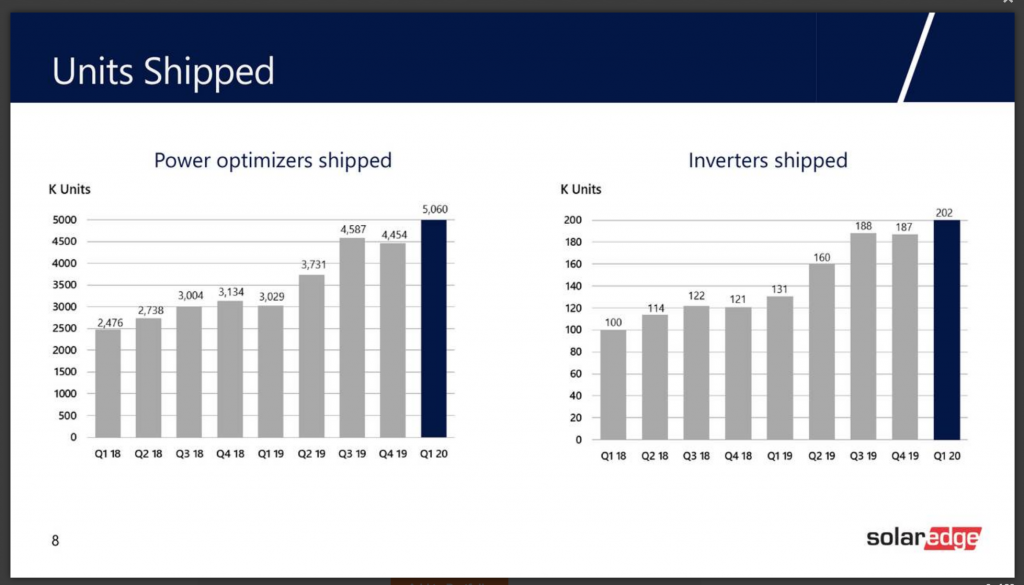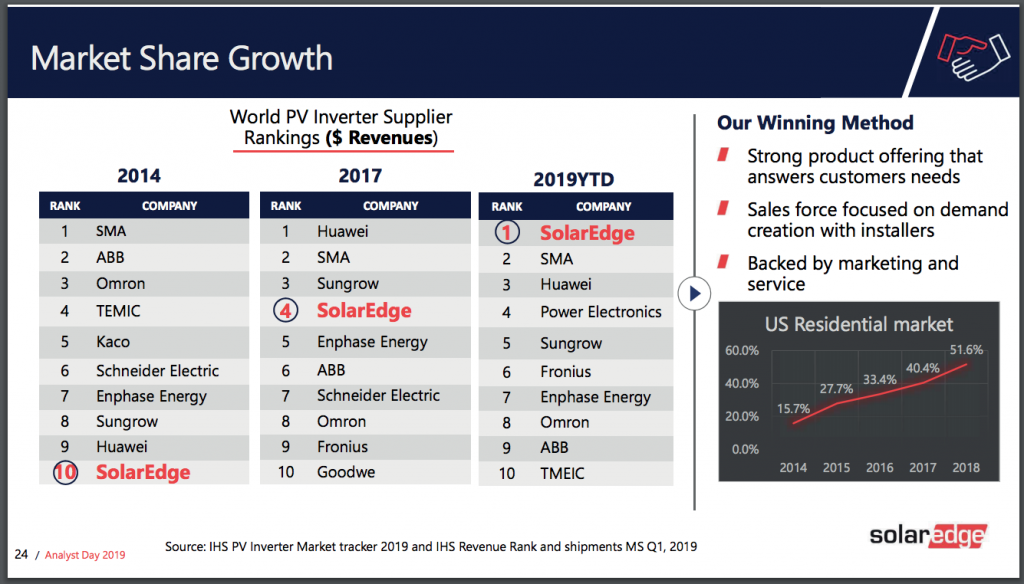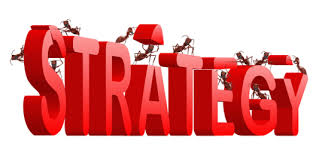 I am still betting on exciting times continuing for stock markets, especially in the US.