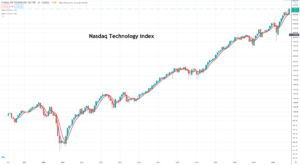 This chart of the Nasdaq Technology index confirms that the bull market is a work in progress. This is no surprise given what is happening in the world of technology. Every single technology share I read about is spending eye watering amounts of research and development driving endless innovations. Just one example, a Sydney-based company called Atlassian, which many of you will only have heard of thanks to Quentinvest, is on course to spend US$1bn on research and development in a 12-month period. The world of technology is on fire and has received a huge boost from lockdown, which has triggered changes, many of which are likely to be irreversible and an acceleration of trends which were already happening. It is almost like the shock which replaced the world of dinosaurs with the world of mammals ushering in a spectacular era of evolutionary change.
This is being reflected in the world of ETFs. The creators of ETFs want to attract investors so they do their best to create ETFs which will have great appeal. No surprise there are a growing number of ETFs designed to capitalise on the technology revolution and all the things, 5G, digital transformation, home working, cloud computing, blue and white collar automation, ecommerce, gaming and much else beside that are happening in the world.
OGIG @ $50.90  O'Shares Global Internet Giants  Number of times recommended: 5  First recommended: $34  OGIG is an unusual ETF in that it does not track an index but rather is actively managed according to a set of rules. There are currently 74 holdings in the portfolio with weightings ranging between five per cent for Amazon, 1.1pc for a stock like Atlassian and 0.2pc for Ebay. Many of the holdings also feature in the Quentinvest for Shares portfolio making OGIG an excellent choice for an instant portfolio of 21st century growth stocks focused on technology. The shares are in a strong uptrend so one could describe this ETF as 3G (great chart, great growth based on the growth being delivered by the companies in its portfolio and great story being the strategy of investing in technology shares with great momentum). Founder, Kevin O'Leary, unsurprisingly, says you should buy OGIG shares for the following reasons. "The companies in OGIG create a portfolio of digital empowerment and digital transformation of the economy. These companies are powering what I call 'America 2.0' and a new, more efficient economy. They provide e-commerce infrastructure, cloud services, data services, digital entertainment and more. These companies deliver powerful business efficiencies and growth." He puts his money where his mouth is by being a major investor in the fund.
My idea is that all the ETFs in the QV for ETFs portfolio are 3G and judging by performance I think that is the case with one or two wobbling a little.
IWMO @ $$56.50  iShares Edge World Momentum Number of times recommended: 11  First recommended: $37.05  IWMO is invested in a subset of global stocks experiencing an upward price trend. It is a broadly based ETF with 349 holdings currently. You can get the flavour of the strategy by looking at the top 10 holdings.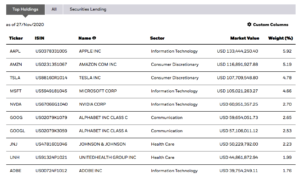 All of these stocks except for Johnson & Johnson are in the QV for Shares portfolio so again I am not surprised it is doing well. The shares are quoted in London making them UCITS and easier to buy.
SOXX @ $370  iShares Philadelphia Semiconductor Number of times recommended: 10 First recommended: $200  Semiconductors stand at the heart of the technology revolution. There is relentless innovation and great advantages in scale so the industry is dominated by some very large, highly successful businesses. This ETF caps holdings at around eight per cent to prevent being too concentrated in a handful of stocks. Even so the top 10 holdings account for almost 60pc of the portfolio. They are represented in QV for Shares but not as strongly as you might expect. This is because there is considerable cyclicality to the semiconductor industry so they don't always fit neatly with my 3G approach. Even so, over time, they tend to do very well and with the shift to 5G technology, which is expected to extend over a number of years, the outlook for the sector is good.
QQQ @ $304  Tracks a modified-market-cap-weighted index of 100 NASDAQ-listed stocks  Number of times recommended: 19 First recommended: $151.89  As you can see from the number of times recommended, QQQ, which broadly tracks the Nasdaq 100, is one of my go-to recommendations in QV for ETFs. It is a perfect ETF to buy again and again, at regular intervals, into weakness and into strength or just whenever it is alerted in QV for ETFs. It is such a good one because it captures so perfectly 21st century corporate America. As you can see it has just doubled on my first alert price, which is an exciting moment for me.
SPY @ $367  Tracks S&P 500 Number of times recommended: 3  First recommended: $283.34 Not as exciting as some of the others but very solid and offers diversification away from technology because of its very broad coverage of corporate America across the board. Warren Buffett often says it is important for investors to have faith in the resilience of the US economy and the drive of the American people. It has certainly worked for him and is a good message for investors all over the world, who are free to put there money to work in the best place for it.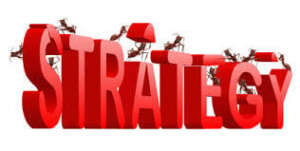 The gain on the total QV for ETFs portfolio goes from strength to strength and is fast approaching plus 40pc. Frankly, I have been amazed at just what good investments ETFs are, at least if you choose them wisely. As I have noted before I do not pay much attention to rules about diversification. My priority when choosing ETFs is the same as when choosing shares for QV for Shares. I am looking for what I call quality growth. I want ETFs that have demonstrated an ability to steadily grow in value. Build a portfolio full of such ETFs and time will be on your side. There will still be volatility; that's what you get with equities, especially ones chosen for high performance but as the years pass you should find your portfolio relentlessly increasing in value.