Everybody loves pizza – six companies riding the global boom in pizza, convenience foods and fast casual dining
July 29, 2021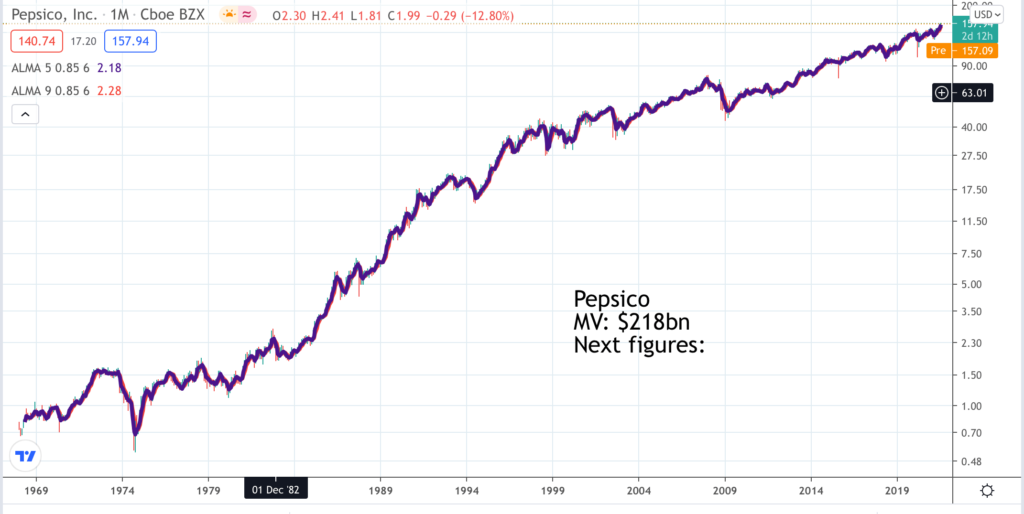 I have shown the chart of PepsiCo above, partly because it is one of the six stocks discussed below but also because it is a good proxy for the global growth of the fast food business generally and pizza particularly. As it happens Pepsico doesn't have a pizza business any more but it does have brands like Pepsi, Lays, Tropicana, Quaker, Gatorade, Doritos and more which are all about snacking, fast food and convenience and it is extremely successful like other groups in the industry. Millennials and Gen Z may have a problem with borrowing and drink less alcohol than earlier generations but they love fast food and casual dining and the quintessential American versions of this behaviour seem to be gaining traction all over the world.
---
Chipotle Mexican Grill. CMG Buy @ $1816 MV: $51bn. Next figures: 26 October. Times recommended: 8. First recommended: $934 Last recommended: $1506
Chipotle recently reported sensational Q2 2021 results with sales up 38.7pc to $1.9bn and earnings rocketing from a low Covid-affected base. Finances are strong with $1.2bn in cash and $500m in untapped credit facilities. Q3 growth is expected to be in the low to mid double digits range.
The group reacted quickly to the pandemic with digital sales allowing customers to order ahead and chipotlanes being added to restaurants to enable easy collection by customers. These features continue to drive higher sales across the group as CMG continues to add new locations (56 in Q3 to take the total to 2,853).
Like many other successful US companies Chipotle is enhancing shareholder returns with a share buyback programme. Currently around $200m is authorised for buybacks. At the end of 2020 Chipotle had 2740 restaurants in the USA and 40 internationally across a number of European countries including the UK. This seems to suggest a considerable international opportunity when you think that Mcdonalds has almost 39,000 restaurants in 119 countries.
Chipotle has also used lockdown to transform into a multi channel business where customers can enjoy their food on site or for collection or by delivery. Earlier in its existence Chipotle had to negotiate various issues involving illegal immigrant workers and food safety which explains some of the earlier share price volatility. In February 2018, Brian Nicoll, formerly CEO of Taco Bell (see Yum Brands below) was appointed CEO and he has proved to be a transformative influence on the business.
It seems odd to think of digital business in connection with a restaurant chain but it has become very important at Chipotle. "Our digital platform continues to be a strategic driver of our growth. In the past year, we significantly upgraded our capabilities by digitizing almost all of our restaurant digital-make lines, expanding our partnerships with third-party delivery services and building more Chipotlanes, which is our drive through format for customer pick-up of digital orders. Digital sales, which includes delivery and customer pick-up, accounted for 46.2pc of our total sales in 2020, compared to 10.9pc of total sales in 2019. Our strong digital platform gave us a competitive advantage during the COVID-19 pandemic, as more guests prefer to eat their meals at home and in-restaurant dining was prohibited or restricted. We have made digital ordering convenient with enhancements to the Chipotle App and website, such as unlimited customization, contactless delivery, and group ordering."
The growth story for Chipotle is more restaurants and higher average sales per restaurant. One 10-year projection is for the group to have 6,250 restaurants with average sales per restaurant of $3,5m v $2,5m currently. These are just guesses and could be significantly beaten in my view. There is also scope for an increasingly aggressive share buyback programme to utilise free cash flow to drive higher returns for shareholders.
---
Domino's Pizza Enterprises. DMP. Buy @ A$118. MV: A$10.2bn Next figures: 17 August. New entry
Domino's Pizza Group. DOM Buy @ 413p. MV: £1.9bn Next figures: 2 August New entry
Domino's Pizza Inc. DPZ. Buy @ $524. MV: US$19.8bn. Next figures: 28 July Times recommended: 6. First recommended: $355. Last recommended: $474
Pizza delivery is not rocket science and yet it has been the foundation for some of the world's most successful businesses. The three alerted here are cases in point. Since 2004 shares in Domino's Pizza Inc., the US-based pizza delivery operator, are up 45 times. Since 2002, also measured from the time of flotation, shares in Domino's Pizza Group, the UK-based operator, are up 65 times. Finally, the Australian-based operator, Domino's Pizza Enterprises, are up 57 times since they floated in 2005.
The Domino's system is a giant franchise business. Domino's Pizza Inc is the ultimate franchisor to whom everybody pays royalties. Domino's Pizza Enterprises and Domino's Pizza Group are regional master franchisors, collecting royalties and operating the system for franchisees in the territories under their control, which often extend well beyond their original territory. Franchisees supply the capital. The franchisors control marketing and supply many ingredients including the dough.
You could almost say that the whole Domino's system is a way of selling dough at a big enough profit to generate exciting returns for all the members of the system while still providing affordable, tasty and convenient results for the customers.
DMP operates in parts of Europe, Australia and New Zealand and Japan. Domino's Pizza Group operates in the UK and the Republic of Ireland, having entered and then retreated from parts of Europe. Domino's Pizza Inc owns and franchises stores directly primarily in the US and Canada. Their are other franchisors elsewhere.
Entrepreneurs often say that the key to business success is great execution and that certainly applies here. A bit like the old mantra, retail is detail, the whole system is constantly striving to improve best practice and then extend any new insights to everybody. Keep doing this for 60 years, which is the time since the business was first launched, and you end up with a finely honed machine with great barriers to entry and the ability to be rolled out across the planet.
The graphic highlights the footprint that Domino's already has and the opportunity they see for further growth. Not only can they add more stores but they can add sales per store. Since 2010 annual sales growth for each store has averaged 8.9pc in the US and 5.5pc internationally. This has enabled each store to become more profitable. Since 2008 ebitda (earnings before interest, tax, depreciation and amortisation – a broad measure of profitability) has grown from $49,000 to $158,000. This makes it easier to attract high quality franchisees to join the system.
A less familiar idea which Domino's Pizza Inc. talks about in its latest annual report is the benefits of fortressing, which is similar to the clustering of stores practiced by Home Depot and equipment rental business, Ashtead, in their operations. This was launched in 2012 and has become a significant part of the Domino's success story. It is easer for Domino's to do because typically the store clusters are operated by the same franchisee. He gets more business in total, busier drivers and happier customers because they have more closely located stores which leads to better service and lower delivery costs.
Incredibly the final effect of this is often that all the stores in a catchment area end up doing more business so everybody wins.
Another element in the thinking at Domino's which permeates the system is that they are a technology business, which happens to deliver pizzas. Such is the convenience and the multiple ways to order that you can get a pizza delivered while lying on the beach. There is also an intense focus on growing traffic rather than raising prices which makes the whole system more competitive and explains the relentless gains in market share and the realistic ambition for Domino's to become the world's number one pizza delivery system. Since nearly all of us love pizza this will be a highly profitable place to be.
A measure of the ambition is that Domino's Inc is projecting annual sales of $25bn by 2025, double the 2017 figure and 2,000 more US stores over the same time frame. The end result is similar to McDonald's, which can make money for all its stakeholders from selling burgers at seemingly impossibly low prices. Domino's does the same with pizzas. In the US the price of a takeaway pizza has remained at $5.99 per store since 2009 yet ebitda per store has doubled over the same period.
Last but not least in the Domino's ecosystem is looking after shareholders. Part of the way the group does this is to use its strong cash flow to service ever-increasing borrowings and use this cost-effective leverage to fund share buybacks to supplement the dividends. Between 2012 and 2020 earnings per share have grown at an annual compound rate of 25pc. This has enabled the group to return $4.8bn to shareholders over the same period.
---
Pepsico. PEP Buy @ $156 MV: $217bn. Next figures: 7 October. New entry
When I started this story I was under the impression that Pepsico was still in the pizza business. They were but not any more. It turns out that Pepsico over the years has been highly active making both acquisitions and divestments. In 197 it divested the brands, KFC, Pizza Hut, Taco Bell and others which became Yum! Brands (see below). The group carried on making acquisitions of companies like Tropicana and Quaker Oats, which brought in Gatorade to add to its earlier purchase of Frito-Lay to make it the second largest beverage and snacks business in the world after Nestle.
A big downside of Pepsico is its environmental impact through energy and plastics use and the latest annual reports go into considerable detail about its plans to become a better world citizen by 2040.
Meanwhile an increasingly affluent global population is consuming Pepsi products with great enthusiasm driving strong growth at the business. The group had a strong Q2 2021 with 12.8pc revenue growth and 27pc earnings growth. For the full year it is forecasting six per cent revenue growth and 12pc earnings growth as comparisons are made with a less dramatically affected by Covid period.
Pepsico's global impact is so considerable on everything from plastic use to fossil fuel consumption to water use and agriculture that their commitment to improvement in all these areas could start to have a significant impact. They have also committed in Pepsico Europe to reduce the average level of sugars across their entire beverage portfolio by 25pc by 2025 and 50pc by 2030.
Management noted – "We believe our global business momentum remains strong. While consumer behaviors and preferences may shift as population mobility increases in certain markets, we are well positioned across categories and channels to succeed and win in the marketplace."
Based on the record there seems no reason to quarrel with this assessment of prospects making the shares an attractive choice for long-term growth investors.
---
Yum! Brands YUM Buy @ $122. MV: $36.5bn. New entry
The fast food division which split off from Pepsico in 1997 has done extremely well since with the shares up 20-fold over the course of the new millennium. It is no wonder that Americans have such a strong belief in shareholder capitalism when their economy boasts so many companies like Yum!, capable of growing so strongly for decades at a time.
In the latest report CEO, David Gibbs, talks about the company's recipe for growth. "Our Recipe highlights are unique strength as a company, notably our iconic brands, our unmatched global scale, our diversified network of highly capable and well capitalized franchisees and our unparalleled culture and talent. Today, we'll discuss our Q1 performance through the lens of this framework and the growth drivers that underpin it. And we'll highlight the specific areas where we've introduced new capabilities as we look toward the future. I'll cover two growth drivers, namely Relevant, Easy and Distinctive brands or R.E.D. for short, and unrivaled culture and talent. Then Chris will share more details of our Q1 results, our unmatched operating capability and Bold Restaurant Development growth drivers and our strong liquidity and balance sheet position."
Like other fast food chains a key growth driver has been going digital. "The key focus point for our teams was the continued acceleration of our digital and technology initiatives across the globe, all geared toward providing customers with new and seamless ways to access our brands. Delivery has been a significant part of the strategy and we now have over 39,000 restaurants offering delivery, representing a 16pc increase year-over-year, driven by expanded aggregator partnerships and continued investment in our own branded channels. We had another record digital system sales quarter with over $5bn, about a 45pc increase over the prior year."
KFC accounts for 48pc of systemwide sales and innovation is having a positive impact with the launch of a chicken sandwich. "Our sandwich is performing at more than twice the volumes of our prior US sandwich launches and all initial indications are that it's highly incremental, customers are loving the product and coming back more frequently for it. In fact, as we've entered Q2, demand for the new sandwich has been so strong that coupled with general tightening in domestic chicken supply, our main challenge has been keeping up with that demand."
Pizzas are also going well. "Pizza Hut US had another stellar quarter, delivering 23pc same-store sales growth in the off-premise channel with 16pc overall same-store sales growth. Overall same-store sales grew 8pc on a two-year basis, which includes the impact of 3pc of our stores being temporarily closed as of the end of Q1 2021 and was driven by a combination of compelling value with a $10 taste maker offer and category-leading innovation with the launch of the unique Detroit-style pizza and the reboot of our iconic Stuffed Crust Pizza."
Thirdly comes the Mexican-style food business. "As for Taco Bell, which accounts for approximately 36pc of our divisional operating profit, Q1 system sales grew 11pc, driven by a 9pc same-store sales growth and 1pc unit growth. For the division, Q1 same-store sales grew 10pc on a two-year basis."
To complete the fast food offering the newest brand is the Habit Burger Grill where Q1 same store sales grew 13pc with six per cent unit growth during the quarter.
The sheer scale of the business is a key competitive advantage. "Having four brands across more than 50,000 restaurants provides us with an enviable platform to understand how consumers are behaving in every corner of the world and to use that understanding to capture future growth in our sales overnight and our brands over time."
As a result of this scale the group is making acquisitions not to add brands or restaurants but to improve the operating performance. Two recent purchases illustrate the point. "Kvantum is a true innovator in marketing optimization with a proven track record of adding significant value in enabling data-driven decisions to drive return on advertising dollars and sales increases." The other acquisition, Tictuk is also starting to make a difference. "Tictuk presents an exciting opportunity to expand access by providing frictionless ordering through text, social media and other conversational channels in literally just a few clicks. We've deployed their platform in approximately 900 KFC, Pizza Hut and Taco Bell restaurants across 35 countries outside of the US and have been thrilled with the agility and customer obsession of the Tictuk team. In fact, we have several examples of customers completing orders on the Tictuk platform in under 10 seconds."
CEO, Gibbs, concludes "'I'm encouraged by the momentum in our business as we execute our Recipe for Growth and Good to set ourselves up for the next chapter of growth."
My conclusion is that based on what they are doing and what they have achieved since divestment from Pepsico that prospects for the business look outstanding.
---

On one of my first ever foreign trips I was in Italy and a very insistent Italian persuaded my friends and I to go to a restaurant for a very special meal. It was my first ever pizza and perhaps because it contained so many olives and I came from a background of plain English public school food (very plain) I thought it was some weird Italian recipe and I didn't like it. However the next day I went with my friends to watch an opera at an open air theatre in Verona. There were actually two operas in succession and because we had no idea it would become so chilly by 1am in the morning we didn't bring blankets or food and were thoroughly chilled and starving by the time the operas ended.
We came out and found a nearby restaurant, still open and making pizzas in a huge blazing pizza oven. W bought some and they were delicious. So started my love affair with pizza, a meal which has since become a global obsession.
It seems pizza has a lot in common with chocolate which I also love. "Pizza toppings are also packed with a compound called glutamate, which can be found in the tomatoes, cheese, pepperoni and sausage. When glutamate hits our tongues, it tells our brains to get excited — and to crave more of it. This compound actually causes our mouths to water in anticipation of the next bite."
You can see why Domino's wants to be the world's number one pizza delivery business and why this is driving such extraordinary share price growth for the best-managed companies in the Domino's system. Chipotle's burritos are also very moreish and Yum! Brands has got all our fast food cravings covered with chicken, pizza, tacos and now burgers.
I used to think of Yum! Brands as being big in China but it turns out they span off this business into Yum Brands China in 2016 creating even more value for original Pepsico shareholders who kept all their spun-off shares.
---