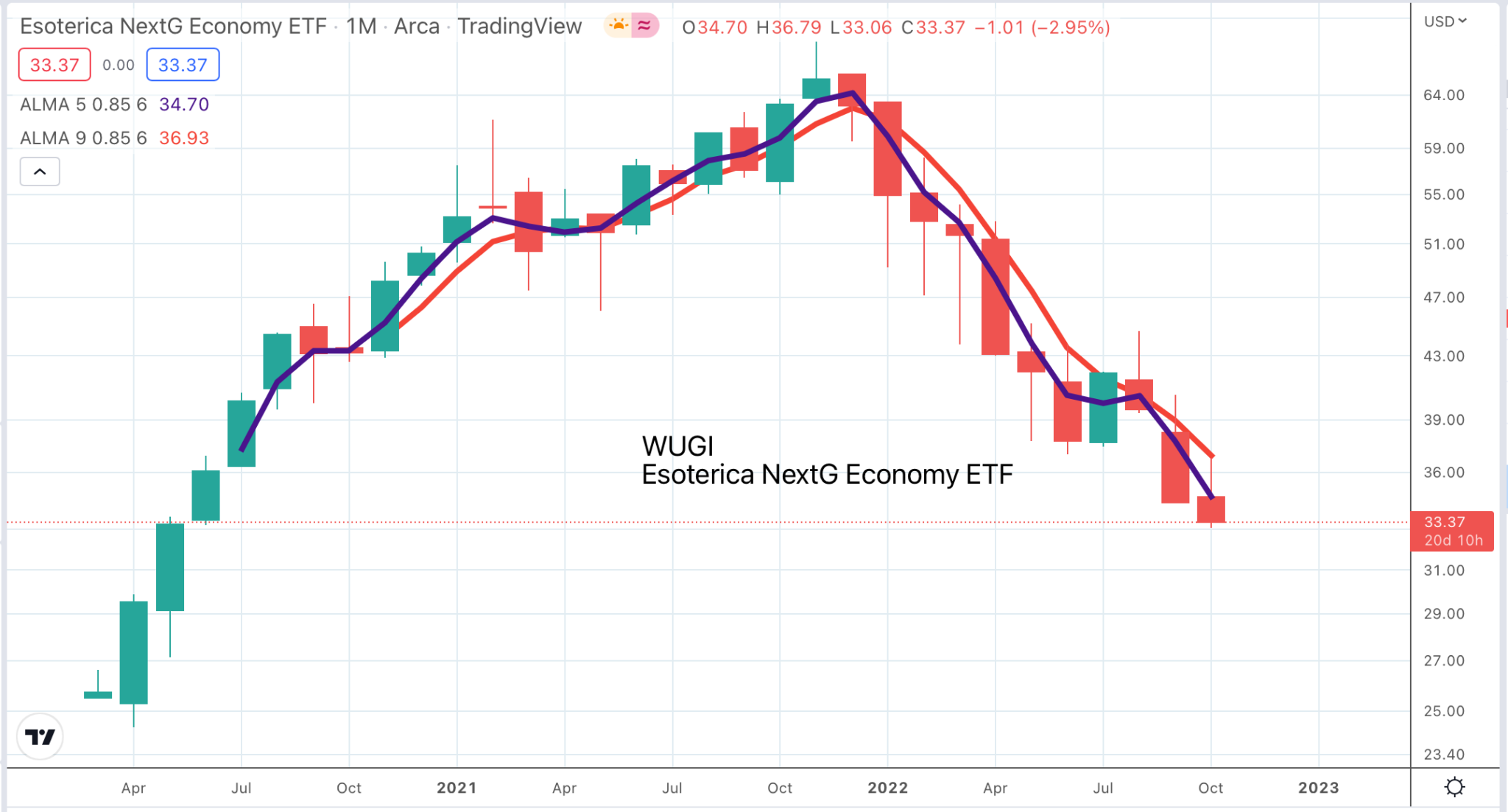 As subscribers will know I recently featured their largest holding, Advanced Micro Devices, as an example of a chart showing a terrifying break down from a large top area. Since then AMD has warned on trading and the shares have dropped heavily. This whole list is of shares with weak charts. There is not the slightest chink of light in the gloom. WUGI has already come down a long way but it almost certainly has further to fall.
The same can be said of ETFs across the board in my table. Global stock markets generally and US stock market particularly are enduring a savage and as yet uncompleted bear market. It is still squeaky bum time as Sir Alex liked to say. It is not even about who is going to win but how many goals the opponents are going to score. This stock market is being given a battering like we have not seen in over a decade.
There comes a time in a bear market when you just look for shares that have not fallen much yet and wait for them to keel over. This time may well have arrived. Consolidations look like breakdowns waiting to happen.
Below is the chart of the Nasdaq 100. The index is hanging in there around the key round number support at 10,000, which was an area of resistance on the way up. My best guess, already referenced in a previous alert, is the index will break down from this consolidation and fall to the next support level around 7,500; that is a big prediction suggesting the index could fall by a further 31pc. I am probably mad to make it. We shall see but the general picture from the charts is one of across the board gloom with some of the mega cap shares like Alphabet and Microsoft, which dominate the Nasdaq 100, looking set to fall further.
Subscribers know what I think is happening. Like Sauron gaining power in the East in the Lord of the Rings, an old enemy, inflation, has come roaring back with a vengeance to terrify a new generation of investors and governments. Do we have a new Margaret Thatcher and a new Reagan to win the battle against this old foe? We shall see.
Meanwhile it is driving a global reset of interest rates at much higher levels led by America, which is squeezing the global economy in an increasingly vice like grip. There is such strong underlying momentum in global growth that the pressure is being felt chiefly in the form of rising interest rates and falling capital markets. Eventually the bite will transfer to the global economy, activity will slow meaningfully and the pressure may come off the markets as they start to look over the abyss to the sunlit lands beyond. But we have not reached that point yet. Like Gandalf after his battle with the Balrog, if you have read that bit of the Lord of the Rings or seen the films, we are still falling into the abyss.