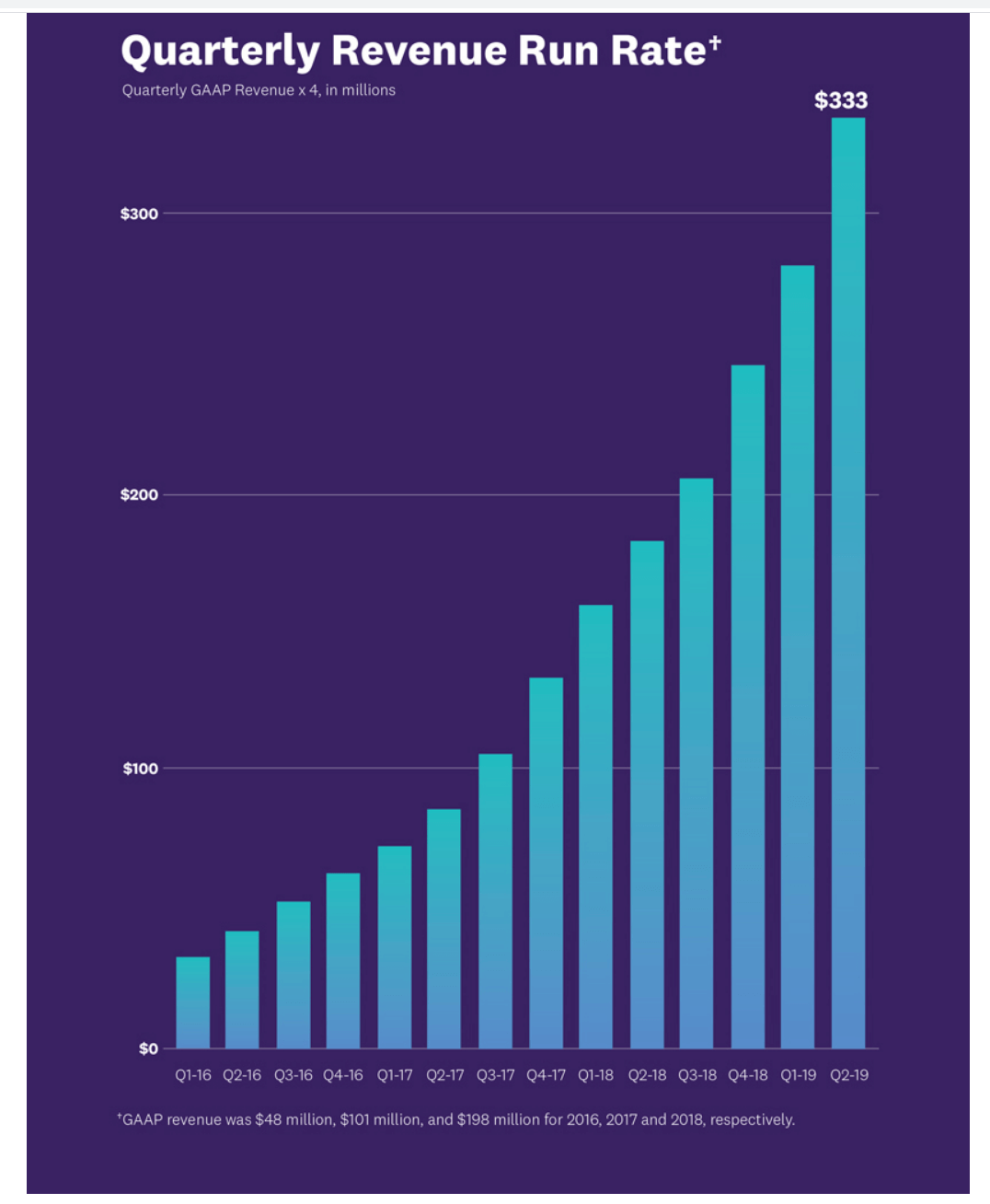 I took this chart from the Datadog prospectus. Obviously it is intended to look impressive; they were trying to sell shares in the business and make sure their September 2019 IPO [initial public offering] was a great success. Nevertheless it does make the point pretty unequivocally. These guys are doing something right. Below is a snapshot of my efforts to discover what that something is; it is not easy; Datadog is one of the geekiest businesses I have ever encountered. However my strong impression is that they are doing something that really needs to be done in the cloud/ digital transformation era and that is why their customer base is growing so rapidly. And their net retention rate (the annual increase in revenue from their existing customer base) is incredible – 146pc; that may be the highest I have ever encountered and means sales grow 46pc a year before they add any new customers. No wonder sales in Q2 2020 (ending 30 June) grew 68pc to $140m for an annual revenue run rate of $560m (4x the quarterly rate) compared with $333m a year earlier (the latest figure in the chart).
Datadog/ DDOG  Buy @ $104  MV: $31bn  Next figures: 12 November No of times recommended: 5  Price when first recommended: $55.50
"Datadog is the monitoring and analytics platform for developers, IT operations teams and business users in the cloud age."
This is how Dadadog describes what they do in the opening words of their prospectus. After that they go into great detail about how and why they do it. I am not even going to attempt to cover that here.  What I think is significant is that they don't say 'a" monitoring and analytics platform, they say 'the'. These guys are not short of confidence but also they have to get statements like that past a team of lawyers so it must be a claim which they can support.
I will just add one quote though because I think it goes to the heart of what they do.
"Software applications are transforming how organisations engage with customers and operate their businesses. Companies across all industries are re-platforming their businesses to cloud infrastructures to enable this digital transformation. Historically, engineering teams have been siloed (one definition of siloed is 'kept in isolation in a way that hinders communication and cooperation), making the development of next generation applications on dynamic cloud environments challenging. We started Datadog to break this model and facilitate collaboration among development and operations teams, enabling the adoption of DevOps practices. Since then we have continuously pushed to unify separate tools into an integrated monitoring and analytics platform, readily available to everyone who cares about applications and their impact on business."
The result is that the DevOps teams running companies can now look on a dashboard supplied by Datadog to see how their digital infrastructure is functioning. If that is what Datadog does and I think it is then it does sound pretty cool and essential in an era of digital transformation.
Below also is a timeline of the company's development, which I found both useful and impressive.
"Datadog was founded in 2010, and we launched Datadog Infrastructure Monitoring in 2012 to provide enterprises with visibility across developers, IT operations teams and business users. Since then, we have added new functionality, launched new products and expanded our operations:
| | | | |
| --- | --- | --- | --- |
| | | | 2010: Founded in New York |
| | | | |
| --- | --- | --- | --- |
| | | | 2012: Launched Datadog Infrastructure Monitoring |
| | | | |
| --- | --- | --- | --- |
| | | | 2013: Surpassed 100 customers |
| | | | |
| --- | --- | --- | --- |
| | | | 2014: Began monitoring containers |
| | | | |
| --- | --- | --- | --- |
| | | | 2015: Expanded research and development to Paris |
| | | | |
| --- | --- | --- | --- |
| | | | 2015: Surpassed 1,000 customers |
| | | | |
| --- | --- | --- | --- |
| | | | 2016: Began monitoring serverless environments [Serverless computing is a method of providing backend services on an as-used basis. Servers – computers – are still used, but a company that gets backend services from a serverless vendor is charged based on usage, not a fixed amount of bandwidth or number of servers.) |
| | | | |
| --- | --- | --- | --- |
| | | | 2016: Established enterprise sales team |
| | | | |
| --- | --- | --- | --- |
| | | | 2017: Launched Datadog APM (application performance management) |
| | | | |
| --- | --- | --- | --- |
| | | | 2017: Opened first international sales office in Dublin |
| | | | |
| --- | --- | --- | --- |
| | | | 2017: Surpassed 5,000 customers |
| | | | |
| --- | --- | --- | --- |
| | | | 2018: Launched Datadog Log Management and Analytics |
| | | | |
| --- | --- | --- | --- |
| | | | 2018: Opened first APAC (Asia Pacific) sales office in Tokyo |
| | | | |
| --- | --- | --- | --- |
| | | | 2018: Held inaugural DASH user conference in New York |
| | | | |
| --- | --- | --- | --- |
| | | | 2019: Launched Datadog Synthetics |
| | | | |
| --- | --- | --- | --- |
| | | | 2019: Established APAC headquarters in Singapore |
| | | | |
| --- | --- | --- | --- |
| | | | 2019: Announced beta availability of Datadog Network Performance Monitoring and Real User Monitoring |
We generate revenue from the sale of subscriptions to customers using our cloud-based platform. Customers also have the option to purchase additional products, such as additional containers to monitor, custom metrics packages, anomaly detection and app analytics. Professional services are generally not required for the implementation of our products and revenue from such services has been immaterial to date.
We employ a land-and-expand business model centred around offering products that are easy to adopt and have a very short time to value. Our customers can expand their footprint with us on a self-service basis. Our customers often significantly increase their usage of the products they initially buy from us and expand their usage to other products we offer on our platform. We grow with our customers as they expand their workloads in the public and private cloud. Our ability to expand within our customer base is best demonstrated by our dollar-based net retention rate. As of 30 June, 2018 and 2019, our dollar-based net retention rate was 146pc, and as of 31 December, 2017 and 2018, it was 141pc and 151pc, respectively."
Datadog was founded by two French uber geeks, Olivier Pomel, 43 and Alexia Le-Quoc, who is 45. They were both educated in France and the company recently opened a research centre in Paris but it still feels very much like a classic US enterprise software business albeit growing fast even by the standards of that amazing industry. The company doubled its number of employees in 2016, had close to 300 employees in 2017 and has over 1,000 now.
The company is still growing at a sizzling rate despite being impacted by the uncertain virus-affected macroeconomic environment.
"While we are pleased with our execution in the quarter, we did experience some impact to the rate of usage growth of our customers related to the microenvironment. While this macro uncertainty remains in the near term, we continue to believe that this environment accentuates the need to be digital-first and agile and confirms the cloud as the best path to achieve these outcomes over the long term. And we see evidence of this in growing overall demand in the form of new customers and new use cases existing customers. To summarise Q2 at a high level, revenue was $140m, an increase of 68pc year-over-year and above the high end of our guidance range. We ended the quarter with 1,015 customers with ARR [annual recurring revenue] of $100,000 or more, which is an increase of 71pc from last year. This customer category generated about 75pc of our ARR. We have about 12,100 customers, which represent growth of 37pc from about 8,800 last year. We also continue to be capital-efficient with free cash flow of $19m. And as in past quarters, our dollar-based net retention rate was over 130pc as customers increased their usage and adopted our newer products."
This increased usage of new products is a key reason why Datadog's net retention rate is so high.
"As of the end of Q2, 68pc of customers are using two or more products, which is up 40pc on a year ago. We had another quarter in which approximately 75pc of new logos landed with two more products, and I would add that over 15pc of our customers are now using four or more products, while we had zero last year. We are also very pleased with the uptake of our newest products in a short period of time, with Synthetics, RUM, NPM and Security all released over the last year. We are winning in the market because we are cloud native [born in the cloud rather than adapted for the cloud]."
The company gave a strong hint that fast as it has been growing we may even see an acceleration in the current quarter (ending 30 September).
"While we do not want to get into the habit of providing intra-quarter updates, I'd like to provide some commentary on what we saw in July, given the unique macro circumstances. We saw over the last month a notable improvement in usage growth relative to Q2, driven by broad-based strength across our customer base. It is however too soon to know if this growth will sustain given the macro environment. As a result and while we are encouraged by this trend, we remain prudently conservative in our outlook for the remainder of the year.
As a reminder, we have both a subscription and usage-based revenue model, and the growth of our revenue is related to the growth of our customers' cloud footprint and data volume. Finally, to bookend this topic, I am very proud of the performance of our go-to-market teams during these challenging times as we are executing well against what we can control, and our teams are delivering record levels of new logos and product cross-sell."
They also made the general comment.
"Now moving on to our outlook. As we look ahead to the second half of the year, we remain very excited about our market opportunity."
Datadog is clearly a sensational business, classic 3G and with plenty of magic. I was curious to see if there was anything new happening that might create even more excitement in future. There is nothing specific but plenty in general.
"First, we are building on our strong track record of innovation by introducing new products, entering new categories and continuing to improve existing solutions. Second, we continue to hire rapidly in R&D and are pursuing talent that would not otherwise be in the market. And third, we are aggressively expanding our go-to-market globally and into newer channels. We are very confident that we can continue to sustain strong growth both in the near term and over time."
The shares jumped sharply a couple of days ago on news of a new partnership between Microsoft and Datadog. The company noted that
"Datadog's native presence represents a first-of-its-kind integration of a third-party service into Azure. In addition to the integration enhancements, the new channel through the Azure Marketplace allows customers to draw down on their committed Azure spend to purchase Datadog. This makes it significantly easier for customers to find budget, and also aligns incentives for Azure and Datadog sales teams for better collaboration and engagement in co-sell motions with enterprise clients. As a result, this partnership will enable more Azure customers to leverage Datadog's observability platform to drive successful cloud modernisation and migration initiatives."
Not only is this a massive endorsement of the Datadog platform by arguably the world's most powerful software company but it should also be a key driver of sales.
As always with really exciting companies Datadog shares are on a scary valuation. Based on expected numbers for 2020 they are valued at over 50 times sales and over 600 times ebitda (earnings before interest, tax, depreciation and amortisation). This makes them one of the most highly valued businesses in the world. Understandably the shares have been volatile. Just in the latest little sell-off they fell from $108 to $72 before rallying on the Microsoft news.
They are going to bump around but what a business! Ten years from now I expect the market value of the group to be a multiple of current levels as it builds its global footprint. If you were a software engineer can you imagine working for a more exciting business. Enterprise software companies are all about people and Datadog is a magnet for some of the cleverest software talent in the world. This is going to drive innovation at an accelerating rate and make the company even more essential to its fast-growing customer, base, which is itself a who's who of the world's most exciting and fastest growing companies.
You just have to buy them and if they fall, buy some more and if they rise, buy some more. Think long term, really long term and it is all about the opportunity and for Datadog, the opportunity is huge.
Below is a table including analysts' forecasts, marked with a blue background. I have a hunch that in the late of the company's comments on trading for July 2020 (see above) they are going to prove significantly too cautious.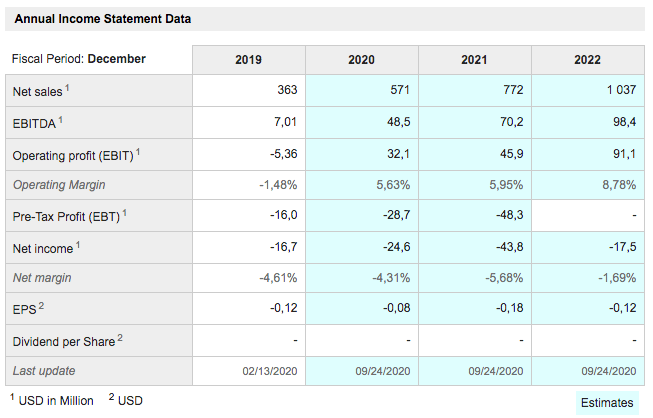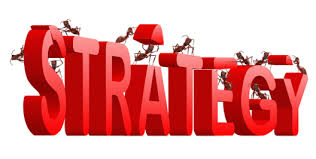 I thought the US stock market was consolidating. Now, I am not so sure, maybe the bull market has just resumed – onwards and upwards.