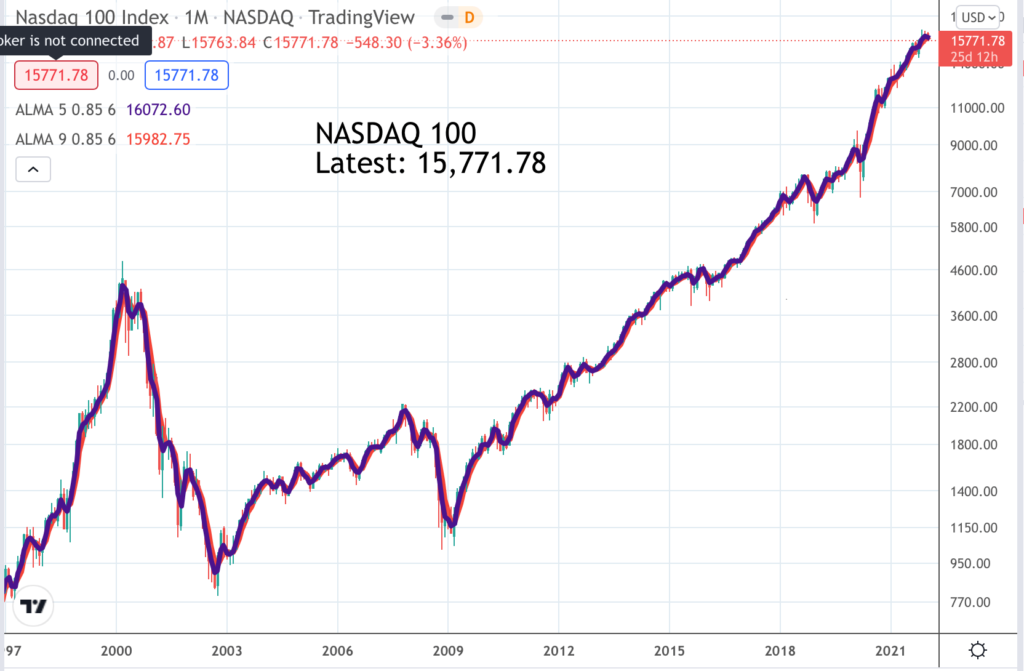 This is something I have never seen before. The chart of the Nasdaq 100 index looks OK but underneath the surface, when I go through my tables, the charts look terrible. On 6 December 2021 (last year) I sent out an alert entitled 'Time to circle the wagons' with the same message. Even though the index looked OK my reading of individual charts was that a turbulent period was coming. Shares have gone up and down since then but mostly down and bad as the picture looked on 6 December it looks worse now. Frankly, it looks terrible. The bloodbath that has engulfed many US quoted China shares seems to be spreading to the US as a wave of profit taking hits many of the stars that have led the US market higher in recent years.
Many years ago a chartist friend of mine said an aeroplane needs to fly in order to crash. His idea was that we need shares to fly high before they can crash. Many shares have flown very high and they are starting to lose altitude. As this happens a new problem kicks in – margin debt. US share values are resting on a mighty pyramid of debt. This is OK in good times. Expanding margin debt is a powerful driver of rising share values but when those values go into reverse like me with my aggressive margin accounts the pressure works the other way and things can become very scary.
I may be wrong. I often am, especially about trends in the whole stock market which are notoriously unpredictable but I have to tell my subscribers what I see. I look at my charts and the message is more pain ahead. A month ago I wrote my bearish alert because there were twice as many shares in downtrends as those in uptrends. The balance now is three times as many downtrends and it looks as though this number is going to become even more skewed as more shares break down.
The big question is why this is happening to which the answer is that I don't really know. Is it because shares climbed too high and values became too extended? I guess that is part of it. But there is something shifting below the surface that is causing problems – tighter money, higher interest rates, inflationary pressures, politics. We'll find out in time but whatever it is shares are doing their usual job of discounting what is going to be happening 18 months from now. As I said in my 6 December piece it feels as though there is a shark circling unseen in the water.
As private investors we can run for cover and that is what I have been doing. Presently I have minimal exposure to the stock market, having as usual seen many but not all of my gains melt away. It is time to watch and wait until the dust settles.
Past experience suggests that sitting it out even through the worst bear phases is a viable strategy. It is what Buffett does but for most of us it is not easy. For me, as a leveraged investor, it is impossible. Below is a list of all the shares in my table in downtrends. It is a big list as many of the shares that climbed so strongly for years go into reverse.
I am just going to list the names. I am not going to mention the shares still in uptrends or trending sideways because that is not what this alert is about. Shares in downtrends are listed below:-
AB Dynamics, Accesso, Adobe, Affirm, Afterpay, Agora, Alibaba, Allogene Therapeutics, Alteryx, Anaplan, Appian, Argo Blockchain, Asana, Atlassian, Avalara, Axon Enterprise, Baidu, Bandwidth, Biogene, Best of the Best, Beyond Meat, BiliBili, Bill.com, Biontech, Bio-Rad, Bio Techne, BioExel Therapeutics, Bitcoin, Blackline, Boohoo, Bumble, C3 AI, Carvana, Charles River Laboratories, Chegg, Chewy, Cloudflare, CoStar Group, Coupa Software, Crocks, Crowdstrike, Darktrace, Datadog, DeliveryHero, Dexcom, Digital Turbine, Docusign, Domino's Pizza Enterprises, Domo, Doordash, DotDigital, Dropbox, Dynatrace, Enphase, Etsy, Everbridge, Fastly, FD Technologies, Figs, Five9, Focusrite, Fortinet, Freshpet, Futu, Fiverr, Frontier Developments, Gamestop, Gear4Music, Genus, GrowGeneration, GSX Techudu, Guidant Health, Hargreaves Landsdown, HelloFresh, Horizon Therapeutics, Hubspot, HydroFarm, Idexx laboratories, Illumina, I-Mab, Inmode, Intuit, IQE, iRobot, ITM Power, Just Eat Takeaway, Lemonade, Lendingtree, Lightspeed, Litecoin, Lululemon Athletica, Magellan Financial, Masimo Corp., Match, Maxcyte, China Meidon Auto, Meituan, MercadoLibre, Microsoft, Microstrategy, Moderna, MongoDB, Monolithic Power Systems, MSCI, Nasdaq Inc., Naspers, Natera, Netflix, Nikola Corp., Nio, O'Shares Global Internet Giants, Okta, Palo Alto Networks, Par Technologies, Paycom Software, Paypal, Pegasystems, Pelaton, Pinduoduo, Pinterest, Pliant Therapeutics, Procore, Progeny, Rapid7, Repligen, Restore, Ringcentral, Rivian, Roninhood, Roblox, Roku, S4 Capial, Salesforce.com, Sea Limited, Servicenow, Shakeshack, Shiftfour Payments, Shopify, Shotspotter. Shutterstock, Silvergate Capital Corp., Snap Inc., Snowflake, SolarEdge, Splunk, Spotify, Springworks Therapeutics, Block Inc. (formerly Square), Toledoc Health, Tencent, The Joint Corp, Twilio, Tyler Technologies, Visa, Up Fintech Holding, Upstart, Varonis, Veeva Systems, Volex, Vuzix, Waste Connections, Water Intelligence, Weight Watchers, West Pharmaceutical Services, Wise, Wix, Workday, Workiva, Wuxi Biologics, Xero, Xai Labs, Zalando, Zendesk, Zillow Group, ZoomInfo Technologies, Zoom Video Communications, Zscaler.
---

When I published my 6 December alert, 'Time to circle the wagons', the stock market immediately staged a huge rally. The problem was that when the dust settled the charts still looked very weak and it is very easy to lose money chasing rallies in a structurally weak market. It is a time for extreme wariness. Charts are not the be all and end all but they can be useful at turning points and presently my charts are pointing down. I feel very cautious.
---