Bill.com "making great progress on building the all-in-one financial operations platform for SMBs of all sizes"
November 8, 2021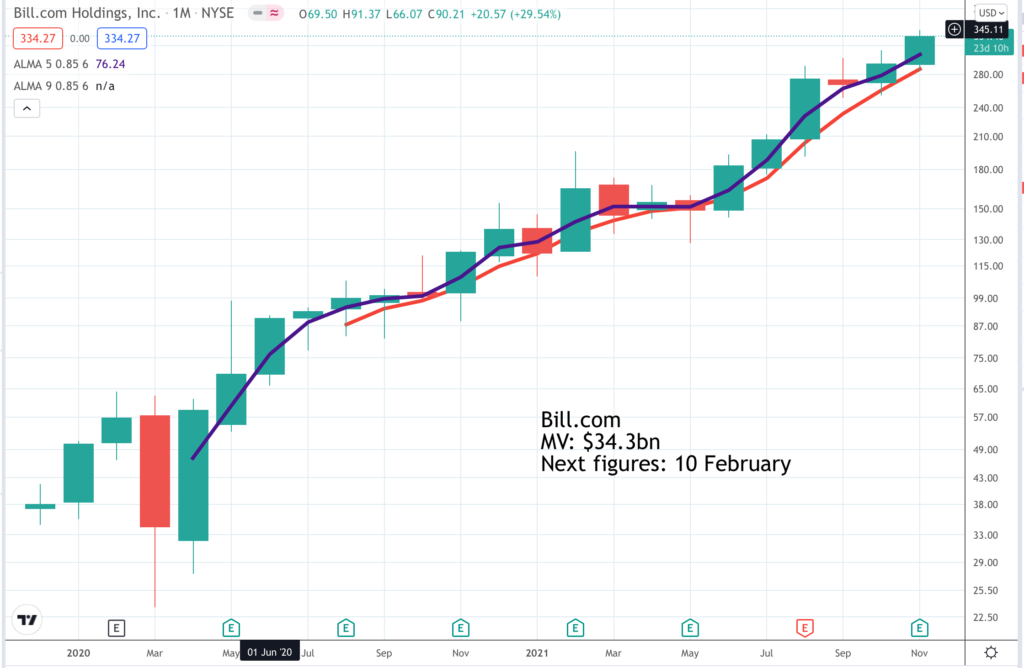 Bill.com BILL. Buy @ $334. Times recommended: 16. First recommended: $37. Last recommended: $279. Highest recommended: $279.50
Bill.com is turning into a monster success story for the QV portfolio strategy. It is not that far from being up 10 times on the first recommendation made as recently as March 2020 and has been the subject of multiple follow-up recommendations. It is using a combination of organic growth, massive innovation and well-judged acquisitions to become the financial platform for small and medium sized businesses (SMBs) to run their operations, including accounts payable and accounts receivable. Should it be successful in this mission it is going to become a very large and successful company. As with other exciting companies Bill.com is making increasing use of AI.
First let us look in more detail at what they do.
"Our purpose-built, artificial-intelligence (AI)-enabled financial software platform creates seamless connections between our customers, their suppliers, and their clients. Customers use our platform to generate and process invoices, streamline approvals, send and receive payments, sync with their accounting system, and manage their cash. We have built sophisticated integrations with popular accounting software solutions, banks, and payment processors, enabling our customers to access these mission-critical services through a single connection. As a result, we are central to an SMB's accounts payable and accounts receivable operations."
Next we can look at the opportunity.
"We believe we have a significant opportunity to help millions of SMBs improve their financial operations. Most SMBs are still dependent on manual accounts payable and accounts receivable processes: mailing invoices, printing paper checks, waiting for payments, and storing paper in filing cabinets. According to the SMB Technology Adoption Index, in 2016 over 90pc of SMBs surveyed still relied on paper checks to make and accept business-to-business payments. Manual processes are time-consuming, inefficient, and costly. A survey of back-office employees by Levvel Research points to process issues, such as long approval cycles and missing information on invoices, as the leading cause of late payments and missed discounts. Customers who adopt our platform benefit from streamlined back-office processes, as evidenced by our customers' electronically exchanging more than 8,000 messages per day, approving more than 2.4m bills per month, and storing almost 45m documents per year, collectively, as of June 30, 2019.
Today, over 81,000 customers trust our platform to manage their financial workflows and process their payments, which totaled over $70bn for fiscal 2019, and nearly $22bn for the three months ended September 30, 2019. As of June 30, 2019, we had over 1.8m network members. We define network members as our customers plus their suppliers and clients with accounts on our platform. Our network members entrust us with their bank account details, enabling them to connect, invoice, pay, and get paid electronically."
Prior to the November 2019 IPO the business was already growing fast.
"We have grown and scaled our business operations rapidly in recent periods. Our total revenue was $64.9m and $108.4 m for fiscal 2018 and 2019, respectively, an increase of 67pc. For the three months ended September 30, 2018 and 2019, our total revenue was $22.4m and $35.2m, respectively, an increase of 57pc. We incurred net losses of $7.2m and $7.3m for fiscal 2018 and 2019, respectively. For the three months ended September 30, 2018 and 2019, we incurred net losses of $0.9m and $5.7m, respectively."
Here is a key paragraph assessing their opportunity.
"We believe SMBs, despite comprising a large part of the economy, are underserved by existing financial software solutions. Many software providers attempt to sell solutions designed for consumers or enterprises, which struggle to gain traction in the SMB market. Solutions for consumers are too simple, while enterprise solutions are too complex and expensive. Additionally, these products generally do not integrate well with other systems, requiring SMBs to piece together an expensive patchwork of individual products to meet their needs. We believe we have a greenfield opportunity to provide SMBs with a platform to automate their back-office financial operations."
They then quantify the opportunity.
"According to the U.S. Census Bureau, there were approximately six million employer SMBs in the U.S. in 2018. Globally, there were approximately 20m small and medium enterprises (SMEs) according to the SME Finance Forum's 2019 database. We estimate the annual addressable market for the services we offer today to be $30bn globally and $9bn domestically. We derive these estimates by multiplying our average fiscal 2019 revenue per customer of $1,500 by each of the 20m SMEs globally and 6m domestic employer firms."
Then there is scope for add-on products.
"According to IDC, in 2019 small and lower-midsize businesses will spend approximately $65bn on software in the U.S. We believe that we are well positioned to capture a meaningful portion of that spend as we increase the breadth of our platform to sell additional solutions or products."
The above gives us a flavour of what Bill.com is attempting to do. Now we can fast forward to see how well they are doing it. To which the answer is that they are executing so well that the growth has accelerated dramatically.
"We kicked off our fiscal year with momentum. In the first quarter, we delivered strong revenue growth, acquired Invoice2go and helped hundreds of thousands of businesses simplify and automate their operations so they can focus on what they do best.
Our results demonstrate the strength of our organic business and the expansion of our platform's capabilities. Total revenue for the quarter increased 152pc year-over-year. Bill.com's organic core revenue growth increased 78pc year-over-year, driven by strong adoption of our platform and payment solutions.
Revenue from our Divvy spend management solution continued its trajectory of strong growth above 100pc year-over-year. Our performance in the quarter demonstrates the significant demand in the market for digital solutions to transform financial operations."
They tell us more about the Invoice2go acquisition.
"During the quarter, we acquired Invoice2go, a leading mobile-first AR [accounts receivable] solution. The acquisition enhances our AR capabilities, expands our TAM to include serving sole proprietors and gives us an international footprint with subscribers in more than 150 countries. The acquisition will strengthen our 2-sided network by bringing advanced AR capabilities, including invoicing and payments to our network members. I'm excited to welcome Invoice2go's 100-person team to Bill.com, which includes team members in the Bay Area and Sydney. With the acquisition of Invoice2go, Bill.com ended the quarter with more than 350,000 businesses on our platform."
Before Invoice2go in May 2021 Bill.com acquired Divvy. This was a big deal.
"Bill.com, a leading provider of cloud-based software that simplifies, digitizes, and automates complex back-office financial operations for small and midsize businesses (SMBs), announced today it has entered into a definitive agreement to acquire Divvy in a stock and cash transaction valued at approximately $2.5bn. Divvy is a leader in spend management that modernises finance for business by combining expense management software and smart corporate cards into a single platform."
The deal takes Bill.com closer to its objective of being a one-stop shop financial platform for SMBs and offers great cross-selling opportunities.
"Since founding Bill.com, I [CEO and founder, Rene Lecerte] have been driven by the desire to build solutions that make a real difference for small and mid-sized businesses. Customers have been asking us to help them with their spend management, and I am excited that together with Divvy, we can deliver on that ask, furthering our vision to transform SMB financial operations. Our expanded platform will provide more automation and real-time information to SMBs, enabling them to make more informed decisions. We are excited to work with the talented Divvy team. We have a shared passion for helping SMBs succeed and both companies are driving our customers' digital transformations. Together, we can further empower SMBs to transition quickly and easily.
The combination will expand the market opportunity for both companies. Bill.com can offer expense management and budgeting software combined with smart corporate cards to its more-than 115,000 customer base and its network of 2.5m members. Divvy will be able to offer automated payable, receivables, and workflow capabilities to the more-than 7,500 monthly active SMBs that it serves."
There is also a bit more detail on the Invoice2go deal.
"We are thrilled to welcome the Invoice2go team to Bill.com. Together, we can more quickly advance our accounts receivable offering and accelerate our innovation agenda for small businesses. Invoice2go has a phenomenal mobile-first solution that makes it easy for businesses to engage with their customers, develop bids, send invoices, and get paid faster.
We see unique value in having strong payables and receivables solutions on one platform which enables customers to have visibility into payments coming and going, providing more control in managing their cash. With the accounts receivable expertise and international footprint that the Invoice2go team brings, we will accelerate our vision to be the one-stop solution for businesses to transform their financial operations."
Invoice2Go cost $625m and like Divvy, was paid for mostly in shares, which makes it very interesting that subsequent to these two deals Bill.com has raised nearly $2bn of new equity and convertible capital. This seems like a powerful statement of intent. These guys are nowhere near done yet with growth and acquisitions.
I really get the feeling that Bill.com is on a roll.
"We continue to believe we are in the early innings of a global digital transformation that is disrupting the legacy methods of managing the financial back-office. These trends show no signs of slowing as small businesses are increasingly embracing the need to evolve from analog, paper-based processes to digital solutions that simplify and automate their operations.
Our progress shows we're successfully turning our investments into results, creating significant value for our customers and driving strong revenue growth. Our $2bn capital raise in September, combined with our track record of product innovation and proven execution capabilities, positions us well to capture the large market opportunity we're pursuing.
Q1 2022 progress was phenomenal.
"Total revenue was $116.4m, up 152pc year-over-year, which includes $1.3m of revenue from Invoice2go for the month of September.
Core revenue, which represents subscription and transaction fees, was $115.6m, growth of 164pc year-over-year. Organic Bill.com core revenue growth accelerated to 78pc year-over-year compared to 73pc growth last quarter. In addition, we experienced very strong card revenue growth from Divvy of 187pc versus last year.
Subscription revenue increased to $35m, up 43pc year-over-year, driven by an increase in the number of businesses using our platform, expansion of organic ARPU and fees from Invoice2go subscribers. Bill.com organic subscription revenue growth was 39pc year-over-year, which accelerated from the prior quarter, driven mainly by a slightly larger average customer size due to our success with attracting and growing mid-market customer relationships."
The majority of Bill.com's revenue is transaction related rather than subscriptions.
"Transaction revenue increased to $80.6m, up 319pc year-over-year, driven mainly by interchange revenue from our Divvy card solution, payment mix shifts towards ad valorem products and strong TPV growth.
Bill.com organic transaction revenue growth was 127pc year-over-year. Divvy transaction fee revenue for fiscal Q1 was $36.6m. As a reminder, the majority of revenue from our Divvy solution is transaction-based, with minimal subscription fee revenue.
All that money ($2.8bn) is on the balance sheet for a reason.
"We are well capitalized to invest in scaling our business given the many growth opportunities we see."
And they see lots of opportunities.
"As we look ahead, we've never been more excited about the large market opportunity we're pursuing. We were built for this moment in time, and we're at the centre of a massive transformation that is happening in the way businesses run financial operations. SMBs are increasingly realizing that investments in digital capabilities for the financial back-office are mission-critical.
With our leadership position in the SMB market and the expanded reach and capabilities of our Divvy and Invoice2go solutions, we are well positioned to address a large and growing TAM. We are building the all-in-one financial operations platform for entities ranging from the smallest of businesses to midsized companies. We are confident that we can use this opportunity to drive sustained long-term revenue growth by leveraging our track record of innovation, large base of engaged SMBs and massive network."
Bill.com, like many software companies, is phenomenally profitable. On Q1 2022 revenue of $116m it made a gross profit of $86m. It then invested a combined $105m in r&d and sales and marketing. It is this huge investment which is driving the super charged growth and leaves it reporting losses at the accounting level. If we go back to the quarter ended 31 December 2019 the comparable figure for combined r&d and sales and marketing spend, was $25m so investment spending has more than quadrupled in less than two years. This is a company determined to seize its opportunity.
You might think if it is that easy why doesn't every company just step on the gas for r&d and s&m spending and grow faster but it only works if you have some very special software to sell and around which to innovate. This is what Bill.com and other companies like it have in abundance. Along with their incredible leadership and highly motivated and talented staff this is what gives them that magic which makes them very special investments.
Last but not least are the network effects. Bill.com makes frequent references to AI in its strategy. AI feeds off data so the more data they have the stronger their software becomes and the bigger they get the more data they have. It is a classic and extremely powerful virtuous circle.
Last but not least is the effect of the IPO. This raises their profile which helped attract both customers and talent, which is why it is not uncommon to see companies start to grow much faster after their IPO. It is not so illogical when the shares rocket in early dealings because that strong share price performance quickly becomes its own justification.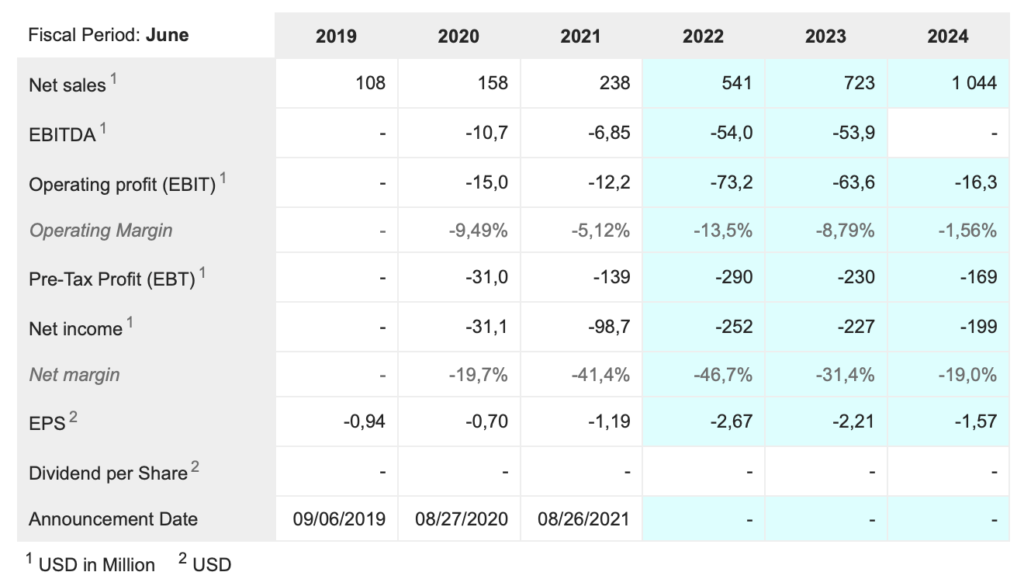 ---

There comes a moment with shares and companies when you realise that they are really heading for the stratosphere. I think that moment is happening right now with Bill.com. The pace at which this business is moving is incredible. In November 2019 the IPO valued the business at $1.6bn. They have just raised more than that in new equity capital and made two acquisitions with a combined value roughly double their IPO valuation.
They floated with 89,000 customers. With the acquisition of Invoice2go there are now more than 350,000 businesses on the platform. Furthermore, since the bulk of group revenue is transaction related, the biggest driver of growth is not the number of customers but the total payment volume flowing across the platform which rises as customers grow their businesses. It is not entirely astonishing that Bill.com is growing so fast but it still takes great execution to make that happen.
The real reason for buying shares in Bill.com is not how well they are doing right now but that their success makes their aspirations more credible. If the company fulfils the ambitions of Rene Lecerte to be a one stop shop financial platform for SMBs the opportunity is huge, the group has barely scratched the surface and Bill.com is going to grow massively in value.
I think investors are going to look back to the early years of the current millennium and see that a whole swathe of the greatest businesses of all time were born in this period. The trick for investors is to own as many of them as possible. I suspect Bill.com is one.
---