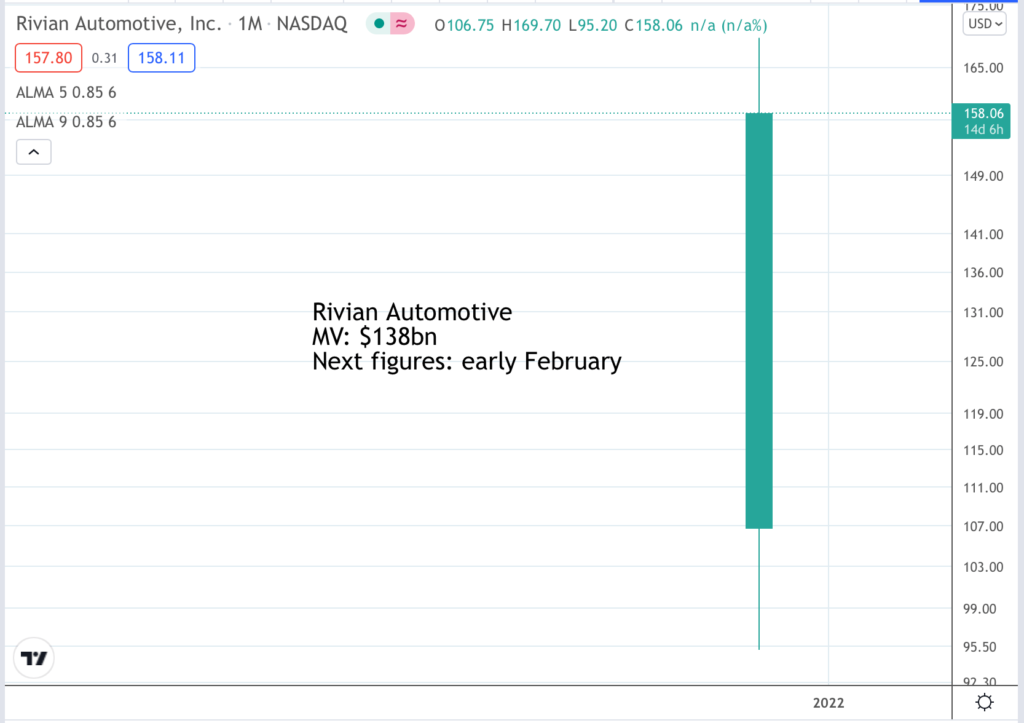 Rivian Automotive. RIVN Buy @ $163. New entry
History shows that if a company goes on to be extremely successful then buying the shares in early dealings will prove highly profitable. Rivian Automotive is a company dedicated to electric vehicles and the whole ecosystem of designing, manufacturing, supporting and maintaining them. As they say we are at the dawn of the EV era and they intend to become one of the most powerful brands. If they are successful the company will become massively larger but it is very early days.
History also shows that shares can be very volatile in early post-IPO trading, shooting higher, falling back to earth and then resuming their rise in earnest if the company performs to expectations and the news flow is positive. Since it is impossible to tell how the shares are going to behave the best plan is to start building a position and await developments.
Rivian has an extraordinarily ambitious goal. It wants Rivian to become one of the world's biggest brands.
In terms of production the company is at a very early stage. So far it has two models, a five seater SUV and a seven seater SUV and has delivered a handful of cars to employees. It has a huge 2.6m square feet factory in a place called Normal, Illinois with a current capacity of 150,000 vehicles a year and so far has pre-orders of 55,000+ for the consumer vehicles and 100,000 (to be delivered through to 2025) for a commercial vehicle (a van for last mile deliveries) from Amazon which is is also an important shareholder.
Rivian doesn't just plan to make and sell vehicles it plans to support the whole vehicle ecosystem from charging to software updates to finance and insurance. For the commercial vehicles it is offering fleet management software. All of these things should generate recurring income on top of the revenue from vehicle sales.
It also plans two develop a full range of vehicle models and expand overseas to become one of the world's leading sustainable transportation businesses.
Share price movements are going to be driven by news flow. Every piece of news that suggests the company is on track to realise its ambitious goals will tend to make the shares go higher and vice versa for any more negative news developments.
As far as QV for Shares is concerned the key point is that the company is a serious contender. They have the backing of Amazon, Ford and other important businesses. They have already come a long way in a relatively short period of time and have already built up to approaching 10,000 employees. They have just raised nearly $12bn before expenses.
The clear implication is that from now on action is going to come thick and fast. Tesla has shown us that moving from prototypes to mass production is not easy but they have also shown that it can be done.
Everything about the company points to the massive scale of their ambitions.
"In the near-term, we are targeting the pickup truck, SUV and commercial van market segments in the United States, Canada and Western Europe. We plan to achieve long-term growth by expanding in our existing markets, constructing a broad portfolio of vehicles and services with global appeal, entering major global automotive markets, strategically investing in our ecosystem, and expanding into adjacent verticals. In keeping with our long-term mindset, we are designing technology and infrastructure to support and benefit from the future transition to increased autonomy, new ownership models, and renewable energy solutions.
Our Normal Factory currently has an estimated production capacity of 150,000 units annually. We began commercial production of the R1T in September 2021 and expect to start commercial production of the R1S and EDV in December 2021. Following the commencement of initial production, we expect to ramp vehicle production for our launch products at our Normal Factory and plan to expand our manufacturing footprint in Normal, Illinois as well as build additional domestic and international factories to support future growth.
We plan to invest in international operations and grow our business outside of our existing operations in the United States, Canada, the United Kingdom, and the EU. We believe we are well-positioned for international expansion in light of a healthy global demand for EVs and for the vehicle segments in which we currently, and expect to, operate. Other factors that we believe will aid our successful international growth include: the highly flexible, modular nature of our platforms, which we anticipate will provide us the ability to introduce new vehicle programs and configurations; our digital-first approach, which we anticipate will allow us to expand quickly and without a significant physical retail footprint; and our product development expertise, which we anticipate will enable us to offer significant customization for diverse international markets and demographics."
What seems without doubt is that if Rivian can make its SUVs to a quality with reasonable pricing there will be huge demand. This company could grow very fast indeed and the bigger it gets the stronger it becomes as we have seen with the meteoric progress at Tesla. SUVs especially are the sweet spot for the US car market. They are where the existing legacy car companies make most of their money. Last mile commercial vehicles are also in huge demand because of the explosive growth of e-commerce.
A valuation of nearly $140bn looks absurd based on where they are now but for where they want to be it leaves massive scope for the value to climb. There is no way of saying what is the right price for today. It's a bet on a dream but one with a realistic chance of coming true.
---

What does seem likely is that Rivian is going to be a dream stock for speculators so shareholders must expect a bumpy but hopefully exciting ride. Having Ford and Amazon on board gives the group a great chance to do what it wants to do. For investors who can ride out the bumpiness this stock could become a major winner.
Meanwhile it looks far more like a technology company than a traditional car company. The spend on research and development is exploding from $301m for 2019 to $766m for 2020 and $683m for the first half of 2021. It is going to be a long time before Rivian makes profits. In these early stages each vehicle will make a loss even before fixed costs kick in but that won't worry investors if they feel the company is on track for its ambitious goals.
Remember that on QV we are never looking for a sure thing. They are nearly always fool's gold. We are looking for potential. Companies that could become much, much bigger than they are today. When we find them. We buy the shares.
---