Ambarella AMBA. Buy @ $204.50. Times recommended: 8. First recommended: $105. Last recommended: $185
"Ambarella is a leading developer of low-power system-on-a-chip, or SoC, semiconductors providing powerful artificial intelligence, or AI, processing, advanced image signal processing and high-resolution video compression. Since inception, we have primarily served human-viewing applications with video and image processors for enterprise, public infrastructure and home applications, such as internet protocol, or IP, security cameras, sports cameras, wearables, aerial drones, and aftermarket automotive video recorders. In the last several years, our development efforts have focused on creating advanced AI technology that enables edge devices to visually perceive the environment and make decisions based on the data collected from cameras and, most recently, other types of sensors. This category of AI technology is known as computer vision, or CV, and our CV SoCs integrate our state-of-the-art video processor technology together with our recently developed deep learning neural network processing technology, which we refer to as CVflow™. The CVflow-architecture supports a variety of computer vision algorithms, including, object detection, classification and tracking, semantic and instance segmentation, image processing, stereo object detection, terrain mapping, and face recognition. CVflow can process other sensor modalities, including lidar and radar, and allows customers to differentiate their products by porting their own or third party neural networks and/or classical computer vision algorithms to our CVflow-based SoCs. Our CV technology is creating opportunities for us to address a broader range of markets and applications while also allowing us to capture more content per electronic system."
I have quoted this paragraph from Ambarella's latest report and accounts because it explains the exciting transition taking place in the company's business. Since inception they have primarily served human-viewing applications. But in the last several years their development efforts have centred on a category of AI known as CV or computer vision. Basically they are helping machines to see which is surely going to be the most fantastic game changer. Machines which can see and understand what they see opens the door to autonomous driving, robots and a host of other exciting applications.
It is also imperative that this is done in a way which does not use too much power because otherwise we will need gigantic batteries all over the place. If Ambarella maintains its leadership in what it is doing and where it is going it is easy to see a very exciting future for this business.
Change is happening fast. This is a quote from their latest quarterly results.
"CV momentum continues to rapidly build. Since introducing our CV SoC [SoC stands for system on a chip] family to the market, we have had more than 240 unique customers purchase engineering parts, and or development systems, with almost 60 unique customers achieving production status in the first half of this year. Even at this early stage of our transformation, we are realizing a revenue mix that is of a higher quality and with more diversification."
They are also moving the technology forward rapidly.
"In June, we announced the expansion of the AI region SoC portfolio with the introduction of our new CV5S and the CV52S SoCs. Based on the CV4 architecture, the five-nanometer SoC target IoT security of locations with [Inaudible] OS and a new SDK [software development kit] including multi-imager and small form factors. This new SoC camera supports applications requiring 360-degree coverage, lower interviewing, advanced coding, and AI performance to more accurately identify individuals or updates in the scene. During the quarter, eight weeks after receiving the first silicon, we shipped our first CV5S development systems and software developers kit to customers. This is a significant accomplishment on such an advanced note."
More on CVs.
"Ambarella believes the CV end-point market, sometimes referred to as the system's edge, requires a fundamentally different SoC architecture versus the GPU[graphical processing unit], FPGA [field programmable gate array] and CPU [central processing unit] approach commonly utilised in the datacentre. Our CV SoCs are optimized for the requirements of the end-point market to provide highly accurate results, significant processing power, small form factor and minimal latency while consuming very low amounts of power and simultaneously delivering both human viewing and computer vision functionality, often while supporting multiple cameras and multiple AI applications with a single SoC incorporated in an end-point device. In addition, privacy and security can be enhanced, as critical personal information may not need to enter the network infrastructure."
Applications for this technology include security, autonomous driving, robots, Internet of Things, drones, video conferencing and virtual reality applications. So it's a massive market and Ambarella has got a pretty massive lead in addressing it.
The technology involves a mixture of hardware and software.
"Our proprietary AI and computer vision processing architecture, known as CVflow, uses a flexible hardware engine programmed with a high level algorithm description to achieve increased performance while minimizing die size and power consumption. The CVflow architecture specifies data flow connections between a set of optimized AI and computer vision operators, such as the convolution and matrix multiply functions that are specifically optimized for deep learning algorithms. The CVflow architecture supports a variety of AI and computer vision algorithms, including object detection, classification and tracking, semantic and instance segmentation, image processing, and stereo object detection, and allows customers to differentiate their products by porting their own algorithms and neural networks to our CVflow-based SoCs."
The technology is winning customers all over the world including significant wins in China.
The company adds.
"In conclusion, we are leading a significant shift in how cameras are used and providing the corresponding step function increase in processing performance. In addition to human viewing, all through a lens of a camera, data can be collected and then processed on our SoC, enabling new levels of safety, security, and efficiency through partial or complete levels of automation across multiple industries. This processing is occurring in purpose-built IoT endpoints, not in servers, wherefundamentally different and more expensive SoC architecture has to be used."
It really is all happening at Ambarella.
"The inflection you are seeing with Ambarella, what gets us most excited is how we are driving AI into numerous IoT endpoint verticals and how we are demonstrating we can capitalise on this tremendous growth opportunity to drive shareholder returns. The demand for deep learning in AIoT [artificial intelligence plus Internet of Things] end points is a new and critical phase of the digital transformation that is just beginning to impact to so many verticals. Our confidence in our long-term prospects is high."
The business is seeing strong growth with latest sales up 58pc year on year but I think the real excitement is in the transformation that is taking place at the business with the growing move into CV SoC products which are addressing a vast market and promise to make science fiction a reality in so many areas.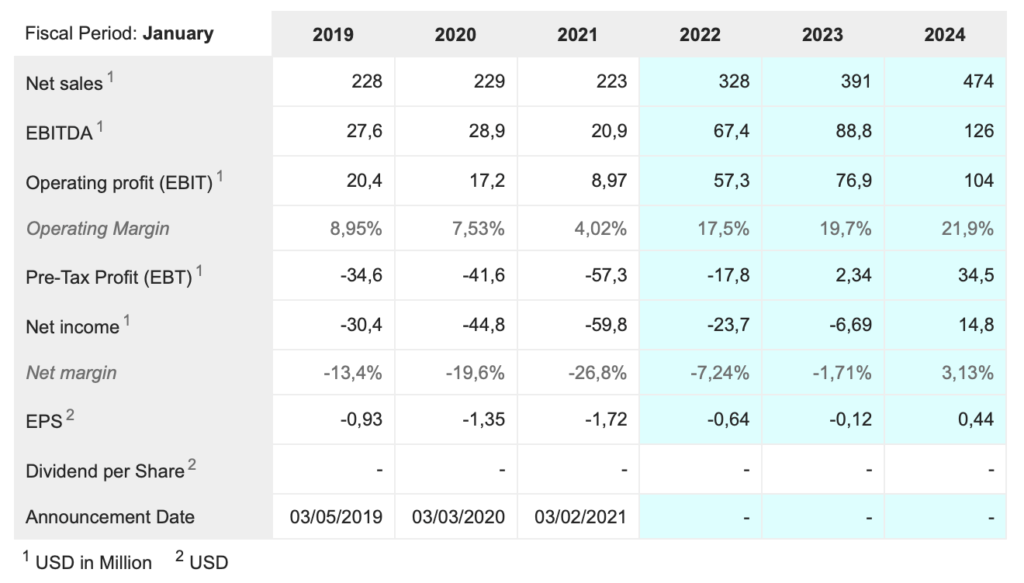 ---

As subscribers are probably realising I am very excited about prospects for Ambarella. It seems so likely that their lead in delivering low power consumption CV SoCs is going to have huge applications in a fast transforming world. A few years from now this could become a very large business. Also the chart looks amazing with an explosive breakout from a huge base area.
---