There is a saying in property that three things determine value – location, location and location. I think the US stock market may be heading in a similar direction but substitute artificial intelligence for location.
Technology has been a thing for 50 years now with mainframe computers. mini-computers, desk tops, hardware and software, cellular phones, smart phones, the cloud and now the dawn of the age of artificial intelligence, a world of smart robots, smart everything which is as yet barely understood but full of potential and even a little scary.
I was born at the beginning of all this just after Alan Turing had created the computer which broke the Enigma code. It is quite apparent to me that technology is changing at a dramatically accelerating rate. As a friend said to me the other day new technologies can be created and become obsolete within a lifetime. Think stone age man with his flints, which probably seemed a big deal to him and it is beyond incredible what is happening.
My guess is that one consequence of this is that global stock markets are increasingly going to focus on AI. There will be the stocks making the revolution happen, the stocks, often the same ones, using the technology to make manifold wonders possible and there will be all those which are left behind and need not concern us.
Just as an aside, we also have macro factors to consider. Rising bond yields are kryptonite for stock markets and recent years have seen the sharpest ever rise in bond yields from near invisible levels to levels where they need to be seriously considered in taking investment decisions.
This is the cost of dealing with a spike in inflation but I suppose we should be glad that our leaders are on the case and rooting out the evil before it rages out on control.
Table of Contents
One seeming consequence of the rising importance of technology in our lives is the emergence of gigantic corporations, the ones known as the mega-caps. There are already several businesses in the world, Apple, Microsoft, Alphabet, Amazon, Nvidia, which are valued in the trillions of dollars. These are staggering figures in a world where total global GDP may be around $105 trillion, itself an amazing figure.
As can be seen, especially in per capita terms, the US punches far above its weight but in terms of gross GDP totals China is making rapid progress and India (GDP up 7.8pc year on year based on Q2 2023) is coming up on the rails pushing the UK into sixth place. India's growth is reflected in the performance of an index with the snappy title of the Nifty 50. The Nifty 50 is a benchmark Indian stock market index that represents the weighted average of 50 of the largest Indian companies listed on the National Stock Exchange.
It is not an index or a market which I follow but it could repay attention. As an example Infosys is a major constituent. The shares have reacted in 2022 and 2023 but are still up from a low of 34 rupees to 1341 rupees in the new millennium. Another big one, Reliance Industries, is up from 45.8 rupees to 2335.90 rupees over the same period and has a chart, which looks as though the price has been pausing for breath over the last two years.
An American AI Star
Just as a reminder below is the chart of Cadence Design Services, a key player in AI with a great looking chart. I have been a big fan of this stock on Quentinvest and the uptrend looks full of energy.
Another one which is just breaking higher is Microsoft. Not only do we have a golden cross buy signal but we also have a good old-fashioned buy signal.
Microsoft fundamentals look rock solid. The company clearly intends to position itself at the front of the AI revolution.
We are off to a strong start to the fiscal year driven by the continued strength of Microsoft Cloud, which surpassed $31.8bn in quarterly revenue, up 24pc. With Copilots, we are making the age of AI real for people and businesses everywhere. We are rapidly infusing AI across every layer of the tech stack and for every role of business process to drive productivity gains for our customers.

Satya Nadella, CEO, Microsoft, Q1 2024, 24 October 2023
Just a sample of what is going on at Microsoft.
Copilot is your everyday AI assistant, helping you be more creative in Word, more analytical in Excel, more expressive in PowerPoint, more productive in Outlook and more collaborative in Teams. Tens of thousands of employees at customers like Bayer, KPMG, Mayo Clinic, Suncorp and Visa, including 40pc of the Fortune 100, are using Copilot as part of our early access program. Customers tell us that once they use Copilot, they can't imagine work without it, and we are excited to make it generally available for enterprise customers next week.

Satya Nadella, CEO, Microsoft, Q1 2024, 24 October 2023
There is loads of exciting stuff happening and looking at the respective charts (Apple chart not shown here; it's OK, just not as strong as that of Microsoft) Microsoft is in with a shout of overtaking Apple as the world's most valuable company.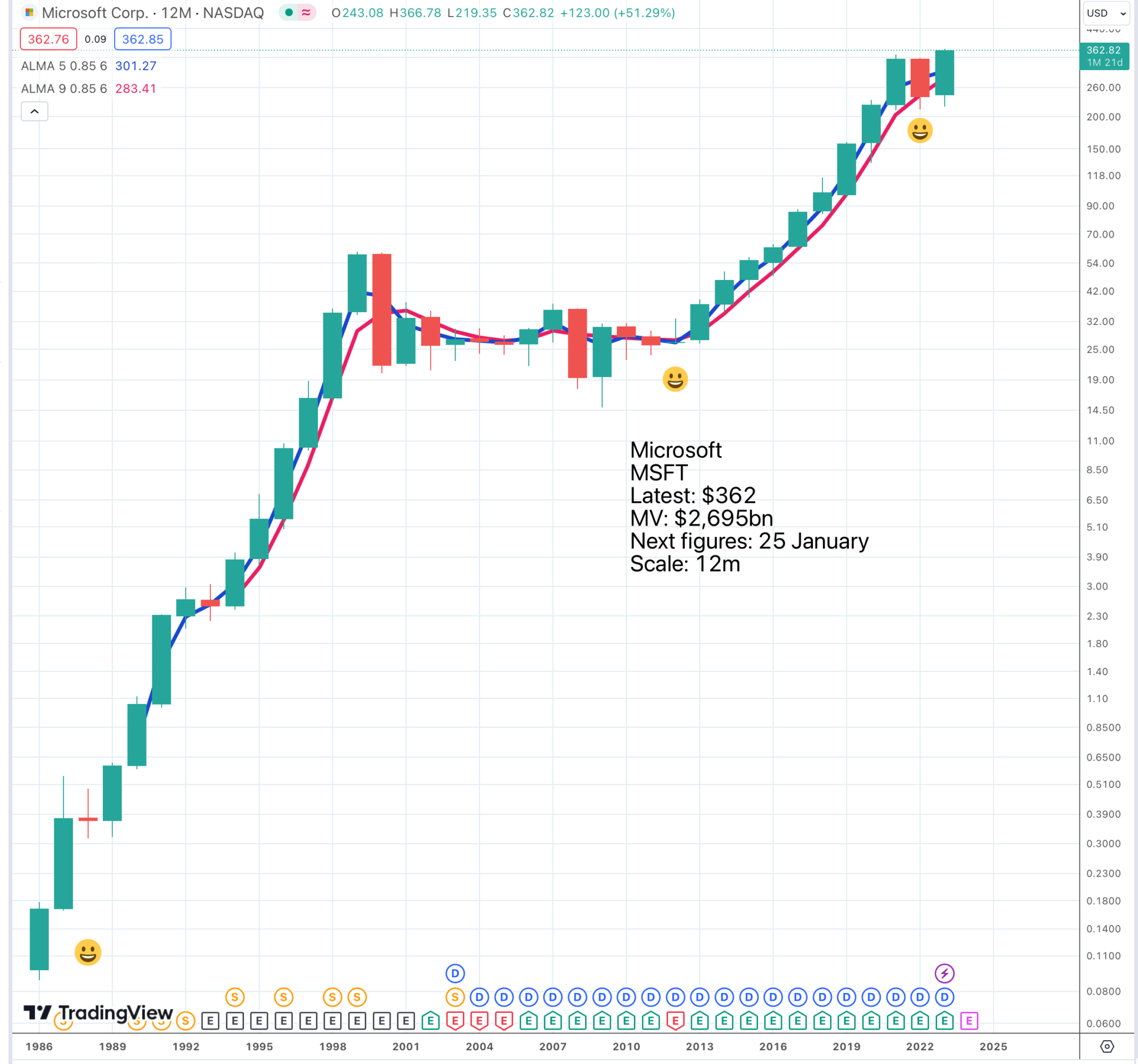 It is instructive to look at a chart of Microsoft with each candlestick representing a year. It is a staggeringly strong chart perhaps because for many people Microsoft is the technology revolution. It has played such a key role and continues to do so under Satya Nadella, who has been described as 'the most transformative CEO in US corporate history". He pivoted Microsoft towards the cloud and is now betting massively on AI.
The ferocious rise in US interest rates and long bond yields had triggered a pause in the upward progression of the share price but it looks like no more than that – a pause before normal service is resumed. There have been only three significant down years since Microsoft was floated in 1986. The odds look very favourable when you buy this share as a long-term investor.
Below is an extract from an article by Mustafa Suleyman, a co-founder of Deep Mind, now part of Google.
If the last great tech wave—computers and the internet—was about broadcasting information, this new wave is all about doing. We are facing a step change in what's possible for individual people to do, and at a previously unthinkable pace. AI is becoming more powerful and radically cheaper by the month—what was computationally impossible, or would cost tens of millions of dollars a few years ago, is now widespread.

Mustafa Suleyman, co-founder, Deep Mind, Time Magazine, 1 September 2023
The effects could be mind blowing.
And it's coming faster than we can adequately prepare for. This is an age when the most powerful technologies are open-sourced in months, when millions have access to the cutting edge, and that cutting edge is the greatest force amplifier ever seen. This new era will create giant new businesses, empower a long tail of actors—good and bad—supercharge the power of some states, erode that of others. Whether a giant corporation or a start-up, an established party or an insurgent movement, a wild-eyed entrepreneur or a lone wolf with an axe to grind, here is an immense potential boost. Winners and losers will emerge quickly and unpredictably in this combustible atmosphere as power itself surges through the system. In short this represents the greatest reshuffling of power in history, all happening within the space of a few years.

History can be a useful guide. But with AI, synthetic biology and the rest, we can be confident of one thing: we are facing the genuinely unprecedented.

Mustafa Suleyman, co-founder, Deep Mind, Time Magazine, 1 September 2023
Nobody can imagine how this is going to translate into stock market moves but, as always, I try not to be afraid of the obvious, stocks like Nvidia, Microsoft, Synopsys and Cadence Design Systems all look great ways to play this period of accelerating change.
Strategy – Don't Overthink It
Investors love to look for the hidden gems. That's good if you can find one but don't be afraid of the gems in front of our noses. One of my favourite expressions is – maybe the next Nvidia (or whatever) is Nvidia. The future is wonderfully incalculable. Who would have thought that in the early 2020s we would see a corporation, Apple, valued at over $3 trillion. Especially when you think that Apple was worth around $5bn near the beginning of the millennium (and that is nothing compared to what has happened to bitcoin).
I can remember when many UK-quoted companies were valued at less than £1m. Now, that is almost a starting salary at some high tech businesses; well maybe not quite but we are heading that way.
This is not all growth. Democracy encourages governments to win votes by pump priming the economy with cash, and they are less keen to fund all that spending with higher taxes and aggressive bond market sales, so it would not be surprising if there is a quantity of money effect going on as in oiling the wheels by printing money. This sometimes manifests itself in higher asset prices and sometimes in higher prices for goods and services but in the end it seems that most of it goes into asset prices because they are a scarce resource. The supply of goods and services is much more responsive to demand.
At the extreme, If Elon Musk is to be believed, one effect of advancing technology, generative AI and staggeringly powerful supercomputers is that goods and services are going to become virtually free. How boring that I had to spend my life working for a living but I suppose we all have to do something.
Anyhow, the point is that there is no reason to expect the secular trend in US share prices to stop being onwards and upwards. Europe is different because of the obsession with distributing wealth rather than creating it. Remember that if you think about buying shares. Marks and Spencer shares have more than trebled in the last three years, which is certainly good going and they may again be becoming an interesting share but they are still a fraction of their level in 2007.
Share Recommendations
Cadence Design Systems. CDNS Buy @ $258.50
Microsoft. MSFT. Buy @ $363
Nvidia NVDA. Buy @ $478
Synopsys. SNPS. Buy @ $512