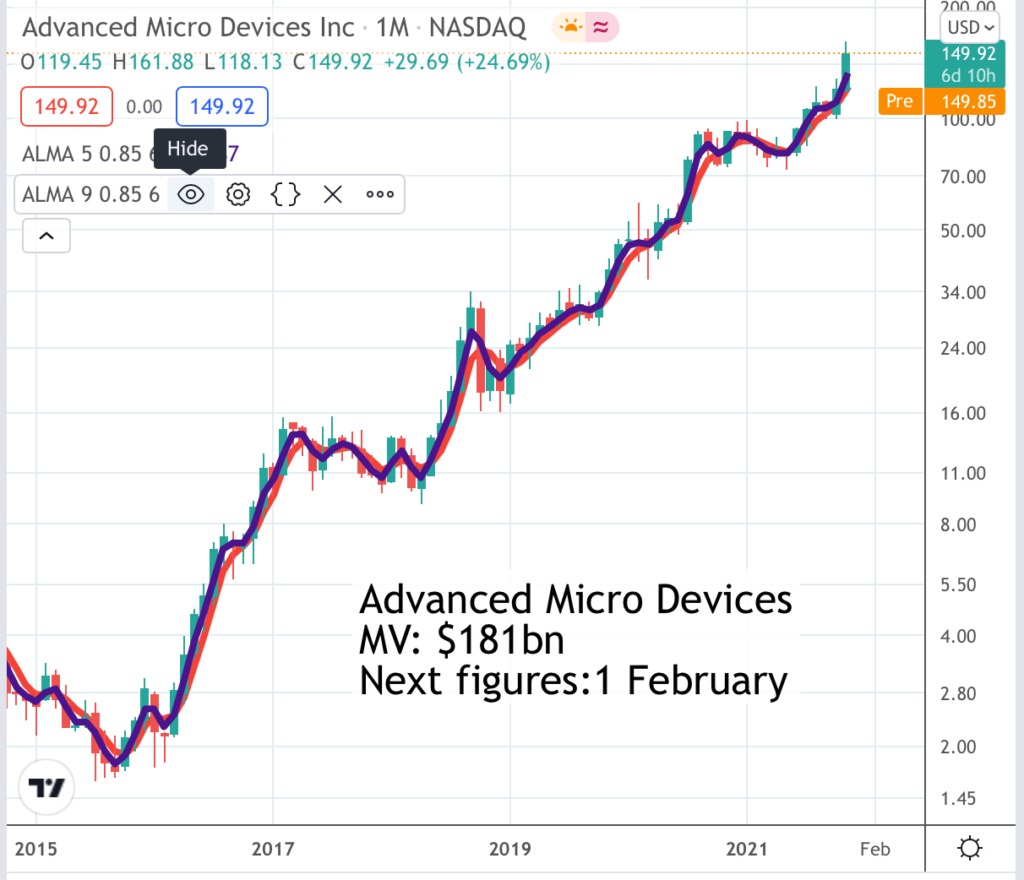 Advanced Micro Devices AMD Buy @ $153. Times recommended: 13. First recommended: $36.50. Last recommended: $147.50
"Exascale is more than a speed milestone or a system size. Exascale is new workloads brought on by new questions intersecting with new compute capabilities to create a major technological shift. … The resulting capabilities will take research and enterprise computing beyond super and into the exascale era."
This is what an article in Forbes had to say about exascale computing.
"We're about to enter the "exascale era" of computing, which could have widespread positive impacts for governments, businesses and society at large. The U.S. Department of Energy recently annouced contracts for supercomputers that will each provide more than an exaflop of performance. That means they can perform 1 quintillion mathematical calculations (called floating-point operations, or flops) every second. But it's not just national governments that care about these powerful computers. The work done on these systems will impact all our lives. And the technologies developed for them will enhance computing systems at all scales, transforming the future of the enterprise."
I have just been looking at an investor presentation by AMD. I think it is a bit of a stretch to call it an investor presentation since you need a PhD in computer science to have more than the sketchiest understanding of what they are talking about. Frankly it is impossible for the layman to evaluate a company like AMD based on a study of the products. We have to take their word for it that they are as cutting edge as they claim and look for other signs of quality in the business.
What is clear though is that it is an exciting time for chip designers in general. When Facebook announced that it was changing its name to Meta Platforms as an indicator of its intention to focus on the development of the Metaverse chip shares took off. This was because Facebook and other companies are going to have to spend staggering amounts on computing infrastructure (an estimated $10bn for Facebook/Meta Platforms alone in 2021) to make the Metaverse a reality and that means huge demand for high level chips.
I do think the Metaverse is going to be amazing and will change the way we work, live and play. Like many things in technology it will probably take longer than we think to fully happen but be even more amazing as and when it does. Meanwhile it looks like being a game changer for the chip industry, especially bearing in mind all then other things that are going on like 5G, AI, the move to autonomous driving and so much more.
Another thing I like about AMD is its superstar CEO, Dr Lisa Su, who, by an amazing coincidence is related to another superstar CEO, Jensen Huang, the CEO and founder of Nvidia, which is increasingly competing with AMD. This is not such a big issue since the market is huge, easily big enough to accommodate the ambitions of both the companies. In its presentation AMD talked about a total addressable market (TAM) of $79bn just for their particular chipsets.
Su became CEO of AMD in October 2014 after an impressive career designing and developing semiconductors. When she arrived the shares were around $3.50 so her impact has been spectacular. In that period the group has gone from being heavily loss making to highly profitable.
The table doesn't go back far enough but the changes really started to take effect from 2017 although the underpinning for the improved performance began as soon as she arrived. DrSU is all about products and under her leadership the product range at AMD has been completely revamped so that instead of being a company making cheap chips for chip PCs in a declining desktop computer market AMD is now making highly competitive chips for gaming, data centres and all the things that go to make up the new era of exascale computing.
It's actually not quite all about products because she has also taken a lot of cost out of the business and is about to complete a bold acquisition.
Its position will be further strengthened with the all-share acquisition of Xilinx which is expected to take effect before the end of 2021. AMD says the acquisition of Xilinx will strengthen the group's data centre business and increase the TAM to $110bn. This is what Su had to say.
"Our acquisition of Xilinx marks the next leg in our journey to establish AMD as the industry's high performance computing leader and partner of choice for the largest and most important technology companies in the world. This is truly a compelling combination that will create significant value for all stakeholders, including AMD and Xilinx shareholders who will benefit from the future growth and upside potential of the combined company. The Xilinx team is one of the strongest in the industry and we are thrilled to welcome them to the AMD family. By combining our world-class engineering teams and deep domain expertise, we will create an industry leader with the vision, talent and scale to define the future of high performance computing. With a combined team of 13,000 talented engineers and over $2.7bn of annual R&D investment, AMD will have additional talent and scale to deliver an even stronger set of products and domain-specific solutions."
Even without this acquisition all the signs are that growth at AMD is accelerating.
"Our business performed extremely well in the third quarter as our leadership product portfolio and strong execution drove record quarterly revenue, operating income, net income, and earnings per share. We delivered our fifth straight quarter of greater than 50pc year-over-year revenue growth, with each of our businesses growing significantly year over year and data center sales more than doubling. Third-quarter revenue grew 54pc to $4.3bn. Gross margin expanded by more than four percentage points and operating income doubled year over year."
The group is now a powerful player in areas where it barely featured before.
"Data center graphics revenue more than doubled year over year and quarter over quarter, led by shipments of our new AMD CDNA 2 GPUs for the Frontier exascale supercomputer at Oak Ridge National Laboratory. Frontier was architected specifically to deliver breakthrough HPC [high performance computing] and AI compute performance and provide a blueprint for how supercomputing, enterprise, and cloud customers can enable exascale-level performance over the coming years by combining AMD CPUs, GPUs, and software. We are very pleased with the performance of our AMD CDNA 2 GPUs and look forward to providing more details on their leadership performance next month. Turning to our enterprise, embedded and semi-custom segment, revenue increased 69pc year over year to $1.9bn, driven by strong growth in EPYC processor and semi-custom sales."
The company remains very positive on the outlook.
"I think overall, we're feeling very, very good about the server business or the data center market. I think from a market standpoint, we've seen a strong market year in 2021 in both cloud and enterprise and we see that continuing into 2022."
In the latest quarterly report Dr Su confirms my impression that the incredible revitalisation of AMD is all about the way she has totally refreshed the product range.
"As we go into 2022, though, I think this is all about the product. And what we view is — our focus in sort of our product line has been moving up the stack, ensuring that we're providing significant value to our customers in terms of total cost of ownership on the server side and innovative features and capabilities on the PC side and the graphics side. And we're going to continue to do that. I mean we're excited about our product portfolio into 2022. We're going to continue to be very aggressive on the overall road map. And with that, I think our game plan is exactly what it was, what it always has been, which is lean into the product cycle, and the deep customer relationships and continue to build that out over time."
We also know that beginning next year she is going to have a bigger business enlarged by the Xilinx acquisition, now worth $55bn thanks to the continued increase in AMD's share price and she will be able to work her magic on that as well.
An analyst with far greater technical knowledge than me had this to say about the competition between AMD and erstwhile industry leader, Intel.
"AMD chips have the performance advantage and the price-to-performance advantage, but most importantly, in my opinion, they have the reputational advantage. It would have been absolutely insane to say that just a few years ago, but AMD has proven recently that its server chips are superior and that its supply chain is more robust than Intel's. Until that situation changes, AMD is firmly in the driver seat in terms of growing its server market share over the coming quarters and years."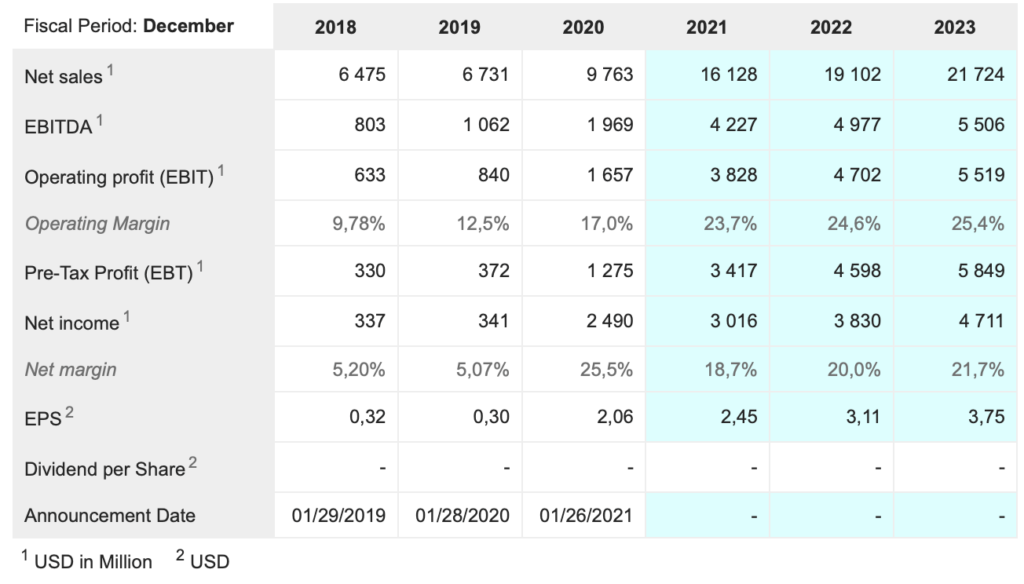 ---

Two things make AMD a strong buy for me. One is the big picture of a dramatically advancing technology revolution driving strong demand for as far as the eye can see. The other is the spectacular reinvention of the business under the leadership of Dr Su. What a doctor she has proved to be. The patient has gone from near death to being an Olympic contender.