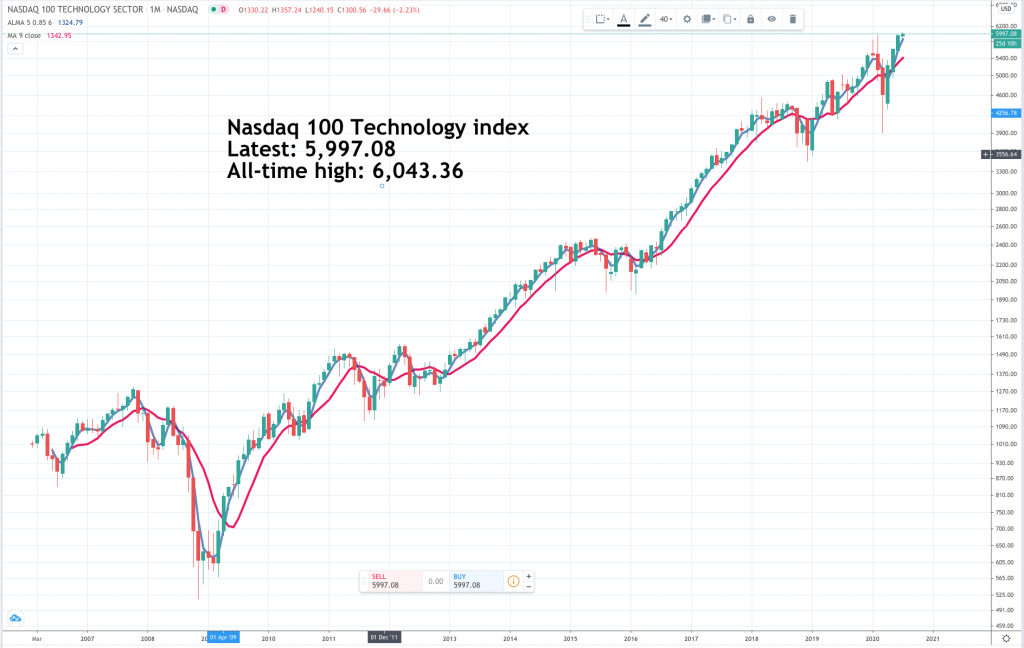 This index is on fire. There is much talk of bubbles out there but as one observer pointed out many technology stocks have been in a bubble for a decade, over which period this index has risen roughly 10-fold. London property has been in a bubble for virtually my entire life time. Bubbles are like beauty, in the eye of the beholder. If you are looking for bubbles you will (a) see them all over the place and (b) miss many wonderful opportunities.
Agora ADS (American Depositary Shares)/ API  Buy @ $58.50  – a pioneer and global leader in Real-Time Engagement Platform-as-a-Service, or RTE-PaaS. Our platform provides software developers simple-to-use, highly customisable and widely compatible application programming interfaces, or APIs, to embed real-time video and voice functionalities into their applications without the need to develop the technology or build the underlying infrastructure themselves. – "In the month of March 2020 alone, we powered more than 40bn minutes of real-time engagement for end users in more than 100 countries through more than 10,000 active applications." For the three months ended March 31, 2019 and 2020, our total revenue was US$13.4m and US$35.6m, respectively, an increase of 165.7pc." – Next figures due: Q2 figures likely in August

Atlassian/ TEAM Buy @ $190 – a global software company helping teams around the world unleash their potential. We build tools that help teams collaborate, build, and create together. – "While we plan to play offence in this cycle, we also acknowledge that the macro economy presents some serious headwinds. Yet in Q3, our performance was unscathed. We posted strong results with 33pc year-over-year revenue growth, 6,200 net new customer additions, and solid profitability." Next figures due: 27 July

Bandwidth/ BAND  Buy @ $131.50 – a software company focused on communications for the enterprise. Companies like Google, Microsoft, Cisco, Zoom and Ring Central use Bandwidth's APIs to easily embed voice, messaging and 911 access into software and applications. Bandwidth is the first and only CPaaS provider offering a robust selection of communications APIs built around their own nationwide IP voice network – one of the largest in the nation. – "Our business fundamentals are strong and lifting our business to new heights." Next figures due: 29 July

Bill.com/ BILL Buy @ $88  – a leading provider of cloud-based software that simplifies, digitises, and automates complex back-office financial operations for small and midsize businesses – "Core revenue, which we define as subscription plus transaction revenue, grew by 63pc year-over-year to $36.1m. Total revenue in the quarter grew by 46pc year-over-year to $41.2m. We also delivered strong non-GAAP gross margins of 78.8pc in the quarter. At the end of the quarter, we had over 91,000 customers, representing 28pc year-over-year growth. Our platform also reaches a large number of SMBs [small and medium sized businesses] through our 1.8m-plus network members. In fiscal Q3, we processed six million payment transactions, representing an increase of 23pc over the year-ago period. During the quarter, we processed $24.2bn in total payment volume, or TPV, on our platform, an increase of 35pc over Q3 of the prior year."  Next figures due: 2 September

Boston Beer/ SAM Buy @ $554  – famous US maker of craft beers, which has been adding to its range with new ranges of alcohol-enhanced soft drinks – "Our depletions growth in the first quarter was a result of increases in our Truly Hard Seltzer and Twisted Tea brands and the addition of the Dogfish Head brands that were only partially offset by decreases in our Angry Orchard and Samuel Adams brands. The growth of the Truly brand and the recently launched Truly Hard Lemonade have accelerated and continue to grow beyond our expectations. Since early January, Truly has accelerated its velocity and has maintained its market share, while other national hard seltzer brands have ceded share. We will continue to invest heavily in the Truly brand and evolve our brand communications and work to improve our position in the hard seltzer category even as more competitors enter. [Hard seltzer, spiked seltzer or hard sparkling water is an alcoholic beverage containing carbonated water, alcohol, and often fruit flavouring. In the US the alcohol is usually made by fermenting cane sugar; sometimes malted barley is used. We are ready to launch an exciting new Truly advertising campaign, but have postponed the launch due to the uncertainties surrounding COVID-19."  Next figures due: 23 July

Cadence Design Systems/ CDNS  Buy @ $98.50  – produces software, hardware and silicon structures for designing integrated circuits, systems on chips (SoCs) and printed circuit boards. – "There has been a silicon renaissance in the industry with strong design activity being driven by generational technology drivers such as 5G, AI, hyperscale computing and industrial IoT. So far, even in the current environment, we do not see any slowdown in design activity. And I do believe this period to be an opportunity especially for market shaping customers to further invest in R&D and accelerate their innovation." Next figures due: 22 July

CoStar Group/ CSGP  Buy @ $725  – leader in transforming the $180 trillion real estate industry from offline to digital. – "We believe that our products remain mission-critical to the vast majority of our clients even as they deal with pandemic-driven market disruptions. If Fortune 500 executives are touring potential new office space in a high-rise tower right now, I believe that it's much more likely they're in their PJs at home doing it on LoopNet rather than touring in person. It's much safer that way. I believe that this phenomena is why Apartments.com had its second-best sales month ever last month. We continue to believe that our data analytics and marketing tools will be among the most viable source of information leads and potential traffic for our customers. Therefore, we remain very confident in our business model and the role we play supporting the CRE industry. We're maintaining our investments to strengthen our position, both from a brand, as well as a product perspective, and believe that we will exit the present uncertainty in a stronger position than before." Next figures due: 27 July

Docusign/ DOCU Buy @ $190 – since its inception in 2003, DocuSign has pioneered the development of the eSignature. Today we offer the world's No. 1 eSignature solution as the core part of our broader platform for automating the agreement process.Our cloud-based platform allows companies of all sizes and across all industries to quickly and easily make nearly every agreement, approval process, or transaction digital—from almost anywhere in the world, on practically any device. Today, as a result, more than 425,000 customers and hundreds of millions of users worldwide leverage DocuSign to create, upload, and send documents for multiple parties to sign electronically.. – "Our billings grew 59pc year-over-year to $342m and revenue grew 39pc to $297m. This strong growth was driven by used case expansion across a broad cross section of our installed base, as well as adoption by new customers. We added more than 10,000 net new direct customers and almost 58,000 self-service customers, bringing our global total of paying customers to nearly 661,000. And our operating margins and cash flow remains strong even as we made key investments to address this heightened demand." Next figures due: 4 September

Experian/ EXPN  Buy @ 2870p – an Irish-domiciled multinational consumer credit reporting company. Experian collects and aggregates information on over one billion people and businesses including 235m individual U.S.consumers and more than 25m U.S. businesses. "FY20 was a really good year for Experian and, despite COVID-19, we closed the year on a high note..For the last few years new product innovations have been adding significantly to our growth rates, and that continued into FY20, adding over half a billion dollars to our revenue. That has more than doubled over the last two years. Our data businesses continue to power the group's growth. We have become a leading consumer brand, with 82 million free consumer memberships globally. That makes us one of the biggest consumer-focused financial services platforms in the world. You have seen over the past few years how we have continually added capabilities to our consumer services business, entering new markets like identity protection and lead generation, and adding unique propositions like Experian Boost. We think one of the lasting consequences for the COVID 19 pandemic would be an even faster acceleration of the existing trends towards the digitisation in all of our markets. Consumer Services will be a long term structural beneficiary of this, and we are extremely well-positioned." Next figures due: 17 November

Fisher & Paykel/ FPH Buy @ A$33.74  is a manufacturer, designer and marketer of products and systems for use in respiratory care, acute care, and the treatment of obstructive sleep apnea. Based in New Zealand, their products and systems are sold in around 120 countries worldwide. – "In February as a result of COVID-19, the demand for our respiratory therapies began to accelerate in a way that is unprecedented. We've seen a change in clinical practice emerged over the last few months with a shift from early intubation and mechanical ventilation for COVID patients to treating with nasal high flow, and that has brought a lot of attention to our products. I'm really proud of what our people have achieved for the sake of patients as we doubled or even tripled our output in some hospital hardware products over just a few months. Our future opportunity is to translate the visible and experience benefits of Optiflow therapy for COVID patients to respiratory patients in general, and then to demonstrate how those same benefits can be applied using myAIRVO for patients in the home. And it's a similar story for invasive ventilation and noninvasive ventilation, COVID-19 is primarily a lung disease and the benefits of humidification become more easily apparent with high numbers of ventilated patients with lung disease. And during this pandemic, those benefits are visible to more and more clinicians than ever, which can only help reduce the hurdles to change." Next figures due: 25 November

Futu Holdings ADS (American Depositary Shares) FUTU  Buy @ $29.36  – an advanced technology company transforming the investing experience by offering a fully digitised brokerage and wealth management platform.- "We added 40,154 paying clients on a net basis in the first quarter, which account for over 60pc of our total net paying client addition in 2019. This brought our total number of paying clients to 239,000, up 60pc year-on-year, which marks our highest paying client growth rate since the first quarter of 2019. Notably, our Hong Kong business, again, maintained a significant growth rate. The total number of Hong Kong paying clients almost doubled from the last March quarter, adding to its streak of over 90pc year-on-year growth rate since we launched our Hong Kong business. We believe that the Hong Kong market offers tremendous opportunities and we are confident of our ability to drive further business growth there with our diversified products and excellent user experience. Besides total paying clients, our two other KPIs [key performance indicators], namely client retention and total client assets also performed well. In the first quarter, we maintained a high paying client quarterly retention rate of 98.1pc. Despite the equities market plunge in March, we were still able to increase our total client assets by 59pc year-on-year to HKD99bn (US$1.28bn) as at the end of first quarter. As for our wealth management business, we on-boarded mutual funds from a number of leading fund houses in the first quarter, including BlackRock, PIMCO, PineBridge, Barings, AllianceBernstein, etc., which greatly enriched our equity and fixed income fund offering. In early April, BlackRock conducted a live streaming event on our platform, discussing the investment opportunities in the healthcare sector. As a leading online brokerage and wealth management platform, Futu will seize the opportunities brought about by this increasing industry consolidation, especially given the structural trend of users migrating from offline training platforms to online financial service providers." Next figures due: 31 August

Globant/ GLOB  Buy @ $155  – an IT and software development company operating in Argentina, Colombia, Uruguay, the United Kingdom, Brazil, the United States, Peru, India, Mexico, Chile, Spain, Romania and Belarus. It was founded in Buenos Aires but currently is headquartered in Luxembourg and principally serves clients in the United States and United Kingdom. – "I'm pleased to say that we have a very strong growth in quarter one, with $191.6m in revenue. This represents outstanding 31pc year-over-year growth. We also had healthy profitability this quarter, with an adjusted net income margin of 12.7pc. Globant has always had teams working remotely throughout the world, and we use artificial intelligence to empower our teams working remotely. We're focusing our talents on our new proposal for the business world – a concept we call augmented collaboration. This will help organisations replicate informal interactions to scale up culture, promote innovation and increase productivity. These are three steps to removing the friction that distance creates. The first is to become an enabler instead of a controller. We tend to feel that people are less productive when they are not physically in an environment that we can control. But this fear is unfounded. The traditional command and control structure does not increase productivity. Globant's solution is to turn things upside down, trust their teams and empower them to self-regulate and own their results. Our agile port framework allows teams to learn continuously, think systematically and adapt quickly to change. They align closely with their clients, while delivering value-added services. The second step is to apply artificial intelligence to foster culture and personal connections and ensure that these are not lost when working from home. We know that culture can make or break a company, and social connections promote employees' engagement. At Globant, we use AI through our StartMeUp OS platform to help us understand the human fibre within an organisation and also to provide a platform that will proactively promote spontaneous interaction between employees. These benefits go beyond the current situation and can effectively enhance the workplace dynamic even when back at the office. Employees feel connected, supported and empowered by one another, rather than from the top down. The third step is to use AI to augment team capabilities. When you no longer have a colleague sitting next to you to ask for suggestions, AI can be the solution to augment your teams, skills and collaboration. We have used AI to create a system that enhance the developers' coding experience and capacities. Augmented code strengthens the learning curve when learning new coding languages or improving skills. Employees receive suggestions to improve their work and see examples of different solutions. It's like having a personal experts to help you understand how every single line of code works. I invite you to discover more about this by visiting augmented.globant.com….  as a pure play in digital and cognitive transformations, we have a unique opportunity to help organisations with this new reality."  Next figures due: 13 August

Hubspot/ HUBS Buy @ $234.50 – helps millions of organisations grow better. Over 78,700 customers in more than 120 countries use HubSpot's software, services, and support to transform the way they attract, engage, and delight customers. – "The way I like to think about the pandemic for HubSpot is that it's like a big storm that blew into our business in the middle of March. The first few weeks, it's largely just a big 200-mile an hour headwind that hit the new business and retention side of our business at the same time. But over the last few weeks of April, the winds have shifted. I'd say we have a 150-mile an hour headwind now, but that's coupled with a 100-mile an hour tailwind as business has been picking up. And when I take a step back, that tailwind makes sense. The world is seeing a surge of companies with historically offline, old school go-to-market models leaning into new school online go-to-market models for the first time. The very platform we sell and methodology we teach were designed to help companies make this shift. These trends represent a long-term tailwind for HubSpot, and I think it's one that will outlast the near-term volatility that we're all experiencing in the current downturn." Next figures due: 29 July

Lemonade/ LMND Buy @ $80 – offers homeowners and renters insurance in the United States, and contents and liability insurance in Germany and the Netherlands, through its full-stack insurance carriers. Powered by artificial intelligence and behavioural economics, Lemonade set out to replace brokers and bureaucracy with bots and machine learning, aiming for zero paperwork and instant everything. A Certified B-Corp, Lemonade gives excess premiums to nonprofits selected by its community during its annual Giveback. Lemonade is currently available for most of the United States, Germany and the Netherlands, and continues to expand globally. – "Since our launch in late 2016, our gross written premium ("GWP") grew from $9m in 2017, to $47m a year later, and to $116m in 2019. For the three months ended March 31, 2020, our GWP was $38m. In parallel, our net losses per dollar of GWP dropped from over $3 in 2017 to under $1 both in 2019 and for the three months ended March 31, 2020. Our revenue was $2m, $23m, and $67m in 2017, 2018 and 2019, respectively, and our net losses were $28m, $53m, and $109m, respectively. For the three months ended March 31, 2020, our revenue was $26m  and our net losses were $37m. Insurance is one of the largest industries in the world. Property, casualty, and life insurance premiums amount to approximately $5 trillion globally, and account for 11pc of gross domestic product in the United States. The scale of the industry is an indicator of the essential role insurance plays in our economy and society. Most homes, cars, and businesses in the United States have some type of insurance coverage. Laws, lenders, and landlords often mandate insurance, making it a non-discretionary product that remains largely unaffected by economic cycles. We believe people typically buy insurance for their entire adult life, producing highly-recurring and naturally-growing participatory revenue streams. These dynamics have produced large, enduring businesses. In the United States, 12 of the Fortune 100 companies are insurance companies, and their average age is about 125 years old. More remarkably, while the world's top insurance companies each generate over $100bn in revenue, no single company has a market share greater than 4pc, underscoring the sheer scale of the industry. Insurance is, at its core, a social good. At a mathematical level, insurance is about a community of people pooling their monies to help their more unfortunate members in their hour of need. This safety net affords individuals the peace of mind they need to buy a home, go on vacation or open a business…. We seek to capitalise on the structural advantages inherent in being a digitally-native, customer-centric, and vertically-integrated insurance company." Next figures due: likely in August

Logitech International/ LOGI  Buy @ $66  – a manufacturer of computer peripherals and software, with dual headquarters in Switzerland and California The company has offices throughout Europe, Asia, Oceania, and the Americas. It is one of the world's leading manufacturers of input and interface devices for personal computers (PCs) and other digital products. – "Our products have never been so relevant. Logitech's contribution in these difficult times is that many of our products play a small but essential role in helping everyone stay engaged and connected, whether that's co-workers collaborating from home or teachers providing remote instruction to students, or kids playing and watching games. The long-term secular trends that will drive sustainable growth in our three large businesses continue. While other companies are suffering declining interest in their categories, this global crisis may have accelerated the trends underlying our big businesses. Companies are moving faster to adopt video-centred cultures. eSports and Gaming are becoming an even bigger part of our lives. And working from home, including creating and streaming content, for many of us, is settling in to stay. Companies are setting up business continuity plans that involve a more distributed workforce, and they need a desktop set up, including a mouse and a keyboard and more. Independent of the company's facilities, employees are increasingly setting up their own personal home office, whether that's in a dedicated workspace or at their kitchen counter. A growing number of companies and employees are realising that working from home can work, so to speak, and they will duplicate their office and then upgrade it as time goes on. We will see less business travel, more video and more virtual collaboration. eSports, whether it's Fortnite or e-racing tournaments, had record viewership as real live sports have been replaced by virtual sports for now. Examples include NASCAR turning to virtual e-racing. Twitch set record highs in viewership, while Microsoft saw all-time record engagements for Xbox Live. Traditional sports will return, but the rise of eSports will continue to happen, perhaps even faster than I originally envisioned. Streaming, broadcast and content creation are increasingly becoming not only a form of entertainment, but also a source of income for more and more people. You see this happening real-time on your Instagram, LinkedIn, YouTube and Facebook feeds. And of course, this global crisis has led to an even greater focus on remote work and learning. Home offices are doubling as schools. And things won't pop back to the old way when this is over. Much of this is the new normal. More home office, more video everywhere, more gaming and more broadcasting. Those are exactly the secular trends we've built our future around." Next figures due: 21 July

Nio Inc./ NIO Buy @ $11.50  – a pioneer in China's premium electric vehicle market. We design, jointly manufacture, and sell smart and connected premium electric vehicles, driving innovations in next generation technologies in connectivity, autonomous driving and artificial intelligence. Redefining user experience, we provide users with comprehensive, convenient and innovative charging solutions and other user-centric service offerings.- "Nio announced that investors have substantially completed the cash injection obligations for the first two instalments of their investments in NIO China.  which has received from the investors RMB4.8bn (US$685m) out of the RMB5bnn of cash investments for the first two instalments. The remaining RMB200m of the first instalment will be paid prior to 30 September, 2020. …NIO delivered 3,740 vehicles in June 2020, representing 179.1pc growth year-over-year. The deliveries consisted of 2,476 ES6s, the company's 5-seater high-performance premium smart electric SUV, and 1,264 ES8s, the company's 7-seater high-performance premium smart electric SUV, and its 6-seater variant. NIO delivered 10,331 vehicles in the second quarter of 2020, representing an increase of 190.8pc year-over-year and an increase of 169.2pc quarter-over-quarter. As of 30 June 2020, cumulative deliveries of the ES8 and the ES6 reached 46,082 vehicles, of which 14,169 were delivered in 2020." Next figures due: 29 September

Pool Corporation/ POOL Buy @ $269  – the world's largest wholesale distributor of swimming pool and related outdoor living products operating over 375 sales centres in North America, Europe and Australia. – "Our first quarter revenues rose 13pc in both our base and total business to a record of $677.3m, driven by an early spring which as you know, results in pools opening sooner and customers getting a jump-start on construction and remodel activities. While we did have a strong start to the season and that has continued in several areas including Florida and the Southeast, we saw a definite shift midway through March as certain municipalities, particularly in California, the Northeast and the Midwest implemented stay at home orders that limited our customers' ability to operate…. We believe that as the economy begins to reopen families may choose to invest in the backyard pool and outdoor living opting for the safety and security it can provide versus the uncertainty of cruises, global travel and resorts." Next figures due: 23 July

Prologis/ PLD Buy @ $95 – the global leader in logistics real estate with a focus on high-barrier, high-growth markets. As of 31 March  2020, the company owned or had investments in, on a wholly owned basis or through co-investment ventures, properties and development projects expected to total approximately 965m square feet in 19 countries. Prologis leases modern logistics facilities to a diverse base of approximately 5,500 customers principally across two major categories: business-to-business and retail/online fulfilment. – "Our first quarter was very strong in all parts of the business. While we are just 30 to 90 days into the COVID economy, we are seeing short-term effects play out very differently across our customer industry sectors. At this time, roughly 60pc of our customers are growing and 40pc are shrinking.We continue to experience elevated e-commerce demand, a 40pc share of new leasing versus 23pc pre crisis. We see three clear themes at this point. First, potential consumer product sectors are driving the demand. Second, e-commerce is driving demand across industry sectors; and third, our larger customers are faring much better than smaller customers in this environment. While our current leasing data is holding up very well, and we see extremely encouraging trends with e-commerce leasing, we are planning on a reduced demand environment through the end of 2020. We will have opportunities to serve our customer segments in expansion mode, and we will need to support others not so fortunate. We expect to serve as a reliable alternative for build-to-suit customers, take advantage of investment opportunities as they emerge and manage our strategic capital vehicles prudently and opportunistically in this environment." Next figures due: 21 July

S4 Capital/ SFOR  Buy @ 300p  – a specialist in digital media, formed by Sir Martin Sorrell and growing by acquisition. True to form for Sir Martin Sorrell (the third Saatchi of Saatchi & Saatchi and the dealmaking genius behind the growth of WPP) , the group has been built through a series of deals (using half cash, half shares); 10 so far and more can be expected. Management is on the lookout for smaller opportunities in high-growth areas such as data and analytics, with an eye on the German market in particular. –"Our three year plan calls for a doubling  of gross revenue and profits… People are safe and mostly working from home / S4 continues to lead the industry in growth and margin / Strong balance sheet and liquidity, stress-tested / Early cost action taken and we retain flexibility / Favourable client portfolio for growth / Healthy new business record and pipeline / Trends are towards increased digital transformation / Covid-19 accelerates adoption of S4 model and integration / Ready for recovery, whatever the shape." Next figures due: 11 September

Tencent/ 700 Buy @ HK$515  – the world's largest video game company, one of the world's largest social media companies, and one of the world's largest venture capital firms and investment corporations. Its many services include social network,,music, web-portals, e-commerce, mobile games,,internet services,, payment systems,, smartphones and multiplayer online games, which are all among the world's biggest and most successful in their respective categories. Offerings in China include the instant messengers, Tencent QQ and WeChat and one of the largest web portals, QQQ.com. It also owns the majority of China's music service, Tencent Music Entertainment, with more than 700m active users and 120m paying subscribers. – "Total revenue was RMB 108bn (US$15.5bn), up 26pc year-on-year and 2pc quarter-on-quarter. Gross profit was RMB53bn, up 33pc year-on-year and 15pc quarter-on-quarter. Net profit attributable to equity holders was RMB27bn, up 29pc year-on-year and 6pc quarter-on-quarter. Our platforms and products have never been more needed and relevant as users stay at home. We believe this experience will lead to an acceleration of digitalisation going forward. In social, users rely heavily on our social platforms to stay connected. Combined MAU [monthly active users] of Weixin and WeChat increased 8pc year-on-year to over 1.2bn. In games, more players spend more time online, further strengthening our number one position in China. Our games also continue to grow internationally. In media, video views and subscriptions continue to expand as we release top tier content. Music subscriptions increased, driven by effective content. In FinTech, we operate the largest mobile payment platform in China by DAU [daily active users] and number of transactions, increasing and supporting small businesses. In cloud, we are the number two  public cloud services provider in China, steadily picking up market share amid intense competition. In utilities, we maintain our industry leadership in mobile security, mobile browser and android apps store in China." Next figures due: 12 August

Tractor Supply/ TSCO  Buy @ $133.50  – the largest rural lifestyle retailer in the United States has occupied a unique niche, as a one-stop shop for recreational farmers, ranchers and all those who enjoy living the rural lifestyle, for more than 80 years.Tractor Supply offers an extensive mix of products necessary to care for home, land, pets and animals with a focus on product localisation, exclusive brands that address the needs of the 'out here' lifestyle. With more than 33,000 team members, the company leverages its physical store assets with digital capabilities to offer customers the convenience of purchasing products they need anytime, anywhere and any way they choose at everyday low prices. – "We are seeing significant changes in consumer shopping behaviour from trip consolidation, to their preferences for contactless payments, to their preferences for curb side pickup and home delivery.  I believe the crisis represents an opportunity for us and we are moving rapidly to capitalise on those opportunities. We've seen significant increase in buying online and pickup in-store orders and customer adoption of curb side pickup has been remarkable. With more than 70pc of our recent buy online pickup in-store orders utilising the curb side pickup option. Tractor Supply now offers customers the safety and convenience of same-day and next-day delivery on almost all the inventory in our stores, nearly 15,000 items that our customers need . This includes things like livestock feed, dog food, power tools, tillers, riding lawnmowers, chicken coops and even more. They can order all these, have them picked out of our stores, loaded into trucks and cars and brought to their homes, all without having to ever leave their farmer home. We are now the nation's first major general merchandise retailer to offer same-day delivery from 100pc of our stores. Our e-commerce business experienced remarkable growth as we moved through March, and that growth is continuing in the second quarter. The importance of our store network is evident with the strong growth in buy online, pickup in store. And it's a more cost-effective way for us to fulfil these online orders. This is another area where we're seeing rapid adoption by customers. In the latter half of March, nearly 30pc of our buy online, pickup in store orders were from new customers. Along with that, 65pc of the orders were by customers that were using this service for the first time. Categories that involve living amore sustainable life and enjoying the outdoors are experiencing robust growth. Our customers are engaging in activities such as backyard gardening, lawn care, landscaping, homesteading, fencing, and backyard poultry, all these categories are strong and they're playing to our strengths. From a customer perspective, we are growing with existing customers but also gaining new customers. Within our Neighbour's Club, we're seeing existing customers making their first purchase in other categories in pet food and livestock feed, poultry departments starting to cross-shop like they have not before. In addition, we're reactivating members and we're experiencing record highs in our new customers. In summary, the first quarter represented solid performance by the team, and the second quarter is off to a strong start."  Next figures due: 23 July.

Wix.com/ WIX  Buy @ $276  – an Israeli software company, providing cloud-based web development services. It allows users to create HTML.5 websites and mobile sites through the use of online drag and drop tools. Along with its headquarters and other offices in Israel, Wix also has offices in Brazil, Canada, Germany, India, Ireland, Lithuania, the United States, and Ukraine. Users can add social plug-ins, e-commerce, online marketing, contact forms, e-mail marketing, and community forums to their web sites using a variety of Wix-developed and third-party applications. The Wix website builder is built on a freemium business model, earning its revenues through premium upgrades. – "Obviously, if we look at the last couple of months, as I am sure all of you had a chance to go over and seen the PR, the numbers are great, growth has been incredible. I think the understanding of how important it is to have your business on the Internet has grown dramatically and if you look on the long-term, I think that this effect is probably a lot more fundamental. Many people have been locked at home for months having a chance to rethink about how the difference and in many ways reestablished their businesses and learned about how they can do better by being online. We've seen many cases of people moving traditional businesses that have been done in the same ways for hundreds of years into a new format, which is completely online. And I think that this change in perception, change in behaviour is something that is probably going to last and has accelerated what would have happened naturally over the next decade or two." Next figures due: 22 July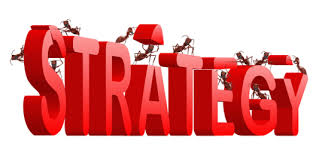 I recently read an article called 'The art of not selling.' The proposition behind the article is that all the profits from a portfolio typically come from a handful of shares, say 25pc of the portfolio. He then made the killer point. These profits will only accrue to investors, who hold those shares long-term and most people find that very difficult to do.
This how the writer summarised the points made in his article.
Great long-term investing is 1pc buying, 99pc waiting.
The power of compounding can only be achieved by holding a security for years if not decades.
The mistakes that will most impact your performance are likely to be decisions to sell too soon.
Being passively active via a "coffee can" portfolio approach* focused on quality can create tremendous alpha (the essence of the Quentinvest approach).
One of the most powerful concepts in portfolio management is to let your winners run. Simple, yet very difficult to execute.
This is brilliant stuff. It takes time to make money. Bezos is the richest man in the world but it didn't happen overnight. The company was founded by Bezos on 5 July 1994. What he has done is remain substantially invested in the business for the whole period since then. Anyone else who had done the same by buying the shares immediately after the IPO and holding them to now would have made a fortune whatever happened to the rest of the shares in their portfolio; that is the effect of running your winners but it is hard to do. You would probably have paid $1.50 if you had bought Amazon shares on day one in 1994.
Incidentally, Amazon shares have always looked wildly over-priced. There is no doubt that looking wildly over-priced is actually a key characteristic of great growth shares. When you think about it this is obviously going to happen. A share is never going to be great and cheap. It would be like expecting to buy a world class striker for a premier league team but being able to buy him for say £5m. It's never going to happen except by some strange fluke (think Jamie Vardy, who came out of nowhere at 27 and cost Leicester City £1m in 2012). So, if the shares you want to buy or hold look overvalued that is totally normal and not a reason not to buy or if you hold them, to sell. This is why I pay no attention to value.
There is one moment when great growth shares can and usually will be cheap and that is when investors fear a global economic collapse. They panic and for a while everything is on sale including great growth shares. Between December 1999 and October 2001, in the aftermath of the attacks on the World Trade Centre, Amazon shares fell from a peak $113.50 to $5.50. Bezos noted later that if anything the group's growth was accelerating during this period.
Such buying opportunities are rare but we have just had one. Shares were indiscriminately slammed as the threat posed to global economic activity by the Covid-19 virus became widely known. Lockdown has indeed had a cataclysmic effect on the global economy but (a) businesses and people are adapting with great speed and (b) it has turbocharged the trends involved in moving from a mostly offline to a mixed offline/ online world. Many technology shares have boomed and other shares have also done well, many rather unexpectedly.
Furniture businesses are booming, shares in companies catering for outdoor activities are doing well (note Pool Corporation and Tractor Supply above), some restaurant businesses like Chipotle Mexican Grill, Domino's Pizza Inc. and Wingstop (all in the QV portfolio) are in great shape partly because they have adapted to digital ordering, take out and delivery but also because a great deal of capacity is going out of the industry, either because venues are going bust or because social distancing rules have reduced the number of covers per location.
There are other things happening like a strong rebound in online commerce in China. I see China increasingly on a similar technology track to the US and since most exciting Chinese technology shares are quoted in the US and/ or Hong Kong they are available for overseas investors and some of them are growing at incredible rates. Valuations are scary but I am making selections in this area just as I have done with some biopharma stocks.
I have always had the attitude in the stock market that paradoxically it is safer to embrace risk than try to avoid it. Cheap investments and sure things are nearly always fools' gold.
Naturally the art of not selling only applies to shares in companies that are worth holding. A portfolio put together in the 20th century is unlikely to be hitting the ball out of the park in 2020. This is where my emphasis on shares which are 3G (great story, great growth, great chart) plus some magic becomes important. Those are the shares you want to hold for the long run. Give those companies the time they need to make your fortune and don't be afraid to keep repositioning your portfolio around the best performers. This is all part of running your winners and cutting your losers. It is something I do all the time, too much actually. I would definitely do better by doing less.
Sadly, sometimes companies fall to earth. I don't know if that is what is happening to Boohoo Group. They obviously have a problem with their suppliers in Leicester, a city I have never visited so I don't know if it is as full of fetid sweat shops as the Sunday Times investigation suggests. Many people would think it is a problem that should never have occurred but it does seem solvable and they obviously have a huge incentive to solve it to maintain the health of what in most respects looks a very strong business. Personally, I have sold my shares in Boohoo at a loss. There are too many other fish in the sea and my daughter was extremely disapproving, when she discovered I held the shares. Nevertheless my guess is that they will recover and since they are in the QV portfolio I shall be watching them closely.
My general feeling is that we, especially the US, are in a bull market that has a long way to run. American business is on fire and if, as seems likely, Joe Biden, becomes the next president, he is unlikely to want to disturb that situation. He is even older than me so I am pleased to think that he believes he can still run America. He cannot be worse than the present incumbent , who is surely going to become a textbook example of the biggest idiot ever to run America – more bleach anyone!
More on the 'coffee can' approach mentioned above:-
*This brings an idea introduced by Robert G. Kirby in 1984 called the Coffee Can portfolio. In his white paper, Kirby explains:
You can make more money being passively active than actively passive.
Being passively active is an extreme version of the good old "buy and hold" approach. In short, he's preaching the art of not selling.
The active part is your buying strategy – your investment selection.
The passive part is your behaviour – that is, not to sell at all, for as long as you possibly can. Sitting on your hands if you will.
Robert G. Kirby uses the image of a Coffee Can to illustrate the passively active approach. He explains:
The Coffee Can portfolio concept harkens back to the Old West, when people put their valuable possessions in a coffee can and kept it under-the mattress. That coffee can involved no transaction costs, administrative costs, or any other costs. The success of the program depended entirely on the wisdom and foresight used to select the objects to be placed in the coffee can to begin with.
Assets are picked for their inherent quality and left alone over an extended period. An obvious benefit to this approach is that you will likely think twice before adding a position to the portfolio. But it's time itself that allows for such a strategy to succeed.
The Coffee Can portfolio is, to a large extent, part of Warren Buffett's strategy. He likes to say that his favourite holding period is "forever." This approach has generally implied high concentrated bets. It certainly worked out well for him. As of end of March 2020, Buffett had 71pc of his equity portfolio at Berkshire Hathaway in his five biggest holdings.
Quentinvest was launched explicitly with the idea of never selling. Many subscribers have said to me with hindsight after three years of making recommendations that never selling really works. I agree (the total portfolio is up over 40pc allowing for a few disposals of obvious duds, which if not sold effectively sell themselves by shrinking dramatically in value) but it is never going to be exactly what I do. I believe in patience with good stocks but not with those obvious duds. Now all I need to do is practise what I preach and hang on to those great stocks I keeping finding, for years and decades.