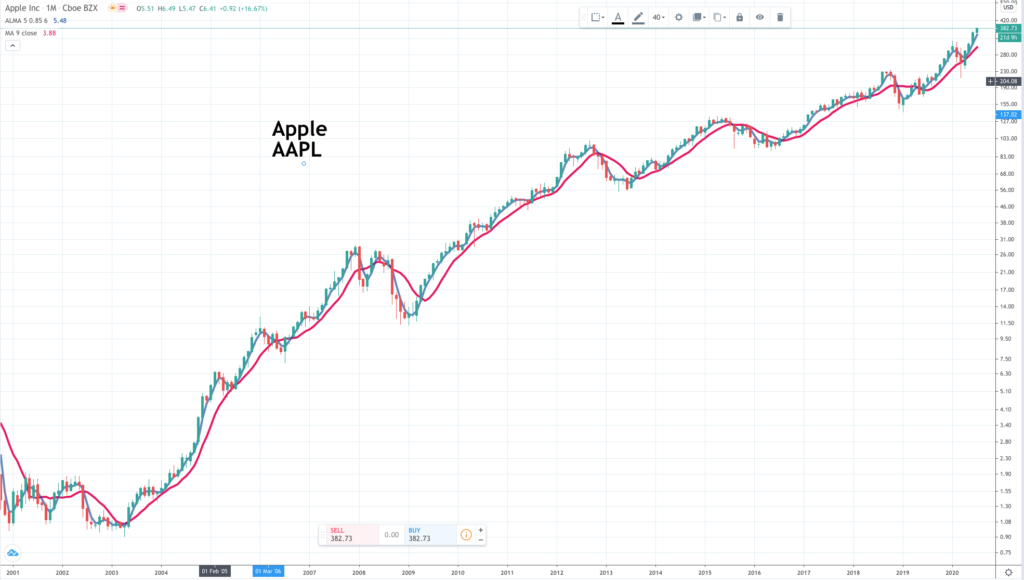 Apple is the biggest of the behemoths and has been tipped so many times across all my publications I have stopped counting. It is over 50 times, probably well over. It still looks good. The chart looks great; the fundamentals remain outstanding. The company is still full of ambition.
My family, like millions around the world, are major Apple customers for both devices and services. I just cannot imagine using phones or computers that don't have a partly chewed apple somewhere. They remain classic 3G + magic + something new which is another feature I am considering adding to my stock selection criteria. In this world of innovation, if a company is not doing something new and exciting they are asleep on the job.
My criteria for behemoths is a market value over $100bn. Apple is currently valued at $1.66 trillion and is one of four US tech giants valued at over $1 trillion. The others, all in the QV portfolio and included in the list of recommendations below are Microsoft, Amazon and Alphabet/ Google, which topped the trillion dollar mark for the second time recently. They all look as full of running as Apple.
This is not surprising. They all have globally strong core businesses generating tidal waves of cash, which they use to constantly improve what they are doing and develop exciting new products and services. They can then launch these on a global army of people, who know and trust their brand names. Apple had sales of $260bn in the year to 30 September 2019 and free cash flow of nearly $59bn; that is over $1bn a week!
While governments are drowning in a sea of debt, these giant corporations go from strength to strength, which may one day become a source of conflict but right now we need them to create the modern world.
We are looking at business models of staggering power like nothing ever seen on planet earth. You could say it is a little reminiscent of the first age of billionaires like Rockefeller and Carnegie at the end of the 19th century, when America first emerged as an economic super power.
My full list of behemoths to buy is below, in alphabetical order. I am bringing in the Chinese names because I am increasingly bullish about Chinese technology. America is no longer the only game in town.
Accenture/ ACN Buy @ $219 MV: $139bn
Adobe Systems/ ADBE Buy @ $460 MV: $221bn
Alibaba/ BABA Buy @ $261 MV: $701bn
Alphabet/ GOOGL Buy @ $1516 MV: $1036bn
Amazon/ AMZN Buy @ $3177 MV: $1587bn
Apple/ AAPL Buy @ $381 MV: $1659
Facebook/ FB Buy @ $243 MV: $697bn
Microsoft/ MSFT Buy @ $213 MV: $1625bn
Netflix/ NFLX Buy @ $507 MV: $223bn
Nvidia/ NVDA Buy @ $420 MV: $258bn
PayPal/ PYPL Buy @ $183 MV: $215bn
Salesforce.com/ CRM Buy @ $200 MV: $180bn
Shopify/ SHOP Buy @ $1040 MV: $122bn
Tencent/ 700 Buy @ HK$546/ US$70.5 MV: HK$5,332bn/ US$688bn
Tesla/ TSLA Buy @ $1394 MV: $258bn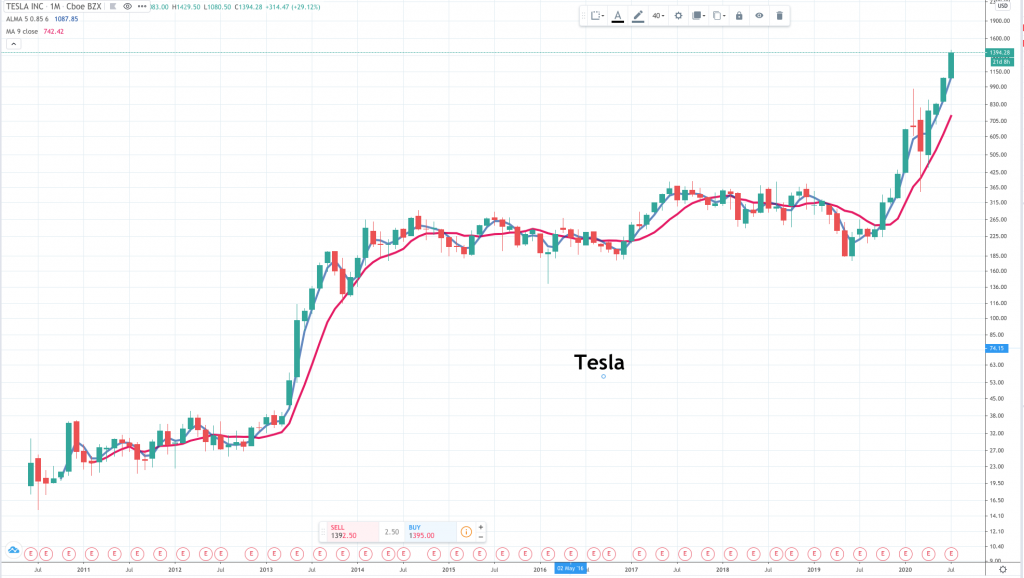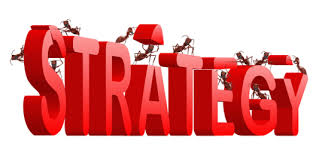 There are several new entries to the list above v the last list of behemoths I recommended. The newcomers are Accenture, which is new to the QV portfolio and Alibaba, Salesforce.com, Shopify and Tencent, four stocks, which are already in the portfolio.
Accenture is a giant global consulting business. This is how it describes itself.
"Accenture is a leading global professional services company, providing a broad range of services in strategy and consulting, interactive, technology and operations, with digital capabilities across all of these services. We combine unmatched experience and specialised capabilities across more than 40 industries — powered by the world's largest network of advanced technology and intelligent operations centres. With 513,000 people serving clients in more than 120 countries, Accenture brings continuous innovation to help clients improve their performance and create lasting value across their enterprises."
Over the last five years the company has delivered a 22pc compound annual return to shareholders. It is 3G + magic and reinventing itself as fast as it can to deliver increasingly digital services over a digital network. On its web site it sums up what it does as – "leading in the new".
I don't just choose these shares tabled above for their outstanding fundamentals. I think they are still timely to buy. I also think they are highly appropriate as core holdings for a forward-looking equity portfolio. I sometimes describe stocks like these as 'must-owns'.
Many people worry that it is to late to buy. I would say it is never too late to buy high quality stocks. So many investors are too cautious. Not me: I am gung-ho nearly all the time but it works. The world belongs to the optimists.