ZoomInfo Technologies builds huge marketing database to help sales forces reach the right targets
November 19, 2021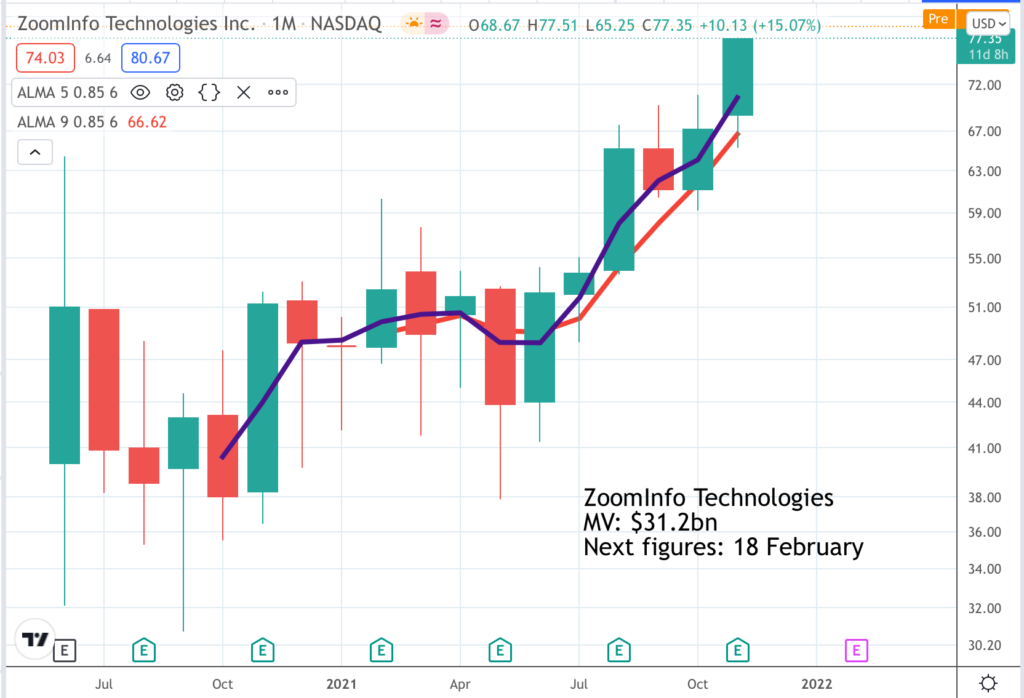 ZoomInfo Technologies. ZI. Buy @ $77.35. Times recommended: 6. First recommended: $49.97. Last recommended: $66.50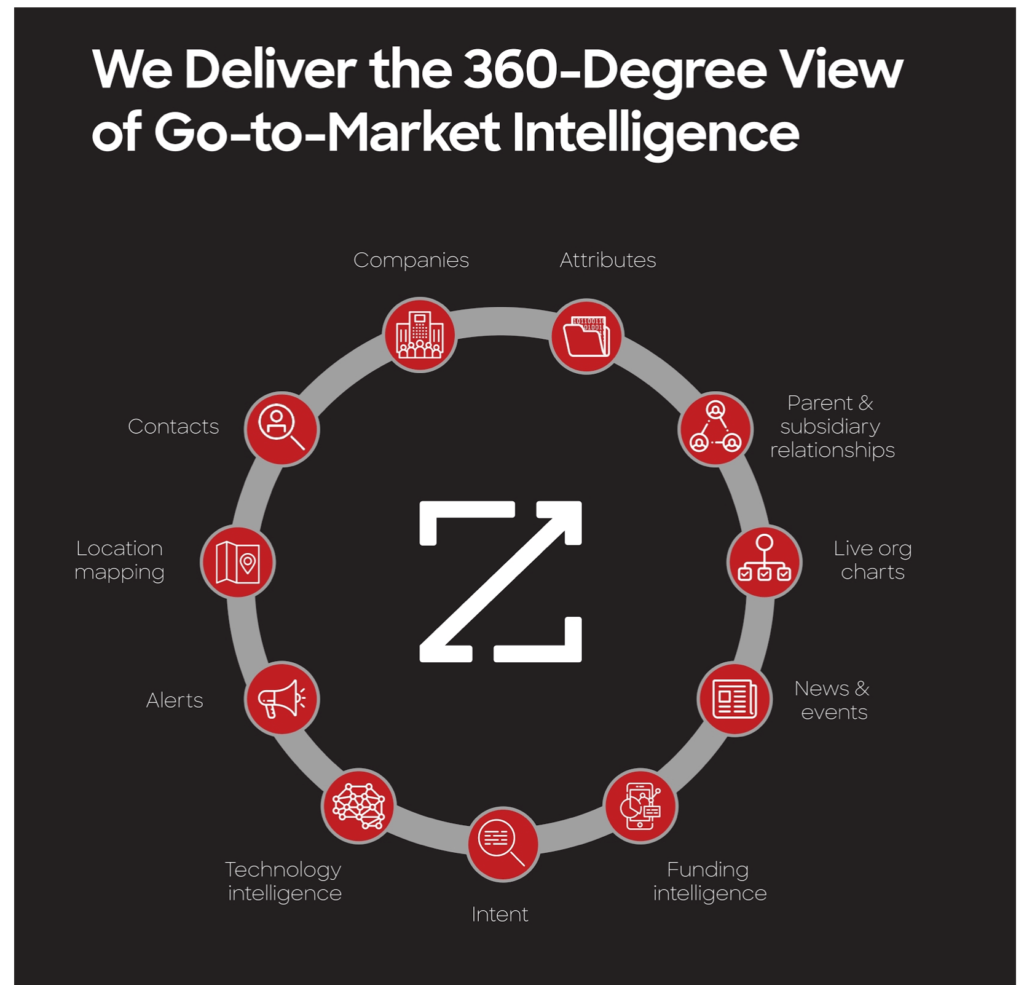 Above is a representation of what ZoomInfo Technologies does for its clients in graphic form. It's really a productivity tool. Salesmen need to 'hit their numbers' in the words of ZoomInfo CEO and founder, Henry Schuck. The problem is that a lack of organised data means they spend much of their time trying to identify the right targets and keep up with their movements as they change companies, win promotion, get fired or whatever. In an ideal world they would focus all their efforts on making a sale. ZoomInfo exists to help them do that as efficiently as possible.
Artificial intelligence and machine learning plays a key role in ZI's intelligence gathering operations.
"By leveraging artificial intelligence ("AI") and machine learning techniques ("ML"), the ZoomInfo platform is able to process billions of raw data events and refine them into unique and actionable insights. To create these insights, our platform continuously collects, enriches, curates, and verifies the data from millions of proprietary and public sources, including our contributory network, which captures data on over 50m contact record events daily from our free Community Edition users and many of our paying customers.
Our software, insights, and data enable over 14,000 companies to sell and market more effectively and efficiently. Our customers operate in almost every industry vertical, including software, business services, manufacturing, telecommunications, financial services and insurance, retail, media and internet, transportation, education, hospitality, healthcare, and real estate, and range from the largest global enterprises, to mid-market companies, down to small and medium-sized businesses ("SMBs"). As customers continue their journey with us, we help them move up the go-to-market maturity curve from basic go-to-market operations, such as finding target accounts and contacts, to more sophisticated motions, such as prioritizing accounts, automating workflows and campaigns, crafting nuanced pitches, and monitoring deal momentum. Our robust suite of software and insights supports every step along that journey."
ZoomInfo floated in June 2020. Since then progress has been strong with an acceleration in the latest quarter, Q3 2021. The number of customers now exceeds 25,000 of whom 1,250 have an annual contract value (ACV) over $100,000 a year. This is growth of 70pc in a year and compares with 580 such customers at the time of the IPO.
Another staggering sign of how fast the group is growing is that a business with last reported staff numbers of 1,747 added 500 employees during the quarter. In an interview in March 2021 Schuck said the company had doubled its employee numbers during the pandemic and because he was too young, 37 years old, to be vaccinated he had not actually met any of the new arrivals.
"There is a global fight for talent, and we win more than our fair share because of the culture of success we've created, our continuing investment in our people to create long-term career development opportunities and our focus on diversity and inclusion. As a result, in the third quarter alone, we hired more than 500 employees, and we continue to hire aggressively to support our long-term growth."
The group also has a huge and largely unexploited international opportunity.
"Our investments internationally continue to be a success story. We materially grew our data coverage in Europe and expanded the number of reps targeting the international opportunity. We're in the process of opening an office in the UK and have already hired our first team of sales reps that will be based there. Because of our highly differentiated offering, demand for our platform is high, driving year-over-year international revenue growth greater than 80pc in the quarter, with international representing more than 11pc of our overall business or over $80m on an annualized basis."
As is the case with cutting edge technology businesses across the technology spectrum innovation is a key growth driver. R&D spend has been relatively modest but is now growing explosively from $10.6m for Q3 a year ago to $34.4m for the latest quarter.
"In the third quarter, we continued to expand our modern go-to-market platform and drove further innovation and integration across the intelligence, engagement and orchestration layers of the ZoomInfo platform. Prospects and customers tell us they want a one-stop shop a unified platform, and they want their investments across the sales tech stack to be integrated. This further reinforces the competitive moat that we are building with our unified platform.
Starting with the intelligence layer, we continue to grow our contact and company automation. We now have information on more than 150m business professionals and 100m companies. Internationally, we grew our company and contact data coverage in Europe by approximately 80pc this past year, and we now cover nearly all businesses with more than 100 employees in Europe. We have expanded our healthcare data asset, adding nearly half a million new contacts and enriching 750,000 others with supplemental contact information."
This compares with the figures of the IPO when the company said.
"We provide a comprehensive 360-degree view on over 14m companies and 100m professionals. We combine this with deep insights, such as personnel moves, pain points or planned investments, technologies used by companies, intent signals, advanced attributes (such as time series growth, granular department and location information, and employee trends), organizational charts, news and events, hierarchy information, locations, and funding details. Our intelligence is kept up to date in real time. This enables us to provide our customers with a contractual guarantee that at least 95pc of the employment information they access will be current."
The company is also innovating to make sure that its data complies with privacy requirements.
"During the quarter, our privacy team engaged with dozens of multinational customers and prospects as subject matter experts on worldwide data use and privacy through guidance from that world-class privacy team, Fortune 1000 network operations and security company rolled out our global data passport by leveraging the robust set of data privacy controls offered within our platform, including master suppression functionality and region-by-region granular privacy filtering capabilities. Additionally, a fast-growing internationally based payments processor brought ZoomInfo on in 2020 to fuel their expansion into North America. After a year of success with their North America-based teams, our privacy team began engaging with the company's data protection officer who had more than 15 years of experience navigating data privacy regulations across more than 120 countries. Our team was able to walk through our global privacy notice framework, historical opt out and notice metrics and developments — and developments in platform native controls that would assist in their compliance practices, including our prebuilt do not call screening, and integrated master suppression filtering."
The company is using its data base to make constant improvements to its support of sales professionals.
"On the engagement layer of the ZoomInfo platform, we've continued to invest and engage our sales automation solution. We enhanced email analytics, enabling sellers to optimize their email content, timing and audiences to improve response rates and added an intelligent recommendations engine to deliver insights on the personas, most likely to engage based on prospecting history. These recommendations are based on a combination of data from ZoomInfo and response activity from Engage interactions with a seamless integration to easily import look-a-like audiences that maximize future engagement rates.
With these significant product improvements, in Q3, we added the most ACV ever for Engage. Since its introduction in Q3 of last year, we now have more than 2,000 customers leveraging Engage to drive automation and efficiency in their sales motions. As an example, in the quarter, we closed a six-figure enterprise deal with a Swiss-based pharmaceutical company, where nearly 50pc of the ACV came from the intelligence layer and our global data passport and the other 50pc came from the engagement layer."
The group has also made an exciting acquisition.
"In July, we acquired Chorus.ai, a leader in conversation intelligence, a market which we estimate to be an $18bn opportunity.
In addition to quickly integrating Chorus into the ZoomInfo platform, we are aggressively investing behind conversation intelligence, driving new and innovative capabilities to help our customers succeed and further drive our technology advantage. We plan to grow headcount on the Chorus product materially over the next year. Since the acquisition, we've rolled out a number of significant enhancements to the Chorus product. Chorus customers who use Salesforce and Engage can now automatically save call recordings, transcripts, and insights to their Salesforce CRM [customer relationship management] accounts.
In September, we launched the next iteration of Chorus' revenue intelligence capabilities, which gives users a clear view of momentum across all deals in their pipeline. Sales leaders, managers and reps all now have the tools that they need to analyze and identify opportunities or risks in the pipeline, enabling our customers to close more business and efficiently drive growth. We also launched the native Chorus app for Zoom Video Communications.
The new app brings Chorus directly into the Zoom meeting experience, enabling improved tagging, note-taking direct syncing with Salesforce and the ability for sales reps to immediately activate specialists, overlay sales support and others to join a call-in real time."
The company is also applying its technology in the recruitment market.
"From a future perspective, we added recruiter pipeline management, allowing users to track and manage candidates through pipeline stages for the specific hiring projects they are working on and enabling better integration with with applicant tracking systems. Through contributions from our innovation and data science teams, we added a likely to listen score that uses a variety of ZoomInfo data to help recruiters find candidates that are statistically more likely to be open to changing jobs. We also added a new integration with PC Recruiter, which allows talent acquisition professionals to add candidates to their candidate pipeline. Within the orchestration layer, we added significant capabilities through our acquisition of the leading data orchestration platform, RingLead.
RingLead ingests cleans, enhances segments, scores and routes customers' data then provide a flexible, customizable and rules-driven approach to integrating this data into a company system of record. In Q3, we launched our first integration between RingLead and ZoomInfo. Now, when customers export records from ZoomInfo to Salesforce, they can first flow through RingLead data orchestration workflows ensuring the duplication, record normalization and routing take place before the newly added records or passed over to their CRM. With our continued investment in data orchestration and routing and triggers that initiate workflow that drive go-to-market motions, more and more customers are realising the value of truly automating their go-to-market motions based on insight surface through ZoomInfo."
Prospects look exciting.
"In closing, Q3 was an exceptional quarter. We delivered great financial results once again raising our outlook for the year and continue to build on our substantial competitive moat by investing in all three layers of our integrated platform: the intelligence layer, the orchestration layer, and the engagement layer.
The market opportunity is as big as ever. And as I indicated earlier, we continue to build a category-defining company by delivering end-to-end success for go-to-market teams worldwide."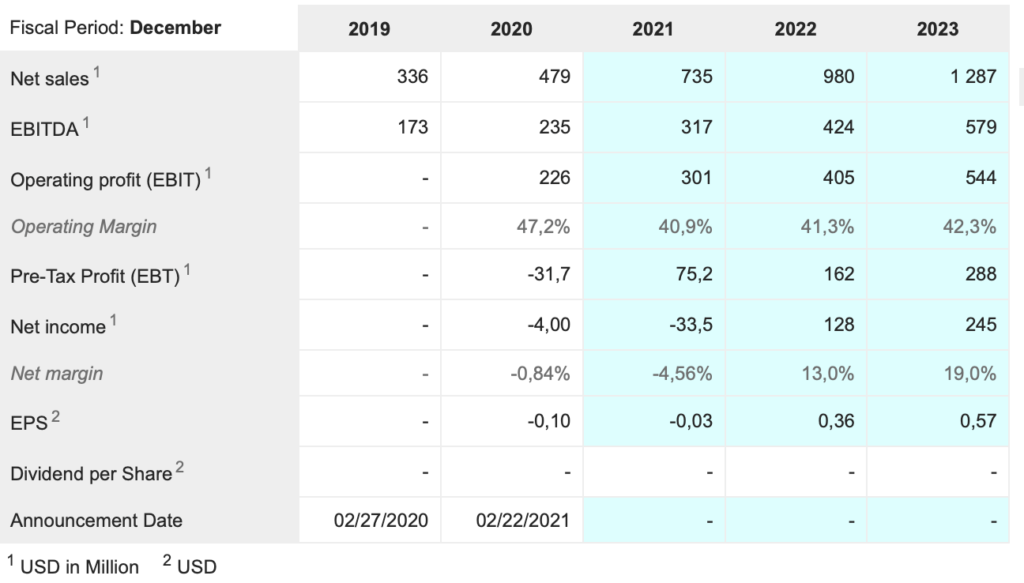 ---

Henry Schuck, the CEO and founder of ZoomInfo Technologies, is a classic example of a passionate, charismatic CEO. This guy is just electrifying, very smart and so pumped up that his interviewers have to battle to get a word in edgeways. ZoomInfo shares are another good example of the post-IPO hangover effect that is currently afflicting Rivian. The shares floated, at an issue price of $21 in the case of ZI, immediately rocketed to $65 in the first month of trading and then plummeted back to earth, bottoming out at around $30 three months later.
The company, of course, keeps on doing its thing, growing fast, innovating, hiring, making acquisitions and finally investors start to take notice and the shares begin climbing again, usually in a much more sustainable way.
I have listened to a couple of interviews with Schuck and his approach of putting high quality data at the heart of the sales process and now seemingly using it to help with recruiting as well, seems like a very powerful strategy. Around the time of the IPO the company reckoned it was about two per cent penetrated in its target markets so there is a huge amount to go for and internationally it seems to have barely started but already with great traction.
It looks to me like another super exciting enterprise software company on a track to becoming much larger.
---