World's leading special effects (FX) company makes transformative acquisition
November 17, 2021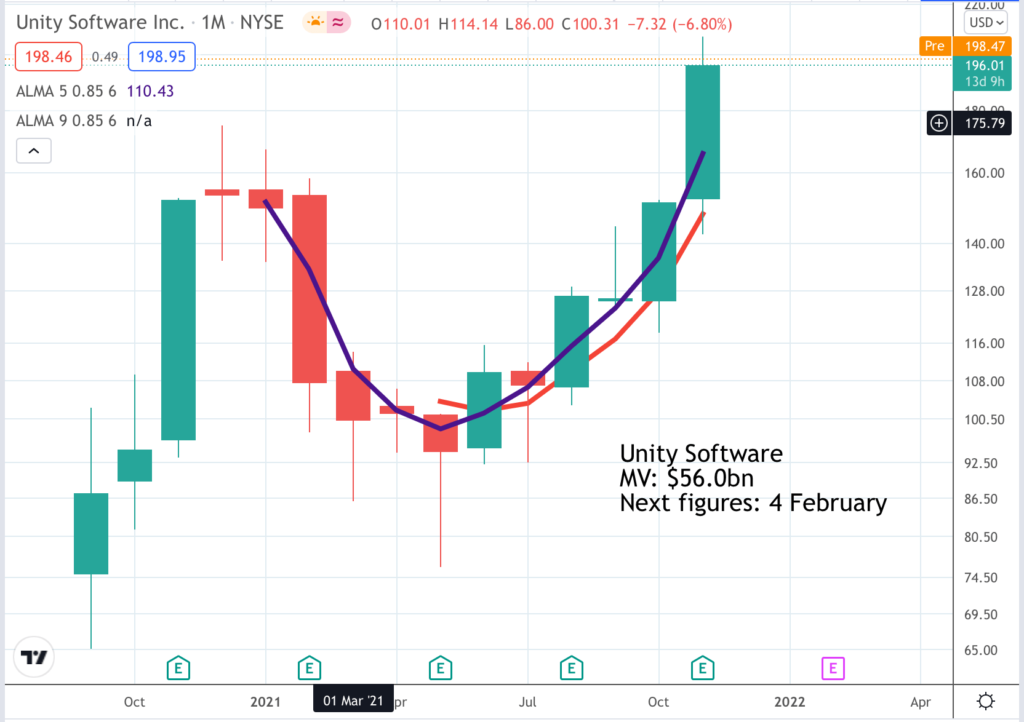 Unity Software U Buy @ $193. Times recommended: 1. First recommended: $196.50
News is coming thick and fast from leading video game special effects business, Unity Software. Most recently the group has announced a convertible issue to raise up to $1.7bn closing 19 November. Shortly before that came news of plans to acquire Weta Digital, company founded by Peter Jackson of Lord of the Rings fame, for $1.65bn.
Weta is a big deal for Unity.
"Based in Wellington, New Zealand, Weta Digital is the largest single-site VFX studio in the world drawing artists from over 40 countries. They are some of the most creative and ambitious artists, engineers, and executives in entertainment and their work has earned six visual effects Academy Awards, 13 Academy Sci-Tech Awards and six visual effects BAFTA Awards in addition to the 34 Visual Effects Society Awards awarded to them by their peers. Ground-breaking, performance-driven animated characters from Gollum to Caesar, and worlds from Middle-Earth to Pandora, are regarded as some of the best visual effects ever to appear on screen.
With this transaction, Unity will acquire:
Weta's world-class engineering talent of 275 engineers that are known for architecting, building, and maintaining Weta Digital tools and core pipeline;
Dozens of industry-leading tools such as Manuka, Gazebo, Barbershop, Lumberjack, Loki, Squid, Koru, and more, all integrated seamlessly into Weta's industrial strength production pipeline;
A foundational data platform for interoperable 3D art creation, making it easy for hundreds of artists to work seamlessly together; and
A library of thousands of incredible assets that the WetaFX team will continue to accumulate as they create world class VFX in the years to come.
Unity itself has an 1,800+ strong research and development team.
"Unity is the world's leading platform for creating and operating real-time 3D (RT3D) content. Creators, ranging from game developers to artists, architects, automotive designers, filmmakers, and others, use Unity to make their imaginations come to life. Unity's platform provides a comprehensive set of software solutions to create, run and monetize interactive, real-time 2D and 3D content for mobile phones, tablets, PCs, consoles, and augmented and virtual reality devices. The company's 1,800+ person research and development team keeps Unity at the forefront of development by working alongside partners to ensure optimized support for the latest releases and platforms. Apps developed by Unity creators have been downloaded more than five billion times per month in 2020."
Between those two announcements, just to remind us how fast the technology is moving, Unity announced the launch of "Next Level Simulation Technology With Unity Simulation Pro And Unity SystemGraph."
This is serious cutting edge stuff.
"As the need for autonomous systems becomes more prevalent in our daily lives, we need the ability to mimic the intricacies of the real world but that's often challenging because these simulations are very cutting edge, requiring large environments, a myriad of sensors and multiple avatars and agents," said Danny Lange, Senior Vice President of Artificial Intelligence, Unity. "Unity Simulation Pro is purpose built for those building cutting edge simulation applications. With this product we are enabling a future where we'll see more developers create and evolve autonomous systems, across different industries, at a quicker, safer and more cost-effective rate.
While Unity Simulation Pro is optimized for running scalable simulations, Unity SystemGraph is a flexible and easy-to-use node-based editor designed to simulate intricate mechatronic systems. It has the ability to emulate any type of robotics system and photosensors, such as lidar sensors and cameras. Additionally, through working closely with Velodyne and Ouste, [companies targeting automotive lidar- light detection and ranging – applications], it provides validated, ready-to-use lidar models right out of the box. With an intuitive and straightforward framework, Unity SystemGraph makes it easier to scale from small systems into complex ones. Specifically, roboticists and engineers can now prototype systems, test and analyze their behavior, and make optimal design decisions without requiring access to the actual hardware."
This is not just for gaming.
"At Volvo Cars, we have been using cutting-edge technologies from Unity in many areas of our work," said Joachim de Verdier, Head of Safe Vehicle Automation, Volvo Cars. "Unity SystemGraph is a flexible and convenient development tool that fits well into our simulation work and boosts our software testing."
"The industry-leading capabilities of Unity Simulation Pro and Unity SystemGraph advances our commitment to enable organizations to create, deploy and unlock the value of AI," said Dave Rhodes, General Manager, Digital Twins, Unity. "With Unity SystemGraph, engineers can much more easily mimic sensors, cameras and even physical robots in a complex system. Then they can test and train these systems at faster than real time rates with Unity Simulation Pro, achieving optimized performance levels at tremendous cost and time savings. With both these products we are equipping creators with the best solutions to tighten their feedback loop, to get to insights faster and cheaper, and to ultimately drive more innovation in the world."
On the same day as the Weta Digital announcement, Unity announced its Q3 2021 results. The analysts' conference was led by John Riccitiello, who has been CEO of Unity since 2014 leading the efforts to widen the group's client base beyond the gaining industry. The company delivered above expectations revenue growth of 43pc to $286m. Weta Digital is actually splitting in too with a creative team, Weta FX, becoming an independent company. Unity is buying the digital tools and the engineers who developed them and says that Weta FX will become the biggest customer for Weta Digital.
The opportunity is to take these tools worldwide.
"We are thrilled to democratize Weta's industry-leading tools and bring the genius of Peter Jackson and Weta's amazing engineering talent to life for artists everywhere. By combining the power of Unity and Weta Digital, the tools and technologies that built characters and scenes from the world's most iconic films such as Avatar, Lord of The Rings, and Wonder Woman. We will be able to enable an entirely new generation of creators to build, transform and distribute stunning real-time 3D content.
Until now Weta's tools were used exclusively in-house at Weta VFX. We plan to take these tools to artists and creators across the film industry, the gaming industry from indies to AAA games into other industries such as automotive, architecture and e-commerce. We plan to offer a cloud-based version of Weta for the millions of consumers who generate content every day on social and gaming platforms and on the web or to use the current vernacular, the metaverse.
In addition, Weta has built thousands of digital assets, such as fully formed characters, skins, trees, houses, automobiles, fire trucks, many things. We plan to offer these objects as a content library where creators can import these digital assets into our editor and apply physics, biometric lighting and sound to them."
A key figure at Unity is Marc Whitten about whom the company says. "Marc joined us nearly a year ago from Amazon, where he oversaw product execution and the delivery of entertainment to over 100m active users on Fire TV, Fire tablet, Kindle, Luna in Amazon app store. Prior to that, Marc was one of the creators of Xbox and Xbox Live, ultimately serving as the Chief Product Officer for Xbox and leading Xbox Live for many years." He is now the head of Unity Create of which Weta Digital will become part.
Unity offers both Unity Create, an assortment of creator tools for game design and 3D modeling, and Unity Operate, which provides business-management facilities such as backend management. The company claims that 94 of the top 100 development studios in the world use Unity Create, Unity Operate, or both.
Whitten paints an exciting future for the group.
"We're entering a period of what we believe will be unprecedented growth and demand for great 3D content. This starts with movies, TV and short-form video. Thanks to the rise in streaming, we are in a golden age of content. And with content comes the need for deep VFX capabilities. Take Marvel and their growth from a couple of movies a year to the addition of dozens of hours of amazing quality television. We see no end to this hunger for great content.
In games, 3D has been the standard for years. But on every platform, the capabilities to deliver higher and higher quality content are only increasing. And of course, there's the need for 3D content in every industry, in AR and VR, in virtual world and much more. Whatever the word metaverse means, it's going to be built by millions of content creators, and we're on a mission to give them the easy to use and high performance tools that will bring their visions to life.
Weta Digital accelerates this mission by years, bringing an incredible team to join ours. This is an incredibly cohesive pipeline powered by dozens of amazing tools. Each of these tools is impressive on its own, but as a consistent pipeline, they represent the most complete tool chain for 3D visualization ever created. As we spent time working with Weta Digital, we were consistently blown away by these tools. Manuka is a revolutionary physically-based render that delivers unsurpassed visual fidelity. Lumberjack and Totara enable building unprecedented environments that feel lived in all through intuitive artist controls. With Barbershop, artists can groom hair and fur with the ease of a hair stylist, all the while creating powerful hierarchies of guide hairs scaled out to hundreds of thousands of individual hairs, resulting in the most artist-directable grooms.
Loki is a simulation engine par excellence, able to perform huge, stable, controllable and predictable simulations with outstanding complexity and results, whether you want to create intense explosions, turbulent oceans, flexing muscles or anything else that you can dream up. Koru is a super high- performance rigging evaluation engine that automatically optimized informations for faster artist feedback."
The Weta deal incidentally is funded $1bn in cash and $625m in shares suggesting that the vendors see a bright future for the enlarged group.
Part of the opportunity with the Weta Digital acquisition is that the group is forecasting $70m plus in turnover in the coming year from the deal but all of that will come from WetaFX, the spun off bit which will continue as a customer of Weta Digital. Meanwhile they estimate that the acquisition adds $10bn to their TAM [total addressable market]. On that basis the opportunity looks huge.
This is what John Riccitiello says about the opportunity facing the enlarged group.
"For those of you that have been listening to me from before we went public or if you're listening to our road show, one of the points I made was we believe that we can increase potentially our revenue inside of gaming by on the order of magnitude of 10x. How was that possible when half the world's games or 70pc of the world's mobile games are already built in Unity?
And the answer to that question has always been, in large part, the fact that we don't have all the artists on our platform. And this is one of the answers to how we access that marketplace. The artist is the largest audience of creators in the world. And as 3D becomes the norm for consumer creators, it's going to be a staggeringly large marketplace for users. Now we don't count all that on our new TAM because we have to bring those consumer creators into the world, but that is happening now. And this is the first really important step in that direction. Now SpeedTree helped us, Artomatix helps us, Parsec helps us [all previous acquisitions]. This is another step in that direction."
The company also sees a longer term opportunity to take their and Weta's tools and technology not just to professional creatives but to consumers in general. In answer to a question on exactly this point Riccietello said.
"Yes, there's a massive opportunity there. And while we're not going to disclose everything we have planned today, we have a lot of plans this year. And so we are a giant believer that there's a future
for Unity with 100x more users than we have today. And we are working step by step, inch by inch to getting ourselves ready."
Just to give you an impression of how fast Unity is scaling its business. A the time of the IPO it provided these metrics.
"Our platform provides a comprehensive set of software solutions to create, run and monetize interactive, real-time 2D and 3D content for mobile phones, tablets, PCs, consoles, and augmented and virtual reality devices. As of June 30, 2020, we had approximately 1.5m monthly active creators in over 190 countries and territories worldwide. The applications developed by these creators were downloaded over three billion times per month in 2019 on over 1.5bn unique devices."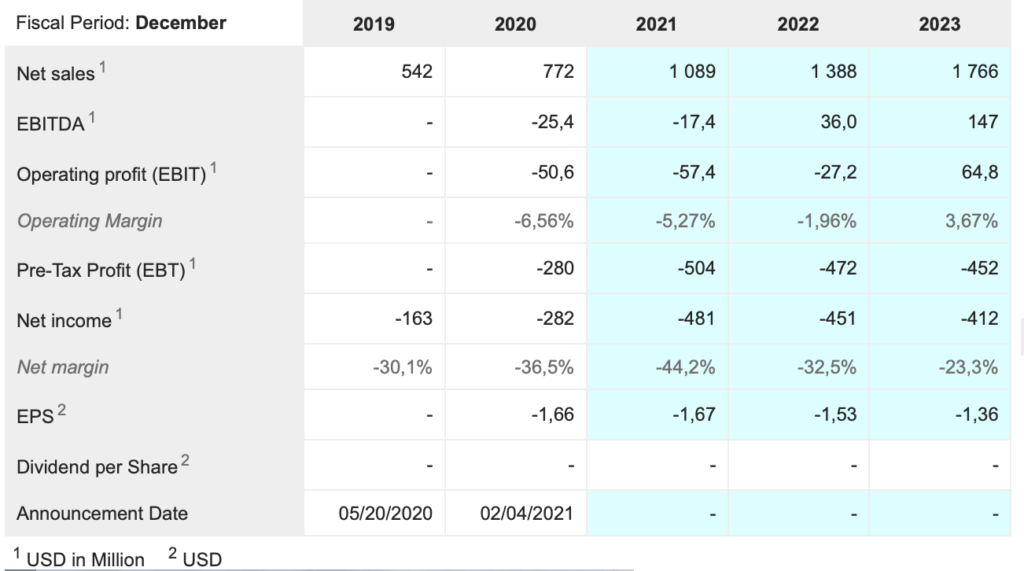 ---

It is extraordinary how many stocks exhibit the pattern seen in the chart above. They have their IPO, accompanied by road shows whipping up excitement about the company's prospects. The shares float and rocket higher. Unity Software started its IPO with pricing in a range of $34-$42 but eventually made the issue at $52. The price then surged in four months to a peak $174 before the inevitable hangover set in and they fell back to $76.
However all the exciting things promised by the company are happening with great Q3 results for 2021, well above expectations and the most exciting acquisition yet of Weta Digital, a business with an incredible range of tools for creating special effects (VFX). Until now these tools have been kept for the internal use of a team of artists at what is now Weta FX, a team which created the special effects for films like Avatar and Lords of the Rings.
Now coming under the ownership of Unity Software these tools, all part of Weta Digital, will be made available initially to professional content creators around the world but ultimately to creators everywhere. The growth potential looks enormous. Off the blocks the biggest customer for Weta Digital will be Weta FX, which remains an independent private company of artists creating special effects.
Unity Software also has a big role to play in the Metaverse, whatever exactly that is as Marc Whitten the head of Unity Create noted in his remarks at the latest analysts' meeting. Whatever it is Facebook is betting so heavily on its future that the company has changed its name to Meta Platforms and companies like Unity Software with its special effects and real-time 3D capabilities are going to play a key role in making it happen.
As this perception has set in that Unity is every bit as exciting a business as it looked at the time of the IPO the shares have recovered strongly and look set for continuing progress in coming years.
Here is one quick take on the metaverse.
"The metaverse has been a hot topic of conversation recently, with Facebook and Microsoft both staking claims. But what is the metaverse? And when will it get here? Author Neal Stephenson is credited with coining the term 'metaverse' in his 1992 science fiction novel "Snow Crash," in which he envisioned lifelike avatars who met in realistic 3D buildings and other virtual reality environments. Since then, various developments have made mileposts on the way toward a real metaverse, an online virtual world which incorporates augmented reality, virtual reality, 3D holographic avatars, video and other means of communication. As the metaverse expands, it will offer a hyper-real alternative world for you to coexist in. Inklings of the metaverse already exist in online game universes such as Fortnite, Minecraft and Roblox. And the companies behind those games have ambitions to be part of the evolution of the metaverse."
Beyond that the back story at Unity is phenomenally exciting as they ride powerful tailwinds from a world in transformation.
"For almost a hundred years, photos and video content have largely been created by the same means—capturing three dimensional images through a 2D lens and projecting them onto a 2D surface. Technology has introduced digital cameras, lenses for capturing images at astonishing resolutions and powerful software tools that allow creators to edit and manipulate images with limitless possibilities. Still, the basic processes and technology related to content and content creation revolve around building 2D, asynchronous, non-interactive, static content.
The world is changing. Leaps forward in compute power and bandwidth are enabling an explosion in interactive, real-time 3D content—led by games and now spreading rapidly into other industries. We have moved from a static content world to one of lifelike, dynamic content—where 2D images are no longer projected to create video, but where fully interactive, 3D virtual objects, environments and complete worlds can be digitally rendered in real-time using software. Nowhere has real-time 3D had a larger impact to date than in gaming, which has grown from a less than $15bn industry 20 years ago to one generating over $140bn in annual revenue today. Gaming is now the fastest growing category in media with over 2.5bn gamers worldwide.
Interactive, real-time 3D is also driving innovation in the content creation process. For example, with real-time technology, creators can live-edit the characteristics of objects in games and applications they design, and these changes can be rendered and displayed faster than the blink of an eye. This instantaneous adaptation allows for creators to simultaneously create and visualize, simplifying the creative process and making collaborative content development more seamless and efficient.
While interactive, real-time 3D has fueled the rise of gaming, the opportunities for this technology and the benefits for creators are impacting many other industries as well. For example, architects, designers and project partners use real-time 3D to simultaneously contribute to the planning and development of a building with rapid, cost-effective iteration. Similarly, real-time 3D technology is driving efficiencies in car development and sales cycles, allowing for interactive, life-like models of cars to be rendered in real-time. In film, real-time 3D technology allows a creator to edit and review a scene instantly, rather than waiting days for server farms to fully render a digital scene. Across these industries and more, our solutions and technology are unlocking new forms of creativity and cost-efficiency that are impossible with traditional tools."
It is no wonder that investors are so excited about Unity Software. It is a very exciting company operating in a very exciting space.
---