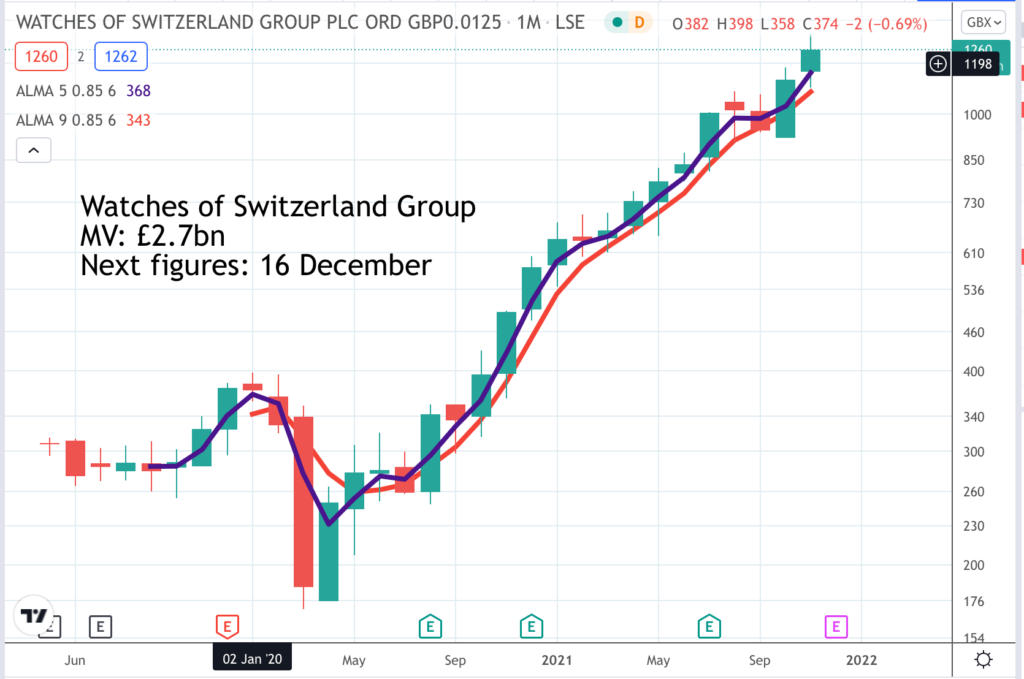 Watches of Switzerland Group WOSG. Buy @ 1286p. Times recommended: 7 First recommended: 782p Last recommended: 1138p
I first recommended shares in Watches of Switzerland Group (WOSG) on the basis that as well as being classic 3G it was the gateway to buying a high quality Swiss watch, especially something like a Rolex or a Patek Phillippe. Rolex will only sell through authorised distributors like WOSG and they expect the shopping experience to be as high-end as their watches.
As we know from other shares in the sector luxury goods companies of all sorts are enjoying very strong trading and WOSG is no exception. I have guesstimated in the past that the privately owned Rolex could be worth over $100bn so being their main route to market is a good place to be.
There is another feature that makes WOSG an interesting investment. North America has never been into the whole Swiss watch experience in the way we are in Europe but they have got the money and the appetite for luxury goods. So WOSG is on a mission to change that and has just stepped up the pace with the purchase of a group of US stores.
"US expansion strategy further advanced with agreements to purchase five stores in four new states. Combined annual revenue of approximately $100m; future profitability expected to be in line with the group's US average. Stores located in Plano (Dallas), Texas; Vail and Aspen, Colorado; Greenwich, Connecticut; and Minneapolis, Minnesota. These acquisitions will bring the US store network to 22 multi-brand and 14 mono-brand boutiques to reach a total representation of 36 stores in 12 states."
You can see that these stores are serious operations if just five are expected to deliver $100m in revenue.
Alongside the US purchase the group also delivered a strong trading announcement with half year sales expected to reach £586.2m, up 44.6pc on the same period a year earlier. This has been achieved despite significant supply constraints for some watches. The US is powering ahead with sales of £167.6m, up 50.2pc on the same period a year earlier.
Sales are benefiting from the return of tourists and more activity at airports but these are not yet expected to reach pre-pandemic levels during the year.
The group is understandably pleased with how things are going.
"Over the last two years, we have demonstrated the versatility of our multi-channel model with a more than doubling of sales to domestic clients and within this half year, a significant change in brand mix."
WOSG is a fantastic business.
"The Watches of Switzerland Group is the UK's largest luxury watch retailer, operating in both the UK and US, comprising four prestigious brands; Watches of Switzerland (UK and US), Mappin & Webb (UK), Goldsmiths (UK) and Mayors (US), with complementary jewellery offering.
As at 31 October 2021, the Watches of Switzerland Group has 158 stores across the UK and US including 46 dedicated mono-brand stores in these two markets in partnership with Rolex, TAG Heuer, OMEGA, Breitling, Audemars Piguet, Tudor and FOPE) and has a leading presence in Heathrow Airport with representation in Terminals 2, 3, 4 and 5 as well as six transactional websites.
The Watches of Switzerland Group is proud to be the UK's largest retailer for Rolex, Cartier, OMEGA, TAG Heuer and Breitling watches."
If the group put itself up for sale there would be a bidding frenzy. There is no need for them to do that though with so many exciting opportunities to create shareholder value.
As a last point the group is embracing e-commerce with great success.
"We have further expanded the Luxury Watch and Jewellery Virtual boutique in the UK, continued to grow the "By Personal Appointment" business which now accounts for approximately 40pc of UK sales and continued to enhance CRM [customer relationship management], clienteling and digital marketing initiatives. Our teams have been fantastic in embracing all modes of customer engagement, driving growth across all channels throughout this period."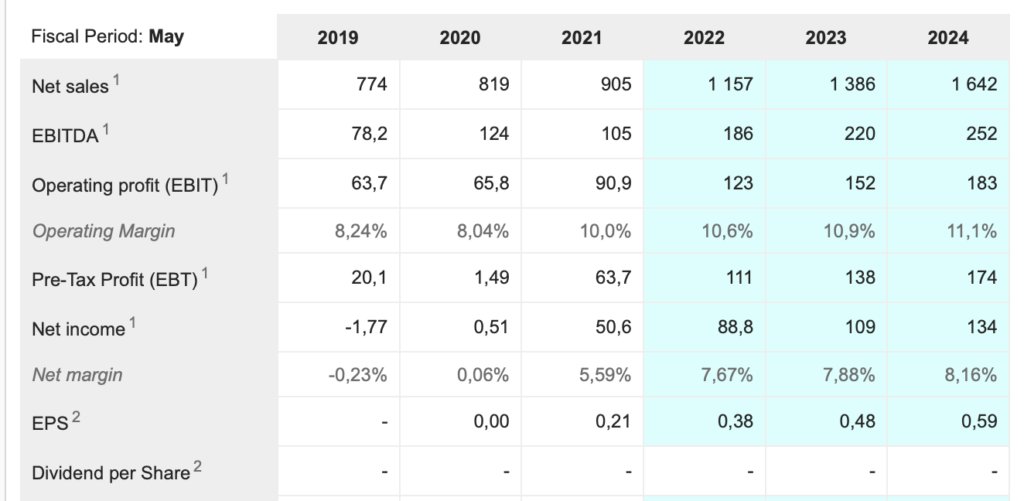 ---

The group is enjoying very strong growth in the UK where it is the market leader for sales and servicing of Swiss watches. It is now attempting to replicate that position in the much larger and currently under penetrated US market. Like everybody else if they just want to tell the time Americans can use their phones or buy an Apple Watch but if they want a fabulous piece of jewellery that actually does something, Swiss engineering and a discreet status symbol Swiss watches are perfect and should sell very well. Not for nothing are two of their newly acquired branches located in upmarket ski resorts. They know their customers.
---