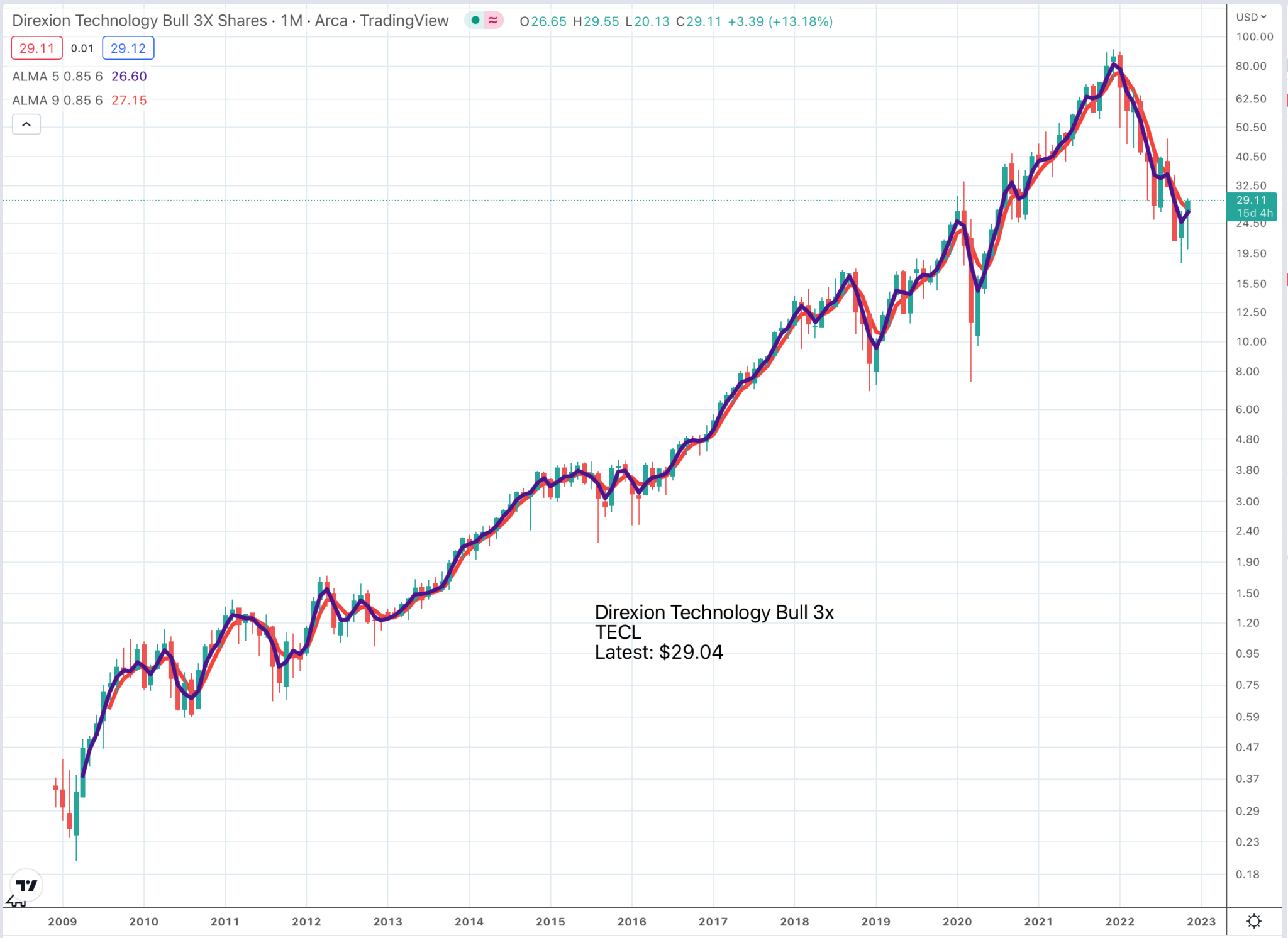 The last time I tried to deal in TECL, a three times leveraged technology EFT, IG was not allowing trading even in a share account but that has now changed. As can be judged from the chart this is an exciting ETF. It is up 145 times from the 2009 low point. At the peak it was up 452 times!
It has had a brutal bear market falling from over $90 to a recent low around $18 but that is what you get with these fiercely leveraged, rebalanced daily ETFs. They move a lot, both up and down. The performance since December 2012 is not dissimilar to that of QQQ3 so there is no huge requirement to buy both but if you believe in technology and the unfolding tech revolution this is an exciting ETF.
SOXL does the same thing for semiconductors and is another spectacularly volatile share. It is a statement of the bleeding obvious as somebody might say but the trick with these ETFs is to hold them while they are going up (in bull markets) and avoid them when shares are going down (in bear markets).
I have a growing suspicion that markets are on the turn from bear to bull with some chunky moves. This ETF has more than doubled in six weeks from a level in single figures which I don't think is going to be seen again. The Coppock is well into minus territory setting the scene for a buy signal.
If like me you make small purchases in your share account and build your position over time it is important to remember that if you do three trades in a month in US shares all commission is waived. UK shares like QQQ3 don't count towards this but if you do three trades in UK shares the commission falls from £8 to £3. It makes sense to stagger your dealings to capitalise on these concessions.
Strategy
We shall see but I am getting a better feeling about the stock market. Most likely there will be ups and downs and more bad news but that needn't throw a fledgling bull market off track. Early stage bull markets thrive on bad news.
I have been staggered by the rate at which long term interest rates are falling. This could just be the normal ebb and flow but a combination of sound money (which you will get from independent central banks) and capitalism which is very good at boosting supply to meet higher demand means that inflation could come down almost as fast as it went up which would change the feeling in stock markets.
It might also mean that any recessions are not so sharp and by the time we are fully aware of them they will be behind us. This is a bit like one of my rules about bear markets. By the time you know for sure that you are in a bear market it is almost over.
Two very positive things are happening for stock markets, maybe even three. First there has been a dramatic reset in valuations, so that high flying shares especially are much more modestly valued than they were 12 months ago. Second, we have been in a bear phase long enough for shares to start building bases and for Coppock indicators to become negative. Third, companies have been cutting costs and switching their focus to profitability and free cash flow.
At the end of the day the logical response to a bear market is to become more bullish even though the bear market can only proceed against a background of worsening sentiment. As Warren Buffett says, the best time to buy shares is when they are on sale.
I don't like to buy into weakness though, sometimes known in investment circles as trying to catch a falling knife. I like to see a big fall and then buy signals, preferably lots of buy signals so that we are spoilt for choice. We are not there yet but it could be coming; 2023 could be a much better year for shares.
Meanwhile I am having a nibble at TECL and SOXL. There is always a danger with these very punchy ETFs that IG will suddenly stop us buying them on the platform but you can always sell and at the moment you can buy them. Their extreme volatility makes them ideal for regular buying programmes but remember to do three trades a month in your share account for which US and UK shares are treated separately to make sure to avoid commission which takes a big chunk out of small deals.
They are reasonably interchangeable, so as long as one of them is available for purchase, most likely QQQ3, you can carry on with your £-cost averaging or whatever programme.