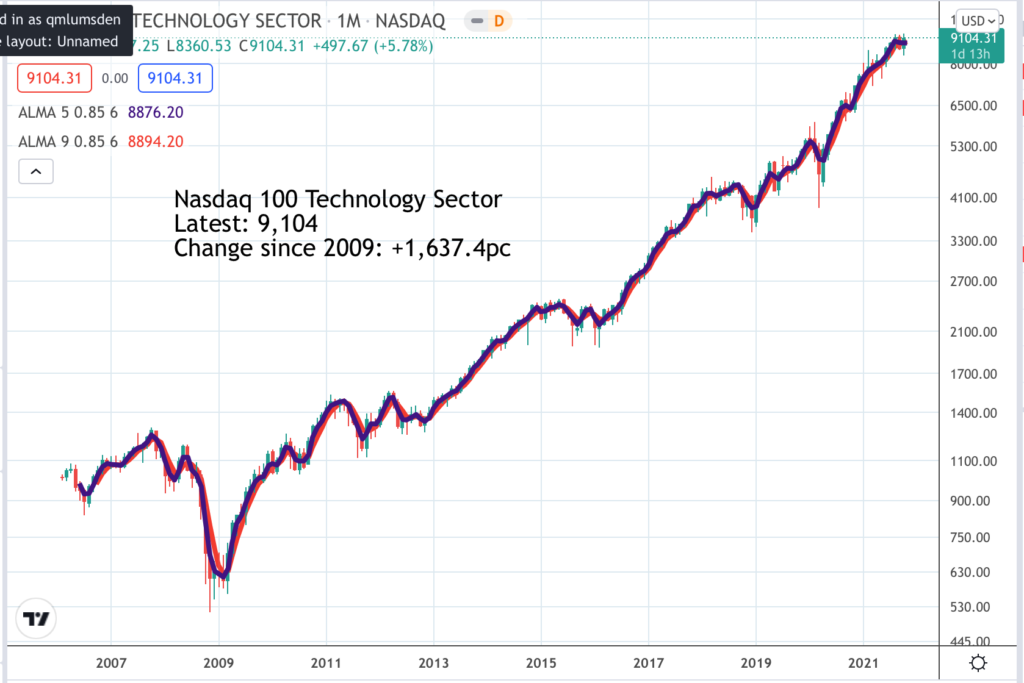 The chart above is of the Nasdaq 100 Technology sector, which has been on a spectacular run since 2009 with a gain of over 1,600pc. The future is unpredictable but as with the weather the best assumption is that it will resemble the past. If that is correct and it ties in neatly with the observation that the world is in the grip of an accelerating technological revolution then investors have every reason to feel positive on prospects.
I have long had a rule which I call the three month rule. According to this simple idea, which I use for individual shares as well as indices, markets often consolidate for around three months before resuming their advance. The Nasdaq 100 Technology index has been consolidating for around three months so could well be poised for a fresh advance.
We are also at that time of the year when animal spirits are a little subdued with the northern hemisphere winter ahead of us but not yet begun. Once it starts and the snow begins to fall in those places where it does fall the next season is Spring and spirits start to rise in anticipation.
Covid-19 is proving a fearsome enemy with new variants to keep us on our toes but that is not a negative for the ongoing digital transformation which is pouring money into the application of the latest technology. We live in a world where you adapt or you die and many enterprises and organisations are also learning the importance of doing this at speed.
Last but not least is the growing application of AI, which if you think about it is a whole incredible new ball game. We don't just expect the world's increasingly powerful computers to carry out many tasks with great efficiency but we also expect them to process huge quantities of data to continually improve what they do.
I have no idea where this is leading but it clearly makes technology front of mind for everybody.
---
Alphabet. GOOGL. Buy @ $2,926. MV: $1.95 trillion Next figures: 26 January. Times recommended: 23 First recommended: $985.19 Last recommended: $2,910. First recommended Great Charts for Quentinvest (formerly Chart Breakout): $259.65
Alphabet has just reported its results for Q3, ending 30 September. For such a large business they were amazing.
"For the third quarter, our consolidated revenues were $65.1bn, up 41pc or up 39pc in constant currency. Operating income was $21bn, up 88pc and our operating margin was 32pc. Net income was $18.9bnn. We continue to generate strong free cash flow of $18.7bn in the quarter, and $65.7bn for the trailing 12 months. We ended the third quarter with $142bn in cash and marketable securities."
The business is also growing physically at a rapid rate.
"At the Alphabet level, headcount grew by nearly 6,000 in the third quarter, including our seasonal campus hires, and we expect robust headcount growth in Q4 for both Google Services and Google Cl." This compares with a last reported headcount, including the additions, of 150,000.
Alphabet doesn't pay dividends but it uses its mighty cash generation to reward shareholders by buying back its own shares, which reduces the share count and directly raises earnings per share.
"During the three months ended 30 September, 2021, we repurchased and subsequently retired 4.6m aggregate shares for $12.6bn, consisting of 0.5m shares or $1.5bn of Class A stock and 4.1m shares or $11.1bn of Class C stock."
The average price paid for the C class shares was $2,780 which is significantly below the latest price so an excellent use of spare cash.
The core of Alphabet is its advertising revenue and this is in great shape. One commentator had this to say.
"The core Google Services business, which includes the things we would all recognize as Alphabet's core products, saw revenue soar from $42.6bn to $59.9bn year-over-year, including 44pc growth in Search, 43pc growth in YouTube, and 40pc growth in Network. In other words, Alphabet isn't some one-trick pony that needs iOS ads to play nice to generate revenue; this company is an ad-generating juggernaut that has the ability to brush off changes like the privacy alteration for iOS, and keep on chugging. Keep in mind Facebook and Snap both reported disappointing numbers for Q3 while Alphabet blasted past estimates for revenue by more than a billion dollars."
Advertisers who want to reach their markets have to use Google. There is no realistic alternative. As the global economy grows and becomes ever more digital Google Services is going to keep on growing. It is the epitome of a wonderful business.
But Alphabet/ Google is also an innovation machine. People who take their degree in computer science and are lucky enough to get a job at Google don't go there to stack parcels. They are there to drive innovations that are going to change the world and they have come to the right place.
Sundar Pichai, who is still only 49 years old, became CEO of Alphabet and Google in October 2015. This is what he says about the company's strategy.
"In 2016, I laid out our vision to become an AI-first company. Five years later, this quarter's results show how our investments in AI are building more helpful products for people and for our partners in local communities."
Google is yet another company betting on AI to change the world.
Just a flash of what is going on at Google.
"Earlier this year, we announced that we reached a significant milestone with multitask unified model or MUM for short. MUM is 1,000 times more powerful than BERT, and can understand information across many contexts, like text and images. At our Search On event in September, we shared how we are using MUM to improve Google Lens, so people can search using both images and words. We also shared that we are bringing a more visual shopping experience to Search, powered by the Google Shopping graph. It links shoppers with over 24bn product listings from merchants across the web.
Google Maps now offers eco-friendly routing. It lets drivers in the U.S. choose a more fuel-efficient route, saving money and reducing emissions. Maps now has a wildfire layer, so that people can get up-to-date details and make quick informed decisions during emergencies."
If, like me, you are wondering what BERT stands for here is the answer.
"BERT, which stands for Bidirectional Encoder Representations from Transformers, is a neural network-based technique for natural language processing pre-training. In plain English, it can be used to help Google better discern the context of words in search queries. For example, in the phrases "nine to five" and "a quarter to five," the word "to" has two different meanings, which may be obvious to humans but less so to search engines. BERT is designed to distinguish between such nuances to facilitate more relevant results."
It sounds amazing and yet MUM is 1,000 times more powerful. No wonder doing searches on Google has become like asking Einstein questions. You can ask almost anything and it knows the answer and yet we are just at the beginning of the age of artificial intelligence (AI).
Given what is happening at Alphabet/ Google it seems to me that unlike many technology businesses their shares are positively cheap. Earnings per share of $131 in 2023, as per the forecast below, would leave the shares on a price earnings ratio of 22.3, which looks very undemanding for shares in one of the greatest businesses of all time.

---
Microsoft. MSFT. Buy @ $322. MV: $2.43 trillion. Next figures: 27 January. Times recommended: 27 First recommended: $75.56 Last recommended: $303. First recommended in Great Charts for Quentinvest (formerly Chart Breakout): $30.60
Microsoft is a rare example of a business, which has been born again. It had a fantastic run in the 1980s and 1990s as the supplier of operating and applications software for desktop computing. Then it languished for over a decade before being rejuvenated by the appointment of Satya Nadella as CEO in February 2014.
He had previously been in charge of Microsoft's cloud computing infrastructure business and knew exactly in which direction he wanted to take the company which amounted to a total reinvention for the 21st century and the age of cloud computing.
Microsoft shares are well on the way to rising 10-fold from the date of his appointment having gone nowhere in the previous 13+ years.
Performancewise Microsoft is absolutely blazing ahead.
"We're off to a fast start in fiscal 2022 with Microsoft Cloud quarterly revenue surpassing $20bn for the first time, up 36pc year over year. The case for digital transformation has never been more urgent or more clear. Digital technology is a deflationary force in an inflationary economy."
Just as a quick aside this is my theory that thanks to technology we don't have to worry about inflation even though many commentators are very worried.
The ambition of these giant technology businesses is something else.
"We are building Azure as the world's computer, with more data centre regions than any other provider, delivering fast access to cloud services while addressing critical data residency requirements. And we're partnering with mobile operators from AT&T and Verizon in the United States to Telefonica and BT in Europe, Telstra and Singtel in Asia Pacific, as they embrace new business models and bring ultra-low latency, compute power, and storage to the network and the enterprise edge."
Of course, that is what Azure and cloud computing is – they develop and build out the computing power. The rest of the world taps into it.
Incidentally this is what Microsoft says about 'edge' computing.
"Edge computing is where compute resources, ranging from credit-card-size computers to micro data centres, are placed closer to information-generation sources, to reduce network latency and bandwidth usage generally associated with cloud computing. Edge computing ensures continuation of service and operation despite intermittent cloud connections. Industries ranging from manufacturing to healthcare are eager to develop real-time control systems that use machine learning and artificial intelligence to improve efficiencies and reduce cost. We are exploring this new computing paradigm by identifying and addressing emerging technology and business model challenges."
More so than Alphabet, Microsoft is a technology conglomerate offering a wide range of disparate services. Take LinkedIn which Microsoft bought in June 2016 for $26.2bn.
"LinkedIn now has nearly 800m members. Confirmed hires on the platform increased more than 160pc year over year. And this quarter, we launched new ways to help job seekers discover roles that align with how they want to work. In a rapidly evolving labor market, companies are increasingly turning to LinkedIn Learning to upskill and reskill their employees.
We now have over 15,000 enterprise customers of LinkedIn Learning, and we are expanding our opportunity in the creator economy, including offering new ways for LinkedIn Learning instructors to build their audiences and connect with learners live. Businesses continue to choose LinkedIn as the trusted way to reach professionals. LinkedIn advertising revenue was up 61pc year over year."
A huge area of growth, especially since Covid-19 forced people to work from home and discover how much they liked it, has been Microsoft Teams, which enables them to still work productive and effectively.
"We are innovating to empower people to have impact from home, in the office, and anywhere in between. Microsoft Teams is the only solution that supports all the ways people work. Usage has never been higher. Hundred and thirty-eight organizations now have more than 100,000 users of Teams and more than 3,000 have more than 10,000 users.
Updates to Teams rooms, including new AI-powered cameras and spatial audio ensure every meeting attendee is always a first-class participant. The rise of hybrid work is transforming the enterprise phone market and we are taking share across PSTN and VoIP. Calls originating from Teams chat increased 50pc this quarter compared to a year ago. Operator Connect enables organizations to bring their existing service directly into Teams. And leaders in every industry, including Schlumberger, Westpac, ZF Group, REI, and SAP chose Teams Phone this quarter to meet all their internal and external calling needs. Moving forward, organizations will need a digital fabric that spans organizational boundaries to address key challenges like customer service swarming and supply chain resilience.
With Teams Connect, employees across multiple companies can chat and collaborate as one extended team without switching tenants. In private preview, we are already seeing strong interest in usage from companies like LVMH and WPP. Teams, by itself, has become a first-class platform for application development. For example, employees at Levi Strauss and NTT Data are using ServiceNow applications right within Teams to access critical info within the flow of work. Organizations are also using Power Platform to build their own rich collaborative apps within Teams for everything, from curbside pickup to care team coordination.
All up, the number of organizations with more than 10,000 users integrating their third-party and line of business applications with Teams increased 82pc year over year. We are creating a complete new category with Microsoft Viva, which brings together communications, knowledge, learning, resources, and insights. Our acquisition of Ally.io, a leader in the fast-growing objectives and key results category, adds new tools to help employees drive outcomes, not just output in hybrid work. Avanade, Old Mutual, PayPal, and Toyota North America all chose Viva to help strengthen connections between employees and their mission, between employees and managers, and drive individual empowerment. Across Microsoft 365, we're seeing growth in all segments, including triple-digit year-over-year usage growth of Teams in front line."
Nadella is also surprisingly bullish on PCs (personal computers).
"When I step back and reflect on the future of how we work, connect, and play, one thing is clear, the PC will be more critical than ever. There has been a structural shift in PC demand emerging from this pandemic, and we're delighted with the early response to Windows 11. With every new generation of Windows, we also unlock the next generation of hardware innovation across our ecosystem. And together with our OEM partners, we are excited to offer the widest choice of Windows 11 devices at every price point in every form factor this holiday. We are providing people and organizations everywhere with the most differentiated devices for productivity, learning, and gaming.
And also have massive opportunity to create a new class of applications that take advantage of the edge and AI capabilities in Windows coupled with cloud. And Windows 11 is also the most open platform. It's pioneering new store commerce models and policies, with both Amazon and Epic Games are bringing their marketplaces to the Microsoft Store."
Microsoft is also building a big presence in cybersecurity.
"Cybersecurity is the No.1 threat facing businesses today. Our goal is to help every organization strengthen its defense through the zero trust architecture built on end-to-end solutions that span all clouds and all platforms. We analyze over 24 trillion signals across email, endpoints, and identities each day and translate this intelligence into innovative features to protect our customers. We have prevented more than 70bn attacks over the past year alone.
We now have nearly 650,000 customers using our security solutions, up 50pc year over year. And businesses like HCA Healthcare and Siemens switched to our security solutions to protect their endpoints. In identity, Azure Active Directory now has more than 500m monthly active users and we have seen usage of third-party apps increase 1.5 times year over year. And the future of security is passwordless. Nearly 240m users have adopted passwordless login to date and consumers can now completely remove passwords from their personal Microsoft accounts.
And we're not stopping there. Over the next five years, we'll invest $20bn to advance our security solutions and protect customers."
Let but not least is gaming.
"We continue to attract new gamers and retain those we have gained over the past year and a half. We saw record first-quarter monetization and engagement. This holiday season, we'll bring our biggest lineup of content and exclusive games ever, with three new AAA titles including Halo Infinite available via Game Pass subscription service, which continues to offer the best value in gaming. We're also bringing xCloud gaming to the console for the first time, enabling Xbox users to discover the stream, and stream more than 100 games with just a click. Cloud gaming is now available in 26 countries, including, as of this quarter, in Australia, Brazil, Mexico, and Japan. We are expanding our opportunity with independent creators, as well as top studios. Updates to Azure PlayFab make it easier for developers to integrate the creator marketplace in games they built."
No wonder, with all this going on, Nadella says:- "I couldn't be more optimistic about the opportunities ahead."
Nor are shareholders forgotten. "We returned $10.9bn to shareholders through share repurchases and dividends."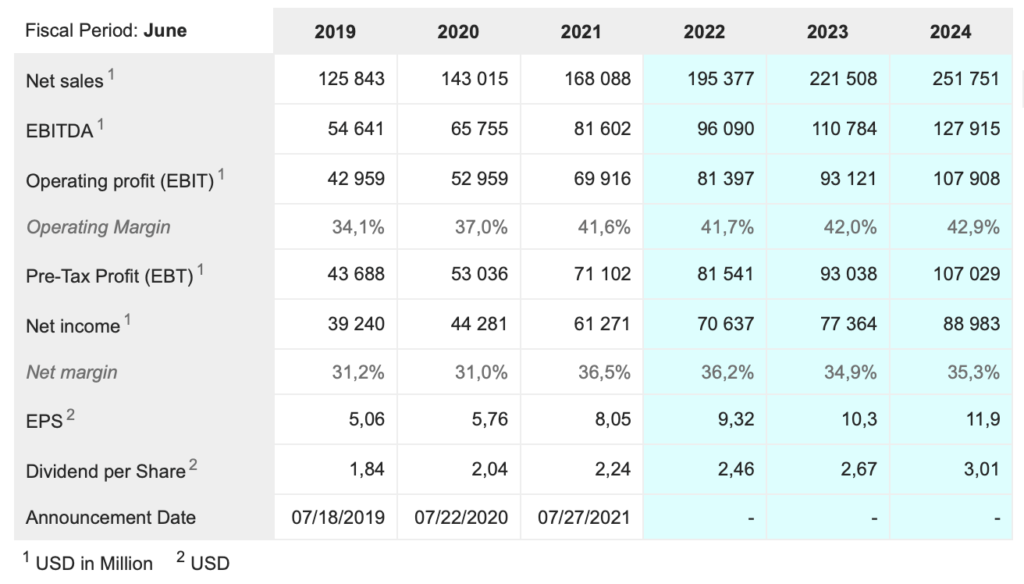 ---

After writing about these two incredibly successful tech giants I can't help feeling you could do a lot worse than just invest all your money in them. They are outstanding businesses at the heart of the revolution that is sweeping the world. My guess for both of them is that a decade from now there will be another nought in their valuations.
And, of course they are magnets for the world's top computing talent. Big as Microsoft already is, now with 181,000 employees, that number has increased by 14pc in the last year. The concentrated brain power driving innovation at these businesses is astounding.
No wonder they can make progress on so many different fronts.
---