Two exciting ETFs, new to the portfolio, WUGI for 5G and CQQQ for Chinese technology
February 4, 2021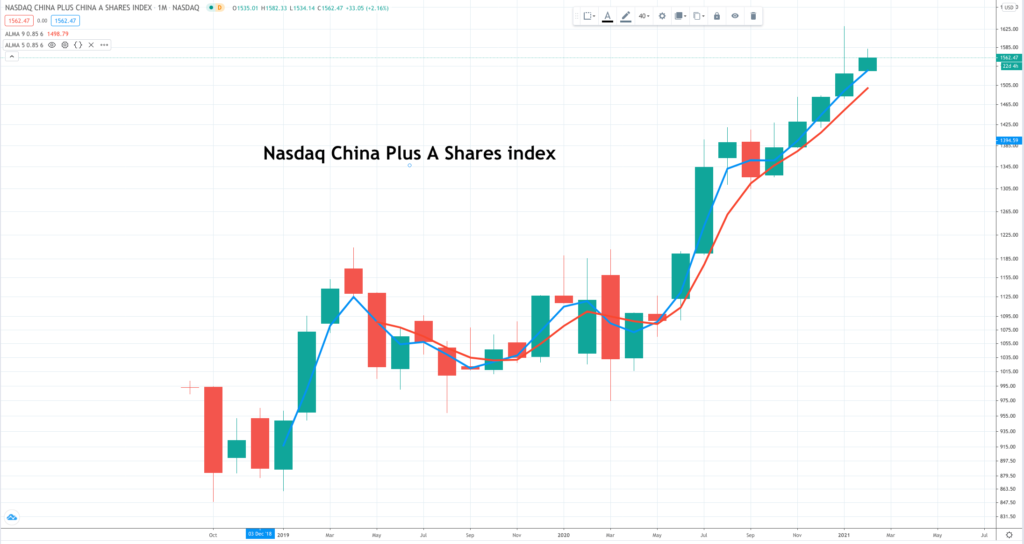 The index above is just to give a flavour of what s happening currently to Chinese shares. It is not an index, which is tracked by either of the ETFs featured below, which I would hope will do better than this index. Chinese A shares are shares in companies quoted on indices in mainland China and valued in renmimbis. CQQQ has A shares in its portfolio. It also has N shares which are Chinese shares quoted on Nasdaq and valued in US$ and shares quoted in Hog Kong and priced in HK$. There are roughly 6.45 renimbi to US$1 and HK$7.75 to US$1. Chinese shares are doing well because China is presently the strongest performing major economy in the world and domestic consumer spending is rising as a large and increasingly affluent Chinese middle class takes shape and begins to flex its spending muscles.
China's middle class is becoming one of the economic wonders of the world and is a key factor in why I am so keen on Chinese ETFs and many individual Chinese shares. In 2000, 39.1m people (3.1pc of the population) were categorized as middle class. By 2018 this had grown to 707m people (50.8pc of the population). By 2027 it is estimated that 1.2bn Chinese will be middle class, making up a quarter of the global middle class. Not only will there be more of them but average incomes will no doubt have risen sharply too creating a tsunami of domestic spending power.
Invesco China Technology CQQQ Buy @ $98.22 New entry
CQQQ has been around for a while but the shares have really started to perform recently, roughly doubling in 2020. My guess is that they will continue to do well.
CQQQ provides broad, vanilla exposure to Chinese tech firms. It includes A-shares (firms listed on the mainland), N-shares (firms with primary listings in New York) and other share classes. N-share coverage is particularly helpful in the tech space. The index includes all companies in the tech sector based on its underlying ICB industry classification system. The selection process does not apply any factor-based screens. Stocks are market-cap weighted, subject to some position limits. Individual positions are capped at 10pc for largest stock, 9pc for second, etc. on through the top six names, subject to a cap of 40pc total for individual positions greater than 5pc. Prior to 24 June, 2019, the fund tracked an AlphaShares China tech index. The fund and index are rebalanced quarterly.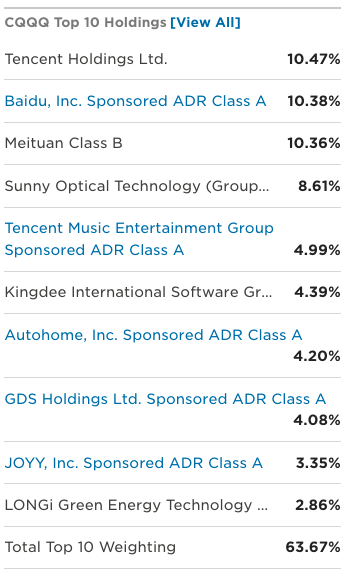 The top three shares, roughly 30pc of the fund, are in the QV for Shares portfolio; the rest in the list are not. Tencent Music Entertainment is one I have looked at and the shares are going well., Longi Green Energy looksa good one too so no surprise shares in the ETF are doing so well.
Another reason why I expect Chinese shares and ETFs to do well is that Chinese investors, like the middle class from which they spring, are growing in numbers and becoming more active. No surprise that they like to buy Chinese shares although they are reportedly also active in the US market, where they buy much the same shares as anyone else.
Esoterica NextG economy ETF WUGI Buy @ $57.23 New entry
Below is a summary of an article about WUGI that I found on the Internet.
The focus of a multitude of conspiracy theories across the nether regions of the internet, the returns provided by playing the move to 5G have been anything but fake.According to Esoterica Capital CEO Bruce Liu, the move to 5G is not so much an upgrade to an existing tech cycle as a re-envisioning of the entire tech stack. Investors should take note when Liu discusses anything 5G-related: his firm's flagship ETF, WUGI, has doubled up on peers FIVG and NXTG since launching in late March, returning nearly 100pc. Liu explains why the move to 5G is perhaps the greatest investing opportunity of the next decade – and how WUGI is perfectly positioned to benefit.
That's quite a strong sales pitch and he is right that the fund is performing very well. Since the fund was launched in March last year it has risen from $25.
The fund's strategy is described as follows. WUGI is the first actively-managed ETF that invests in the 5G-enabled digital economy. The fund has exposure to firms of any market cap from both developed and emerging countries. The 5G digital economy involves both producers of the 5G technologies and their end-users like e-commerce companies. These are the firms anticipated to benefit the most from the adoption of 5G technology. WUGI uses internal and external research to select companies from the following three groups: Infrastructure – focused in 5G communication infrastructure network including transmission, and radio access network, or cloud computing infrastructure, edge devices – focused on access of 5G networks by end users, such as cellular phone and base band processor, and services – involved in video streaming, cloud gaming, autonomous driving, AR/VR, IoT and remote surgery. The fund adviser selects stocks with the best risk-reward opportunities using a "top-down" and "bottom-up" approach.
Not surprisingly the portfolio is both red hot and stuffed with shares favoured by QV for Shares.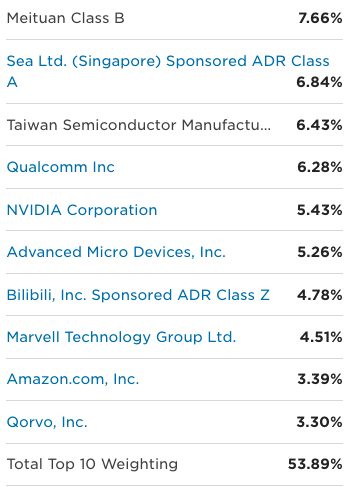 Seven of these shares are in the QV portfolio but all of them are in strong uptrends. This ETF should do very well.

Both these ETFs look good and although WUGI does not have a specific China focus the three top holdings are Chinese, Indonesian and Taiwanese respectively and BiliBili is another Chinese business.
My broad feeling is that China is really starting to emerge now as a home for exciting companies and a place with many active investors. I see fireworks ahead.