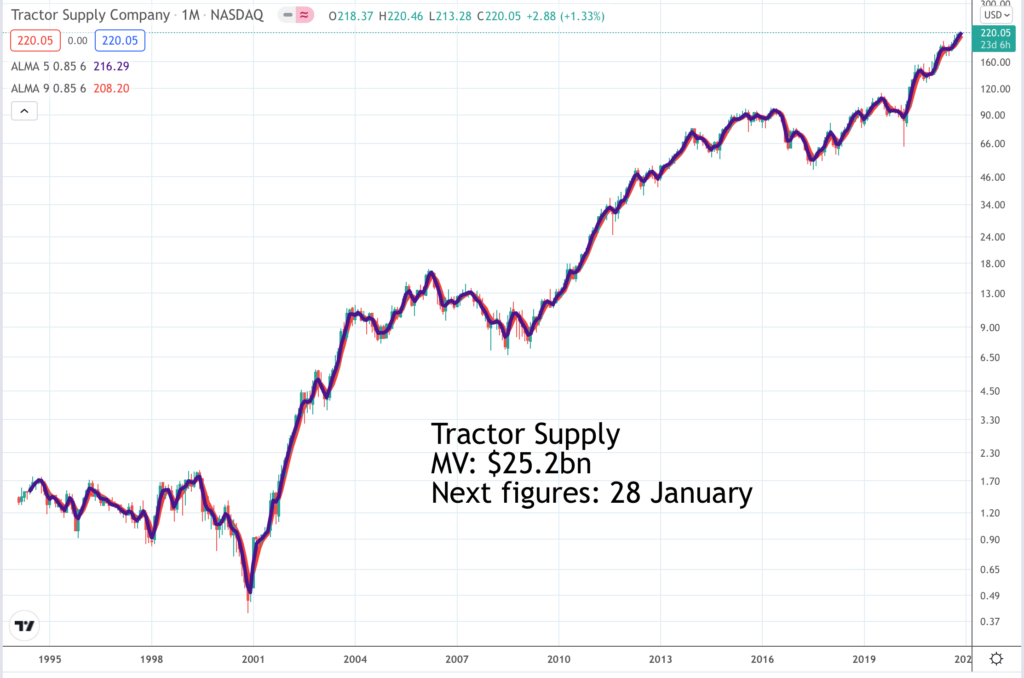 Tractor Supply TSCO. Buy @ $220. Times recommended: 6 First recommended: $124 Last recommended: $217
If Tractor Supply existed in the UK it would be Jeremy Clarkson's go-to retailer. Across the US it has nearly 2,000 stores serving the needs of rural America. Fiscal 2020 was a sensational period for Tractor's Supply's business.
"For the year, we achieved record sales and operating performance. We had strong net sales gains of 27.2pc, with comparable store sales up 23.1pc when compared to fiscal 2019. We reached over $10.6bn in net sales for the year, a significant milestone for our company, with the addition of over $2bn in sales. We also reached record sales per square foot, earnings per share, and cash flow from operations. We returned $517.6m in capital to shareholders through the combination of share repurchases and a growing dividend. Our omni-channel sales saw strong triple-digit percentage growth over last year and increased as a percentage of our overall sales. The work we did this year to improve our omni-channel capabilities has certainly resonated with our customers. They have adopted our digital tools – at a rapid pace that compressed our projected timelines of several years into a matter of months. For the year, 75pc of our omni-channel sales were picked up at a Tractor Supply store, further reinforcing the importance of our stores to our customers."
There is something going on at Tractor Supply and I think it may be connected with 47 year old Hal Lawton, who became CEO in January 2020 after being president at Macy's and stints at Ebay and Home Depot. According to a piece in Fortune magazine this guy has turbocharged Tractor Supply's e-commerce offerings. Since his arrival the share price has more than trebled.
While the company already offered in-store pickup for online orders, in just a matter of days at the start of the pandemic, it launched curbside pickup, a contactless option for customers that has also been implemented by stores like Best Buy. Tractor Supply is also relaunching its website to improve both pickup options. Early in the COVID-19 crisis, it quickly gave employees better mobile devices that let them speed up checkout lines by ringing up customers from anywhere in the store, a great option at a time when people don't like lingering.
And under the leadership of Lawton, Tractor Supply is about to launch its first mobile shopping app.
Prior to the pandemic, Tractor Supply, which also operates PetSense, the third largest pet store chain, offered same-day delivery from 20pc of its stores. Working with delivery service Roadie, the company ramped that up to the rest of its store fleet within three weeks, allowing Tractor Supply to compete effectively with Amazon and Chewy, not to mention Home Depot and Lowe's.
The business is in great shape going through 2021.
"Like the second quarter, every week had positive comps. Also like the second quarter, our growth was broad based across regions and product categories. Our e-commerce business continued to experience strong momentum with double-digit sales increases of over 40pc. And in just under a year, our mobile app already has more than 2 million downloads and now represents over 10pc of our e-commerce sales. We continue to gain share across all categories. This has been a consistent trend for multiple quarters now, and this share gain has been both online and in stores. The share gain has been aided by the increase in our unaided brand awareness, which has improved by 21 percentage points since November of 2019. This improvement combined with positive trend in our overall customer satisfaction, are significant contributor to the share gains we are experiencing."
The company is also operating an extremely successful loyalty programme. "Our Neighbor's Club loyalty program continues to exceed our expectations, with year-over-year sales growth in these members north of 20pc. We exited the quarter with more than 22m Neighbor's Club members. These members are spending more than three times the rate of non-members, with Neighbor's Club members now accounting for nearly 70pc of our sales."
CEO, Hal Lawton, concludes:- "Our long-term opportunities remain very exciting." They surely do.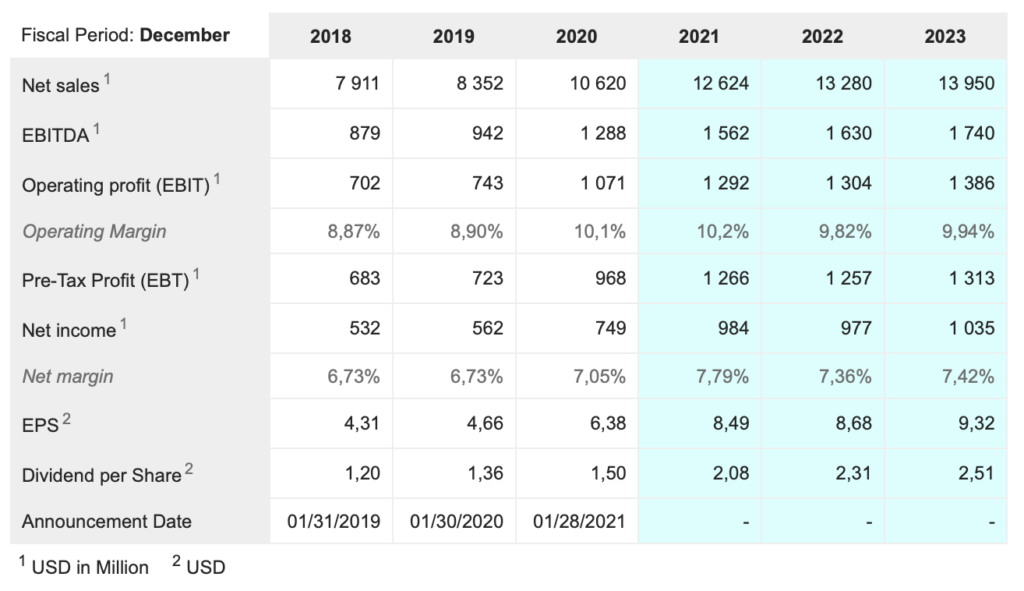 ---

I have revisited Tractor Supply as a recommendation because I was surprised to find it in the top 10 holdings of a mutual fund specialising in artificial intelligence. I found two things. First there is a new CEO in charge who looks very impressive and has already had a dramatic impact. Secondly, the group is creating a buzz with its e-commerce and omnichannel strategies.
The company is also benefiting from dramatically increased enthusiasm for the rural life style in the wake of the pandemic. All these factors allied to strong current trading suggest that Tractor Supply has a future every bit as exciting as its CEO believes.
---