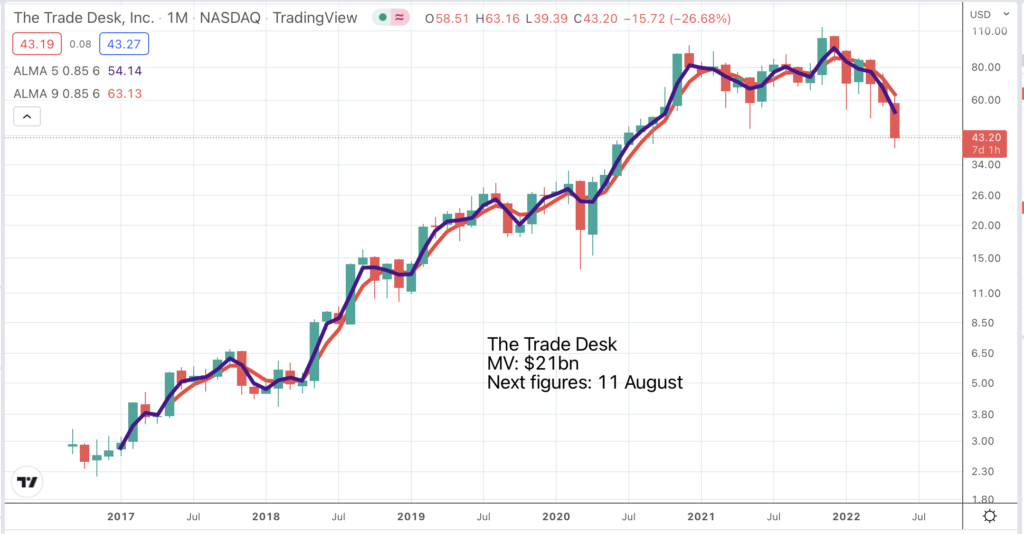 This is a terrible chart. Affected by the disappointing news from Snap, the shares are breaking down from a large top area. It might seem they have already dropped a long way but this chart is suggesting you ain't seen nothing yet. I am beginning to see a relationship between the vulnerability of shares and the aggressive bullishness of their CEOs. The president and CEO of Paypal, Dan Schulman, was incredibly bullish on prospects for the group since when the shares have lost 75pc of their value and remain in free fall. TTD CEO and founder, Jeff Green The Trade Desk has also been consistently extremely bullish on prospects for his company.
When reporting the latest results the tone was unchanged and with some justification considering what he was reporting.
"For the first quarter, revenue grew 43pc compared with last year, our fastest first quarter growth rate in the last four years. Our strong growth is a testament to a variety of factors that I want to touch on today and which give us significant optimism for the future.
Our performance is especially encouraging because annual advertising budgets are often being reset and reconsidered in Q1, making them historically harder to predict. And this year, the macro environment was challenging with the ongoing global pandemic, war in the Ukraine and the higher rates of inflation around the world. Despite those challenges, we again exceeded our own expectations. I believe we are now firmly established as the default DSP [demand side platform] for the open Internet and that we are very well-positioned to grow and grab share regardless of the macro environment."
The Trade Desk does seem to be a sensational company but the chart is telling us that challenging times lie ahead. There may be a clue in the statement as to what the challenge is going to be. Annual advertising budgets are often being reset. The company is doing well but after years benefiting from strong tail winds it is now heading into the wind. There could be some tough quarters coming.
We have seen time and time again in this market that great results just slow the rate of decline. Disappointing results pull the rug out like Snap where the shares almost halved in a day. This is very much a buyer beware market and TTD's share price chart is shouting buyer beware loud and clear.

If I am right and this is a market where charts tell us more than fundamentals then we need to listen to the message of charts like that of TTD. These shares could be heading much lower.
---