I know very little about make-up although back in the day I can remember that when we were going out my wife and her sisters spent an incredible amount of time putting it on and it certainly did glam them up. The eye make-up particularly was something to see and it was evident that the process of getting ready for these ladies was as much fun as the actual event to which they were going.
Some of the stuff that ladies use seems utterly weird to me like putty primer. This is apparently a popular product. If you buy if from a prestige manufacturer you might expect to pay $52 for a single small pot. You can buy something similar from the elves in our story for $8. Not surprisingly the elves sell 10 times as many pots as their prestige rivals.
Another exciting aspect of the elves' performance, not unconnected with their aggressive pricing, is their accelerating sales growth.
Performance in the latest quarter was blistering.
Everything they sell is made in China and their growth is both way ahead of rivals and also of the categories in which they are competing. Their pricing advantage is very marked.
Table of Contents
Their strategy of copying prestige products but at dramatically lower price points does play to my prejudice that women's beauty products are absurdly overpriced and depend for their success on the gullibility of the female of the species. This is something I would never dare to say to my daughters but maybe in print they won't notice. My wife, who is rather a thrifty person, would probably agree.
ELF believe they are just getting started
E.L.F. Cosmetics seems a bit like the little boy shouting that the emperor has no clothes. Whatever, it is proving to be great business and by their account they are just getting started.
Their market share in the areas they are addressing is mostly tiny.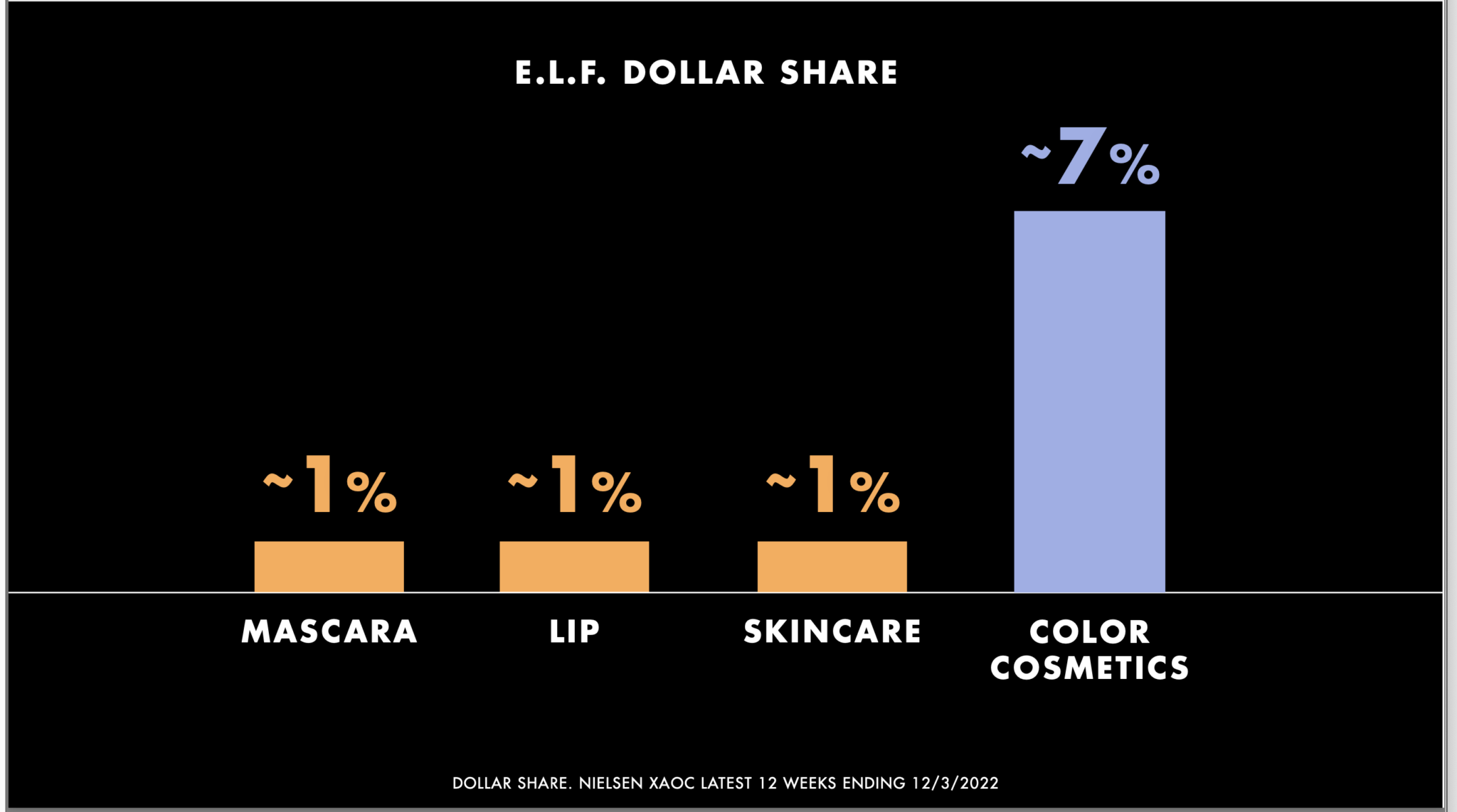 Similar to the fast-growing tech companies E.L.F.'s rapid sales growth is being driven by accelerating marketing spending.
The company also makes sure to press all the right buttons to appeal to the youth of today.
The company says that its aggressive pricing strategies are not so much taking share from the prestige sector but expanding the category.
We have many examples where the accessibility of our holy grail innovation significantly expanded the number of consumers who participate in a particular category.

I'll start with primers. A few years ago, a prestige brand introduced a new primer format at a $52 price point that quickly became a top primer in prestige. We took inspiration from this item, added our own unique e.l.f. Twist and launched Putty Primer.

Our price point of $8 invited a much wider range of consumers into the space, significantly expanding the entire Putty Primer category. In fact, looking at data over the last year, we've sold over nine times the units of the Prestige primer and both e.l.f. and the Prestige item have continued to grow units at a double-digit pace.

Q3 2023, 1 February 2023
Success comes from value, innovation and disruptive marketing
As well as competing on value the group majors on innovation.
The second driver of our performance is that we are an innovation powerhouse. Our innovation engine has built category leadership over time. Our largest segments brushes, primers, setting sprays, brows, eye shadow, concealers and sponges collectively make up over half of e.l.f. Cosmetics sales. We continue to gain share in all seven segments while maintaining the #1 or #2 position within each. 

We know how to build winning franchises across categories. Our growing Putty Primer and Camo franchises are great examples of how our multiyear innovation is driving our share leadership in key segments. Our Power Grip franchise is a more recent example. We launched our recent Power Grip primer in late 2021 at an incredible value of $10, compared to the prestige item at $36.

In 2022, Power group was our top selling SKU and the #2 SKU across the entire U.S. mass cosmetics market according to Nielsen. e.l.f.'s cosmetics Power Grip is also the #1 face primer SKU across the entire U.S. prestige market according to the NPD Group, coupled with our multi-year innovation in primers.

e.l.f. now holds the #1 position in the face primer category in both the mass and prestige markets. We are building upon the success with our recent launch of our Power Grip Primer with 4% niacinamide. At the same $10 price point, this hybrid product delivers on our community's desire for makeup with skin care benefits.

Q3 2023, 1 February 2023
Incredible value and relentless innovation is supported by disruptive marketing strategies.
The third driver of our performance is our ability to attract and engage consumers with our disruptive marketing. We kicked off the holidays with a first-of-its-kind digital campaign informed by the insights from the weather channel and brought to life with Grammy award-winning Megan Trainer. Megan delivered a special Radiance report across social channels to break the news of an e.l.f.ing glow storm, celebrating the restock of our viral sensation Halo Glow Liquid Filter.

The trifecta of e.l.f., the Weather Channel and Megan Trainer help us reach new audience and entertain our community. The campaign generated over five billion press impressions, exceeding last year's holiday campaign by a wide margin.

Q3 2023, 1 February 2023
The group sees huge scope for more growth.
Looking beyond fiscal '23, we believe we are still in the early innings of unlocking the full potential we see for the e.l.f. brand. Taking category share as one KPI, we see a lot of runway for growth. Nationally, we're the #4cosmetics brand with a 7pc share. 

In Target, our longest-standing national retail partner, we're the #2 brand with a 13pc share. The significance of our position and share at Target is that we entered Target in 2008, a number of years ahead of our other national retailers. We believe that our position at other major retailers could mirror that at Target over time. And even at Target, we believe we still have opportunities to continue to take share and become the #1 brand.

Q3 2023, 1 February 2023
Last but not least is the international opportunity.
International represented approximately 13pc of our e.l.f. Beauty sales in Q3, with the business growing nearly 80pc year-over-year. We're seeing strong results behind our disciplined expansion strategy in Canada and the UK. As compared to our #4 position in the U.S., we're the #7 brand in Canada and the #8 brand in the UK. We recently hired a new GM of International and plan to build out that team to further penetrate international markets.

Q3 2023, 1 February 2023
The chart looks strong with an explosive rise from a reversed head and shoulders pattern. It doesn't tell us anything about where the price might be going except that the strong fundamentals are matched by an equally strong chart and, as we have seen an exciting story.
To see why these shares could be just at the beginning of a large rise I want to show you a flattened out chart. If, several years from now these shares are trading at say $300, we will look back at this chart and see that spectacular breakout in October 2022 as an obvious entry point. We may have missed that but there could still be a long way to go.
Strategy
You have to be an optimist to win at investing. If ELF is to perform as I think it may this will probably reflect not just the clever things happening within the company but changes in the market such as much greater buying of beauty products by people with less money, a democratisation of the market. This in turn could reflect things like Instagram, selfies and the incredible cameras we now have on our phones. It is like we are on TV the whole time and naturally girls want to look their best and that means make-up, skin care, brilliant white teeth, great hair, toned bodies and so on. If ELF can help make that happen for a whole new demographic they could do well.
Another thing about ELF is that it is extraordinarily profitable. Working through the profit and loss statement for the latest quarter sales rose 49pc to $146.5m but operating income was on the way to trebling from $8.97m to $3.3m and diluted earnings per share rocketed from 12 cents to 34 cents. This company seems to be in a phase of explosive growth.
A huge proportion of sales go through a handful of distributors like Walmart, Walgreen, Ulta Beauty and Superdrug in the UK. If the company comes up with great new products at incredibly affordable prices and powers sales with disruptive digital marketing you can see how it can grow very rapidly.
Maybe the true shift here is that customers are shopping for their cosmetics and skin care products not from specialist outlets and department stores but from supermarkets and ELF is both riding and driving that revolution.
Share recommendations
E.L.F. Beauty. ELF Buy @ $88