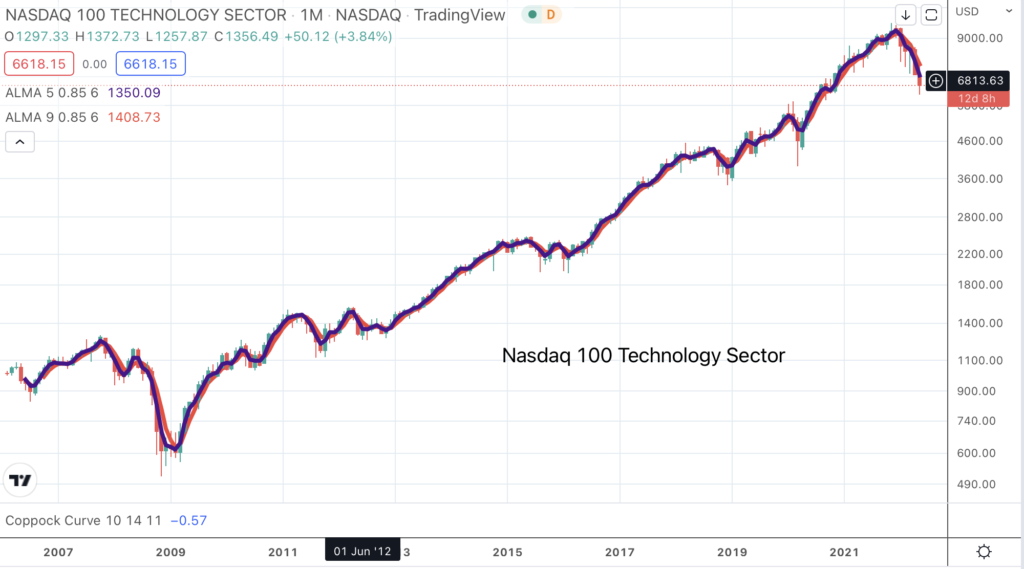 Many high technology, high growth, high momentum stocks have been clobbered in the last six months. I am starting to think of this as the great reset. Over enthusiastic momentum investors drove these shares too high egged on by the fantastic results being reported by these companies as lockdowns and work from home triggered even stronger demand. Post Covid inflation has exploded driving interest rates higher and leading to a serious reality check for these companies. Falls of 50, 60, 70, 80 even 90 percent are widespread. They climbed up, up, up the ladder and now they are sliding down a snake so steep it is like falling off a cliff.
Based on my indicators everything still looks negative but that is how things are going to look when the market hits bottom. There has to be some strength in the market for my indicators to turn positive. At the very least the rate of decline has to slow. No sign of that yet. All we have are bear market rallies driven by short covering. One of those will be the bottom eventually but trying to pick the bottom without evidence of a turnaround is high risk.
I have been looking at the chart above which is of the Nasdaq 100 Technology Sector index. This is an interesting index because unlike the Nasdaq 100 it is equal weighted so not dominated by Apple, Alphabet, Amazon, Microsoft, Tesla and co. As I write it is rallying strongly but this is within a downtrend that has reigned since it peaked in November 2021.
I have been looking at a Coppock indicator for this index and it works so well it is almost uncanny. There have been four buy signals, May 2009, September 2012, June 2016 and June 2019. The aberration was March 2020. This reaction was so sharp but so short lived it didn't register on Coppock but here on Quentinvest we realised in March that lockdowns were going to be good news for technology shares and alerted QQQ3 as a buy on the day the stock market bottomed. We didn't need Coppock then but now we do. The indicator is currently around 15 and has been falling for a while. The next buy signal will be important and will look similar to the four previous buy signals which worked so well.
The day I tell you we have a Coppock buy signal on this index you have an outstanding opportunity to make some money. You could buy some shares in TECL, a three times leveraged ETF, which tracks technology shares. I am sure that is one of the things I will be doing.
---

I have a concept I call buy signals investing. In order for it to work you first need a downturn. We have had one of those, with a vengeance so now the scene is set. We just need the buy signals.
---