Cards on the table. I have written an issue of Stock Market Selections (the latest name for Great Stocks, formerly known as Quantum Leap) but I am so nervous about the stock market that I cannot bring myself to publish it. All sorts of scary things are still happening. Sterling is falling against the US$ which is not a good sign. US bond yields may not have peaked and another rise would send shock waves through stock markets.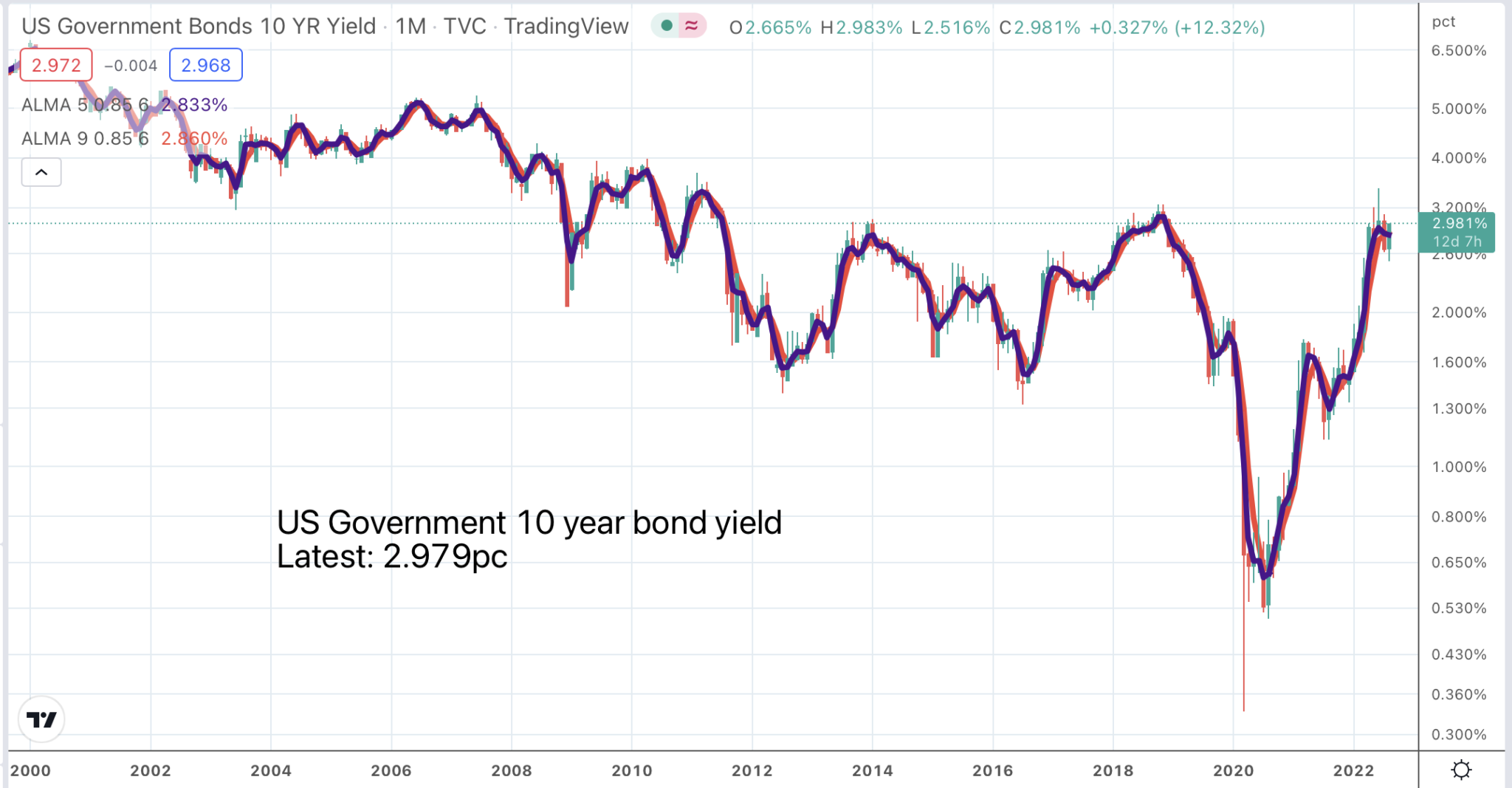 What I can see on my benchmark charts is that many stocks and even indices are trying to complete golden cross buy signals on the moving averages. You can see below that the Nasdaq 100 is trying to make a golden cross but if it fails that would not be good news.
Another of my benchmarks which is nosediving as I write is bitcoin. This not a bullish looking chart with the moving averages still falling and the price trading below a large top area. The Coppock indicator for bitcoin is falling and has just become negative.
If I think about my last published article about sure thing investments, is that what bulls are looking at now. I don't think so. This market still looks scary. We have had one month of static inflation in the US which may mean we are close to a peak but with long term US interest rates at three percent v inflation between eight and nine per cent it is hard to feel that victory in the battle against inflation is a done deal.
What I can see in looking at individual companies for SMS (Stock Market Selections) is that there are plenty of companies doing well. Based on the fundamentals you would want to own the shares but that has been the case all the way down. These shares are being repriced for a different macro environment, especially for higher interest rates, and absent a really convincing buy signal from my indicators (Coppock rising as well as golden crosses and broken trend lines) there is always the danger that recent strength has been part of rallies in an as yet uncompleted bear market.
Cash is precious and easy to lose. As I have said before until the bears go into hibernation maybe that is what we should be doing. I want to keep you guys posted on what I am thinking but I don't want to jump the gun in a stock market which still looks fragile. I know it is my job to recommend shares for you to buy but I don't want to do that until I am as sure as I can be that buying is going to be a good idea.
I keep on dipping into this market and losing money, not much because I am not risking much but it tells me that this is still a stock market best avoided. The only strategy I am sticking with is my staggered purchases of QQQ3, the leveraged ETF broadly tracking the Nasdaq 100 index. As I write I am making a tiny profit on my holding in QQQ3 even though I began buying when the price was over double its current level. As you can see on the chart below it is trying to complete a golden cross buy signal but we are hardly into sure thing buy territory here. I would rather wait until we do have a confirmed buy signal, ideally supported by a rising Coppock indicator, or we have another sharp fall so I can buy and drop my average entry price significantly.
Just for fun I have assumed that the latest figure for the Nasdaq 100, around 13,240, is the figure for the rest of the year. i.e., the figure that I put in my table for August, September, October, November and December is 13,240.. It won't be, of course, it will be lower or higher but if it did stay at this level my Coppock indicator would fall from plus 7.7 for July, the last completed month, to minus 136.9 for December. Again this doesn't look like a stock market that is close to an important turning point. My conclusion is that we need to watch and wait, masterly inactivity as Warren Buffett once described his investment stance.
Here is yet another chart which is not reassuring. After staging a good rally OGIG, an ETF which is stuffed with the kind of shares that are in the QV for Shares portfolio, has come rattling back. There is a lack of conviction in the buying which suggests that the path ahead remains fraught with perils. It could be base building; that is very possible but even so it seems there is more work to be done and no need for buyers to jump the gun.
Here is yet another chart which has left me feeling very cautious. I recommended these shares recently based on a 2B buy signal. The signal that was missing was the trend line break. It never happened and since then the shares have resumed their decline with such force that both moving averages have turned down. The Coppock indicator which I thought might be turning higher is just flatlining.
The moral of the story is that we need to wait until all the stars are aligned before we buy anything and if that means missing some of the rise so be it. Jumping the gun is just too expensive. This market remains extremely treacherous, so treacherous that I am wondering if there is still major weakness to come.
That is pure speculation. The truth is I have no idea whether there is still major weakness to come for shares, whether inflation is being beaten in the US, whether the pound is going to weaken further against the US$ or US bond yields are going to rise sharply from here. The future is a mystery about which we can all speculate but never know.
The beauty of my indicators is the potential they offer for making sure thing investments. My provisional thinking is that a buy signal based on a golden cross by my moving averages and a trend line break may just be a rally, whereas a buy signal where Coppock also has changed direction is far more likely to be a real turning point. So far my Coppock indicators are falling almost across the board.
Strategy
One problem is that for my kind of investing rallies don't work. We need a full-scale change of direction and a multiyear bull market. If that is not going to happen rallies are best avoided.