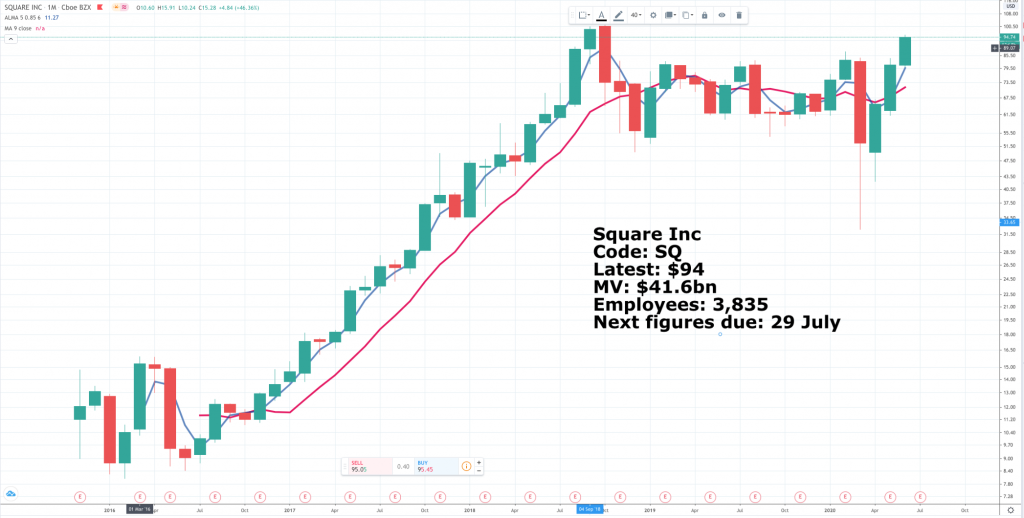 This what Square says they do

I have been a huge fan of Square Inc. in QV. It has been recommended 10 times and is showing huge profits, over 100pc on the first two alerts. It all went a bit quiet after charismatic CFO, Sarah Freer, left to become CEO of her own unquoted company. The share price dropped almost 10pc the day she announced her departure. It she ever comes back with a quoted business I will be watching closely. She is like Steve Jobs for creating excitement about what she is doing. Meanwhile though we still have an iconic figure at Square in the form of founder, Jack Dorsey, who also founded and still leads Twitter, so a key figure in the technology revolution.
Below is what Square says they do and aspire to do. There is no doubt that if they can deliver on that they could become a very large and important business and they are well on their way with some major achievements under their belt already.
"We believe everyone should be able to participate and thrive in the economy—so we're building easy tools to empower and enrich everyone.
Square is a cohesive commerce ecosystem that helps sellers start, run, and grow their business. We combine sophisticated software with affordable hardware to enable sellers to turn mobile and computing devices into powerful payment and point-of-sale solutions. Our tools help sellers make informed business decisions through the use of analytics and reporting. Sellers can manage orders, inventory, locations, and employees; engage customers and grow their sales; and gain access to business loans.
Our approach is the same with Cash App: we see an opportunity to build a similar ecosystem of services for individuals, providing financial access to all and allowing anyone to send, spend, and save money all from one app.
It all aligns with our purpose of economic empowerment—we are helping all kinds of people succeed and grow in the economy."
Not surprisingly as a full-on fintech business, Square sees the pandemic as creating more opportunities than problems.
"Now more than ever, we see the strength and value of our ecosystem strategy. It comes down to speed and trust. Our tools have been — have proven to be simple enough that anyone current or new customers can quickly pick them up and adapt to many different challenges they may meet. And we have shown that we aren't just here to provide tools, but help and support navigating complexity safely. This is a transformative moment, and as a business, we have made the strategic decision to invest through this challenge to come out on the other side in a position of strength
We see significant opportunity to bring new sellers and individuals into our ecosystems and build and launch new products to serve them both today and long-term. And while we slowed non-essential hiring, we believe this is a unique opportunity to find great people so we've prioritised critical roles to help us. We're working on something foundational to society and we're really proud of our agility and heart through these times."
The group has also moved fast to help its customers, both businesses through its commerce ecosystem and individuals through its cash app.
"We launched a simple resource hub with information and advice and gave our account management customer support and sales teams information to enable them to better help our sellers. As the CARES Act stimulus was being drafted and finalised, teams across both our Seller and Cash App ecosystems moved fast to help sellers and individuals get access to government support as quickly as possible. First Square Capital secured SBA [small business administration] approval to offer PPP [paycheck protection programme] loans. We've built a new product that removes complexity from the PPP process by enabling sellers in form. So far we have submitted $855m in verified applications on behalf of 54,000 sellers and approximately $520m has been approved by the SBA to 45,000 sellers. The average loan size to businesses in all 50 states is $12,000. 50pc of the applicants were sole proprietors, 40pc were employers.
Cash App published straightforward FAQs to help folks understand the stimulus program and instructions on how to get their money fast, doubling our web traffic overnight. From there, we worked with our partner banks to expand direct deposit access for Cash App customers, making it easy for people to get their money deposited directly so they could send it to family or friends or use it to purchase whatever they need with their Cash Card. In four weeks, the number of Cash App customers with direct deposit access grew from 3m to 14m."
Unlike many technology businesses, Square was hit by the pandemic because of the effect on many of the sellers in its ecosystem, whose businesses briefly died a death. As CFO, Amrita Ahuja, Sarah Freer's replacement. noted.
"First, on our first quarter results, we achieved strong growth in January and February prior to the significant slowdown in our Seller business in the last two weeks of March. Second, on trends in April, we saw early signs of potential stabilisation and improvement in our Seller ecosystem with continued strong momentum in Cash App. Third, we believe it's now more important than ever to invest behind our mission of economic empowerment and service of our customers."
As you can see, prior to the lockdown, Square was on fire.
"First, I'll look at our overall first quarter results. We achieved strong growth in January and February prior to the slowdown in Seller in the last two weeks of March. Overall, in the first quarter, gross profit was $539m, up 36pc year-over-year or 40pc growth year-over-year excluding Caviar [a food delivery business which has been sold]. These growth rates are about 10 points lower than what we observed through January and February prior to the impact of COVID-19.
Our Seller ecosystem gross profit grew 18pc year-over-year in the first quarter. This includes the last two weeks of March where Seller GPV decelerated sharply to a decline of 39pc year-over-year. Card-present volumes were down approximately 60pc year-over-year in the last two weeks of March, while card-not-present volumes were less affected. Additionally, we refunded all March software subscription fees for our sellers to support them during the COVID-19 pandemic. And beginning in mid-March, we paused new core flex Loan offers for Square Capital given lower visibility in this disruptive time.
Cash App delivered impressive growth in the first quarter with gross profit up 115pc year-over-year. While we saw a modest deceleration in peer-to-peer volumes in Cash Card spend from COVID-19 in March, overall growth remained strong with Cash App gross profit up 112pc year-over-year in March. A key driver remained efficient new customer acquisition. In March and then again in April, Cash App set new highs for Its number of net new monthly transacting actives. For our bitcoin and stock brokerage products, the market volatility helped increase adoption and drive strong volume growth during the quarter."
The overall effect of the virus is continuing negatives for the seller business in April.
"In our Seller ecosystem, we expect gross profit to be down approximately 35pc year-over-year in April".
Against that the online side of the Seller ecosystem is  very strong.
"Square Online Store was an area of strong growth in acquisition with weekly GPV [gross payment volume] up more than five times since mid-March and with the strongest adoption by sellers in two of the hardest hit verticals; food and drink and retail. Notably, we saw over two-thirds of Square Online Store GPV come from our recently launched pickup and delivery service."
The company is also walking the talk in looking after its customers.
"Additionally, we have taken measures to support our customers and protect our companies through COVID-19, measures that will impact Seller top-line results in the second quarter, but we believe benefit us and our customers for the long-term. We waived subscription fees for our sellers in April and offered the option to pause subscription billing temporarily to allow our sellers to better manage costs."
Meanwhile the Cash Apps/ individuals ecosystem is going gangbusters.
"Turning to cash outperformance in April where we expect gross profit growth of over 100pc year-over-year. Cash App's strong performance was broad-based as we achieved our highest monthly totals for net new transacting active, peer-to-peer volume, Cash Card spend, new direct deposit transacting active, bitcoin and stock brokerage volumes and stored funds. After modest initial deceleration in late March, Cash App peer-to-peer volumes and Cash Card spend improved during the first half of April as we saw customers seek new used cases for sending money and shift commerce to e-commerce channels.
During the second half of April, the CARES [ the coronavirus, aid, relief and economic security] Act stimulus programs helps drive even stronger growth across various Cash App products. In particular, we saw strong adoption of direct deposit and Cash App customers compared to March. April direct deposit volumes grew by 3 times and new direct deposit transacting actives grew by 4 times. This helped drive customers to store more than $1.3bn in aggregate cash balances during the month, which roughly doubled compared to the beginning of January and was up 1.4 times month-over-month. While we are encouraged by Cash App's results in April, we will continue to monitor how customer behaviour normalises post stimulus in this dynamic macro environment."
The company is going to take a short-term hit and has withdrawn its guidance for 2020 results but, if anything, is becoming even more excited on prospects.
"While we are being appropriately deliberate with our investments in our Seller ecosystem, we've seen encouraging early signs of attractive returns on marketing that can lead us to add back investment to reach new customers. We deferred our global brand campaign and shifted our sales and marketing messages to prioritise targeted omni-channel products and multi-product awareness campaigns. We saw early results in mid-March and April that indicate the quality of new sellers improved from pre-COVID levels as recent cohorts of sellers were larger on both the volume and gross profit basis.
We believe our Seller ecosystem is significantly differentiated, especially in times like these. Our portfolio of products enable sellers to quickly move between offline and online commerce in an integrated and seamless manner, speed up money movement and communicate with buyers in a way that few other companies can offer.
For Cash App, this is a unique moment, in which new customer — consumer-driven commerce habits are taking shape. The Cash App team is focused on crafting new experiences with a demonstrated product velocity that hasn't slowed in this time of great disruption. Jack mentioned our teams' efforts around the stimulus, the resulting inflection on direct deposit is meaningful. Direct deposit customers have generated revenue which is multiples higher compared to customers who only use peer-to-peer. As Cash App was adding more products, we've expanded the addressable market opportunity as customers have increased their adoption of those products, their lifetime value has increased, which has driven improvements in Cash App's profitability over time, and we believe it is still early days.
Finally, our strong balance sheet with $3.4bn in liquidity at the end of the first quarter and a recently upsized revolver, affords us the opportunity to be deliberate and long-term-oriented as we invest. The work we do to serve our customers has never been more urgent or important. We believe the investments we make today to support our existing customers amplify our go-to-market approach reaching new customers and strategically and selectively hire great talent will enable us to emerge stronger as we look ahead to a recovery."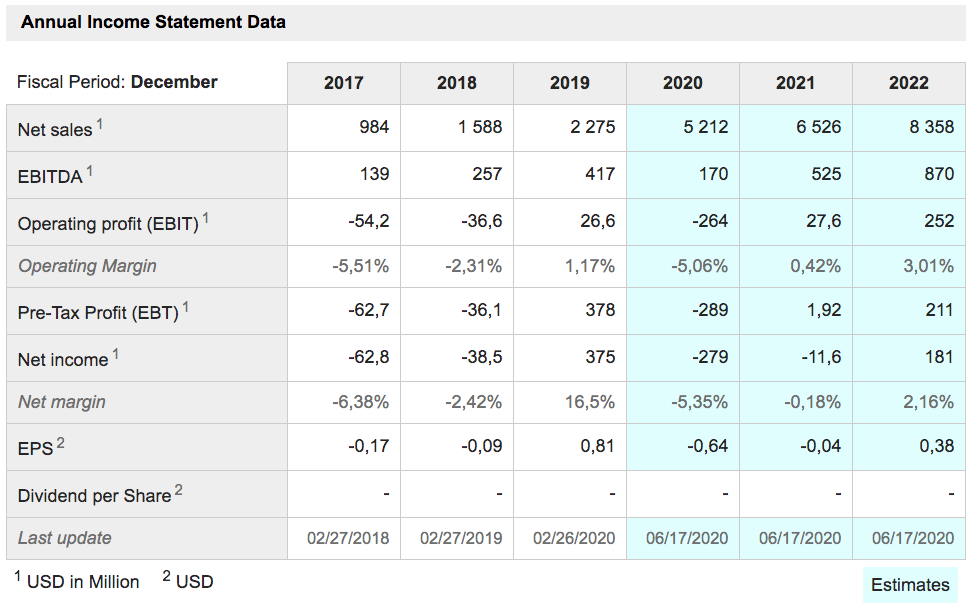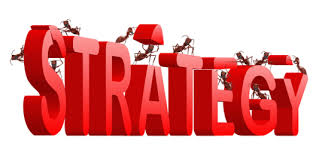 Square is a phenomenal business that could easily have featured in yesterday's group of hyper growth companies. It is another must-own with every chance of becoming a huge business over time. Part of its strength is that it is not a bank or financial services business trying painfully to change course in an era of rapid technological disruption. It is a technology company applying innovation to revolutionise financial services. It is a front line disruptor and that is a very strong position in which to be. Ten years from now the world is going to be very different and it is companies like Square, which are going to make that happen.