Spectacular fund to ride the gathering boom in all things environmental (new to the portfolio)
January 7, 2021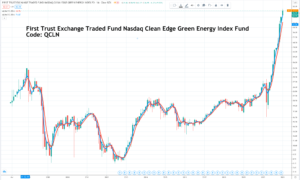 First Trust Nasdaq Clean Energy Fund  QCLN  Buy @ $76.95  New entry
Sorry I didn't find this one before but there were around 7,000 ETFs globally in 2019 and the number is increasing all the time. Clean energy and the environment are obviously and rightly a growing part of the zeitgeist (spirit of the age) these days and this fund taps perfectly into that feeling and its growing effect on investment performance. Indeed I expect shortly to be adding two new clean energy stocks to the QV for Shares portfolio to increase its weighting in an increasingly important sector.
This is what one service had to say about this ETF. "QCLN is a unique member of the alternative energy category, as this ETF invests in companies that are engaged in a variety of different activities related to several green energy sub-sectors. By including companies focused on biofuels, solar energy, and advanced batteries (among others), QCLN casts a wide net of exposure. That, along with a relatively deep basket of individual companies, may make it appealing for those seeking broad-based exposure to alternative energy sources. There are cheaper options for exposure to alternative energy, but few that offer the depth and breadth of holdings QCLN can boast."
I don't see the fees charged (0.6pc annually) as an issue. Far more important is the performance, which has been explosive in recent months.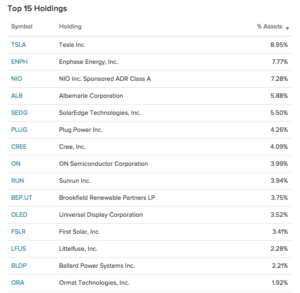 Three of the top five holdings are already in the QV for Shares portfolio. Some of the others are unfamiliar names but that is what ETFs are for – to give broad coverage of a sector. The shares are US quoted but I have bought some for my IG account without any problem. It looks very much as though this is a sector having its time in the sun (pun intended) so a holding looks an excellent long-term investment. Short term, as always, anything can happen.

I think it is important for subscribers to have exposure to the environmental sector, where I am expecting plenty of action, loads of innovation and strong growth in coming years. This fund looks an excellent way to gain that exposure.